By Expedia Team, on January 27, 2020
A Glimpse of Chile – South America's Best-Kept Secret
From the Far North and the Altiplano to the Far South of Chile, someone is always waiting to receive you with open arms. Chile has many different adventures to offer: stargazing in the high desert, millennial glaciers in the southernmost part of the planet, enchanted forests, and lakes located at the foot of massive volcanoes. It has islands full of legends, winemaking traditions, great challenges to be overcome, and the modern and accessible city of Santiago.
For skiers and snowboarders, Chile is a powdery paradise. When it's summer in North America, it's a winter wonderland in Chile where you'll find some of the most pristine snow conditions in the world!
Chile has wide-open natural landscapes, but you can also find this openness in the Chilean people. The feeling of being alive floods over you in Chile's wide-open spaces. Here you can get in touch with nature or set out to explore pristine areas. While Chile is a prime destination for hiking, biking and trekking, fear not! You can also comfortably reach most destinations by car.
Best of all, the people of Chile will also pleasantly surprise you with their kindness and hospitality. This will be a completely new experience in a place where you will feel at peace.
Here are some of the highlights just waiting for you to explore…
Nature's Paradise – Patagonia (Torres Del Paine)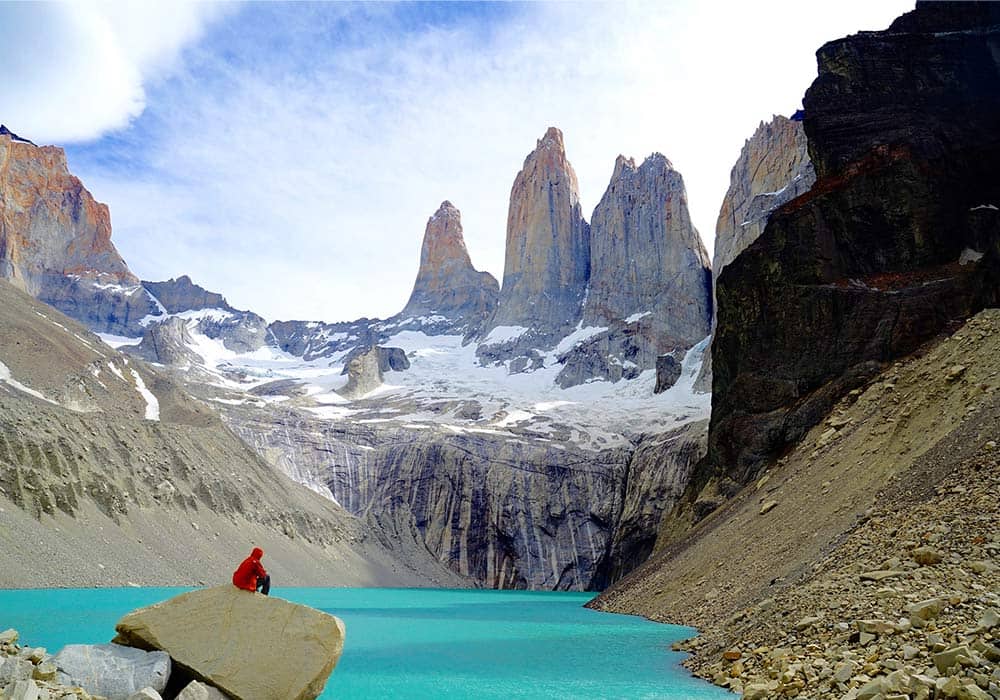 Vast, exotic, wild and infinite in its beauty. Fjords and glaciers hidden among green landscapes give way to the horizon that disappears at the end of the world. Discover a truly unspoiled wilderness of mountains, fjords, glaciers, forests and steppes.
Live and breathe Patagonia's ranching history and the gaucho lifestyle as you discover the far-flung cities and pioneer towns in these cinematic landscapes. Rent a car or climb on a bike to travel down the Carretera Austral or Southern Highway and get ready to be blown away by northern Patagonia at its very best!
If trekking is your passion, then head for the Torres del Paine National Park to experience truly magnificent forests, mountains, waterfalls, lakes and stunning views of the Southern Ice Fields.
For a real once-in-a-lifetime adventure, explore the southernmost extreme of the American continent, navigating through countless sea fjords and channels and crossing the famous Straits of Magellan before setting sail for Antarctica.
Marvel at the imposing millennial glaciers (of which there are hundreds) and experience close encounters with dolphins, penguins and killer whales. Make Cape Horn—the southernmost tip of the continent—your destination … or continue by sea to Antarctica—truly a scientific and ecological treasure.
Torres del Paine National Park is one of the most spectacular national parks in the country. A world biosphere reserve, it has a huge variety of plant and animal species which, with its incredibly beautiful setting has made it an almost unequalled destination for hikers and backpackers, ecology-lovers and adventure enthusiasts alike. Snow-capped mountain peaks, cascading rivers and waterfalls, glaciers and mirrored lakes—in all respects Torres del Paine National Park deserves its reputation.
Torres del Paine National Park was declared a biosphere reserve by UNESCO in 1978, the Torres del Paine National Park is internationally recognized as one of the most beautiful, unique and uncontaminated places on the planet. It's a place of lakes, rivers, waterfalls, glaciers, forests and incredible wildlife, all of which make it a paradise for wildlife observers.
Book Your Torres del Paine Get Away
Mars on Earth – The Atacama Desert
Under a sky with infinite stars, you might mistake the Atacama desert for the Martian landscape. But every inch is overflowing with life. Its ancient cultures offer a warm welcome to modern travelers, and fertile oases sustain an astonishing diversity of life here in the world's driest desert. On the high Andean plateau, you'll find small villages at up to 4,000 meters above sea level where timeless traditions linger in extreme and wonderfully photogenic settings. Visit San Pedro de Atacama and explore its singular landscapes, quite unlike anywhere else on earth. Vast salt flats, active geysers and intense blue lagoons are just a few of the extraordinary features of this region.
Journey to the stars and learn more about the constellations in one of the many famed astronomical observatories in the northern half of Chile. If you're a fan of water sports or simply enjoy soaking up the sun, don't miss the northern coastal region, with its exquisite sandy beaches, crystal clear waters and exquisite seafood.
Book Your Atacama Desert Get Away
A Capital Adventure – Santiago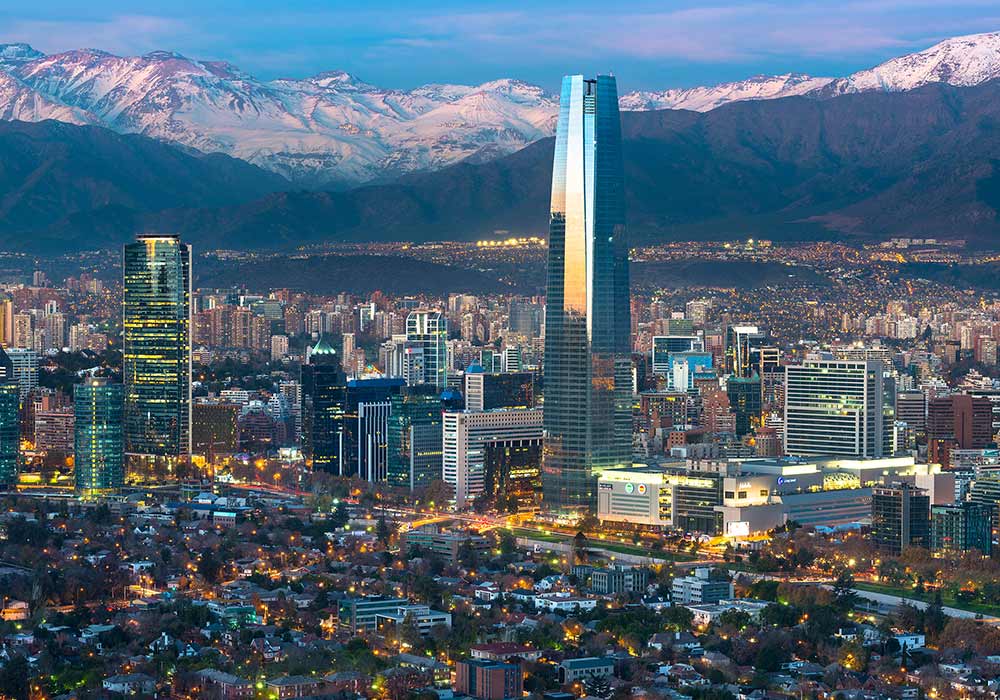 The Chilean capital breathes new life into all its visitors. Home to many events showcasing the very best of Chilean culture, it also hosts superb international festivals of sound, flavor, color and diversity. Set out to explore the city streets and you'll discover beautiful and original art galleries, design shops and handicraft markets, as well as a great selection of restaurants, bars and cafes. Night owls can enjoy a taste of lively Latino nightlife in hip Bellavista!
In downtown Santiago you'll get a real feel for the city as you browse its many fine museums or wander around the famous Central Market—a gourmet's delight. You'll find first-rate shopping opportunities in the stylish Alonso de Córdoba neighborhood and in the city's many modern malls. Fans of the great outdoors can head for the hills that surround the city and marvel at panoramic views of Santiago with the magnificent Andes as a backdrop. Take the opportunity to grab a picnic and visit one of the city´s many parks.
Island of Mystery – Rapa Nui (Easter Island)
South America's last frontier, some 2,300 miles [3,700 km] from the coast of Chile, Rapa Nui used to be called Easter Island because it was "discovered" on an Easter Sunday in 1722. But it was inhabited way before that. In the year 1000, the city of Hanga Roa, where present day tourists are welcomed by natives with flower garlands, received a group of Polynesian explorers who arrived and settled in the area they considered to be the middle of the planet, or "the navel of the world." The echoes of this civilization can be felt to this day, even though its culture has long disappeared. Its main legacy are the moai, which are giant sculptures that represent important figures, and no one knows exactly how they were transported. Declared a World Heritage Site by UNESCO in 1995, this is one of the most isolated places on the planet. There, the closest dry land that you can see is the Moon.
After marveling at those mysterious stone sculptures, hop on a mountain bike and head up the Teravaka Volcano, one of three on the island, which has several small craters. Sunsets there are incredible. If you'd prefer to walk, set aside a day for the trail that leads to the Rano Kau Volcano, which features exotic scenery combining huge rock walls and a placid freshwater lake below. Scuba diving lovers will find crystal-clear waters with great visibility to contemplate marine life as well as a 16.5-foot tall submerged moai and anchors lost by ships in the 20th century. If you still have some energy left, take a horseback ride and visit the dozens of caves there.
Book Your Easter Island Get Away
Jewel of the Pacific – Valparaiso
Bohemian and colorful, Valparaiso's maze of hills has long inspired poets and writers. You'll discover something new at every turn: a gem of a building, a remarkable art gallery or some little gastronomic 'find'.
Revel in the crazy architecture of this World Heritage City. Stroll along its narrow streets, climb its endless staircases, ride its historic funicular elevators and enjoy panoramic views from its many lofty lookout points. Feel the excitement in the air at one of the city's many carnivals, or ring in the New Year in spectacular style at Valparaiso's oceanfront fireworks party.
Don't forget to explore the port and fishing wharves, where you'll get a real feel for Chile's quirky seafaring side. Buy or sample freshly-caught seafood at the market and enjoy the fishermen's banter!
The 'Jewel of the Pacific,' as Valparaíso is known, is also home to Chile's legislative Congress and the headquarters of the Chilean navy. Admire these historic buildings and soak up the country's maritime history!
The Fruit of the Vine – Chilean Wine
Chileans love their wine and why shouldn't they? Chile is the world's fifth-largest exporter of wine. (Sorry Argentina, Chile produces 10 times more wine than their neighbor.) Have a glass with dinner or get even more immersive by visiting, touring and tasting in one of the wine-making regions, near Santiago, like Río Maipo, where grapes are harvested annually in March.
Although many wineries were founded by French wine companies, the location of these vineyards between the high peaks of the Andes mountain and cooling breezes of the Pacific Ocean are what make Chilean wine special. You'll want to taste reds such as Merlot, Cabernet Sauvignon and Carmenere, with Syrah recently gaining in popularity. For fans of white wines, Sauvignon Blanc and Chardonnay are your best, fruity bets.
And so much more…
There's much more to discover—both natural and cultural—in this land of infinite wonders. Create your own adventure! Explore activities, flights and places to stay—and start planning your Chilean experience today!