By Kohleun Adamson, on August 14, 2019
An Insider's Guide to the Austin City Limits Music Festival
They call Austin the Live Music Capital of the World, so it's no wonder one of America's most exciting music festivals is held within—that's right—Austin's city limits. Austin City Limits Music Festival is the stuff music lovers' dreams are made of, with two weekends of shows on eight stages featuring a diverse mix of artists from all genres.
Austin City Limits Music Festival began as a one-weekend festival in 2002 inspired by the long-running music-themed TV program, "Austin City Limits." Like its namesake, the festival continues to draw music fanatics year after year who are delighted by its compelling lineups of top-notch performers. The festival also boasts an array of artisan vendors and savory food counters, making the festival experience a feast for all the senses.
Things You Need to Know
Where is Austin City Limits located?
Austin City Limits Music Festival is indeed within the city limits of Austin. Held at Zilker Metropolitan Park, where Barton Creek meets the Colorado River, the festival's wide-open grounds beneath the big Texas sky are a stone's throw across the Colorado from downtown Austin. An Austin City Limits map is available every year, and it shows the location of not just stages but also food, vendors, and children's activities.
When does Austin City Limits take place?
Austin City Limits takes place annually over two weekends near the beginning of autumn, just when the summer concert season has wound down and many major festivals are dormant. Austin City Limits Festival will take place on October 2 through 4, and October 9 through 11.
How much are Austin City Limits tickets?
ACL tickets can be purchased for one day or three days, and both ticket options come with a choice of different price tiers: General Admission, GA+, VIP, and Platinum. Prices range from $105 for a one-day General Admission ticket to $3,600 for a three-day Platinum ticket.
Who is playing at Austin City Limits?
The ACL lineup is as eclectic and exciting as you'd hope to find at a festival inspired by a renowned music-centered TV show and held in a city that loves live shows. The Austin City Limits lineups tend to feature over 100 artists on eight stages, with headliners through the years like Guns N' Roses, Mumford & Sons, Childish Gambino, The Cure, Billie Eilish, Tame Impala, and Cardi. The 202 lineup will be announced in spring.
What's the weather like, and what should I wear?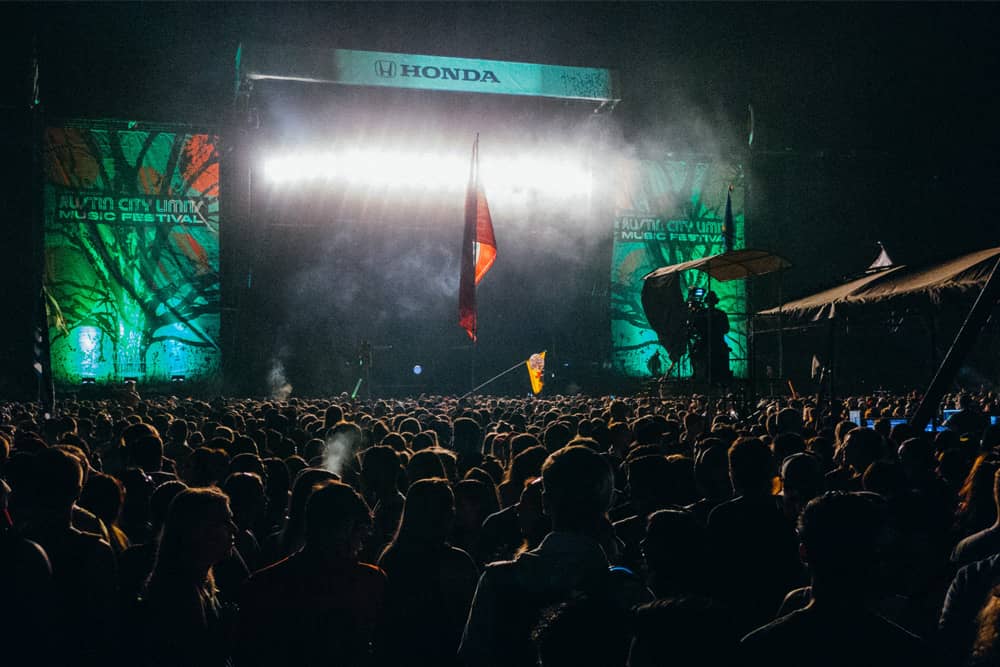 October in Texas is still mighty summery, so you can expect temperatures to be around 80 degrees in the daytime during ACL. You might want to bring a light sweater for nighttime, when temperatures might dip into the low 60s. Keep in mind that Austin can get humid, so wear comfortable, breathable clothing that won't have you feeling faint during a long day outdoors. And make bug spray your last step of getting dressed, in case of mosquitos.
How many people attend Austin City Limits?
Though just 25,000 people were expected to attend ACL's inaugural two-day show in 2002, 42,000 people showed up that year. And the number of festival attendees has continued to grow. Fewer than 20 years after its inception, Austin City Limits now draws around 450,000 people over its two weekends.
What are my food options at Austin City Limits?
Austin City Limits has its own food court, ACL Eats, full of the kind of world-class, finger-lickin' delicious grub Austin is famous for. But don't assume everything at ACL Eats is southern-fried. The food court offers snacks and sips tailored to festival attendees with a whole range of dietary needs, including vegetarian, vegan, and gluten-free. Onsite wine bars and beer gardens offer great places to sit in the shade and unwind.
Anything else I need to know?Keeping these quick facts in mind will help you navigate the ACL festival like a pro:
Bags and backpacks: If you want to get into the festival quickly, bring only what you can keep in your pockets and go through the "No Bag" security line. Can you bring a backpack to ACL? No, but you can bring in a single-opening bag or tote. Just make sure it's within the 14" x 11" x 5" size limits.
What to bring to ACL: Service animals, blankets and towels, sunscreen and insect repellant (non-aerosol only), empty water bottles, and external battery chargers are all allowed.
What not to bring to ACL: E-cigarettes, glass containers, outside food and beverages, umbrellas, and pets are all prohibited inside festival grounds.
Kid-friendly fun: ACL is a family-friendly festival! The Austin Kiddie Limits children's area is a safe place for parents and kids to enjoy child-friendly music and do some crafts together. The Tag-a-Kid service, available at Guest Services, lets you register your kids with a special wristband. That way, if you and your children become separated, you'll be reunited quickly and easily.
Where is the Closest Airport & how is Transportation?
Austin-Bergstrom International Airport is just about 12 miles southeast of Zilker Park, making it a quick trip from flight to festival. And there are plenty of flights to Austin to choose from, so start clicking! Once you've made it to Austin and settled into your home base, you can get to Austin City Limits a number of ways:
Shuttle: ACL Festival operates a free shuttle between a downtown meeting point (Republic Square Park at the corner of 4th & Guadalupe) and the music festival's Barton Springs West Entrance, beginning at 10:30 a.m. and ending at 11 p.m.
Public Transportation: Use MetroRapid Route 803 to get to Austin City Limits. You can download the CapMetro app or visit its website to find the best schedule for you.
Ridesharing: Austin City Limits has a partnership with Uber, making travel to and from the festival easy with dedicated Uber pickup and drop-off points.
Biking: Pedaling your way to the festival? Excellent! You can't bring your bike inside the Austin City Limits festival grounds, but you can park it in one of the festival's dedicated bicycle parking lots.
If you're asking where do you park at ACL, take heed: There are no car parking lots at Austin City Limits, so make sure to plan your transportation to the festival ahead of time!
Where to Stay?
It's easy to find hotels in Austin that are not just in close proximity to Austin City Limits, but tucked into quaint and colorful neighborhoods. If you want to get a taste for Austin while you're in town for the festival, consider one of these locales:
Downtown Austin is just a hop, skip, and a jump from Zilker Metropolitan Park. Not only does this area keep you in the exciting center of the city, it's a perfect place to post up if you want to catch the complimentary festival shuttle. If you're looking for the best hotels near Austin City Limits Festival, this is the spot.
South Congress is a hip, zany, and vibrant area of Austin, full of boutiques, one-of-a-kind restaurants, colorful galleries, and plenty of music venues. This neighborhood is perfect for festivalgoers looking for local color and an artsy experience.
You can't get any closer than the Zilker/Bouldin area! These neighborhoods will put you within walking distance of Zilker Park, easily outsmarting the lack of vehicle parking at Austin City Limits. Plus, you'll be close enough to the Colorado River to enjoy a stroll along its banks on the Ann and Roy Butler Hike and Bike Trail.
What are the Other Things to Do in Austin?
Austin, a multidimensional city known for standing out even in the state where everything's bigger, goes by many nicknames: Bat City (for the incredible flying mammals that roost under South Congress Bridge), River City (for its location on the Colorado River), and the Live Music Capital of the World (for its wealth of live music venues), among many others. Don't leave Austin without making time to explore some of its extraordinary sites:
Terry Black's Barbecue: Sink your teeth into some legendary Texas barbecue at Terry Black's Barbecue, where you can get meat by the pound, grab a barbecue beef sandwich, or choose a combination of meats and sides. What's more, many side items are gluten free, vegetarian, and/or dairy-free, making it easy for even those with special diets to find delicious things to eat.
Sixth Street: Meander down East 6th Street in Downtown Austin, an entertainment district that's been registered as a historic place since the 1970s. Lining both sides of the street, you'll find 19th-century buildings playing host to shops, saloons, music clubs, and a whole array of delectable cuisine. Pop into the Driskill, on the corner of 6th and Brazos St., and marvel at this legendary hotel's gorgeous antique interior, or grab a cold drink at Iron Cactus Mexican Restaurant and Margarita Bar.
ACL Live at the Moody Theater: ACL Live at the Moody Theater is the 2,750-person capacity concert hall where the "Austin City Limits" TV series—the longest-running TV music series in the country—is taped, and it also hosts a number of concerts. Find out who's playing while you're in town: The Moody Theater plays host to around 100 concerts a year, so there's bound to be a great lineup no matter when you peruse the concert calendar.
Shop on South Congress: Looking for vinyl records? Cowboy boots? Strange animal bones? You can find hidden gems when you shop along South Congress. Stop into favorites like Uncommon Objects and Lucy in Disguise with Diamonds. You can even find some wacky clothes that could pair well with the festival atmosphere. Where else are you going to be able to rock tie-dye pants, rodeo boots, and glitter? This is the time and this is the place!
Quick Questions
Who is playing at Austin City Limits?
The Austin City Limits Festival lineup is announced in spring. The 2020 lineup hasn't been announced yet, but past acts have included Radiohead, Childish Gambino, Mumford & Sons, and Alabama Shakes.
Can you camp at ACL?
The event takes place at Zilker Park, which does not allow camping. However, you're welcome to camp outside the city in approved zones and commute in for the festival.
Can I bring food into ACL?
Outside food is not allowed in the festival. However, there are a ton of food vendors inside the event. It's not ideal if you're trying to save money, but this is the time to splurge, after all!
How old do you have to be to go to Austin City Limits?
The festival is open to all ages! Head on over to the family section of the event—Austin Kiddie Limits—which is in its own secure location of the park. There are also stroller-friendly lanes at all entrances to make it easier for parents.
What time does Austin City Limits start?
Weekend One of ACL Festival will start on Friday, October 2 and end on Sunday, October 4. The first acts start playing on Friday at 12:30 p.m. The last show of the weekend ends at 10 p.m.
Weekend Two of the ACL Festival will start on Friday October 9 and end on Sunday October 11. The first act starts playing at 12:30 p.m. on Friday and the last show ends by 10 p.m. Sunday.
Austin City Limits Music Festival is an exceptional event that's right at home in an extraordinary city like Austin. Everything really is bigger in Texas, so get ready to have the biggest fun of the year at ACL.