By Jennifer Cuellar, on June 10, 2019
Free Things to Do in Chicago with Kids
It's always a good time to take your family to Chicago. Whether you're wrapped up in your parka or tempted to take a dip in Lake Michigan, Chicago promises free and affordable fun for your whole crew.
On your next trip to the Windy City, add our budget-friendly suggestions to your itinerary, and enjoy a family vacation without the financial stress. From exploring the city's famous landmarks to losing track of time at fascinating exhibits, it's easy to venture around Chicago within your means. Round up your crew and get ready to experience some of the best free activities for kids in Chicago.
1. Maggie Daley Park
Maggie Daley Park isn't any ol' park. This admission-free park features a 3-acre Play Garden with slides, towers, and swings galore. From the spray features and viewing scopes to the talking tubes and mirrored maze, your kiddos could spend hours exploring this imaginative play space.
2. Smart Museum of Art
When you're on the hunt for free attractions in Chicago, make a pit stop at the Smart Museum of Art. Located on the University of Chicago campus, this exhibit showcases more than 15,000 pieces of artwork. It's never too early to get your children interested in and inspired by the power of art.
3. Millennium Park
Regardless of whether you're bundled up for winter or soaking up some summer sunshine, set aside some time to explore the ever-popular Millennium Park. Your kids will love striking a pose in front of the Cloud Gate mirrored sculpture and frolicking under the trees along Chase Promenade. During the summer months, the park hosts a number of free events for kids in Chicago, from movie nights to concert series on the lawn.
4. Chicago Fed's Money Museum
Who says vacations can't be educational? Not us! Take your crew to the Chicago Fed's Money Museum, where you'll learn the history behind the US dollar. This free museum showcases currency from the Civil War and even teaches you how the Secret Service detects counterfeits. You'll never look at cash the same way again.
5. Navy Pier
Yes, there are plenty of ways you can spend money at Navy Pier, but it's also fun just to stroll around and watch the action—all for free! Admire the Ferris wheel and check out those lake views. During the summer months, the pier hosts free firework shows over Lake Michigan every Wednesday and Saturday evening.
6. Buckingham Fountain
Of all the free activities in Chicago for kids, Buckingham Fountain is probably the easiest form of entertainment. It's one of the largest fountains in the world, so you know it puts on a good show! Between May and October, every hour from 8 a.m. to 11 p.m., the fountain performs a light display to music. Water shoots 150 feet into the sky, while colored lights flicker to the sound of music.
7. Ohio Street Beach
You may not picture your little ones playing in the sand on a trip to Chicago, but think again! Ohio Street Beach sits along Lake Michigan, and it's a great place to kick back during the warmer months. You'll definitely want to pack swimsuits and sunscreen so you and your kiddos can enjoy this fun free thing to do in Chicago this summer.
8. Free Museum Days in Chicago
Many of the city's top museums provide set dates in which they are admission free for Illinois residents, while others offer free entry on certain days of the week. Participating museums include the Alder Planetarium, Chicago History Museum, and The Field Museum, among others. Be sure to check the museums' calendars in advance of your trip.
9. Garfield Park Conservatory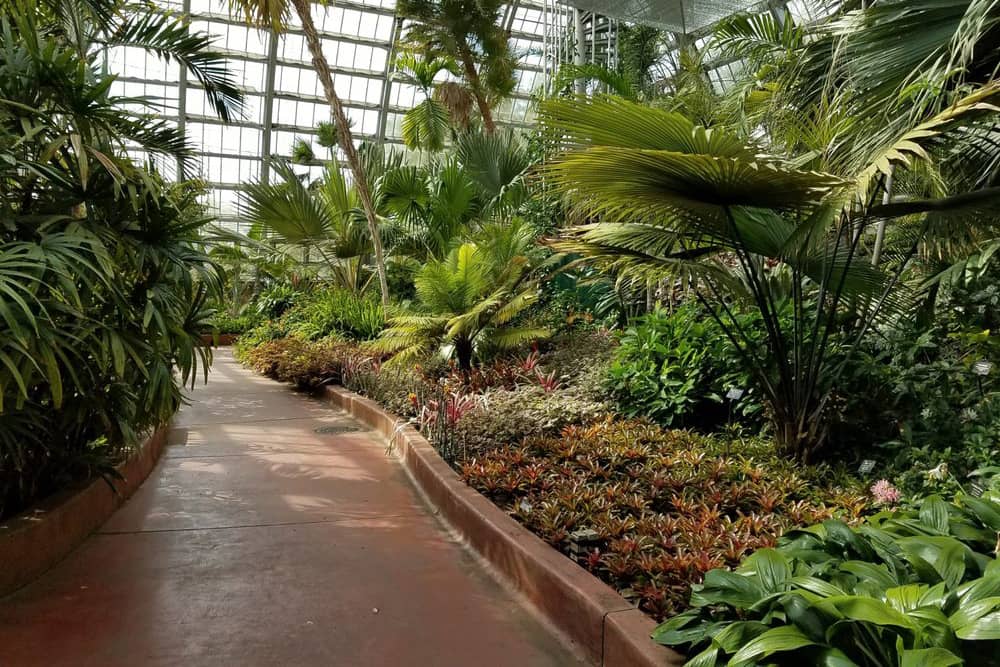 Does your little one already have a green thumb? If so, they'll love exploring Garfield Park Conservatory, one of the nation's largest greenhouse conservatories. Admire plants from all over the world—from the prickly cactus in the Desert Garden to the to the rainforest species in the Aroid House. This indoor and outdoor attraction is one of the top free activities for kids in the city. Be sure to check out the event calendar, too, as the attraction hosts a number of family programs each month.
10. Lakefront Trail
It's time to burn off some energy! Grab your bikes and set off on two wheels along the Lakefront Trail. This free trail runs for 18.5 miles along the western shore of Lake Michigan, giving your little ones plenty of space to run wild and free. Put your wallet away and spend an afternoon taking in the lake views with your tots in tow, completely free of charge. You're sure to find some good spots for family photos, too.
11. Foster Avenue Beach
Another beach? Sure, Chicago isn't known as a beach destination, but the beach scene is too good to overlook! Foster Avenue Beach is an amazing spot, which also happens to be a top free activity for kids in Chicago during the summertime. This is a prime family-friendly beachfront area, overlooking Lake Michigan. If you don't mind sparing a few bucks, treat your gang to some popsicles and cotton candy down by the water. Before leaving, swing by the outdoor showers so the kids don't bring any sand back to the hotel!
Searching for other budget-friendly things to do in Chicago?
View the city from above! Venture up to the 360 Chicago Observation Deck.
Tucker the kids out with a visit to LEGOLAND® Discovery Center Chicago.
Chicago is a walkable city, but if your feet get tired, turn to public transportation. The Chicago Transit Authority is the nation's system largest system, so you go practically anywhere without spending a fortune!
Take a look at our Chicago budget travel guide for more tips and tricks for saving money.
Get inspiration for other ways to spend a weekend in Chicago.
What are your favorite budget-friendly places to see in the Windy City? Tell us in the comments!
---
Header image via Annanass/Shutterstock.com