By Chloe Mulliner, on May 18, 2018
Pigeon Forge in 3, 5, and 7 days
Pigeon Forge is a charming mountain village in Tennessee, but don't write it off as some isolated town in the middle of nowhere. On the contrary, Pigeon Forge is a buzzing tourist destination with endless entertainment in and around the incredibly scenic Great Smokey Mountains.
With so much to see and explore, give yourself enough time to soak it all up. Instead of just spending a day or two in town, extend your stay and stick around for three, five, or even seven days this summer. It may be warm outside, but nothing is more refreshing than splashing down the water slides at Dolly's waterpark and feeling the wind on your face as you fly down the alpine coaster!
With summer just around the corner, there's no time to wait—start planning your mountain getaway today.
3 days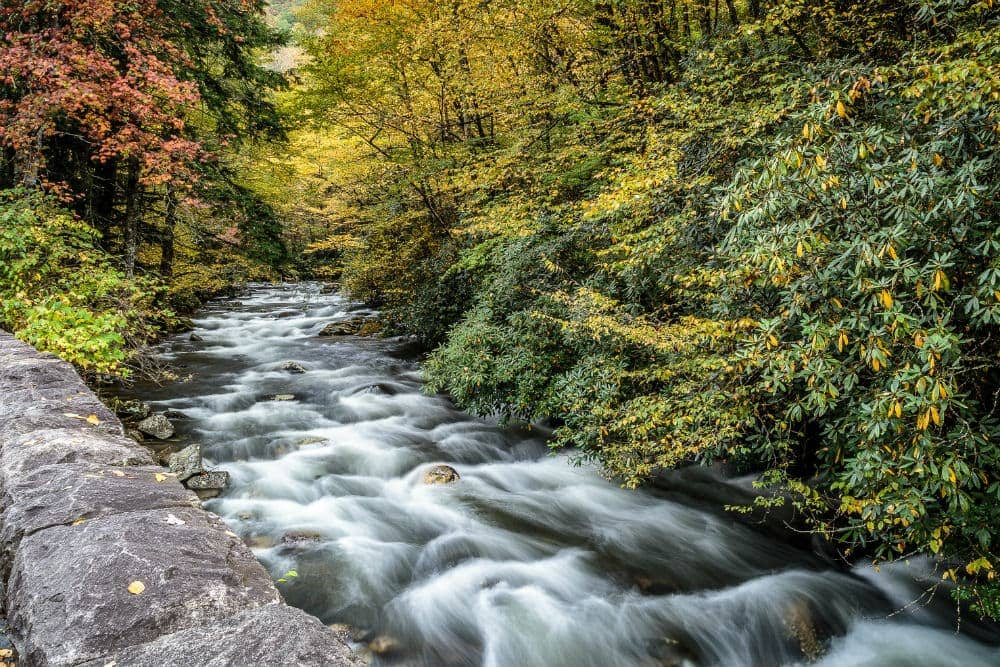 If you're savvy, you can pack a whole lot of bang into just three days in Pigeon Forge. It won't take long to discover the beauty Tennessee has to offer.
Begin by dedicating an entire day to the Smoky Mountains National Park. Located just 5 miles south of Pigeon Forge, this natural wonder is teeming with wildlife and adventure. Bike the 11-mile loop around Cades Cove, which is scattered with a number of barns and log houses from the early 1800s, or hike the easy 0.7-mile trail to Cataract Falls. Keep in mind, elk, bears, turkey, and other animals call this park home, so respect the wildlife and always maintain a safe distance.
Next, experience a different wild side at Dollywood, the famous theme park owned by country music darling, Dolly Parton. Flip your world upside down on the Barnstormer and shoot down the log flume at Daredevil Falls. This park features amusement rides for all ages, but it also showcases music from the Smokey Mountains. You could easily spend an entire day getting lost in this 150-acre park, but if you're still craving more Dolly-inspired entertainment, head over to nearby Dollywood's Splash Country Water Adventure Park.
After some outdoor adventures and theme park thrills, spend your third and final day aboard the Titanic Museum Attraction. Not your ordinary museum, this site invites you to experience what life was like on the fateful ship. Board the replica Titanic with a pass from an actual passenger, and stroll through the halls filled with more than 400 artifacts that survived the wreck. Marvel at the Grand Staircase, touch a real iceberg, and brave the Sloping Decks. Tours provide stories from survivors, and you can even find out the fate of the passenger whose boarding pass you received.
5 days
With an additional two days tagged on to your Pigeon Forge retreat, experience the previous attractions and tag on these can't-miss attractions.The Smoky Mountain Alpine Coaster is a hit. It serves up the longest downhill ride in the country, with a track over one mile long. Ride solo or couple up on the coaster as it hits speeds of up to 27 mph. Because the ride only takes roughly 10 minutes to complete, ride again, or venture over to the kooky exhibits at nearby WonderWorks to round out the day. At this peculiar upside-down building, squash aliens, crawl into the Mercury capsule replica, and witness magic before your eyes.
For your fifth day, find out what the theater fuss is all about. From magic shows to country concerts, you'll find your theater niche in this town. The Smoky Mountain Opry is a local favorite, but Hatfield & McCoy Dinner Show and The Grand Majestic Dinner Theater are top picks, too. Dolly Parton's Stampede is always a hit, while The Comedy Barn Theater will have you in stiches.
7 days
You'll soon find that with a whole week in Pigeon Forge, you'll have enough time to not only to explore the local attractions, but also venture to nearby cities, too.
Use this Tennessee town as your home base for the first few days, and then cruise over to neighboring Knoxville, which is just around an hour northwest. During a day trip there, visit the historic homes, join the Cradle of Country Music Walking Tour, and view the city from the Sunsphere observation deck.
If you still have a day or two to spare, drive three and half hours west to Nashville. Called Music City for a reason, this town makes some noise. Cowboy boots and honky-tonks rule this neck of the woods, where you'll discover the Grand Ole Opry, the Johnny Cash Museum, and the Country Music Hall of Fame and Museum. From RCA Studio B, where Elvis Presley recorded, to the live music on Honky Tonk Highway, Nashville will have you tapping your cowboy boots all over town.
Whether you have only a few days to explore or you're lucky enough to enjoy a week in town, you'll come across endless things to do in Pigeon Forge this summer. Still deciding where to stay? The nearby Historic Gatlinburg Inn, established in 1937, is an ever-popular choice, while the Deer Ridge Mountain Resort has tons of on-site amenities to keep you entertained. Book your summer retreat today for an unforgettable mountain retreat!