By Expedia Team, on July 26, 2019
7 places where you can swim with sharks
Cue the Jaws theme as you sit on the edge of a boat waiting for the sharks to arrive. Soon enough, you see the dark shadows approach and your heart starts to race. Are you crazy enough to jump into the water mere inches from hundreds of razor-sharp teeth? There's only one way to find out.
If you're brave enough, go cage diving with great white sharks off the coast of Cape Town just like researchers on TV. Or get close to gentle giants as you swim with whale sharks in Isla Mujeres, Mexico. You don't need to be a certified diver or have snorkeling experience to swim with sharks in Belize or Fiji. Experienced tour guides around the world are happy to help you find and safely swim with sharks.
Also, when done responsibly, swimming with sharks can actually help save them. Due to overfishing and shark finning, many shark species are threatened with extinction. Ecotourism makes sharks more valuable alive than in soup and can incentivize local communities to protect sharks. So, if you're an adrenaline junky or just love sharks, plan your trip to the best places in the world to swim with sharks.
1) Oahu, Hawaii
Cage Diving with Sharks in Oahu

Feeling daring? Jump in the waters off the coast of Oahu and cage dive with some of Hawaii's most dangerous sharks. Galapagos sharks, sandbar sharks, tiger sharks, and scalloped hammerhead sharks commonly inhabit the warm waters of Hawaii along with 36 other species (including great whites). From the safety of a metal cage, see some of these predators up close as they circle—sometimes just inches from the bars. Because the cage floats at the surface, there's no need for scuba gear. With a snorkel and mask, you can pop down for a look whenever you like. As a bonus to swimming with sharks in Oahu, you may also see spinner dolphins, barracuda, flying fish, or humpback whales during your adventure. If you also want to see sea turtles or snorkel with manta rays, check out the best snorkeling in Hawaii.
2) Isla Mujeres, Mexico
Swimming with Whale Sharks
From June to August, snorkel with the largest fish in the world as you swim with whale sharks near Isla Mujeres, Mexico. Feel dwarfed by these gentle giants, which can grow over 40 feet (12 m) long. No need to dive deep for a good view since whale sharks filter feed on plankton and small fish near the surface of the water. You may see them accompanied by remoras hitching a ride or manta rays sharing the plankton buffet. Even better, a portion of the proceeds from of your whale shark swim goes to support the conservation efforts of The Whale Shark Project to protect these magnificent sea creatures.
3) Jamaica
Touch a Shark in Jamaica

Head to Montego Bay, Jamaica to touch, feed, and swim with a friendly shark. During your encounter, an expert facilitator will introduce you to a gentle nurse shark accustomed to interacting with people. Feel the sandpaper-like skin of this nocturnal predator that feeds mostly on shellfish. Take your photo in the water with the nurse shark, a species that can grow up to 10 feet (3 m) long and weigh up to 330 pounds (150 kg). After your shark experience, don a mask and snorkel with stingrays (a relative of sharks). Then, climb out of the water to meet some local species of birds and reptiles on a jungle nature walk.
4) Cancun, Mexico
Mako Shark Cage Diving
Find yourself inches from a feeding shortfin mako—the fastest species of shark in the world. Drop through a trap door and into an underwater metal cage off the coast of Cancun to swim with mako sharks in April or May. On this heart-pounding encounter, air tubes from the boat allow you to dive unimpeded by a tank. Get up-close views of these powerful predators and their striking metallic blue color. Makos can grow to 12 feet (3.7 m) long, weigh over 1000 pounds (454 kg), and attack with bursts of speed up to 60 mph (97 km/h). It's a good thing your cage is plenty strong, right?
5) Cape Town, South Africa
Great White Shark Cage Diving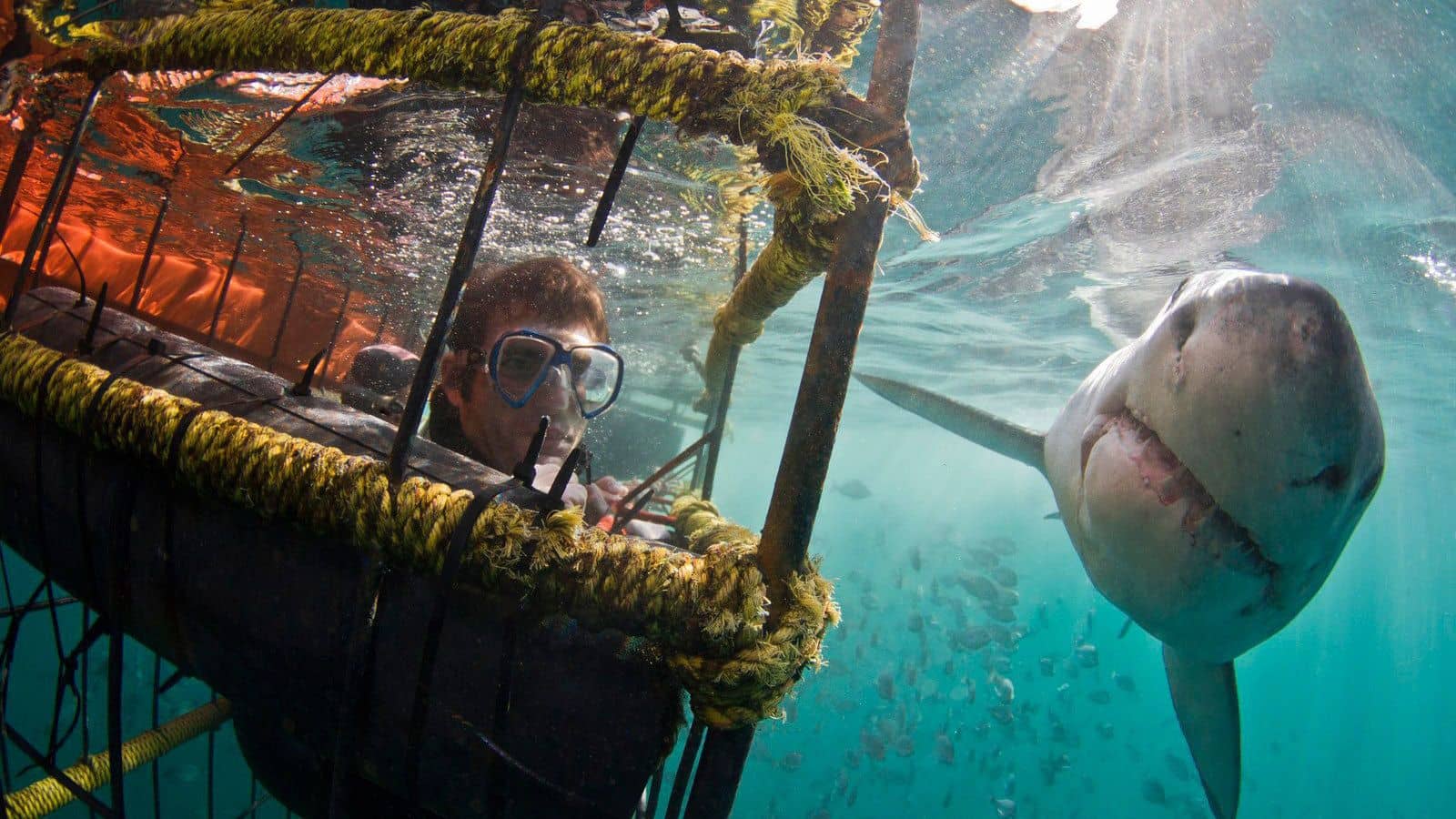 From Cape Town, head to the infamously shark-infested waters of Gansbaai, South Africa. Look for a tell-tale fin cutting the water as your boat drifts through Shark Alley—one of the best places for great white shark cage diving in the world. Far from mindless killing machines, great white sharks are naturally curious, highly adapted hunters. They can grow an average of 15 feet (4.5 m) with some individuals measuring over 20 feet (6 m) long. Coming face-to-face with a mouth full of 300 serrated teeth certainly makes cage diving with great white sharks a heart-pounding experience.
6) Kuata Island, Fiji
Swim with Sharks in the Shallows
Board a high-speed catamaran for a shark-filled adventure in the remote Yasawas Islands in Fiji. Both blacktip and whitetip reef sharks call the warm waters of this island paradise home. You'll find these species cruising the shallow reefs, making them easy to see while snorkeling. On a shark snorkel tour, your experienced guides know the resident school of sharks and closely monitor their behavior to ensure everyone's safety. Crystal-clear water and vibrant tropical fish make the islands of Fiji an underwater photographer's dream. So, make sure to pack an underwater camera for your shark swimming experience.
7) An Aquarium Near You
Swim with Sharks in an Aquarium
One of the best places to swim with sharks may be your local aquarium. Many aquariums around the world offer you the chance to dive, snorkel, or even walk with sharks. You don't even need previous scuba experience to hop into the shark tank at the SEA LIFE Sydney Aquarium in Australia. At the Shark Walker Experience in the Dubai Aquarium and Underwater Zoo, you don a special helmet that allows you to breathe easy and keep your hair dry as sharks swim outside your cage. If you're nervous about swimming with sharks in the open ocean, check to see if your local aquarium offers shark dives.