By Chloe Mulliner, on January 25, 2018
The best places to travel each month in 2018
Where do you see yourself this year, shredding backcountry trails in knee deep snow, or frolicking on the shore with the sun warming your skin? The start of the new year means a fresh, blank calendar ahead of you, eager to be filled with travel adventures and vacations. You've already marked the bigger cities off your list, like New York City and Orlando, so it's time to discover some of the lesser-known gems across the country this year.
To help you start penciling in all your upcoming trips, we've picked the very best places to travel each month in 2018. It wasn't easy to narrow down all the top destinations based on their points of interest, events, weather, and all-around appeal—the competition was stiff. In fact, it was such a close call that we determined it was only fair to include the runners-up for each month, too. So there you have it, the following are 60 amazing places to travel in 2018. Which ones will make your calendar this year?
It's a new year, you've pledged to charge into 2018, and Anchorage, Alaska is where it all begins. Go on, inhale and fill your lungs with Alaska's fresh, backcountry air—ah, don't you feel rejuvenated already?
This January, it's time to decide how you want to feel this year. Daring and brave? Push your limits on the Mongoline halfpipe at Hilltop Ski Area, go iceberg kayaking with Ascending Path, or try heli-skiing with Chugach Powder Guides for the ultimate thrill. Going for some calm and peaceful vibes instead? Stay up late to catch the magical northern lights as they glow and dance in the sky, or climb aboard the Aurora Winter Train and listen to the locomotive hum as you wind through Alaska's frosty landscape. Regardless of whether you're in search of the new you, or you're happy just the way you are, a rugged retreat in Anchorage this January belongs at the top of your resolution list.
January runners-up:
Coney Island, NY
International Falls, MN
Sun Valley, ID
Jay Peak, Jay, VT
Sorry folks, winter's not over yet, so you might as well embrace those chilly temperatures before they're gone for good. This February, instead of holing yourself up inside until the snow starts to melt, get outside and celebrate the snowy season in Saranac Lake.
Every February since 1897, this lakeside village has hosted its Winter Carnival—snowball toss, curling events, and all! Where else can you witness an ice palace, women's frying pan toss, and arctic golf all in one place? The winter festivities don't stop there; this February, Saranac Lake is also hosting its inaugural Adirondack Snowshoe Fest at Dewey Mountain Recreation Center and Paul Smith's College VIC, where you'll have to experience the Shoe-Be-Doo for yourself. Throw in some ski runs at Mount Pisgah, snowmobile adventures on Corridor 7, and apres-ski fun at Blue Moon Café, and there's a good chance they'll have to pry your frozen hands away from this wintery wonderland this February.
February runners-up:
Lewisburg, PA
Newport, RI
Norway, ME
Walker, MN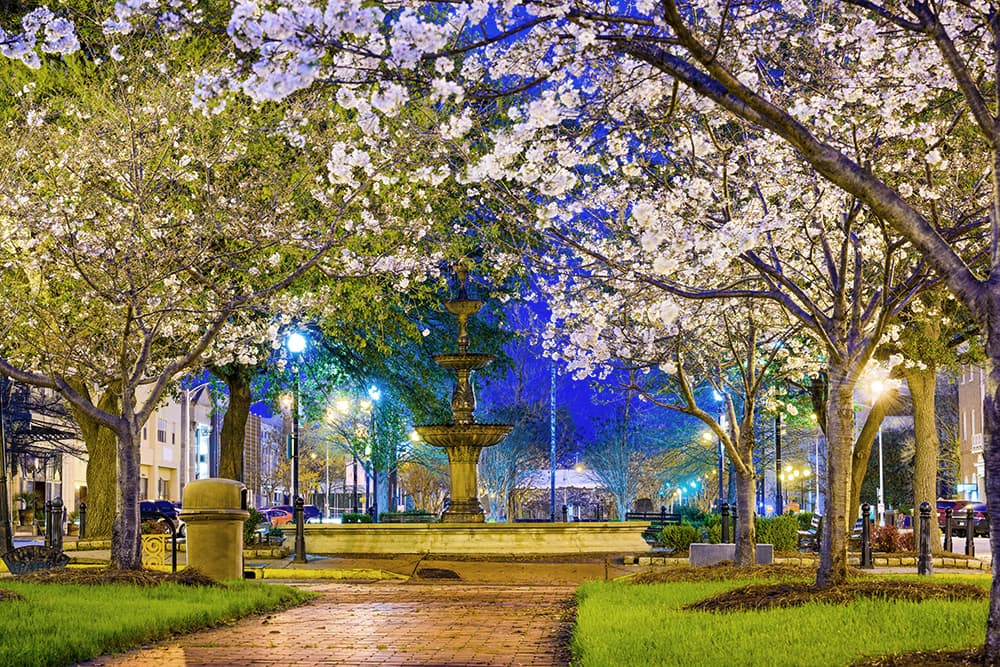 The first day of spring is March 20, but who's counting down? If you raised your hand, then bring on the spring fever in Macon, where over 300,000 cherry trees burst to life every year, signifying the onset of sunnier skies and warmer temperatures. More than just floral decoration, these cherry blossoms are kind of a big deal, as more than 6,500 trees litter the pathways with their delicate, snow-like petals in what's known as the Cherry Blossom Capital of the World.
Each March, in celebration of the city's famous florals, Macon becomes the hostess with the mostess, as it puts on the International Cherry Blossom Festival, a 10-day affair with a parade, art slam, concerts, and even a street party. Almost every hour is accounted for, as bed races, lantern light tours, stunt shows, and a hot air balloon glow fill the calendar from mid-March onward. Beyond the festival, more springtime feels are sprouting at Waddell Barnes Botanical Gardens, home to 16 different gardens with all kinds of blooms from fruit trees to showy flowers. Go on, toss aside your mittens and scarves, and experience the glory of Macon in March.
March runners-up:
Fort Worth, TX
Washington, D.C.
Woodburn, OR
Mobile, AL
Some vacations are meant for relaxing and melting into a lounge chair, but Columbia isn't that kind of getaway. Come April, this city has so many events jammed into the calendar, you may find yourself wishing you had a body double. Not to fear though, there's plenty of Columbia to go around.
So, what makes April the most perfect time to travel here? For starters, the weather is just right—not too cold and not too hot—so soaking up the good vibes outside is the way to go. The month of April brings with it the River Rocks Music Festival on the Congaree River, along with Love, Peace, & Hip-Hop, the annual Hip-Hop Family Day Festival on the corner of Main Street and Laurel Street. Artista Vista absolutely belongs on your itinerary, too. This 3-day gallery crawl invites you into the Vista art district to admire eye candy of all sorts, from masterpieces inside studios to pop-up installations along the streets. Sure, you may feel like you need a vacation after your trip to Columbia, but isn't that the sign of any good getaway?
April runners-up:
Wilmington, NC
Stuart, FL
Fairfield Bay, AR
Forget spring—you've got summer on your mind. If you're craving the roar of lapping waves and the feel of sea salt-covered tresses, hop on the 101 and arrive in Laguna Beach, along the California coast. May gray, you say? Yes, sometimes fog hovers on the coastline this time of year, but it usually burns of by the afternoon, giving way to cotton candy-colored sunsets—oh, and fewer crowds!
Laguna Beach is the perfect place to get your beach fix this May. Head to Crescent Point with a pair of binoculars in hand, and set your sights on the horizon to spot blue whales making the journey north from Mexico, or gray whales feeding off the coast. If you'd rather get a little closer to the sea life, don a wetsuit (the ocean is still chilly) and snorkel through the kelp forests in Shaw's Cove, or sync up with Wavehuggers for a private surfing lesson—this is California after all! Pack a picnic and enjoy a side of seaside views at Heisler Park, explore the tide pools at Crystal Cove State Park, and round out the day with a cocktail in hand at Driftwood Kitchen to truly discover the allure of Laguna livin'.
May runners-up:
Crossville, TN
Canon City, CO
Wildwood, NJ
Black Mountain, NC
If you've been cooped up inside, working away the first part of the year, it's time to cash in that PTO and say hello to a summer vacation in Lyons. A picturesque backdrop, some outdoor adventures, and ice-cold beer are just a few of the perks waiting for you in the gateway to the Rocky Mountain National Park when you visit in June.
With the first weekend of June comes Burning Can Festival at Lyons Outdoor Games—the most epic event you didn't know belonged on your radar until now. It's here where live music, sport competitions, and craft breweries come together in the name of raising money for the Can'd Aid Foundation. Spend all day sipping some Oskar Blues brew, as you hop from the DMX bike jump contests and slackline demos to the yoga sessions and trail runs. The annual Good Old Days event at Sandstone Park, is also in June, where you can expect nothing but endless entertainment, such as kids activities, concerts, artisan vendors, and even a beer garden. Rather skip the crowds? Go stag: kayak the Whitewater Park, hike Hell Valley Ranch, or cruise the ridiculously beautiful Peak to Peak Highway—there's no limit to this mountain town's adventurous side in June.
June runners-up:
Cheyenne, WY
Lodi, CA
Manchester, TN
Augusta, NJ
If simply the thought of a July vacation makes you want to cannonball into a pool, then Williamsburg is right up your alley. Yes, we know Virginia can get toasty during the summer months, but that just means Williamsburg is all the better at keeping you cool. Now, prepare to get your feet wet!
Three words for you: Water Country USA. It's the state's largest water park, which translates to a wildly impressive playground with over 40 acres of water-soaked attractions, from lazy rivers to flume rides. Colossal Curl is the park's newest ride, featuring an exhilarating funnel slide that will make a big splash on your vacation. If a summer thunderstorm rolls through, don't let it rain on your parade—there's always Great Wolf Lodge, the ultimate indoor splash zone. Still craving an adrenaline rush? Busch Gardens is home to some of the best steel roller coasters on the globe, and on July 4, the amusement park celebrates with a foray of fireworks. If there's any doubt in your mind that you belong in Williamsburg this July, turn your attention to the stuffed sno cones at Sno-to-Go, only the coolest treats in town, where shaved ice meets soft serve ice cream.
July runners-up:
Corpus Christi, TX
Wisconsin Dells, WI
Kapolei, HI
Darien, NY
News flash: Summer travel doesn't have to mean sweating bullets under the sweltering August sun. There are, in fact, coveted places where you can soak up the seaside, without mercury-bursting temperatures, like in Long Beach on the Washington coast. Here, the average high hits just 66 degrees F, and 28 miles of sandy shores invite you to lose track of time beachcombing at sunset.
Though Long Beach is arguably quieter and less crowded than other shorelines during August, the annual Washington State International Kite Festival brings some liveliness to the otherwise sleepy dunes. The sky dances with colorful tassels and tails, as both famous and novice flyers let the wind cast their kites into the clouds at one of the best kite festivals in the nation, hosted by the local World Kite Museum. An August trip to Long Beach also brings with it the enticement to explore (and taste!) the ocean's harvest: dig oysters from the mud flats of Willapa Bay, drop a crab pot from Nahcotta's docks, and see if the tuna are biting with Shake N Bake Sportfishing.  Whether you spend your time at the shore photographing the North Head Lighthouse or following the steps of Lewis and Clark, you'll be pressed to find anywhere more appealing at this time of year.
August runners-up:
Ketchikan, AK
Rockport, ME
Bethany Beach, DE
West Allis, WI
Just because everyone else is starting to think of sweater weather and pumpkin spice lattes, don't think that you have to let go of your grasp on summer just yet. During September in Cocoa Beach, you won't give the fleeting summertime a second thought, because it's still going strong with blue skies, warm sand, and refreshing water.
Florida's Space Coast will have you thinking summer has just begun as you take a yoga paddleboard class with SoBe Surf & Paddle or venture to great heights with Cocoa Beach Parasail. September temperatures in Cocoa Beach linger in the 70-80 degree F-range, giving your swimsuit and flip-flops one last run before the official onset of autumn, so make the most of it! Embark on a Bioluminescence Paddle, where you can witness the magic of the underwater light show put on by millions of dinoflagellate organisms, mosey over to the weekly Friday Fest at Taylor and Poinsetta Avenues for some local grub and live music, or simply flop down in the sand at Sidney Fischer Park and relish the sound of seabirds calling overhead and the waves crashing on the shoreline. It's no wonder Cocoa Beach is one of the best places to travel in September.
September runners-up:
Gatlinburg, TN
Kiawah Island, SC
Elkins, WV
Moab, UT
By now, it's time to say so long to summer and embrace the approach of autumn. There's something so pure about fall as the trees change color and shed their summer leaves, leaving a trail of crisp and vibrant beauty. Set your sights on the rusty colors in Charlevoix this October, and you'll soon find yourself seriously falling for fall.
The natural color palate in this neck of the woods can be admired all around, whether you decide to cruise Lake Charlevoix or hoof it on the trails of Charles Ransom Nature Preserve—yes, that's Lake Michigan and Beaver Island in the distance! Better yet, rent a pair of wheels from Revolution Bike and pedal along the Little Traverse Wheelway's wetland boardwalk. October also brings the annual Apple Festival, where you can chomp down on more than 30 kinds of apples from nearby orchards, stock up on locally sourced honey and maple syrup at the fall farmers market, and nosh on apple flappen all day long. And when you're stuffed to the brim with all things apple, don't miss the arts and craft fair at East Park and Bridge Park to round out. Now that's how you do a proper autumn getaway.
October runners-up:
Albuquerque, NM
Portsmouth, NH
Helen, GA
Independence, KS
You have a lot to be thankful for this year, and having the opportunity to travel with your friends and family this month belongs at the tippy top of your gratitude list. With Thanksgiving on the horizon and thankfulness on your mind, a pilgrimage to Plymouth in November is a natural fit.
After all, Plymouth is home to the nation's first Thanksgiving. Don't worry though, you don't have to forgo your own Thanksgiving traditions to see the best of Plymouth, because the town puts on a 3-day festival the weekend before the holiday. In honor of its historic past, the event showcases the famous Thanksgiving parade, New England Food Festival, Harvest Market, and waterfront activities galore. Curious about what really went down on the first Thanksgiving? The Wampanoag Educational Pavilion is hosting Pilmoth Plantation to explain the truth behind the colonists and Wampanoag people's first feast. Beyond the festivities, discover why Plymouth is amazing in November: tour the cranberry bogs at nearby Flax Pond Farms, enjoy Plymouth Beach all to yourself, and slip into 1620 Winery at Village Landing Marketplace.
November runners-up:
Brookneal, VA
Walland, TN
Dyersville, IA
Dothan, AL
December 1 officially marks the time of year when it's appropriate to crank up the Christmas tunes and deck everything out in tinsel. While the best places this time of year are sparkling with twinkly lights and draped in garland, it doesn't have to be below zero outside to feel like a magical holiday wonderland, and Natchitoches is here to prove it.
The average high might skim a toasty 59 degrees F in Natchitoches in December, but you'll feel like you stepped into the North Pole when you see what a Creole Christmas is all about. For starters, the festivities last for six weeks as the city glows with more than 300,000 lights and weekly fireworks flash over Cane River Lake. You'll soon discover that for 40 straight days, holiday cheer fills the calendar, from the Holiday Fest on the Downtown Riverbank to the Festival Lights Parade. Take a holiday tour of the historical homes, pose with Santa, and line up for some famous empanadas from Natchitoches Meat Pies Company for the merriest of experiences. One December trip to Natchitoches and it just may become an annual holiday tradition for you.
December runners-up:
Sioux Falls, SD
Omaha, NE
Medina, OH
Grand Haven, MI
Where else is a good place to travel each month?