By Jennifer Cuellar, on August 7, 2019
The Ultimate Guide to Bike Week in Ocean City
The rev of the V-Twin engine, the creak of leather jackets, the smell of exhaust mixing with the sea air. There's really nothing like a motorcycle rally. Delmarva Bike Week and Ocean City Bikefest are two must-attend events for the motorcyclists in your midst, and the two are often referred to as one event: Bike Week in Ocean City. It's a treat for every sort of biker, from those who were basically born to ride to those whose experience with motorcycles stops with "I heard one go down the street once."
Here's one thing we know is true: bikers know how to party. A stop at Bikefest includes great food, great company, and great music.
What You Need to Know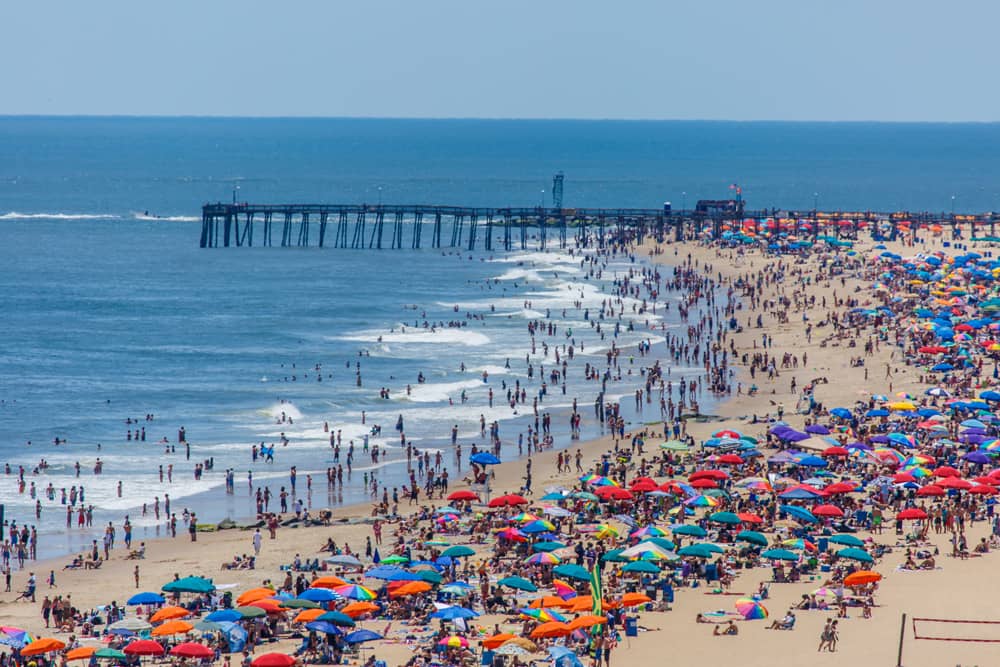 When is Ocean City Bikefest?
The 2019 Ocean City Bikefest runs from Thursday, September 12 through Sunday, September 15. Delmarva Bike Week runs concurrently in nearby Salisbury.
How's the weather?
OC Bike Week arrives smack in the end of summer. During the first part of the month, you can expect pleasant temperatures in the mid to high 70s, with lows only dropping as far as the mid-60s. You can get away with shorts at the event (provided you're not planning to ride one of the bikes), but you'll want to bring a light jacket, too.
Enjoy the warmth and sunshine while you're there; by the end of the month, temps will drop and you'll feel the chill of autumn settling in.
How much are tickets?
If you're only in town for a little bit, you can purchase a single-day admission for $45 for Thursday, Friday, or Saturday. If you're planning on visiting all four days—or don't want to limit yourself—you can get a weekend event pass for $80. Bringing kids under 15? A child pass is $20 for Friday, Saturday, and Sunday and includes special discounts on stores and certain modes of transportation.If you're looking to treat yourself, VIP passes are available starting at $165.
Are there food and drinks?
Fair warning: you can't bring any outside grub or beverages into the festival, so finish chugging that coffee before you walk through the gates. There are plenty of vendors offering everything from quick snacks to full-on meals.Not feeling the food vendors? No worries; the inlet is jammed with restaurants and pubs. This is a beachy tourist area, so you don't need to worry about dressing up or down; almost every venue will welcome you just as you are. Snag a cold one at The Bearded Clam, or grab some Irish grub at Shenanigan's.
Are there other attractions?
Motorcycle rallies aren't just about doing burnouts or seeing how many people you can pile on a Road King. Ocean City Bike Week also features musical performances from popular artists, and the concert price is included with whatever sort of ticket you purchase. On September 12, Hairball is headlining; on September 13 you can see ZZ Top and Cheap Trick; and on September 14 the festival welcomes Rival Sons.
Where is the closest airport?
Flights to Ocean City
arrive at Salisbury Regional Airport. It's the closest airport to Ocean City, and is located roughly 30 miles to the west. It is currently limited to six flights a day, all through American Airlines. You can reserve a rental car from one of several on-site vendors, or book a spot on the Bay Runner Shuttle to Ocean City.Larger airports like Dulles International and Philadelphia International are options if you don't mind a longer ride or drive down to Ocean City (about 175 and 140 miles away, respectively).
What are the transportation options?
If you've really embraced the spirit of Bikefest and intend to roll up on your Harley, you can find marked parking lots all over the islet. If you left the bike at home, bear in mind the roads and parking lots will be busy and more challenging than usual. You can get around Ocean City via the Boardwalk Tram ($4 per person), the Park-N-Ride Beach Bus ($3 to ride all day), or even the Coastal Highway Beach Bus ($3 all day).
But hey, odds are it's still going to be pretty nice out! Why not walk?
Where to Stay?
You're staying at the beach; why not make it a real beach getaway by staying at one of the
hotels in Ocean City
. If you really want to live your best life at the Bikefest, stay on or near the inlet; if Ocean City and greater Maryland are a stronger call, a stay on the outskirts will also work.
Staying on the inlet may be pricier, but you'll be in the center of all the action—and you might just score oceanfront views, too.
Along Route 1 you'll find more oceanfront hotels and access to scenic spaces like the Assawoman Wildlife Area and Indian River Inlet.
What to do in Ocean City?
While spending a weekend in Ocean City is a wonderful way to kick back and relax, if you're visiting during Bikefest, you can expect large crowds of people.
The beach: Ocean City itself may be packed, the beach is usually pretty calm during this particular weekend. Bring some sunscreen and your flip-flops and enjoy the last of the summer weather.
Road trip: If you've got your motorcycle—or even just a sweet convertible—then get up and go! If you follow Route 50 west, you'll eventually wind up all the way in Sacramento.
Play some golf: Ocean City has 17 courses. Bring your clubs or rent a set and work on your par.
You love bikes and you love the beach. Bike Week in Ocean City lets you combine those things and even throws in some great concerts on top of them. Just remember to send us a postcard!