By Katie Doten, on April 19, 2021
Travel Podcast S3 Ep #1: Welcome to Season Three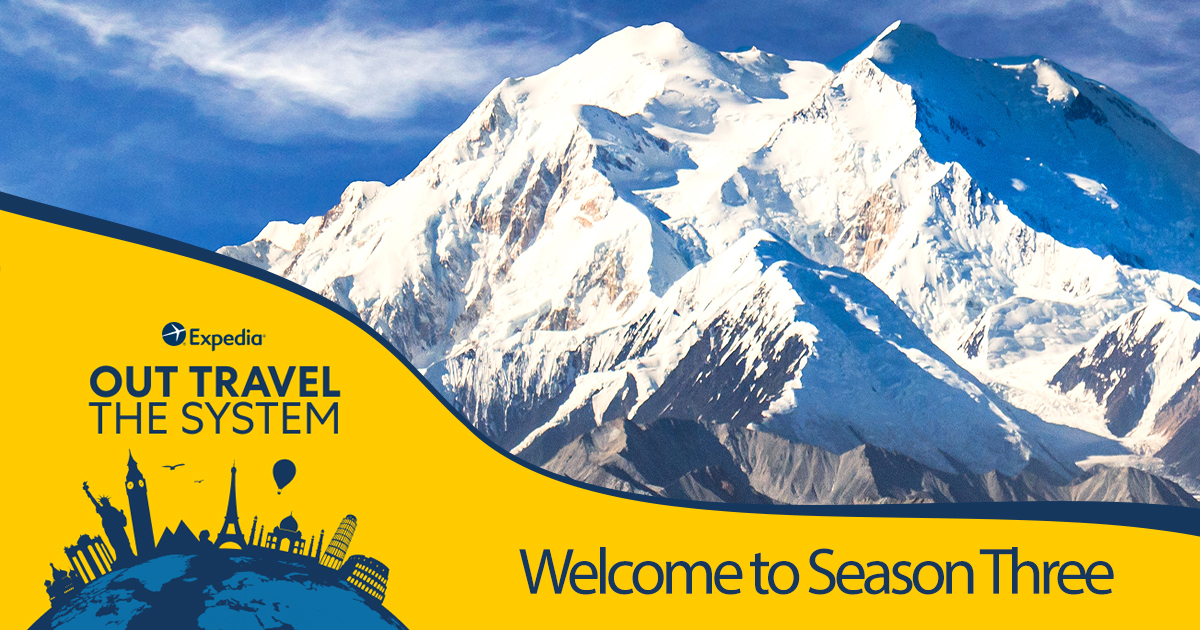 [full-width-paragraph]
Here we are, once again, thinking about what travel means during a pandemic. What's different about Season Three of Out Travel the System though, is that we feel as though we can expand beyond inspiring and informing, and — cautiously, optimistically — talk about dreaming and actually going when the time and circumstances are right for you.
Join host Nisreene Atassi as she's joined by Out Travel the System's associate producer Katie Doten. Together, they pull back the curtain on some of the travel topics and destinations we'll be exploring in Season Three – as well as some of the realizations they've come to about the value of travel to them. Katie tells a story about a side hustle she's seriously considering, and shares a tip that you may never have thought of – she would be delighted if you bite her style!
---
---
---
Welcome to Season 3
Nisreene Atassi: On average in a normal year, I'm pretty much always on the go. I somehow manage to pack in four to five international trips in between trips to New York, visiting family back in Chicago, or my husband's family in Denver – and then of course my own family vacations. When you put all that together, I'm traveling somewhere between 10 to 20 times in a year. This past year, I did one. And let me tell you, I felt it. The absence of travel was noticeable in my life, and I know I'm not alone. But looking ahead to 2021, I can definitely see the light at the end of the jet bridge.
Nisreene Atassi: I'm Nisreene Atassi, and this is Out Travel The System. It seems like just yesterday, we were talking about inspiring and informing you all about travel and Season Two. But I guess that's just one of the strange effects of trying to track time during a pandemic. For Season Three, we're aiming much higher as we start talking about dreaming and finally going, when it comes to travel. Transparency has always been a big focus for us and we're cautiously optimistic as vaccination efforts continue to roll out across the globe. For many of us, what has become clear is that travel is not just a nice thing to do, it's something we need to do. For this inaugural episode of Season Three, I'm going to introduce you to an invaluable member of the Out Travel The System team: our associate producer, Katie Doten. Hi Katie.
Katie Doten: Hi Nissy. Thanks for having me.
Nisreene Atassi: How does it feel to be on the other side of the show for the first time?
Katie Doten: Amazing, strange, excited to be here….. Nervous, all of the feelings.
Nisreene Atassi: All right. Producer Katie. Well, now that you're officially in the hot seat, we're going to go ahead and dive right in. So first and foremost, Katie, have you traveled at all this past year?
Katie Doten: I did. My husband and I traveled to Alaska this summer. We took a camper van and drove around and went to different national parks. And it was exactly what we did.
Nisreene Atassi: Katie – can you tell our listeners the story about when you got your camper van?
Katie Doten: Anchorage is huge. I mean, the population isn't. Basically not as populated as New York City, but like square mileage, Anchorage is huge and we're picking up the van in Anchorage. We're driving so far. I feel like we're driving to another city. We're not, we're technically still i n Anchorage. We're driving, we're driving. We pull into like this suburban neighborhood. I'm like, " Okay, this is interesting." I'm picturing, I don't know, like a Hertz rental car and it's just this guy's house. And he just has camper vans at his house. He was so laid back. He actually is from a town that's maybe, maybe 10 minutes from where my husband and I grew up, which is so random. He moved to Alaska a few years ago.
Nisreene Atassi: Unbelievable.
Katie Doten: Yeah, he was so nice. He was so chill. He's like, " Have you ever driven one of these before?" And I was like, " I mean, I drove like a 15 passenger van on a school field trip in college." He's like, " Okay, you're fine. Just look around whatever you want." We're like, " Okay." And he just gave us the keys, we signed some paperwork, and just drove out of his neighborhood. And I was like, that is not what I expected, but it was so awesome. And definitely ever since then, we've been talking about like, how do we get a van? How do we rent out a van for people in Seattle? You can just do this from your house. I mean, we should be doing this!
Nisreene Atassi: Amazing. So what was the process around like booking the trip like? And what were all the different sort of factors that you took into consideration as you were planning your trip?
Katie Doten: Alaska was requiring proof that you did not have COVID so you could either test 72 hours before going, which is what we chose to do. Or you could quarantine for two weeks. Once we got there, my husband jokes that I was kind of made for COVID. I'm already a bit of a hypochondriac, so I'm already the person that would get on a plane and literally wipe every surface. Like he gets on and is like, " Do not touch anything. Here's your wipe. This is what we need to wipe down." Nissy, how about you. Did you go anywhere?
Nisreene Atassi: Yeah. So I did my very own Work From Here trip. My husband and I actually went down to Florida for a little over a month and just worked from a different location. For those of you who don't know, getting to Florida from Seattle is a nightmare. It's two very long flights with very long layovers. It's probably easier actually to go to Europe than it is to go to Florida from Seattle. So when Alaska launched their direct flight to Fort Myers, which is where my parents live, it felt like a very nice opportunity. We looked at all of the restrictions. When we got to Florida, we quarantined for 10 days, took a COVID test, and then went and moved in with my parents. They're older, so they had already been vaccinated when we got there. So we felt a little bit more comfortable.
Katie Doten: Yeah, I remember being on calls with you. And you were sitting outside in Florida, talking…
Nisreene Atassi: I know, it's so obnoxious. I don't, I felt bad but also I didn't feel bad.
Katie Doten: Nor should you.
Nisreene Atassi: Like, sorry, not sorry.
Katie Doten: Yeah, seriously.
Nisreene Atassi: Yeah.
Katie Doten: We got some negative feedback last season from people who didn't understand why on earth we were putting out a podcast about travel, and probably who didn't listen to parts where we emphasized only traveling when and if the time was right for them. Are you worried about that for this season?
Nisreene Atassi: You know, when I did see some of that feedback start to come in, it was tough because we obviously, this show is all about our listeners. And it's all about helping people out and making sure that they have everything they need to make decisions. And on the one side we were seeing that negative feedback come in. But on the other side, we were looking at like our social channels and people had so many questions because they weren't sure what to do. Whether it was I have a credit and I don't want it. I don't know how to use my credit, or things like, " I feel like I want to travel, but I need some inspiration." We saw tons of spikes in terms of people looking for staycation ideas and things like that. And so I'm actually glad we came out with the season because it felt like we were staying true to our ethos of helping people Out Travel the System, by making sure that they had all the information possible. Even when the travel industry is being flipped on its head, I think so many brands thought, oh, we should sort of retreat and go quiet for a little bit. But I didn't want us to be that because I saw so many people who needed help with so many different things, whether it was inspiring them to do a staycation and helping them to understand that you can still get that same benefit of travel. Even if you drive a mile away from your house and go and see a different town, or stay in a hotel for just one night, or something along those lines. It gives you that same sort of vibe and same benefits of traveling. So we just wanted to make sure that we were still inspiring people. And so I'm absolutely not worried about that for this season, because I think we wrapped Season Two, feeling a hundred percent confident that the content that we had put out was responsible content, was helpful content, And that we were doing a service to our travelers by giving them what they need. And I think now this Season Three, isn't going to be any different. Obviously we are not totally in the clear pandemic- wise. We are still in the middle of it, but things are looking really good, right? People are getting vaccinated. There's a lot of talk about international travel opening back up, and it would be a disservice to travelers if we didn't make sure that they were armed and ready for that kind of stuff. Because travel is going to come back, it is going to come back with a vengeance. It's going to be different than it was before. We need to make sure that the travelers are ready for what those differences are and that they're fully prepared. So I feel good about it. Do you feel good about it, Katie? How do you feel?
Katie Doten: I feel great about it. I, one-hundred percent agree with everything you said. Travel's not going away and we want to help you feel safe on your way.
Nisreene Atassi: We're going to talk about going beyond travel tips and tricks, and the idea of really maximizing your trip right after this.
Nisreene Atassi: You're listening to Out Travel The System. I'm your host, Nisreene Atassi. We are thrilled to have been named a top travel podcast by Lonely Planet, Travel and Leisure, and the Washington Post, and to have been named a finalist in the Shorty Awards for the best branded podcasts. In Season Three, we're aiming even higher by bringing you more episodes, chock full of handy advice and travel stories that will take you to destinations all around the globe. So make sure you like and subscribe to get an episode in your feed the second it drops.
Nisreene Atassi: I'm here with Katie Doten, Out Travel The System's associate producer. Katie, I think it would be good for us to talk a little bit about what our thought process was in designing Season Three.
Katie Doten: We are going to be continuing to do these deep dive destination episodes. I'm looking at Spain, France. We're going to look at winter beach vacations. What's it like to travel with kids under five? I'm excited for this season. We're already looking towards the next season. And I hope everyone is excited to hear what we have for you.
Nisreene Atassi: Yeah. And you know, I think a really interesting thing about the deep dives that we learned from Season Two was that people are coming in and sort of looking at the catalog of episodes and then going and picking and choosing the episode that they want to listen to based on wherever they're at in their travel journey. So if they are thinking about a trip, but unsure of where they want to go, they can listen to a couple of the deep dives. Or if they're looking to get a better deal, then they can go and listen to our best time to book episodes. So I think just looking at how people have been engaging in the episodes has been really helpful in helping us to craft Season Three. Do you think you'll be doing things the same way or differently compared to your pre- pandemic travel times?
Katie Doten: Great question. I think honestly, a bit of both. I am still going to be traveling. Travel is a huge part of my life, my husband's life. It's something that we prioritize. I'm going to be traveling. That's who I am.
Katie Doten: For me, masks are here to stay. I'm comfortable in them. I love them. I honestly, I can't imagine taking an airplane without a mask at this point. I love masks. So that is a huge change for me.
Nisreene Atassi: I know. And you know, what's really interesting about the masks? Is that when you go to other parts of the world, they're actually a pretty common thing that you see in public places or in highly populated areas. I think the important thing is, is that you're going to keep doing what makes you feel the most comfortable. And frankly, that's all that absolutely really matters. You do whatever is right for you, right for your family, and what's going to give you sort of the most joy in your life. So I'm glad that you're sort of sticking to that.
Nisreene Atassi: So Katie, we've talked a lot on the podcast about doing your research to make sure you're an informed traveler and making really informed decisions. To what extent is that going to continue to be a part of your sort of travel process moving forward?
Katie Doten: Yeah, totally. My research before traveling is probably going to be different going forward, definitely be looking at vaccination rates for my own peace of mind, but also to make sure that I'm being respectful of the places where we're visiting. And I want to make sure that I'm following not only the US guidelines, but the guidelines of the country and or city place that I'm looking to visit. It's very important to me. We really respect the places that we get to go. We are grateful to be able to visit some of the places we've been able to visit. For example, and this is just something we do after we visited Alaska, we donated to some wildlife charities because we were in the national parks and it was amazing. And we felt very grateful to be able to do that.
Katie Doten: You know, I know that travel is such a huge part of your identity. You've talked about it over the past couple of seasons. You've talked about it this episode. Where do you think you'll direct all of this pent up wanderlust first?
Nisreene Atassi: Yeah, I'll be honest. So I've been thinking and dreaming a lot about New York City. And New York is a hundred percent one of those places that I took for granted every time I went there. So because it is just always such a common place for me to go work- wise, I think I started to associate New York with just sort of work stress and being super busy and running around. And during this past year, I started to really appreciate all of the beauty that Manhattan and the uniqueness that Manhattan has to offer. Just been really missing the vibe and the energy that New York brings, which is it's so strange because it's somewhere that I have just, I've been so many times that I know the city so well. And maybe that's why it's top of my list because I just, I genuinely miss it.
Nisreene Atassi: I guess if we had to identify a tiny, tiny silver lining when it comes to the travel world and COVID is that this time has really given us an opportunity to think about what travel means to us. And it's let us sort of save up quite a lot of travel budget, to be honest. So what's top of mind on your travel list, Katie?
Katie Doten: As soon as it is safe, Japan.
Nisreene Atassi: Yes, yes!
Katie Doten: The episode that we did for Season Two, I mean, I was just sitting there listening to the recording, just picturing myself there. And the best part about listening to the podcast episode is there's just so much more about Japan that I'd never thought of before. Honestly, I have a bucket list of just things in Japan.
Nisreene Atassi: Totally.
Katie Doten: Soon as it's safe. That is top of our list.
Nisreene Atassi: All right. So Katie, what are your hopes and dreams when it comes to travel for this season of the podcast in the year ahead?
Katie Doten: Yeah, for this season of the podcast, I really want to continue to help inspire travel. But I also, like you mentioned at the beginning, I want to help people who are now actually going and actually going out and traveling. Things are starting to open up. People are getting vaccinated. I want our podcast to be a travel companion in a word. You know, I want to be there for people to say, " Hey, I've been thinking about going to Hawaii. Didn't Expedia's podcast have an episode on Hawaii that I should go back and listen to?" Or, " Hey, I'm still a little nervous about traveling on airplanes, but I think they had like an episode on road trips and it'd be great to listen to that." I want to continue to create these episodes that people can either choose and to listen to every episode as it comes out – which is awesome, please do! – or they can go back and say, ' I think they had an episode on this. I'm going to go find that episode, and that's going to help me book this travel or plan this travel or inspire me because I haven't been traveling and I need some fresh ideas on where to travel.' And I hope and really think that we're going to be able to do that this season.
Nisreene Atassi: Yeah, I love that. I kind of feel like I'm the same, to be honest. Like I want people to really feel like they are getting something out of this show. We talk about the name of the show a little bit, but moreso I feel like off camera, if you will, about what it actually means to Out Travel the System, and how we can make sure that we are delivering against that promise. And I want people to walk away with information, I mean like, " I had no idea," or, " I'm so thankful I listened to this episode because it allowed me to do X, Y, and Z," or, " It allowed me to rethink this trip a little bit more," because it's not going to deliver on exactly what I was looking for because at the end of the day, I want to make sure that travelers are out there and they're getting the exact same experiences that I get when I travel. Because it is just so fundamentally beneficial, I think, to your psyche and to just sort of your ability to view the world, that I just want to make sure everybody has the best experience possible. And I know that's obviously not a guarantee and we can't take care of everything, but we can really do our best to make sure everybody has all the information. And so if people walk away thinking, " Oh, I'm so glad I listened to the episode because it helped me avoid this or it made sure I did this, which contributed to me having a really great trip," then frankly, I feel like we have really done our job and sort of delivered on the promise to the show. So I'm super excited for season three. Katie, thank you for taking your time to come and sit in the hot seat with me today. I know it's a bit different to be on the other side of the, I don't know, are we on the other side of the camera? Are we on the other side of the mic? Like the sound room board? I don't really know, but I'm glad that you came and crossed over and sat in the seat for a minute with me. So thanks for being on the show, Katie.
Katie Doten: Oh, you're welcome. This has been so much fun.
Nisreene Atassi: All right, there is a lot more in store here on Season Three of the show. I cannot wait to give you the inside scoop on some of the destinations we're featuring and some guidance on when to save and when to splurge on different parts of your trip. I'm Nisreene Atassi, and this is Out Travel The System.
Nisreene Atassi: In our next episode, we're putting some serious thought into what travel prep looks like these days. Until then, happy travels!
Nisreene Atassi: Out Travel The System is brought to you by Expedia. Our show runner and executive producer is Claudia Kwan. Our associate producer is Katie Doten, with sound engineering from Jill Constantine. Additional production support is provided by JAR Audio.
Show links: Expedia // Alpine Campervans // Expedia Social Media: Instagram, Twitter, and Facebook
[archivist template="Category" category="podcast" pagination="3″ controls="false"]
Listen to more travel podcast episodes
[/full-width-paragraph]