By Expedia, on February 2, 2020
How to Spend a Weekend in Barcelona
Spain's Catalonian capital, Barcelona, is a vibrant travel destination and a hub for art and culture. There's so much to see and do that you could never run out of new experiences in this great city, but what if you only have a weekend in Barcelona? If you're planning a short trip, take a look at this suggested itinerary and ideas for spending 2 or 3 days in Barcelona and how you can see all the city's highlights.
Friday Evening
When you arrive on Friday, you'll have 72 hours in Barcelona. Start with dinner at Agut, a historic and authentic Catalan restaurant in the Gothic Quarter. In addition to delicious meals, the restaurant is also home to a variety of masterpieces from 20th-century Catalan painters. You'll also like Pakta, a Japanese-Peruvian fusion restaurant with delicious foods like mackerel maki, as well as a tasting menu to try all the unique dishes.
If you want to start your weekend off right, see an opera. The city has numerous theatres and opera houses where you can see an opera, such as Liceu Theatre. The time-honor tradition is a must during your trip, especially with classic performances like Madame Butterfly and Hamlet. You could also see La Pedreda and "The Origins" show, which includes a semi-guided evening tour of Casa Mila and a surreal audiovisual performance on the roof terrace.
Saturday Morning
On Saturday morning, you'll have 48 hours remaining in Barcelona. Start with breakfast at La Pubilla, a charming neighborhood classic in the Gracia area. You can enjoy classic knife-and-fork breakfasts like scrambled eggs with pancetta or a Spanish tortilla. The restaurant is right in front of Mercat de la Libertat, so be sure to visit this excellent food market before you start sightseeing.
After breakfast, start your sightseeing at Park Güell, a massive public park with gardens, architectonic elements, and unique sculptures designed by Gaudi. Plan to spend a few hours exploring the park to see its many highlights, such as the Serpentine Bench, El Drac, and the Gaudi House Museum.
For lunch, try Boneta, a Catalan tapas and small-dish restaurant with a family vibe. The charming space has sampler plates, salads, and other small dishes for a quick lunch between sightseeing excursions, all served with an imaginative twist.
Saturday Afternoon and Evening
After lunch, take some time to explore some more of Gaudi's masterpieces, such as Casa Batlló, a spectacular apartment complex, and La Sagrada Familia, a magnificent church with unique architectural elements. You could also see Güell Palace, another Gaudi-designed mansion and heritage site.
On Saturday night in Barcelona, you'll have endless options for nightlife and fun. Begin with dinner at Lasarte, a creative Michelin-starred restaurant with an Italian chef. The restaurant serves elegant dishes like apple millefeuille and foie gras, so you may experience something new and different.
There's no better way to experience Saturday night in Barcelona than with a flamenco show. You can find numerous flamenco clubs throughout the city that offer authentic Spanish culture in the form of this passionate dance. Most clubs have several flamenco concerts each night, complete with dinner and drinks. One of the best places is Palacio de Flamenco, a restored 1920s theater with vibrant performances.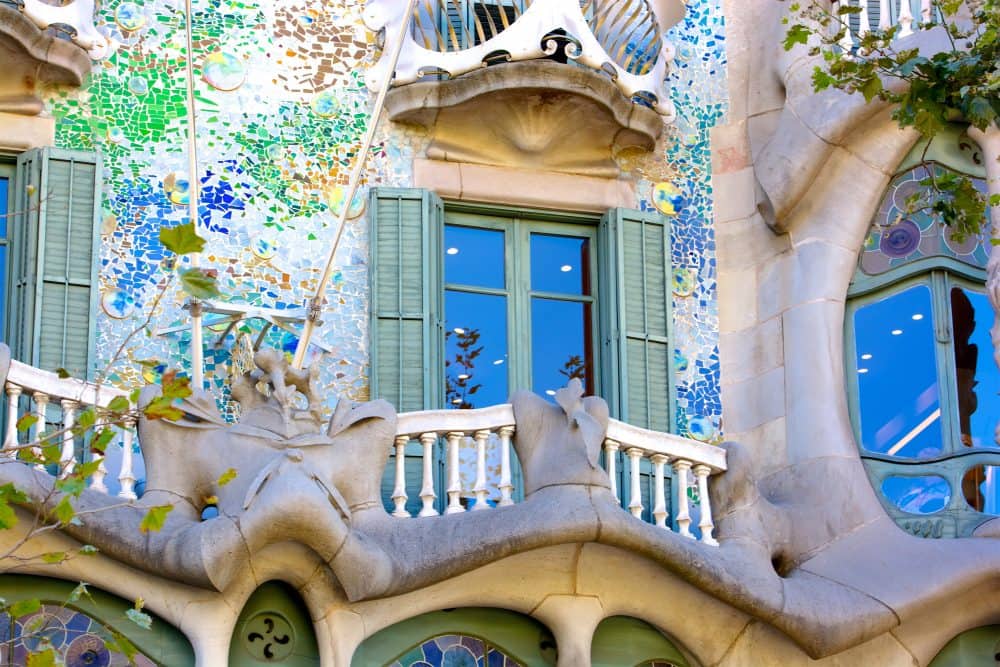 Sunday Morning
On Sunday morning in Barcelona, you'll have 24 hours left to explore the city. For a unique breakfast, visit Granja M Viader, an authentic Catalan restaurant, for fantastic dishes like chocolate con churros and crema catalana.
After lunch, work off your meal with a trip to La Rambla, a vibrant street with shops, cafes, and landmarks. The beautiful area connects the Gothic Quarter to the east and El Raval to the west, giving you plenty of things to see and do. One of the highlights is the Christopher Columbus Monument, a statue honoring the famous explorer.
You could also head into the Gothic Quarter to see features like remnants of Roman times and the Cathedral of Barcelona. There are plenty of unique shops and street vendors selling everything from leather goods and jewelry to snack food.
For lunch, visit Alkimia, a modern gastro restaurant with signature Catalan cuisine and local ingredients, such as caramelized cabbage with cheese and horseradish.
Sunday Afternoon and Evening
After lunch, take some time to explore the city's vibrant museums. Start with the Picasso Museum, which is home to one of the largest collections of artworks from Picasso, and Poble Espanyol, a museum dedicated to Spanish regional architecture museum with excellent examples of historic Spanish design features.
On Sunday night in Barcelona, be sure to take in the fun nightlife you may have missed. Have an inventive dinner at the bistronomic Gresca restaurant, which features a daring chef with creative dishes like octopus with black sausage and ginger squab.
Before you leave, be sure to see the Magic Fountain. This stunning fountain has a waterworks display with a water feature and lights that move to pop and classical music. You could also take a Segway tour at night, which will take you to the city's best landmarks and down hidden streets with unique attractions.
Ready for the perfect weekend getaway?
With all these tips and ideas for spending a weekend in Barcelona, you're ready to plan your trip. Take a look at more travel tips for Barcelona and find deals on Barcelona vacations on Expedia for an unforgettable experience!