By Expedia Local Expert, on April 26, 2017
7 ways to discover the Dubai desert
With its seemingly endless ocean of sand and desolate beauty, the Arabian Desert holds a certain mystique to captivate the imagination. During your visit to the sprawling metropolis of Dubai, an excursion to the majestic and barren landscape located right on its doorstep is a must. No matter what kind of traveler you are, there are plenty of ways to explore this vast wilderness, from ripping across the tawny dunes in an ATV to indulging in the traditional comforts of a Bedouin-style camp. Check out our favorite desert-related things to do in Dubai, and discover your ideal adventure in the city's enchanting arid backyard.
Ride camels.
Travel back in time to the Dubai of yesteryear with a ride on "the ship of the desert," also known as the dromedary camel. These single-humped ungulates have carted travelers around the Arabian Peninsula for thousands of years, so there's no better way to experience the landscape as it once was than this tried-and-true mode of transportation. Join a Platinum Heritage safari, meet your camel for the morning, and enjoy the rhythmic sway of your steady companion as you make the short trek to a Bedouin camp. Once you arrive, your hosts just might introduce you to another camel-centric tradition—a zesty meat dish!
Cruise the dunes in an 4×4.
Rippling hills and valleys of sand, and no roads anywhere in sight—the Emirati desert is a playground paradise for 4x4s. Let the guides at Alpha Tours take you on the ultimate dune adventure in a vehicle that's more than up to the task. Hang on tight and prepare for a high-speed good time as your expert driver races through tight turns, steep climbs, and long runs across expansive stretches of wilderness. As the sinking sun paints the sky, head for a campsite to unwind with a delicious Arabian feast.
Check out the wildlife.
While the Arabian Desert's hot, dry climate is unfriendly to most plant and animal species, there are some resilient critters that have adapted to this extreme environment. Seek out Dubai's remarkable wildlife on a tour with Platinum Heritage that leads you into the Dubai Desert Conservation Reserve, in which you can spot oryxes, gazelles, Arabian wildcats, and a variety of bird life. Afterward, get up-close and personal with desert-loving birds of prey as expert falconers introduce you to their impeccably trained avian companions.
Stay overnight.
Nomadic Bedouin communities have roamed the Arabian Peninsula since ancient times, so there's no better way to get a taste of life in the desert than to spend the night under the stars at a traditional camp. Head out with the guides at Platinum Heritage for an evening of hospitality and entertainment around a roaring bonfire, complete with shisha, henna, and the graceful sway of belly dancers. If you're a morning person, wake up early to catch the fiery spectacle of the desert sunrise before heading back to the city.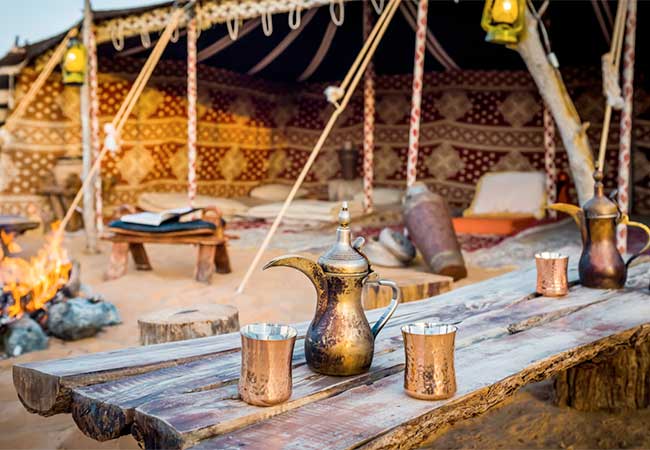 Go sandboarding.
Take a snowboard, subtract the heavy gear, substitute sand for snow, and you have sandboarding. Strap your feet into a board and try your hand at zipping down the dunes with the folks at OceanAir Travel, who have designed a desert adventure to please the thrill-seeker. After working up a sweat carving down mountains of sand (no chair lifts in the desert means walking back up for every ride), you also have time to take out a quad bike or race across the rolling terrain in a dune buggy.
Get the luxury experience.
If champagne and glamping are more your speed than camel rides and 4×4 racing, cater to your fine tastes with an escape to Platinum Heritage's private desert retreat, where a lavish 6-course dinner awaits you. As you watch a dazzling blanket of stars appear in the deepening twilight, recline on plush cushions and linger over a sumptuous menu starring dishes like white truffle custard with caviar, tea-smoked lamb with fennel, and Australian Angus rib eye steak. C'est magnifique!
Soar in a hot air balloon.
The Arabian Desert stretches across an area of nearly 900,000 square miles (2.3 million square km), and an aerial point of view offers a breathtaking perspective on its sprawling grandeur. Start your day early and climb into a hot air balloon with the guides at Alpha Tours for an unforgettable sunrise flight. In the cool morning air, watch the sunlight spread over craggy mountain peaks and rolling sand dunes as far as the eye can see, and keep an eye out for wandering camels and spotted gazelles before touching down on the ground again.
Dubai offers a desert adventure for just about every personality, so which one will you choose?