By Laura Powell, on November 16, 2022
Dreaming Of A White Christmas? A CNN Meteorologist Reveals Your Best Bets
It's getting harder and harder to pick a place to travel where you'll be guaranteed a  white Christmas. But CNN meteorologist Brandon Miller, who is also the network's climate crisis expert, has the forecast for some of this year's best bets. He's pored over NOAA's Winter Outlook, weighed the historical likelihood of Christmas Day snow, and stirred in a bit of weatherman's intuition to come up with his holiday list. And yes, he's checked it twice.
Boise, Idaho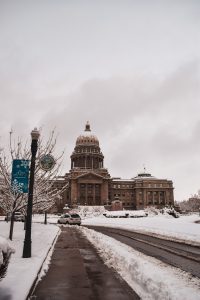 According to MIller, "Idaho gives you some of the highest probabilities of snow in the Lower 48 during Christmas." That said, the city of Boise sits in a valley where "you do run the risk of being snowless in late December."
No snow, no worries. You'll be surrounded by snowcapped mountains, plus there's plenty to do in town. Carrie Westergard, Executive Director of the Boise Convention & Visitors Bureau, makes sure to "bask in the downtown lights and decorations, including Grove Plaza's giant Christmas tree, or stroll through 600,000 twinkling lights at the Idaho Botanical Garden's Winter Garden aGlow." She also recommends taking part in a festive greenhouse farm-to-table experience and sampling Idaho wine or locally brewed beer.
After indulging in the holiday spirit and spirits, sleep at the Modern Hotel, a buzzy hotspot featuring retro-cool vibes. By the way, if it doesn't snow in Boise and you really crave the white stuff, the Modern's operations manager, Erika Hiner, recommends running up to Bogus Basin, the ski resort located in the city's backyard. "Head up the mountain early if you like solitude on the slopes," she says "and be sure to toast with locals at J.R.'s T-Bar between runs." 
Steamboat Springs, Colorado
"Not all snow is created equal." So says Miller, who suggests that the Champagne Powder®️ (yes, it's trademarked) that falls in Steamboat Springs "is the snow White Christmas dreams (and skiers' dreams) are made of." Steamboat gets more than 300 inches of snow each year (of which more than 100 inches can fall in December), so the forecast for a white Christmas is pretty darn good. Miller describes downtown Steamboat Springs as "a cute little town that looks like it is straight out of one of the 147 Hallmark Christmas movies you'll watch this season." Laura Soard, marketing director for the Steamboat Springs Chamber, agrees. "The holiday season is one of my favorite times to be here. I love shopping downtown when the stores put up their lights and Christmas displays."
Of course, no visit here is complete without a run or two down the slopes. The Steamboat Grand, just steps from the base of the ski area, offers a selection of standard hotel rooms, condos, studios and penthouses. 
Chicago, Illinois
If you're after a white Christmas, Miller says you should really consider Chicago. The Windy City is usually the snowy city come winter and "this year, the chances could be even higher for snow during that last week or two of December." Be sure to bundle up, though. Winter winds coming off Lake Michigan can make it feel like the temperature is in single digits.
Intrepid Chicagoans, however, never let a little cold weather get in the way of a good time. "I personally love exploring the Christkindlmarket [German-style Christmas market] with friends and family, visiting the Great Tree in Macy's beautiful Walnut Room, exploring the lights of Chicago's Magnificent Mile and taking part in the Millennium Park Holiday Sing-Along in front of Chicago's iconic Cloud Gate (the Bean)," says Lynn Osmond, president and CEO of Choose Chicago.
All of those experiences are within easy walking distance of The Gwen, a Luxury Collection Hotel. Even better, the hotel is connected via an indoor walkway to The Shops at North Bridge, a mall that includes Nordstrom and Eataly, an Italian food hall featuring 20-plus eateries. So, holiday shoppers don't even have to go outside, which is a big bonus if a visit coincides with one of Chicago's notorious polar vortexes. 
Stowe, Vermont
 You can't get more "White Christmas" than Vermont. After all, a fictional inn in the Green Mountain State was the backdrop for the movie of the same name. Miller says if you want snow for Christmas, head to Stowe. The ski resort town averages 39 inches of it in December, its snowiest month of the year. What's more, Stowe and nearby Mount Mansfield top out on NOAA's historical probabilities of seeing a white Christmas this year, at 99 percent.
That's why Matthew Wheeler, area general manager for Topnotch Resort recommends holiday visitors get outside. "Stowe is a great place to ski, and there are also plenty of outdoor activities off the mountain, from snowshoeing and snowmobiling to fat tire biking and sleigh rides." "The town of Stowe itself couldn't be a more perfect looking New England town," notes Miller, "plucked straight out of a Thomas Kinkade painting." If holiday shopping is your thing, Wheeler suggests picking up unique Vermont presents at locally owned boutiques in town, or looking for oldies but goodies at the antique shops lining Route 100. 
Lake Tahoe, California/Nevada
Snow in California and Nevada? Sure, if you are in the Sierra Nevada. Thanks to a La Niña pattern, Miller says the area, which encompasses Lake Tahoe, should be getting plenty of snow this year.
"The holidays are almost guaranteed to be white in Tahoe, so that sets the stage for traditional activities, whether it's skiing, snow play or simply strolling through town to see it all dressed up in its holiday finest," says Carol Chaplin president and CEO of Lake Tahoe Visitors Authority. Chaplin loves to see the forest glistening after a fresh snowfall, and might head out on snowshoes with friends. "At the end of the day, it's back to the lodge for a crackling fire, hot chocolate, or better yet, a hot toddy."
As for start-of-day recommendations, "I can't think of anything better than waking up to the view of snow-capped mountains reflecting in the glass-like Lake Tahoe," says Miller who loves the amazing views at Edgewood Tahoe Resort. The Edgewood gets into the holiday spirit with a 12 Days of Christmas event, which includes activities like nightly hot cocoa socials, cookie decorating and visits with Mrs. Claus (Santa is otherwise engaged, apparently).
Perdido Key, Alabama/Florida
"Even the likeliest of snow destinations can have a warm spell," says Miller, "and with climate change decreasing the likelihood of getting snow on Christmas these days, take it easy on yourself and go with a guaranteed White Christmas." To do so, he follows the advice of country singer Kenny Chesney, who croons that one of the best ways to enjoy a white Christmas is to dip your toes in some white sand.
Perdido Key, perched along the Florida-Alabama line, has glimmering white sand in spades. While there, Miller recommends listening to Chesney's Christmas album at famed beachfront dive bar the Flora-Bama, a hangout he immortalized in song. Meanwhile, Lindsey Steck, marketing and communications manager for Visit Pensacola, says that during the holidays, "I find myself heading to 'The Key' for some much-needed R&R. The beaches, while still warm and sun-drenched, are practically empty for serene walks along the Gulf of Mexico," she says. "The Yacht Club is where I go for buttery char-grilled oysters and Greek seafood nachos, and the Lounge & Package across the street keeps the bushwackers [cocktail] and live music flowing."
The Perdido Beach Resort, located right on the Gulf of Mexico, offers a range of hotel room options, along with a private beach, sailing, and kayaking, an indoor and outdoor pool and five on-site restaurants.