By Kohleun Adamson, on July 29, 2019
Cheap Date Ideas in Seattle
Gorgeous views of Puget Sound, an amazing food scene, and unique events make it easy to go on romantic dates in Seattle—whether you want to make a great first impression or feed the fire of your current relationship. Love may not cost a thing, but special experiences with your significant other can have a big price tag.
So, next time you visit Seattle, find new ways to connect with these great cheap date ideas.
We went on a mission—in the name of love—to find the best cheap date ideas in Seattle.
What are the best first date ideas in Seattle?
First dates are all about getting to know a new person and spending some uninterrupted time enjoying each other's company. Impressing them with a unique experience is a great way to get a second date, too! Here are the best date spots in Seattle for new relationships:
Happy hour at Artusi
Capitol Hill
Artusi is one of the best date restaurants in Seattle. Impress your date with Artusi's chic design and delicious cocktails. Happy hour pricing is available Monday-Thursday, 5-7 p.m. and every Friday from 10 p.m. to close. Select drinks are just $6 and small plates cost $12 and less. Making plans for the weekend? Pasta Night is every Sunday and Monday: you get two pastas and a bottle of wine for $40.
Open Mic Night at Laughs Comedy Club
University District
A good sense of humor is such an attractive quality. Find out what makes your date laugh out loud at open mic night. Laughs Comedy Club showcases local talent and offers standup classes if the two of you are inspired to take your turn on stage. Like most comedy venues, Laughs doesn't charge a cover for open mic night, but they do have a two-item food and drink minimum and everything on the menu is $11 or less.
Bainbridge Island Ferry and Crepes
Pioneer Square and Bainbridge Island
Starting from the terminal near Pioneer Square, the ferry to Bainbridge Island is an easy 30-35 minutes of beautiful waterfront views. After the commuting rush has made it home, the ferry is uncrowded and pretty romantic. Once you reach Bainbridge, stop for a sweet treat at J'aime Les Crêpes. We can't think of a more charming (or affordable) date in Seattle.
Are there any Seattle date ideas that don't require reservations?
It's not always easy to plan dates ahead of time, for travelers and locals alike. That's OK! There are several fun date night ideas in Seattle that don't require reservations or advance tickets. Check these out:
Revel
South Lake Union
With Revel's crazy-inventive kitchen and extremely photogenic eats, you'd think getting a table would be as tricky as getting an invite to the Met Ball. Somehow, this date night hot spot has a relatively short wait time, even during happy hour and dinner time. All happy hour eats are $9 or less, and lunch and dinner entrees are affordable too.
Mojito
Maple Leaf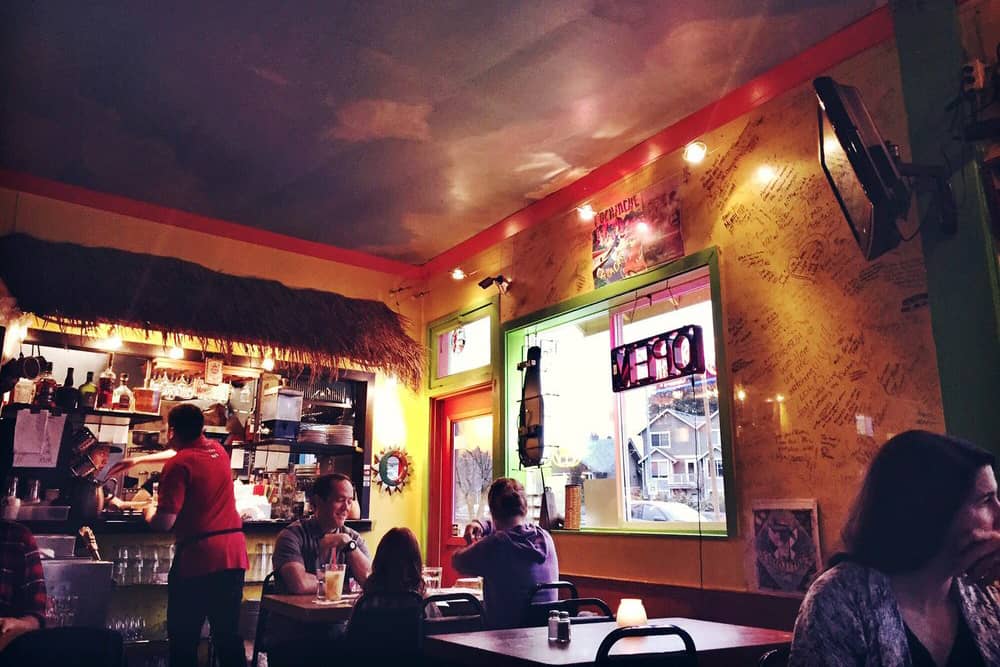 Latin cuisine, bold colors, and friendly neighborhood vibes will complement your relationship at any stage. Be spontaneous with your spouse or turn a second date into your third. Weather permitting, sip the Million Dollar Mojito on the patio with your sweetheart; at $12, it's a steal of a deal. You'll find plenty of vegetarian dishes and gluten-free eats as well. Mojito is located a few blocks from Green Lake—perfect for a romantic walk by the water.
Seattle Center
Lower Queen Anne
Seattle Center may not be a restaurant, but it's an ideal last-minute date night in Seattle. Wander through the sculpture garden, sit by International Fountain, or join one of the many free community festivals and arts events. Throughout the year, Seattle celebrates inclusion and diversity with Festál, a series of cultural events with food, performing arts, and plenty of music.
What are the best special occasion date spots in Seattle?
Celebrating a special occasion doesn't have to be fancy or expensive. You know how to find a pricey restaurant, but where can you take your partner for a priceless moment? Whether you're commemorating a milestone or popping the question, these are Seattle's sweet stops:
Discovery Park
Lawton Park
Discovery Park is one of the only free date ideas in Seattle with beach access, and gosh it's pretty. Open 4 a.m. until 11:30 p.m., it's perfect for daytime and sunset dates. Several well-kept, uncrowded trail options make it easy to have good conversations with a new person. Pack a picnic and walk to West Point Lighthouse for panoramic views of Puget Sound.
Green Lake
Green Lake
Our list of cheap date ideas in Seattle would be incomplete without Green Lake. Trade crowds and restaurant chatter for a quiet date on the water. Several local boat shops rent kayaks, canoes, and paddle boats during the warmer months, and the Green Lake Trail is beautiful year-round. Pack a picnic and stop to smell the flowers at Woodland Park Rose Garden. If you get the urge to ask a very important question, you'll be in the right place.
Pike Place Market
Downtown
It might sound like a crazy idea to have a special date in a bustling covered market, but hear us out. Enter Pike Place and you're greeted by local flower vendors selling the season's freshest blooms. Each turn reveals cozy corners and gourmet eats. JarrBar serves Mediterranean small plates with old-world hospitality in an intimate space—just right for anniversary nibbles. Plus, tapas and crisp cocktails are inherently sexy.
Planning a romantic weekend in Seattle on a budget? Extend the itinerary and wow your special someone with more Seattle activities.
Header image: Via Checubus/Shutterstock.com