By Expedia, on August 5, 2019
How to Spend a Weekend in Orange County, California
Only have a weekend in Orange County? Then lace up your running shoes, grab your camera, wax the surfboard, and get ready for a whirlwind romp through one of America's most lively locales. This guide will help you figure out what to do in Orange County.
Friday Evening
If you're only spending 72 hours in Orange County, then you'll want to find a hotel in the middle of the action. The Lido House is a charming Cape-Cod-style property on the Balboa Peninsula that not only puts you within walking distance of Newport Beach's upscale shops and restaurants, but also houses a buzzy rooftop bar with house-label champagne and stunning views of the sunset.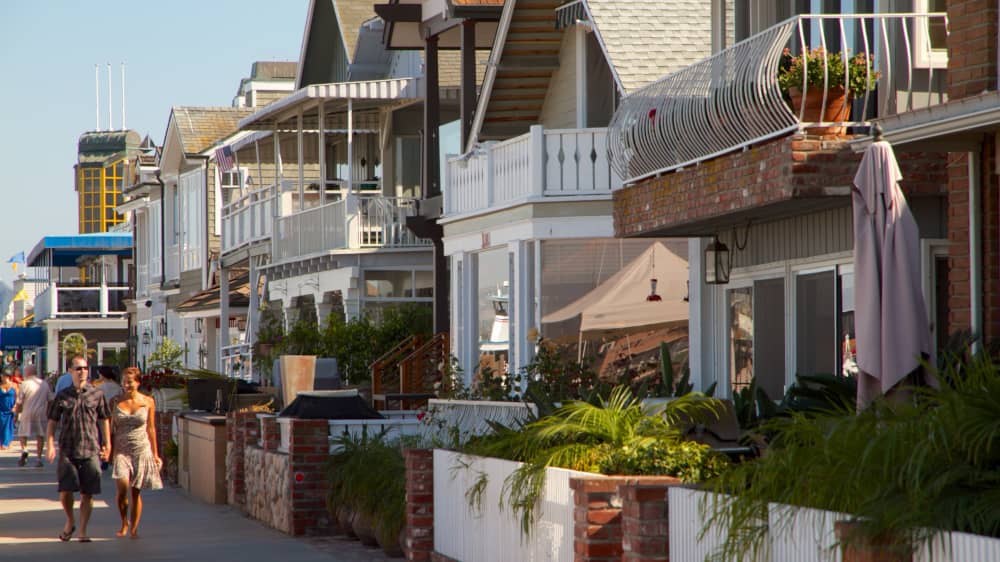 After checking in, head down to the Lido's restaurant, The Mayor's Table, where you can watch the acclaimed chefs work their magic in an open kitchen, dip into the raw bar, and pull up to a plate of sumptuous lobster thermadore. Then it's off for an evening out at vibrant Balboa Island, a man-made attraction where visitors can paddleboard, get some snapshots of the sea lions, rent one of the famous Duffy boats to cruise around Newport Bay, and pick out the perfect souvenir at the shops on Marine Avenue.
Saturday Morning
Kick off Saturday morning with a hearty breakfast at Eat Chow, a funky O.C. spot serving New American dishes with a twist. Try some short rib tostadas, lemon mascarpone French toast, or pulled pork Benedict, and then wash it all down with a mimosa sampler.
Burn off the calories from your bodacious meal by heading "into the soup" at The Wedge, one of the world' most legendary surf spots. Even if you're not up to surfing the Wedge's massive swells, it's a great place to soak up some sun, swim, pick up a bit of surfer slang, and people watch.
For lunch, head to neighboring Little Saigon, a 3-square-mile district that's one of the largest Vietnamese enclaves in America. Buzzing Little Saigon is home to thousands of Vietnamese American shops and restaurants, and is a colorful place to enjoy an afternoon stroll along Bolsa Avenue with a banh mi and a refreshing cà phê đá.
Saturday Evening
Ease into the O.C. lifestyle by spending Saturday night in Costa Mesa, a neighboring town with a cool vibe and loads of activities. Costa Mesa is a haven for shoppers of all stripes, as it's home to South Coast Plaza, the largest mall on the West Coast, as well as The Lab Anti Mall, a counter-culture-inspired venue with art installations and pop-up boutiques.
Drop by Noguchi's "California Scenario", an off-the-beaten-track sculpture garden inspired by the Golden State, and then grab dinner on bustling 17th Street, one of the trendiest thoroughfares in Orange County. Oak & Coal has top-notch yakitori and dumplings, while the Country Club offers a midcentury ambience and world-class cocktails.
Wind up your night by catching a performance at the Segerstrom Center for the Arts, a cultural hub that's played host to everything from presidential debates and ballets to classical concerts and Broadway musicals.
Sunday Morning
Sunday morning means you only 24 hours in Orange County remaining, so fuel up for the day with brunch at SOL Mexican Cantina on Balboa Marina, which offers live music and some of the best huevos rancheros in town.  Over breakfast, make a plan to tackle the rest of the day. If you've come with kids you might find it impossible to skip the popular theme parks, but if you're looking for a less-crowded alternative, head to Huntington Beach's Bolsa Chica Ecological Reserve, a wild 1,300-acre expanse of salt marsh and coastal dunes, where visitors can hike, bike, and come face-to-face with hundreds of different species of birds.
Huntington Beach is also famously known as "Surf City USA", so explore the local culture with a visit to the Surfer's Hall of Fame and the Surfing Walk of Fame, before grabbing lunch at Duke's, a laid-back Hawaiian eatery inspired by famous surfer Duke Kahanamoku.
Sunday Evening
Once you've polished off some poke tacos or an ahi bowl, set off to explore the other side of Orange County's sporting life. Golf enthusiasts can tee off at one of Newport Beach's outstanding courses, including The Resort at Pelican Hill, which has been named the "number one golf resort in the world", while anglers can book a deep-sea fishing trip with Davey's Locker. If you're visiting in-season, catch a baseball game at Angel Stadium of Anaheim or see the Anaheim Ducks at the Honda Center.
Then, skip Anaheim's food courts and mini-malls, and head to the Blind Rabbit for Sunday night dinner and cocktails. Tucked away within the Packing House, the Blind Rabbit's secret door (hidden in sake barrels) and decadent speakeasy vibe is a good reminder that you're only a stone's throw from hush-hush Hollywood. Reflect on your Orange Country getaway over some octopus crudo and mezcal, before drawing the curtain on your Californian getaway.
With its lively surfing culture, scintillating restaurants, and stunning natural beauty, Orange County promises a weekend to remember. Book your weekend in Orange County today!