By Chloe Mulliner, on October 31, 2019
Planning Your Perfect Bachelorette Party in Chicago
With your wedding plans on lock and a lifetime of firsts ahead of you, why not start your new life chapter with a celebration for the ages?
A bachelorette party in Chicago just makes sense. This town practically invented glamorous nightlife and big-city regional cuisine. And you can keep looking for a more beautiful city in the USA, but you simply won't find one. Chicago's architecture—both old-fashioned and modern—as well as its public parks and brilliant Lake Michigan panoramas are a dramatic setting for an unforgettable trip. Keep reading for Chicago bachelorette party ideas you don't want to miss.
For Flavor Chasers
Chicago is rightfully famous for its food and drink scenes. You can have it all when you book a Small-Group Walking Craft Beer & Pizza Tour. Eat and drink your way through Chicago on a guided tour of 3 breweries and a Chicago deep dish pizza joint, by foot and by bus. After all, bachelorette parties Chicago-style have to include great brews and great bites. And the best bonding experiences happen over a good meal shared by friends.
For Mani-Pedi Spa Treatments
The special balance of rustic and refined in Cowshed Spa's aesthetic is difficult to describe but impossible to forget. The same can be said for Cowshed Spa's wide range of beauty and relaxation treatments, which run the gamut from mani-pedis to scalp massages and even cryotherapy.
For Splish-Splashers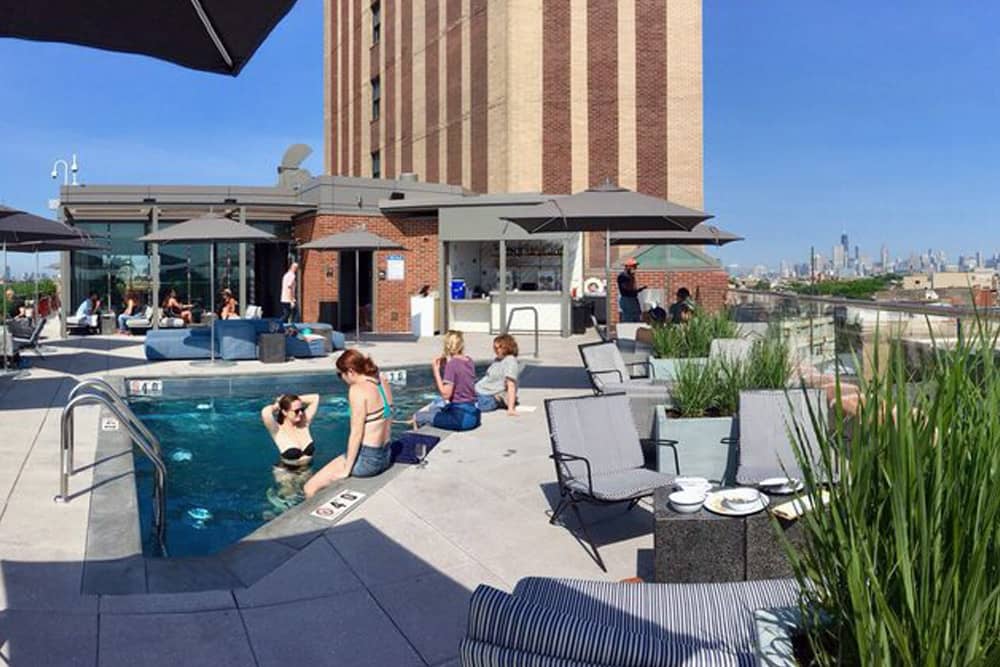 Time for a pool party, Chicago babes! The Robey Chicago's 6th-floor Cabana Club features cocktails, casual grub…and an inviting pool. Have a drink, admire the Chicago architecture from a fantastic vantage point, and slip into the cool water with your friends. You can even book the club for a private event if you want to ensure space for your whole squad.
For Boozy Cruisers
A sleek yacht, an incredible view of the Chicago skyline from Lake Michigan, and a glass of wine in your hand—what could be better? All your best buddies beside you raising a toast to their favorite bride, of course! Turn the Chicago Party Boat into a Chicago bachelorette party boat when you book a "Booze Cruise" reservation for the whole gang. Cruise options vary by the season and the time of day, and they do sell out—so book your boating excursion in advance. Popular cruises include Saturday afternoon river and lake cruises and Saturday late night cruises. Both feature DJs, dancing, and a full bar.
For Having it All
Chicago is an incredible city that's perfect for a party. But what if planning a bachelorette event when you're already planning a wedding makes you feel stretched too thin? Bride, meet your all-inclusive bachelorette party in Chicago. The party planners at VIP Bachelorette have a menu of all-inclusive entertainment packages tailored to specific interests. So whether you fancy an outing that includes brunch and bubbles or late night lounges, you'll find an all-inclusive package perfect for your dream Chicago girls' outing.
Chicago: Foodie Heaven
Wondering where to have a bachelorette food party in Chicago?
Start with a group meal at a fun restaurant. While it's hard to walk out the door in Chicago and not bump into a delectable meal, these restaurants are a great starting place in a nearly overwhelming assortment of Chicago restaurants:
Keep it Clubbin'
Bachelorette weekends just aren't complete without a night on the town. Chicago's nightlife has been the stuff of legend since the days of Prohibition. Today, you don't need to know a secret password to get into Chicago's most memorable nightclubs…unless, of course, speakeasies are your thing!
The Green Mill Jazz Club – A welcoming, lively jazz club that dates all the way back to the Edwardian era, the Green Mill was ruled by Al Capone's gang in the 1920s—the man himself even had a favorite booth that's still in the club today. The history alone is enough to make the Green Mill a worthwhile stop, but it's the nightly music that will lure your bachelorette party in for cold cocktails and hot jazz.
The Drifter – Housed in an authentic hundred-year-old basement speakeasy space, The Drifter is a mystical, magical, and completely unique cocktail bar. A rotating cocktail menu is printed on tarot cards, and you might find a burlesque performance or a classic horror film playing when you arrive. Come early to grab a spot at the bar, but don't worry if you show up late—you can add your name to the waitlist if it's crowded.
ROOF – This restaurant/lounge on the 27th floor of theWit hotel turns into a popular club on Friday and Saturday nights, with DJs and club lighting turning the space into a dance floor. Make a table reservation for your bachelorette party so you have a space to sit down after dancing the night away. The mood at ROOF is sleek, chic, and upscale, so dress to impress!
The Baton Show Lounge – For unbeatable entertainment, spend the evening at this legendary drag bar, where female impersonation has been going strong for 50 years. While there are a lot of fun bars for bachelorette parties in Chicago, this one is especially popular among brides-to-be, so make sure to book a table in advance. You don't want to miss the dazzling performances of The Baton Show Lounge.
Best Places to Stay in Chicago for a Bachelorette Party
Hotels in Chicago range from historic to cutting-edge, but one thing is true for all of them: They're great home bases for exploring Chicago's diverse and intriguing neighborhoods.
Magnificent Mile – City lights, designer boutiques, and trendy restaurants make Magnificent Mile a must-see district that's great for a girls' trip.
Lincoln Park – Get the ladies together and get ready to take on the town! Lincoln Park is known for its nightlife, from dive bars to comedy clubs to gastropubs.
Wicker Park – A fun, funky, cute and quirky neighborhood, Wicker Park is the place to find hip cafes, offbeat boutiques, and local music.
Chicago is the pride of the Midwest, and you simply can't go wrong with a pre-wedding party in a city this exciting. Don't be surprised if your friends are talking about this epic adventure for years to come. Hop online and book your flights to Chicago right away. This is a bachelorette getaway you'll want to have and to hold for a long, long time.
Visiting Chicago Internationally?
Q: What to wear to a bachelorette party in Chicago?
A: Remember that the Windy City does get some serious breeze off Lake Michigan, so play it safe and pack a jacket.
Q: Does Chicago have a good public transportation system?
A: You'll likely be riding around in a limo, but if you need options, find out more on our travel guide for getting around chicago.
Q: What documents does a Canadian need to enter the USA?
A: If you bring your current and valid passport, you'll be all set to enter the USA by land, air, or sea.
Q: What is the current exchange rate of Canadian currency to USD?
A: With the American dollar a little stronger than its Canadian equivalent, $1.00 Canadian currently translates to about $0.75 in American money.
Header image: Via Jacob Lund/Shutterstock.com