By Expedia, on March 27, 2019
Theater in Chicago
From side-splitting comedy to timeless musicals, few things are as quintessentially Chicago as an evening at the theater. If you want to experience theater in Chicago, this area guide to musicals, comedy, and plays will help you plan out your night.
The Chicago Theatre
A Chicago landmark in its own right, The Chicago is a historic theater located at 175 N. State Street and was originally named Balaban and Katz Theatre. As the landmark theater for the city, the theater is enormous; seven stories tall and nearly half a city block.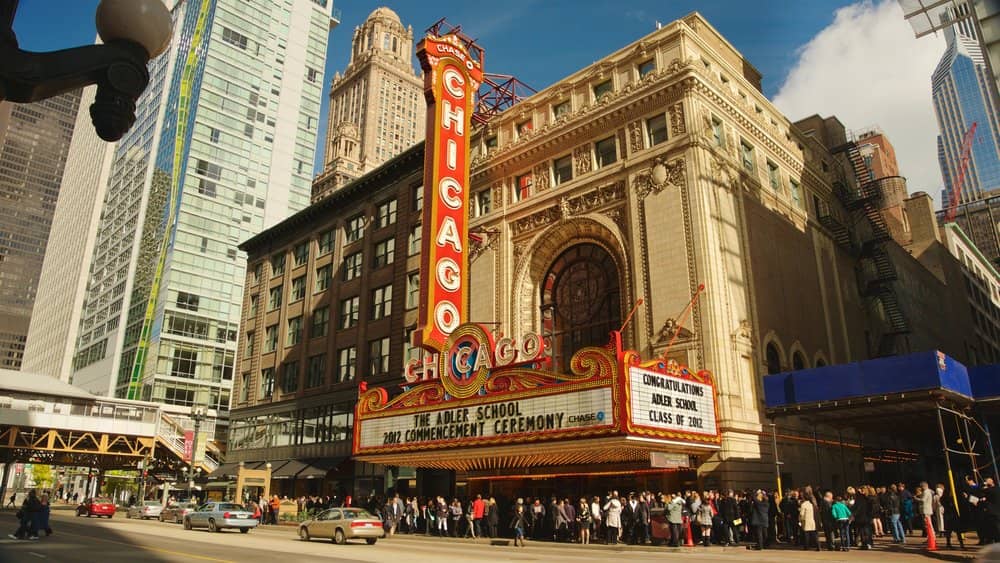 The Chicago Theatre opened in 1921 and specialized in both musicals and plays. Currently, the theater is used as a musical venue.  The theater seats over three thousand and is one of the most well-known architectural sights of the city.
The Goodman Theatre
Located in the Loop in Chicago's Central Business District, the Goodman Theatre is Chicago's oldest active non-profit theater. The Goodman was founded as a tribute to former Chicago playwright Kenneth Sawyer Goodman in 1925. The Goodman Theatre specializes in musicals and plays and has won the Regional Tony Award, contributing to Chicago's lively theater culture.
Since opening in 1925, this traditional theater has been showing high-profile plays and musicals including Sunday in the Park with George, The Light in the Piazza and Guys and Dolls.
The Nederlander Theatre
The Nederlander is one of Chicago's original theaters and provides live Broadway shows and plays to the city. The theater opened to crowds in 1926 as the Colonial. It's since been renamed after one of the city's theater icons.
The theater features exterior and interior designs inspired by India and built in an Art Deco architenctural style. The theater has featured musical stars and icons such as Frank Sinatra, Billie Holiday and Sarah Vaughn. It has also featured well-known musicals such as Wicked, Billy Elliot, and the Adams Family.
The Second City
The Second City is a world-famous improvisational comedy troupe based in Chicago. The Second City is well known for helping to launch the careers of actors and comedians such as Tina Fay, Steve Carell and Dan Aykroyd. Who knows, you might see comedy's next big hit on your visit to the theater.
The Second City is currently located at 1616 N Wells St in Chicago's Old Town. The theater is easily reached by public transportation and surrounded by other centers of Chicago's nightlife.
Where to Eat before
Chicago's Theater District has a diverse array of restaurants for a preshow dinner. For casual dining with flair, the Dearborn offers classic fare that will satisfy both locals and tourists. The Gage features traditional Irish cuisine with a Chicago flair. Italian Village is Chicago's oldest Italian restaurant and offers traditional Italian dishes in a beautiful candlelit setting.
Where to go after the show
For postshow drinks, you have virtually limitless venues to choose from, ranging from casual drinks to high-end mixology. The swanky LH Rooftop is popular for classic cocktails with a great view. Henry's Swing Club offers cocktails and drinks that you can enjoy lounging on a couch, or over a game of pool. Finally, Miller's Pub, a veritable Chicago institution offers drinks in an unpretentious setting often frequented by celebrities.
From classic plays at the Nederlander Theatre to the popular comedy at Second City, this theater guide to Chicago will give you all the information you need for a glamorous night on the town. Experience the electrifying plays, musicals, and comedy of Broadway theaters by booking your next flight to Chicago.