By Katie Doten, on June 14, 2021
Only in Chicago: Where to stay, explore, and eat pizza in the Windy City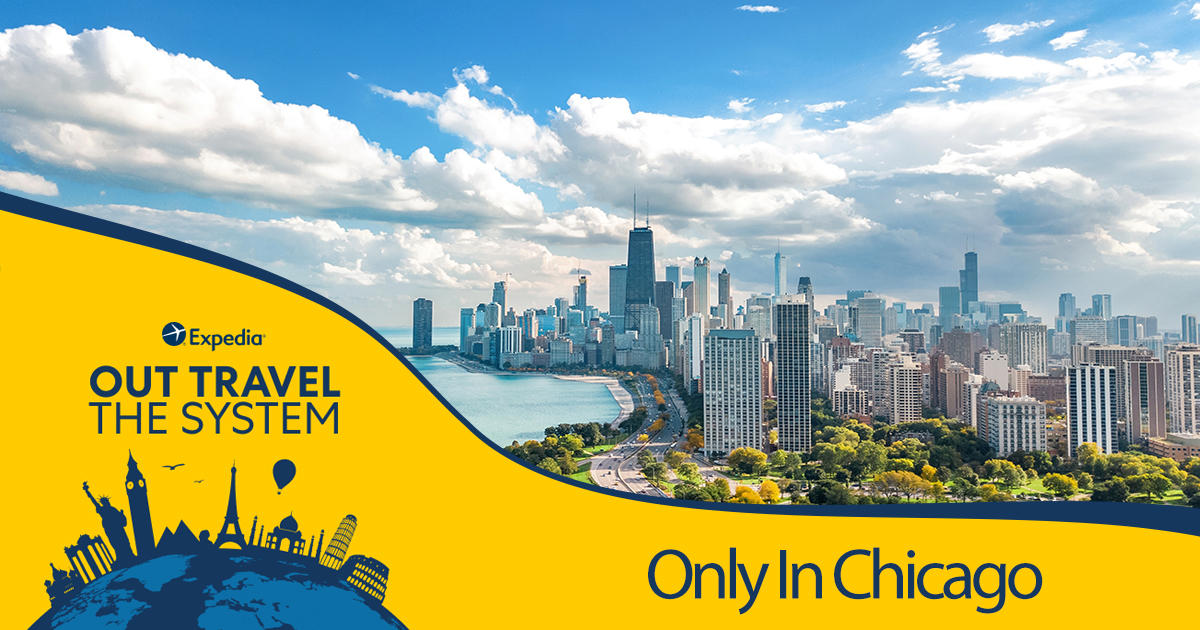 This is it – the start of Out Travel the System's "Only In" episodes, where we focus on some of America's best cities to visit. First up, the Windy City itself – Chicago.
Host Nisreene Atassi is joined by Mary Krosnjar of Sportsanista to dish about all the things they love about their hometown, including almost fighting words about deep dish pizza, where to shop, and how you can get a taste of Chi-town even if you're nowhere near the Midwest.
Make sure you listen in to hear about the things you can do only in Chicago.
---
---
---
Only in Chicago
No matter where I move to, I'll always consider Chicago my home. I grew up just an hour outside the city, I went to college in Chicago, I met my husband in Chicago. And as a result, I have memories that will last a lifetime. Nothing compares to Sweet Home Chicago. I'm Nisreene Atassi, and this is Out Travel the System. As the possibility of traveling again becomes clearer for more people, we want to help guide your future planning and shine the spotlight on some places that may not be currently on your radar. The Midwest isn't a place that always gets a lot of attention when it comes to travel, but I think it's fair to say that Chicago is the queen of the Midwest. I'm not the only Chicago cheerleader here today. I've got with me Mary Krosnjar of Sportsanista, an online platform that combines the sports and fashion worlds. Although she lives in Seattle now, she's a proud Chicago native. Hi, Mary. Welcome to the show.
Mary Krosnjar: Hello, thank you so much for having me.
Nisreene Atassi: We're so similar – two Chicagoans who have moved to Seattle, so I can't wait to dig in and compare.
Mary Krosnjar: I know.
Nisreene Atassi: All right, Mary. Well, let's go ahead and start off with some of the basics.
For people who have never been to Chicago, can you maybe give them a bird's- eye description of the city and its neighborhoods?
Mary Krosnjar: You definitely have the Loop, which is your financial district. Just north of that, you have River North, which is where you can run into a lot of young 20- somethings who have just kind of entered the workforce and love to play. Just north of that, Lincoln Park is home to DePaul University, so you'll get a lot of young 20s, as well as single- family homes. The Gold Coast, which is as the name says itself, where a lot of the money in the downtown area lives. Beautiful apartment buildings, properties there. And then you have the West Loop, which is where the 30- somethings, the 40- somethings will live. Lots of great restaurants, bars.
Nisreene Atassi: There's also the Bucktown area, which is just west of Lincoln Park, which… I actually lived there when it was still very much up and coming. And by the time I left Chicago, it had become just another absolute hotspot for sort of small boutiques, shopping and eating out and going out and things like that. What would you recommend somebody go there for?
Mary Krosnjar: The thing about Wicker Park and the Bucktown area, it's a little bit alternative, a lot of great vintage shopping. I think you'll find a lot of great gems in that neighborhood.
Nisreene Atassi: So where exactly did you grow up?
Mary Krosnjar: I grew up in Libertyville, which is a suburb just north of Chicago. I then went to school in Chicago, I went to DePaul university.
Nisreene Atassi: Oh, fighting words. I went to Loyola. We should compare and see who's smarter.
Mary Krosnjar: Oh.
Nisreene Atassi: Yeah.
Mary Krosnjar: I'm going to go you (laughs). Yeah, so then lived in Lincoln Park for four years. I moved away for a couple of years to get my master's and then came back and found myself in the West Loop. There wasn't really much built there yet, not a lot of restaurants, not a lot of apartment buildings, condo buildings. This neighborhood is going to really flourish and become something.
Nisreene Atassi: And you're actually in Chicago right now, which is so serendipitous that we're recording an episode about Chicago while you are actually there.
Mary Krosnjar: Yes.
Nisreene Atassi: And you're obviously really big into fashion. What aspects of the Chicago shopping scene do you usually look forward to, or are there specific neighborhoods in Chicago that you like to shop?
Mary Krosnjar: You've got your mall stores, which all kind of live on Michigan Avenue, and then you've got the really high- end shops on Oak Street. Lincoln Park, I think to this day still has some really fantastic boutiques that are just local to Chicago. Lori's designer shoes, I thank God, they have an e- commerce because I still shop them living in Seattle. And then also Alison Wonder in Lincoln Park as well. They just have really, really great kind of Chicago- themed items that even from afar, I will shop just to kind of get that nostalgic feeling from fashion as well.
Nisreene Atassi: I'm also a big fan of Lori's. It's a fantastic place. Every time I go back, I always make a pit stop there. My sister lives right by there. So it's always a great destination. And so for those of you listening, who haven't been to Chicago before, Michigan Avenue is what we also call the Magnificent Mile. It is right in the heart of downtown. And then once you go a little bit further north, you get to the Lincoln Park neighborhood that Mary's talking about. Armitage Avenue is actually one of the sort of main strips in Lincoln Park that has a lot of those really amazing boutiques.
Mary Krosnjar: Mm- hmm (affirmative).
Nisreene Atassi: Definitely. Those are two fantastic, fantastic shopping areas, for sure. What most people don't know so much about Chicago is that it's actually, I think, the best place in the summertime. Each Chicago neighborhood has its own street festival. And each street festival has its own vibe, its own sort of local flair. And it makes you feel like you're almost in a different city altogether.
Mary Krosnjar: It's just an eight week party.
Nisreene Atassi: Yeah, absolutely.
Mary Krosnjar: I think a Chicago favorite is the Old Town Art Festival.
Nisreene Atassi: Yes.
Mary Krosnjar: Restaurants and bars open. And I think it has to be one of the most attended, I think of the festivals. And Randolph Street Festival is another great one that has surfaced in the last couple of years, just because of all the really fantastic food in the West Loop area and all the restaurants that are kind of housed on Randolph. You get that opportunity to kind of taste all of the different restaurants in the neighborhood.
Nisreene Atassi: What about some of the big music festivals? We've got Lollapalooza, Riot Fest, Jazz Fest. Were there any you were particularly a fan of?
Mary Krosnjar: Lollapalooza, hands down. It's still something I've come back for every year. It's definitely something to see in a tent because it's a music festival downtown. I've been to Coachella before, and it's not the same. You don't get that kind of pulse from the city and you have the skyline in the background of the stages. There's truly, truly nothing like it. Definitely one of my favorite festivals.
Nisreene Atassi: It's a great one for sure.
Mary Krosnjar: And I loved how Millennium Park would do the music series. I mean, I feel like almost every night of the week you could go and experience music at some capacity.
Nisreene Atassi: Yeah, and I think the best part about the Millennium Park music series is that so many of them are free, and it'll be on a Wednesday or a Tuesday night, and you can pack a picnic and just sort of walk over there.
Mary Krosnjar: Also how they did the movie festival every Tuesday night, it would play a movie in the park. I think that's what's so great about Chicago is they just offer and provide so many opportunities for you to kind of get out, experience the city, meet new people almost every day of the week during the summer.
Nisreene Atassi: Obviously, summer is a fantastic time. Christmas time I feel like is a really great time in Chicago, but it also means it is bitter, bitter cold. So I'm curious as to what your perspective is on another great time of year to travel to Chicago.
Mary Krosnjar: The fall. The summer weather will definitely linger through September, maybe even into October, can still kind of be outside and not have the weather kind of impact your experience. And then you have football and baseball, football starting, baseball still ongoing. Of course, the wintertime between Thanksgiving and Christmas is really, really beautiful, especially on the Magnificent Mile. All the trees are lined with lights, and you can do a carriage ride, and the Christmas markets are open. So I think that's also a really great time of year to just surrounded by happiness.
Nisreene Atassi: Since you brought it up, I need to know, are you a Cubs fan or a White Sox fan?
Mary Krosnjar: Cubs, for sure.
Nisreene Atassi: Okay good, phew!
Mary Krosnjar: I don't know why I hesitated. I think I hesitated because my best friend works for the Chicago White Sox. So I'm like, will she be mad at me?
Nisreene Atassi: Are you a Bears fan as well?
Mary Krosnjar: Just by default of being here.
Nisreene Atassi: Sure.
Mary Krosnjar: A proximity fan, if you will. But I'm definitely more into college sports, in general, when it comes to football.
Nisreene Atassi: Is that really what your focus is on your blog? What's the sports aspect that you try to really lean into?
Mary Krosnjar: So, it's definitely geared more towards college football game day. I started the blog really wanting to be this source of inspiration for women who worked in sports and then shifted to providing inspiration and how you can incorporate your fandom into your everyday style. And what was great with that timing of when I really started talking about that, is that more brands were designing sport apparel that kind of catered to the trends of the time versus pink sparkly jersey. So for me, it was really fun to be able to style say, a Chicago Bears shirt with, in the fall time of leather skirt and kind of showcase how you can carry on your fandom, not just during the game, but elsewhere and outside of those moments.
Nisreene Atassi: Yeah. I really like that because I will say this, it is actually a massive pet peeve of mine when I see the female version of team gear automatically is either pink or bedazzled. (crosstalk) . And I find it to be so horrific. I was like, why can't we just wear the normal version, but just in a different cut.
Mary Krosnjar: For sure.
Nisreene Atassi: Just doesn't make any sense, and it just feels really off. So I'm glad that that's your focus.
Mary Krosnjar: I would always buy the men's items too because I like an oversize fit or the colors, it had vintage feel. So, yeah. And I've never gravitated towards how they were positioning retail for women 10 years ago and in sports.
Nisreene Atassi: All right, well that is a great little appetizer, if you will, when it comes to why Chicago is so great. We're going to dish on a lot more right after this.
Nisreene Atassi: You're listening to Out Travel the System. I'm your host, Nisreene Atassi. This is our third season, which means we've got quite the back catalog of episodes for you to catch up on. Check out the Bucket List episode or Shoulder Season Super Savings to hack your next car rental. And to make sure you stay up to date on this season, including insider information about some amazing travel pricing and profiles of other U. S. cities like Boston and New York, please be sure to like and subscribe on your favorite podcast player. Okay. We are back with Mary Krosnjar, proudly repping for her hometown of Chicago. Mary, I promised that we would dish about Chicago. So it's time to talk about the food scene.
Mary Krosnjar: Yes.
Nisreene Atassi: So aside from pizza, which we'll get into in just a little bit.
Mary Krosnjar: Mm- hmm ( affirmative).
Nisreene Atassi: Tell me about your favorite must have sort of dining or eating or drinking spots in Chicago.
Mary Krosnjar: One reservation I always make when I come back is at Little Goat. It's a diner owned by Stephanie Izard, who won Top Chef. And she has a couple of restaurants in Chicago. I think what's so unique about this place is they serve breakfast all day. Couple of menu items, I love This Little Piggy, it's like a Szechuan biscuit. I think the number one item on their menu is the Bull's Eye French Toast, two thick pieces of French toast, middle is cut out for an egg, and then fried chicken on top. It's fantastic.
Nisreene Atassi: So good.
Mary Krosnjar: I also go to La Colombe. I'm obsessed with their coffee. They do lattes on tap.
Nisreene Atassi: And I love that you're talking about areas that are in that sort of West Loop, Randolph area, which historically has sort of been called Restaurant Row. And it has just continued to grow over the years. I love just stopping into a few different places, like grabbing a drink at one place or a snack at another.
Mary Krosnjar: I feel like every year I come back, there's something new to try. And so I do, I'm definitely biased to this neighborhood, but there are other really great neighborhoods. I know I spent a lot of my 20s eating out in River North, and that neighborhood has sprouted as well with some really great spots.
Nisreene Atassi: All right. Well, let's talk about pizza and hopefully this doesn't…
Mary Krosnjar: Hopefully we can still stay friends.
Nisreene Atassi: Yeah, exactly. I hope we don't get into a fight on this one. Obviously, Chicago is known for deep- dish pizza. So why don't we start there? Are you a fan of deep- dish pizza? And if so, which is your favorite place?
Mary Krosnjar: Yes, 100%. Second question, hands down, Lou Malnati's.
Nisreene Atassi: Yes. Thank you.
Mary Krosnjar: Okay.
Nisreene Atassi: This was going to change the whole vibe of the show on this one answer. So I'm so glad you said that. Yes, Lou Malnati's, the best. They've got that butter crust.
Mary Krosnjar: You can't compete with that crust. No way.
Nisreene Atassi: Also, you can get a heart- shaped pizza if you so choose to if you want to maybe celebrate with somebody special. Have you ever ordered Lou Malnati's delivered in Seattle, by the way, from tastes of chicago. com?
Mary Krosnjar: 100% and may have ordered the cookie pizza along with it.
Nisreene Atassi: If you're going to have a giant box with dry ice shipped over to you, you might as well just pack it filled with as many things as possible.
You can also get really famous, iconic Chicago restaurants like Portillo's if you want Italian beef or their absolutely famous chocolate cake or even a Chicago- style dog. It's amazing when the stuff comes to you, it's all frozen and perfectly portioned out and perfectly packaged. So you just sort of take it and heat it or cook it all together and it lives up to the name. Love that place. We'll link to it in the show notes.
Well, now that we know that Mary and I can still be friends because we are aligned on the pizza choices, maybe we should do some other sort of nuts and bolts of really planning a trip to Chicago. Where do you think people should stay when they're in town?
Mary Krosnjar: If you're visiting, definitely think finding something in The Loop or River North. Accessibility to public transportation is available in those two areas. You can be within close proximity to a lot of the touristy things that you likely want to experience when coming here.
Nisreene Atassi: I'm a big fan of the architectural boat tour.
Mary Krosnjar: Yes.
Nisreene Atassi: I think people think that that sounds really, really lame. It is so nice to A, be on a boat, which is by the way in Chicago, in the summertime, being on a boat is absolutely where it's at.
Mary Krosnjar: 100%.
Nisreene Atassi: You learn so much about the city, definitely one of my favorite sort of touristy things to do. What's your POV on Navy Pier?
Mary Krosnjar: If anything, the views from Navy Pier are quite spectacular of the Chicago skyline. On Wednesdays and Saturdays, you can enjoy fireworks, which is a bonus. Highly trafficked by tourists, the restaurants there are chain restaurants. Yeah, I think being a Chicagoan, maybe Pier is something you kind of steer clear from.
Nisreene Atassi: Yeah. I would agree.
Mary Krosnjar: For those reasons, but I do know that they have done a lot of construction around the area. So I think they're trying to make it appeal to the locals as well.
Nisreene Atassi: You brought up the views. I actually really like Chicago Athletic Club as a place to go have some drinks.
Mary Krosnjar: Cindy's.
Nisreene Atassi: Cindy's, yeah. And you get that really gorgeous view. So maybe that's a nice alternative.
Do you think that the train system is really the best way to get around? I was a big fan of the L- System, the bus system's pretty good as well, but then there's also Ubers. What's your perspective on the train? Do you think it's complicated?
Mary Krosnjar: Not at all. I think just because of how Chicago is laid out, it's a grid. So it's very easy to kind of understand how to get from one neighborhood to the next. I think the true vein of Chicago is probably the Red Line. Being able to take that all the way from the north side to the south side, it drives you through the Loop, you have the ability to kind of take that to a number of different locations. It's just one of the easiest ways to get around, and you get to experience the city like a true local as well.
Nisreene Atassi: I think this is a big tip. There are two airports that you can fly into in Chicago, Midway, and O'Hare. Both of them you can take a train directly into the city. And so if you're arriving in Chicago after 2: 00 PM on a weekday, just take the train. It's way better than sitting in the absolutely horrific Chicago traffic.
We're calling this episode and this series Only In because we want to talk about all of the things that you can do in a specific destination that you can only do in that destination. So Mary, in your mind, what are some things that people can only do when they're in Chicago?
Mary Krosnjar: Millennium Park and Grant Park are really spectacular, you don't see many cities that are as large as Chicago that are on this beautiful waterfront. And the waterfront view is just unobstructed. The city really does a great job to protect that. And you can go to a restaurant, get a drink in the city, and if you want to go to the beach, you can because we have one. And I think that's such a really great element of Chicago are the manmade beaches on Lake Michigan that you can experience as if you truly went on vacation. But then behind you is this gorgeous skyline. That's one of my favorite elements.
Nisreene Atassi: I was thinking about this question and sort of what my answer would be, And I think for me, it's the nightlife because obviously, you can go to New York City, which has a ton of nightlife, but it feels so much more daunting and overwhelming to go out in New York verses in Chicago. You can literally go to let's just say, downtown River North area, you could probably walk out of your hotel and not only are the bars in your hotel, probably going to be relatively cool but there's going to be just a series of bars and restaurants literally one right after the other. The way that Chicagoans just embrace nightlife and go out and just enjoy themselves. But I know there's just something about the energy of the city and just, it's not pretentious at all. It's just very casual, very welcoming. It's my favorite part of Chicago, I feel like.
Mary Krosnjar: Yeah, I know, I agree. And I think it wasn't until I really moved away from Chicago that I wish I never took that for granted.
Nisreene Atassi: Well, so let's say somebody was only in Chicago for 24 hours, they land at 9: 00 AM and they're leaving the next day at 9: 00 AM. What would you tell them to do?
Mary Krosnjar: Okay, touristy wise, I feel like I'm just really harping on Millennium Park, but it's beautiful.
Nisreene Atassi: It is.
Mary Krosnjar: I would do that. While you're there, the Art Institute is probably one of my favorite museums in Chicago. Definitely Michigan Avenue and the Magnificent Mile. Come to the West Loop, again I'm just so biased and one- sided on this, but the West Loop restaurants are absolutely fantastic. If you can toss in a pizza experience as well, you have to. Unfortunately, you can't buy a lot of those deep dishes by the slice, so you'll have to hunker down and get yourself an entire pie.
Nisreene Atassi: There you have it, everybody. That is Mary Krosnjar's sort of guide to Chicago. She is the founder of Sportsanista. Thanks for coming on the show, Mary, and talking all things Chicago. It's been really good to sort of reminisce with a fellow Chicagoan, I've loved it.
Mary Krosnjar: It really has. This has just been such a wonderful experience. And I think Chicago always manages to put a smile, ear to ear on my face, no matter how I'm talking about it. So this was quite lovely. Thank you.
Nisreene Atassi: I'm Nisreene Atassi, and this is Out Travel the System. If you're still building your list of dream vacations, you're going to want to tune in to our next episode, featuring this guest:
Drew Binsky: What's up, everyone. I'm Drew Binsky, a world traveler, been to a 194 countries, and I'm super excited to be the next guest on Out Travel the System podcast, where we're going to be talking about unique accommodations around the world.
Nisreene Atassi: Until then, happy travels.
Out Travel The System is brought to you by Expedia. Our show runner and executive producer is Claudia Kwan. Our associate producer is Katie Dolton with sound engineering from Jill Constantine. Additional production support is provided by JAR Audio.
Show links: Expedia // Mary's links: Sportsanista // Expedia Social Media: Instagram, Twitter, and Facebook
[archivist template="Category" category="podcast" pagination="3″ controls="false"]
Listen to more travel podcast episodes
[/full-width-paragraph]