By Expedia, on October 14, 2019
Things to Do When It Rains in Gatlinburg
Gatlinburg, Tennessee, might be the gateway to the Great Smoky Mountains, but what happens when the forecast is bad? Never fear, for there is lots to see and do when the weather takes a turn for the worst. Our guide of what to do in Gatlinburg when it rains is your starting point.
Westgate Wild Bear Falls
With its retractable roof, the Westgate Wild Bear Falls is 60,000 square feet of pools, slides, hot-tubs and a lazy river that can be enjoyed when it rains in Gatlinburg – or even when there's snow on the ground. It offers a variety of attractions, from a toddler area for the little ones to the thrilling Clingman's Dome 350-foot tube slide that is sure to get your heart racing. The indoor waterpark is open all year round.
Circus Golf… in 3D
Combining 18 holes of indoor mini-golf, including special FX blacklight section, with a circus funhouse, Circus Golf… in 3D is a great option for a rainy day. Beyond the mini-golf course, you can also explore the original and largest mirror maze in Gatlinburg or join in with the interactive, shoot em' up cinema experience.
Ripley's Gatlinburg
The world famous Ripley's offer eight attractions in Gatlinburg, with some great activities for when it rains. This includes Ripley's Believe It or Not Odditorium, an 85,000 square foot Aquarium of the Smokies, a 5D Moving Theater, a scary Haunted Adventure, and Marvelous Mirror Maze. You can buy single attraction tickets or combo passes to visit a selection or even them all.
Mysterious Mansion of Gatlinburg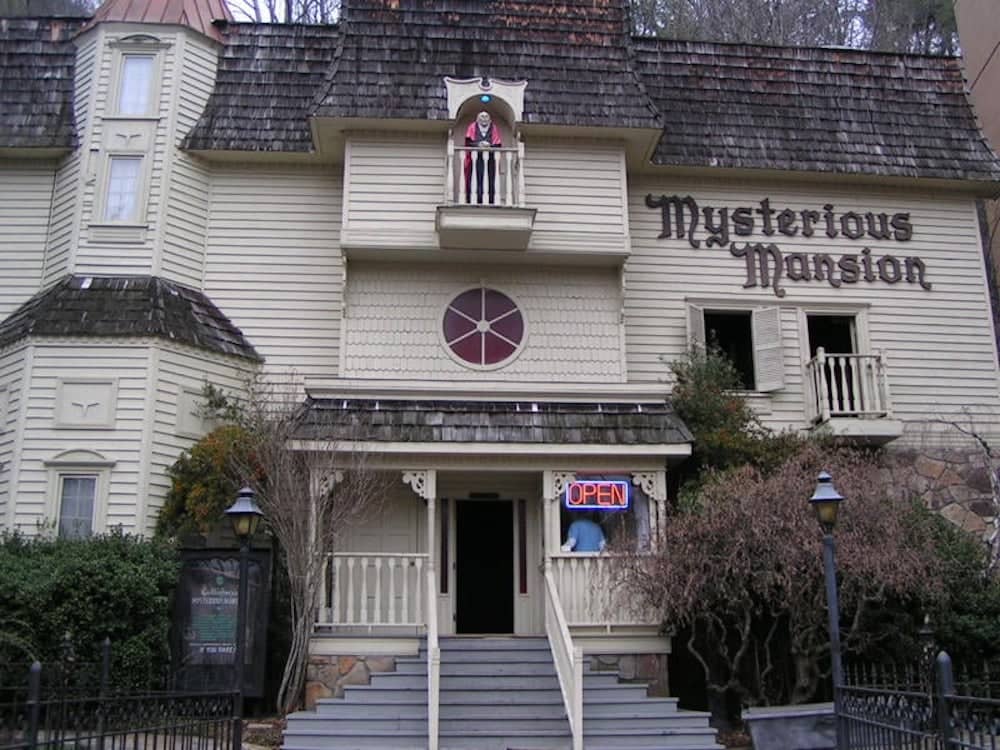 If the weather in Gatlinburg means there is no chance of thrills on the mountain, head to the Mysterious Mansion for thrills of a different kind. This is Gatlinburg's oldest and scariest haunted house. You can explore on a self-guided tour through its dark halls, hidden rooms and secret passageways … a rainy day attraction for the brave!
Fannie Farkles
A family restaurant with a difference, Fannie Farkles is a great option when the weather forecast in Gatlinburg is bad, with its collection of new and vintage arcade games for hours of indoor fun. Recreating the atmosphere of an old-time county fair, this goes for the food too. Don't miss the Ogle Dogs, cheese-steaks and other fairground classics.
Treasure Quest Golf
The jungle is the spectacular backdrop to this 18-hole, championship standard indoor mini-golf course. Challenge your friends and family to a round whatever the weather. Open all year round, Treasure Quest Golf in Gatlinburg includes a black light section. It's a great option for families with kids of all ages.
Gatlinburg Pinball Museum
There are no coins required at the Gatlinburg Pinball Museum, where you can play all day on over 100 pinball machines and retro arcade games. This is one of the best collections of vintage pinball machines in the US. Themes vary from Lord of the Rings and The Addams Family to Dialed In! and the 1965 Gottlieb Sky-Line classic.
Hollywood Star Cars Museum
Want to sit behind the wheel of the General Lee from Dukes of Hazzard, Back to the Future's DeLorean or even the Batmobile? At the Hollywood Star Cars Museum in Gatlinburg there are vehicles from over 50 years of cinema and television history, which also includes iconic cars from the Fast and the Furious film franchise and Paul McCartney's Cadillac.
The Salt and Pepper Shaker Museum
A world first, the Salt and Pepper Shaker Museum in Gatlinburg is the only one of its kind on the planet. With more than 20,000 sets of salt and pepper shakers to explore, you'll also discover amazing stories. This includes why one shaker costs $60 million and the reason why in some countries a saltshaker has less holes than a pepper shaker (and vice-versa).
Ole Smoky Moonshine Distillery
One for the adults, the Ole Smoky Moonshine Distillery is the most-visited distillery in the US, where they produce a number of moonshine flavors including Apple Pie, Blackberry, Peppermint and, of course, Original Moonshine. If the rain is falling, take a tour of the distillery followed by a tasting of the different types of moonshine on offer.
Sugarlands Distilling Company
The Sugarlands Distilling Company has long been famous for its moonshines and Tennessee rye whiskies, Its tours and workshops are a great idea for when the weather is bad in Gatlinburg. Learn all about the distilling process or even try your hand on their 'distiller for a day' workshop, as you grind the corn and mix the mash. If that sounds like hard work, relax instead with a few drinks on the moonshine, whiskey or cocktail tastings on offer daily.
With so much to see and do in Gatlinburg when it rains, you're sure to have a great time in the Great Smoky Mountains, whatever the weather.