By Expedia Team, on May 7, 2022
Tips and tricks for flying with a wheelchair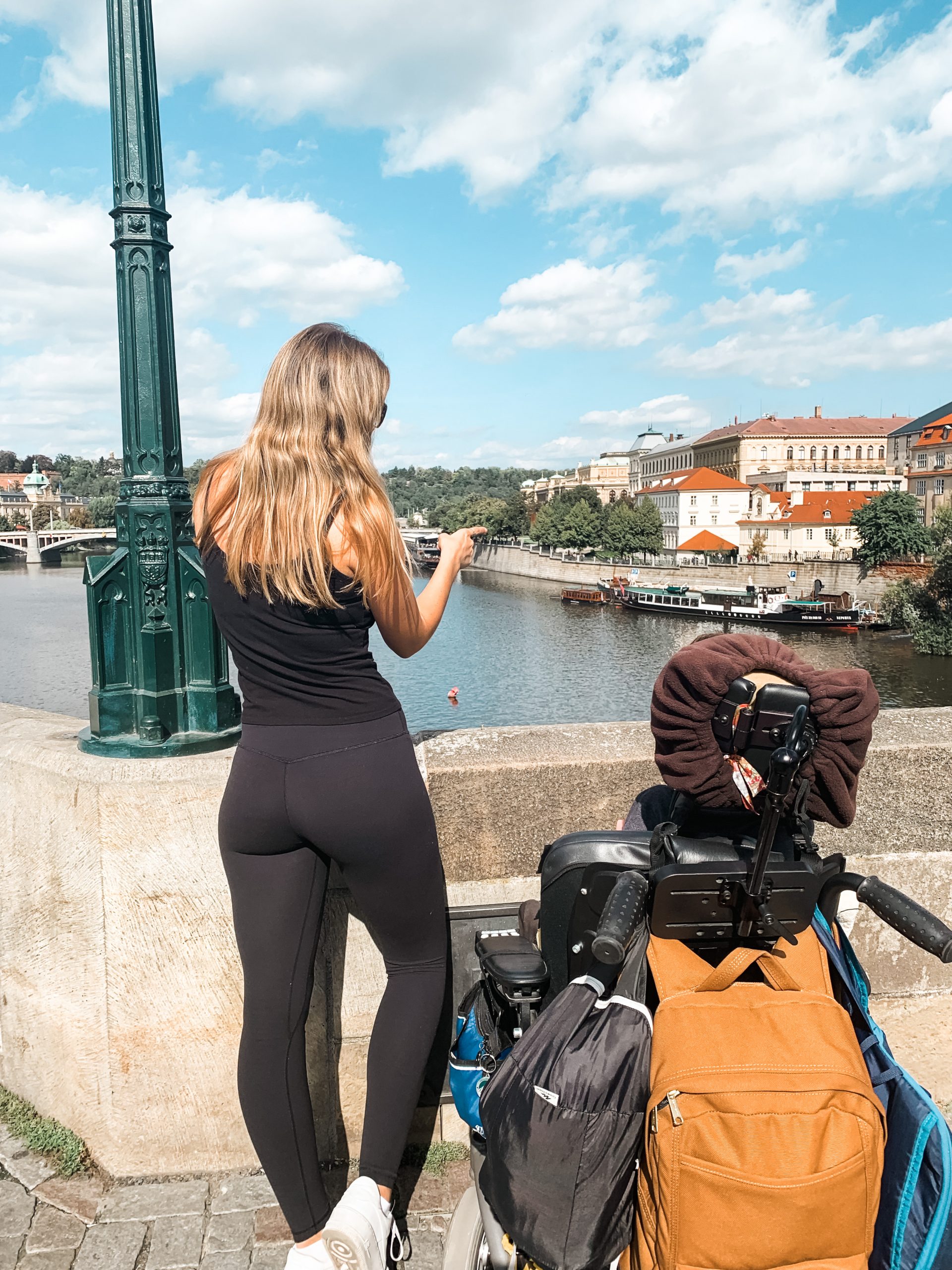 This article was written by guest author, Hannah Burcaw
Heading to the airport for a trip you've been anticipating for months is one of my favorite feelings. Though, when you or your travel partner uses a wheelchair, navigating security, boarding, layovers, and all of the other airport experiences can be daunting. My husband, Shane, and I have flown together both internationally and domestically a dozen times in the last few years. With each trip, we've learned more about the best practices when it comes to flying with a wheelchair, and we're ready to share all our learnings with you.
1. Utilize the airline's disability services 
After you book your flight (plus hotel and activities!) through Expedia, be sure to call your airline's disability services. Airlines typically reserve the more spacious bulkhead seats at the front of the plane for disabled passengers because they're easier for boarding. If those seats would be helpful for you, call the disability services and ask about selecting your seats through them. The bulkhead seats tend to be in a premium seating area that costs more money, but most airlines will upgrade a disabled passenger, plus one companion for free, to sit in those more spacious seats. It's closer to the boarding door and gives you more space during the flight, so sitting in those seats can be incredibly helpful.
2. Check the cargo doors
If you use an electric wheelchair, your chair is (unfortunately) stored in the cargo area of the plane for the flight. The first few times we flew, we assumed all planes had the same sized cargo door, and they could all fit a wheelchair. We found out we were wrong in the worst way, by getting stranded overnight in Salt Lake City because our plane's cargo door couldn't fit Shane's wheelchair! After that, we made sure to check the type of airplane and the size of its cargo door before booking any flights.
3. Label your wheelchair
Airlines damage chairs all too often, so it's important to do everything you can to mitigate that risk. Even when you do everything right, though, there's always a chance that your chair might come back to you with damage of some kind. Shane and I have been lucky with having only minimal damage to his chair on all our flights. When we get to our gate, we take everything removable off Shane's chair (headrest, joystick, etc), and secure any movable parts (dangling wires, footrests that flip up, etc.). We tape two signs with detailed instructions and Shane's phone number to call with questions to the front and back of the chair. We also label the brake release with a brightly colored sign, and make sure to talk to the employee who will be taking the chair before we get onto the plane. Even with all of that, we hold our breath until we see the chair again at the end of the flight.
4. Give yourself time
Whether you have a layover or arrived at your final destination, you're going to be the last one off the plane. The quickest we've ever gotten Shane's chair back after the plane has landed was 25 minutes. The longest was over an hour. We try to avoid layovers because of this, but if we have one, we make sure it's a few hours long. We've only ever missed one connecting flight because of Shane's wheelchair being delayed upon arrival, but when it happened, it was a huge pain in the neck. It's a great idea to book refundable or flexible hotel stays through Expedia in anticipation of problems like this. You can find these rates by using the "free cancellation" search filter or selecting "book now, pay later" rates. A refundable hotel will mean one less thing to worry about when you realize you've missed your connecting flight.
Of course, this is not a comprehensive list of everything you should do when flying with a wheelchair. It can sometimes seem overwhelming to fly with a chair, but Expedia makes planning and booking a trip easier by having everything in one place. They get rid of so many other hassles, and make it easier to focus on other important things, you know, like looking at hotel menus to figure out who has the best food, or whatever brings you the most vacation joy.
About Hannah Burcaw
Hannah and Shane Burcaw document their interabled relationship on their popular YouTube Channel. The couple has used their ever- growing platform to document the realities of their unique relationship. Hannah does not have a disability, while Shane has a genetic disorder called spinal muscular atrophy. The recently married couple have been celebrated for their transparency in how they've navigated the eye-opening challenges of their journey, while still seeing the beauty and humor in their life together.
Follow Hannah's adventures on Instagram at @hannahayl or the couple's YouTube channel, Squirmy and Grubs.