By Jennifer Cuellar, on November 18, 2019
What is Vancouver Known For?
What is Vancouver known for? Outdoor sports! From hiking to cycling to skiing, you'll never find locals spending their free time being bored at home. It's all about crisp air and green spaces—despite being one of the biggest metropolises in Canada. Here's where you can enjoy the great outdoors during your Vancouver trip.
1. Hiking
Capilano Suspension Bridge Park
Dust off your hiking boots and get ready to experience the marvel of Capilano Suspension Bridge. Sitting 230 feet above the Capilano River, this 450-foot bridge leads you into the region's lush evergreens. The Cliffwalk is another must-do in this scenic park. Brave the suspended walkway, which has glass flooring in some places, as you take in the rainforest vegetation. But if you'd prefer a bird's-eye view of the forest floor, check out Treetops Adventure, which includes seven bridges attached to eight Douglas fir trees. Some of the walkways are 110 feet high! Vancouver culture is all about taking it to the extreme.
2. Skiing
Just outside the concrete jungle of downtown Vancouver is the alpine playground of Grouse Mountain. In the warmer months, get in your steps on "Mother Nature's Stairmaster," which gains 2,800 feet in elevation—feel the burn! Play a round at the 18-hole disc golf course or hop in a gondola on the Super Skyride. Come wintertime, hit the slopes! Heading to Grouse Mountain is one of the best things to do in Vancouver in winter. Ride the Screaming Eagle chair to ski down the green trails or snowshoe the Blue Grouse Loop. You can even rent some skates from the Fireside Hut and glide along the outdoor frozen pond. And while this spot is idyllic for winter, Grouse Mountain is also awesome for summer hiking as well!
3. Cycling
Another place where you can experience what Vancouver is known for is at Stanley Park. Surrounded by Burrard Inlet and English Bay, this green space is Vancouver's first and largest urban park. Hop on two wheels and cycle along the Stanley Park Seawall, which is part of The Great Trail. During your bike ride, you'll pass lighthouses, gardens, and even beaches. Lovers Walk is another popular bike route. Cruise along the quiet, secluded trails and search for the tree that looks like two people embracing—the trail's namesake.
4. Whale Watching
Prefer to get your feet wet? Leave dry land behind for a whale watching adventure on the high seas. Between March and October, whales migrate past the Gulf and San Juan Islands, giving you the opportunity to catch a glimpse of nature's majestic beasts. Join a whale watching tour and you may spot humpback, orca, minke, and gray whales. Keep your eyes peeled for other kinds of wildlife, too, from tufted puffins and bald eagles to sea lions and dolphins. Note: You might want to book your hotel in Vancouver close by, so you can change into dry clothes after your adventures at sea.
5. Swimming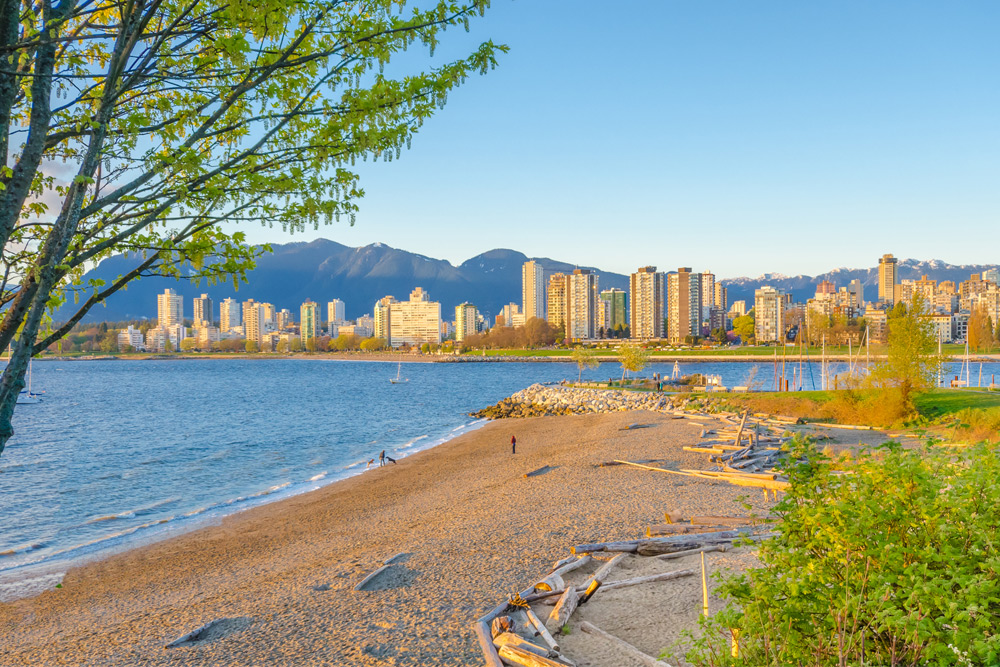 Beaches may not be the first thing that comes to mind when you think of the great outdoors in Vancouver, but don't be fooled! In the summer months, go for a swim in the calm waves at Kitsilano Beach. Or check out other coastal favorites like Second Beach and Sunset Beach. Brought your pooch? You can take your pup to the designated dog-friendly areas of Spanish Banks. Vancouver even has a clothing-optional stretch at Wreck Beach.
What's so special about Vancouver? The abundance of outdoor activities! Unsurprisingly, Vancouver is one of the most active cities in Canada. Throw on some hiking boots and sunscreen in your bag and book your flight to Vancouver. It's time to enjoy the great outdoors of BC.
Header image: Via EB Adventure Photography/Shutterstock.com