By Camille Meyers, on September 4, 2020
10 road trip worthy castles in the US
With COVID-19, it's important to stay safe and practice social distancing. We hope you find the following content entertaining, inspiring, or useful for a future trip. Always research official websites for up-to-date information on closures and new health and safety policies as businesses and destinations reopen.
Stroll around elegantly manicured gardens, marvel at intricate interior decor, and find the perfect photo spot in front of majestic ruins. You don't have to travel to Europe for an authentic castle experience. There are a surprising number of beautiful palaces, romantic ruins, and castles across the US to visit.
You can even book your own room and stay for a unique getaway. So start plotting your route to any of these 10 road trip worthy American castles.
1. Iolani Palace – Honolulu, Hawaii
The only official royal residence in the United States, Iolani Palace stands as a spiritual and physical multicultural epicenter of Hawaiian national identity. Built in 1882 by King Kalakaua, it served as the home of Hawaii's last reigning kings and queens until the monarchy was overthrown in 1893. Today, taking a tour of the iconic Iolani Palace is one of the most popular things to do on Oahu. If you can't travel to Hawaii right now, you can still experience the grandeur of Iolani Palace through a free virtual tour.
2. Boldt Castle – Alexandria Bay, New York
A castle's stone towers surrounded by lush foliage arise from sparkling waters like a real-life fairy-tale location. And the best part is—you can go there. Located on Heart Island in the Thousand Islands region of New York, you can explore the romantic Boldt Castle and its grounds on a self-guided tour. The most popular way to reach Boldt Castle is on a Thousand Islands boat tour from either Alexandria Bay, New York or Gananoque, Ontario, Canada. For a romantic getaway, stay in a hotel or vacation rental with a view of Boldt Castle across the water.
George Boldt made his fortune running high-end hotels, including the Waldorf Astoria Hotel in New York. He commissioned the island castle as a vacation home for his family. But when his wife Louise suddenly died, the heartbroken Boldt halted all construction even though the castle was nearly finished. For more than 70 years the castle lay abandoned until the Thousand Islands Bridge Authority took ownership in 1977 and restored the American castle to the grandeur you can see today.
3. Hammond Castle – Gloucester, Massachusetts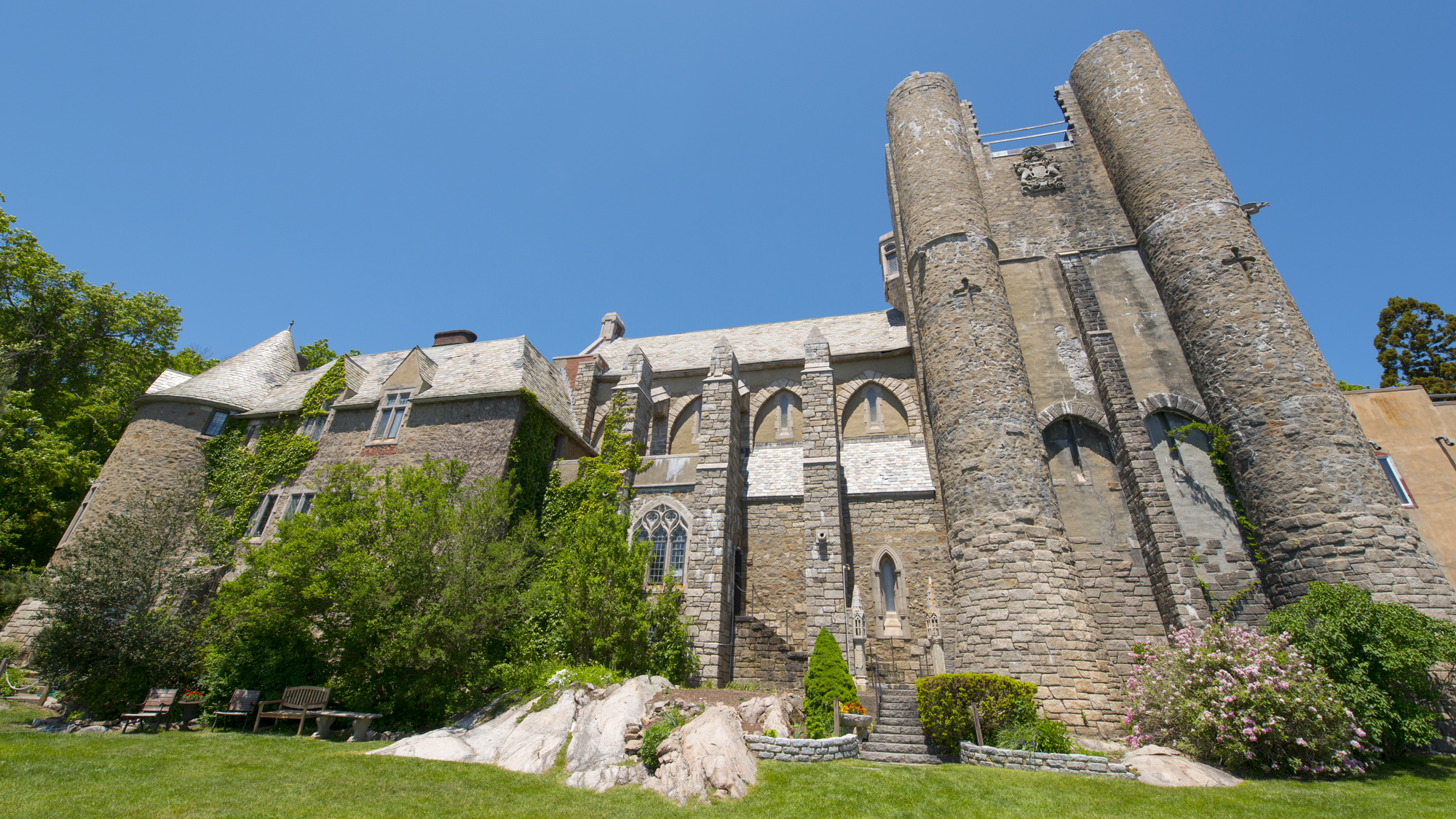 On a cliff overlooking the Atlantic shore, Hammond Castle brings the flavor of old Europe to New England. Built by inventor John Hays Hammond, Jr. in the late 1920s, this unique American castle contains suits of armor, a tropical greenhouse with a swimming pool, and one of the world's largest pipe organs. Now a museum, you can tour Hammond Castle to learn about its collection of artifacts and the interesting life of the inventor who owned them. One of the most popular things to do in Gloucester, Hammond Castle is an easy day trip from Boston and a short drive from Salem.
4. Hearst Castle – San Simeon, California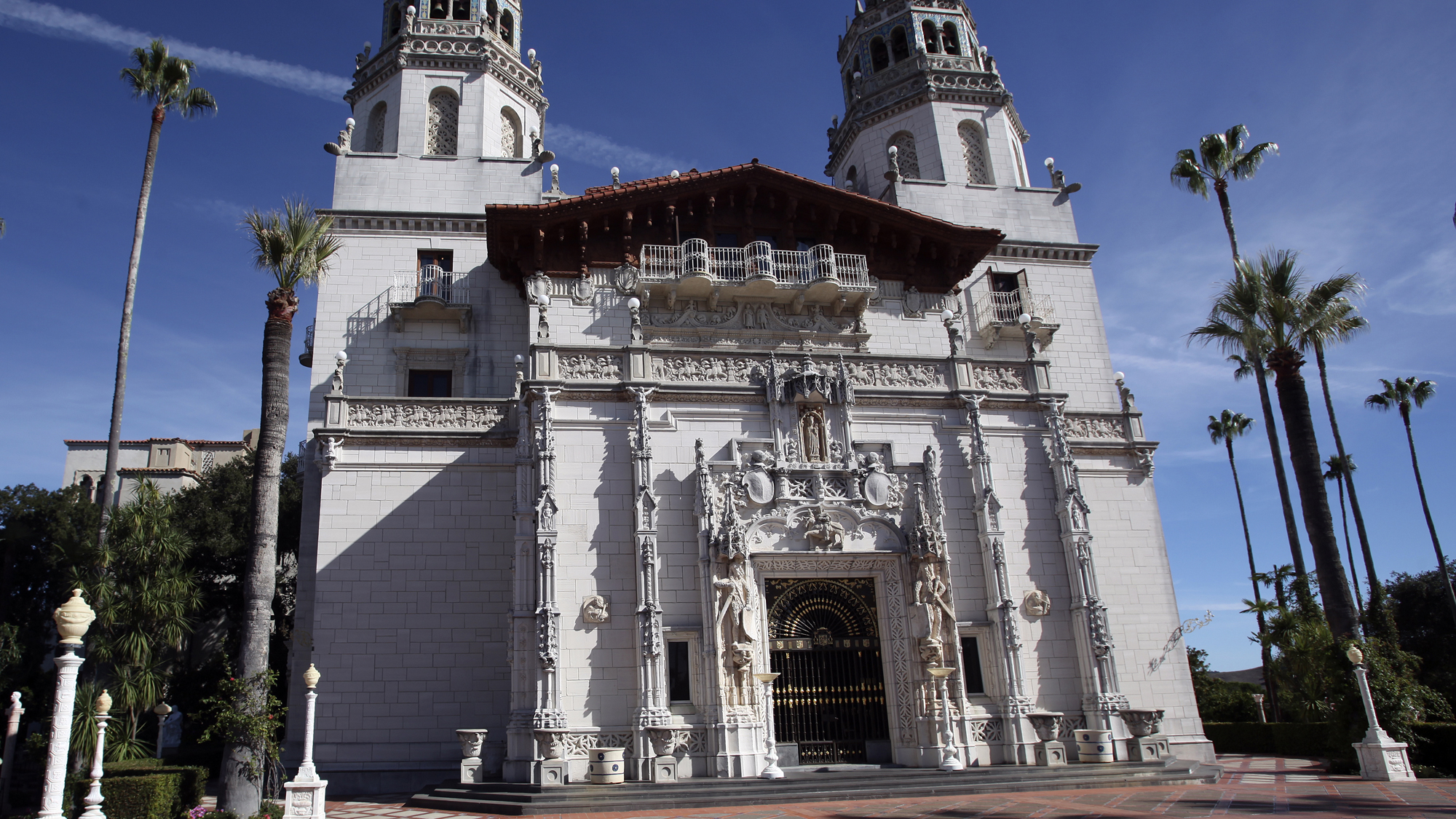 Marvelous architecture and a museum's worth of artwork overflows at the opulent Hearst Castle in San Simeon, California. Also known as La Cuesta Encantada (The Enchanted Hill), this grand American castle was the passion project of newspaper and media tycoon William Randolph Hearst. Pioneering architect Julia Morgan brought his vision to life. A blend of Roman columns and Spanish Colonial Revival architecture makes this one of the most unique castles in the US. Tour the grand rooms, dazzlingly teal Neptune Pool, and beautiful gardens on a day trip from Los Angeles.
5. Thornewood Castle – Lakewood, Washington
https://www.instagram.com/p/B9X7hdbAbPG/
Known as the house that love built, Thornewood is one of the most popular castles in the United States for weddings. And from its beautiful brick façade to Instagrammable gardens, it's not hard to see why. This 400-year-old, authentic English Tudor Gothic castle was dismantled and shipped piece by piece from England and reassembled in Lakewood, Washington as a gift from Chester Thorne to his wife Anna. This private residence now a bed and breakfast and makes a perfect romantic getaway from Seattle.
6. Biltmore Estate – Asheville, North Carolina
Nestled in the Blue Ridge Mountains, surrounded by rolling green hills and picturesque farmland, stands the grand 250-room French Renaissance chateau of the Biltmore Estate. Built by George Vanderbilt in 1889, the Biltmore Estate has 35 bedrooms, 43 bathrooms, and 65 fireplaces and remains the largest privately-owned house in the United States.
As one of the most popular things to do in Asheville, more than 1.4 million visitors explore the grounds and opulent house every year. You can even stay right on the property at the Village Hotel. Live the Vanderbilt lifestyle with fine dining, spa facilities, and recreational activities like clay shooting, fly fishing, and falconry.
7. Castello di Amorosa – Napa Valley, California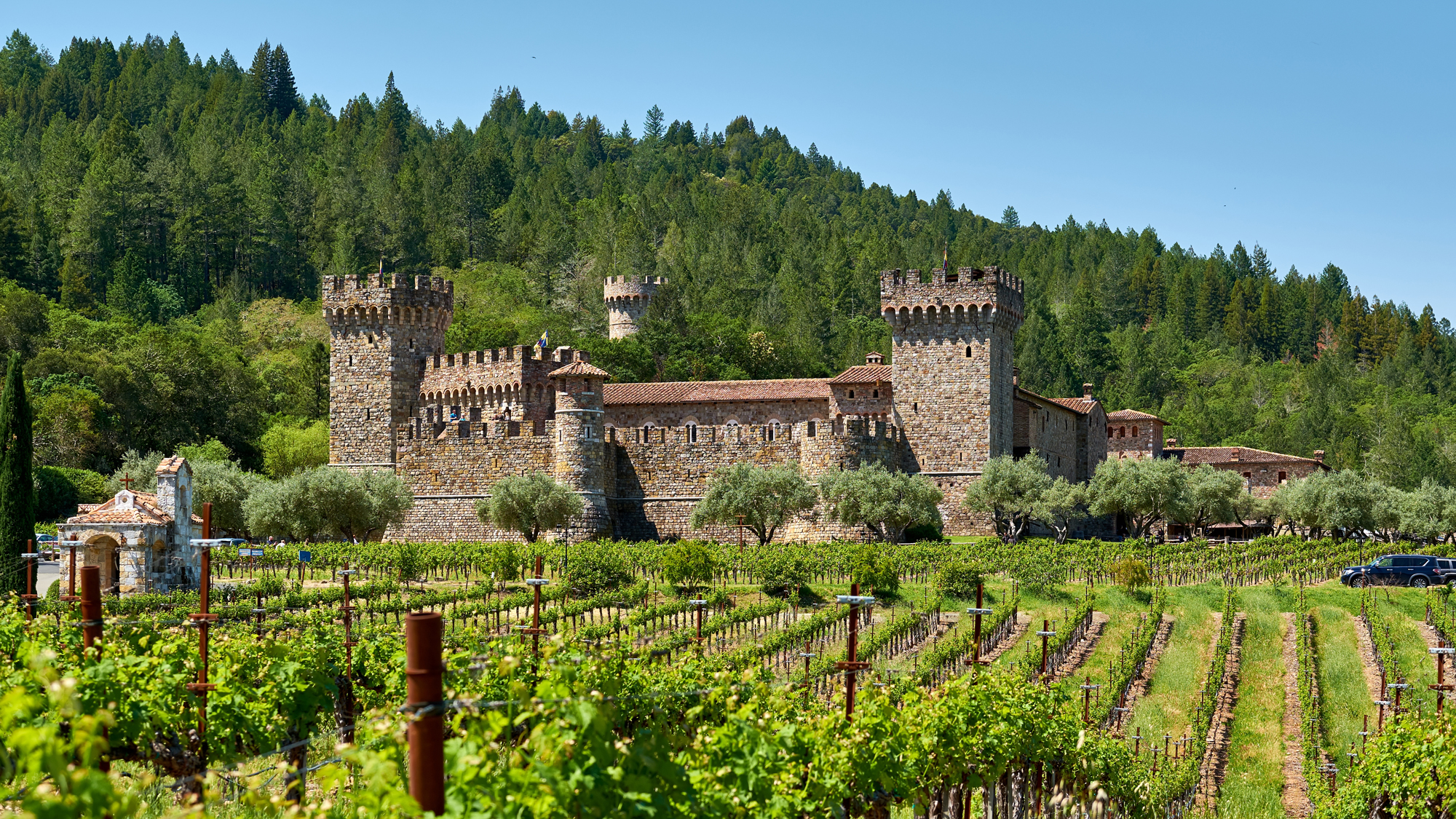 If you're a wine connoisseur, then Castello di Amorosa should be at the top of your bucket list of castles in the US to visit. This 121,000-square-foot (11,200-m2), 13th-century, Tuscan castle winery was a creation of passion for Dario Sattui. Built with antique bricks and authentic medieval techniques, the castle includes a moat with a drawbridge, five towers, high defensive ramparts, courtyards, a chapel, stables, an armory, a torture chamber, and, of course, a wine cellar. You can savor Castello di Amorosa on a wine tasting tour of Napa and Sonoma Valley from San Francisco.
8. Montezuma Castle National Monument – Arizona
Okay, Montezuma Castle is not technically a castle. And it has nothing to do with the Aztec king for which it's named. But Montezuma Castle National Monument is still a really cool place to visit. Built by the Sinagua people over 800 years ago, the cliff dwellings functioned more like an apartment complex than a castle. This 45‒50 room structure is one of the best-preserved prehistoric cliff dwellings in North America. Plus, it's an easy day trip from Phoenix.
9. Château Laroche (Loveland Castle) – Loveland, Ohio
Is the #LovelandCastle under siege by Mother Nature? http://t.co/3154d8X9GI pic.twitter.com/wzw6K4qGFZ

— Tana Weingartner (@TanaWeingartner) July 22, 2015
Less than an hour drive north of Cincinnati, you'll find the crenellated towers of a stone castle on the banks of the Little Miami River. Medieval history enthusiast and WWI veteran, Harry Andrews laid the foundation stones for Château Laroch, also called the Loveland Castle. He acquired the land as a campground through a promotion run by The Cincinnati Enquirer. The castle started as stone huts built for Andrews' boy scout troupe—the Knights of the Golden Trail—and grew from there. When you visit, be sure to check out the collection of medieval weaponry and ask a knight about the castle's ghosts.
10. Ha Ha Tonka Castle – Camdenton, Missouri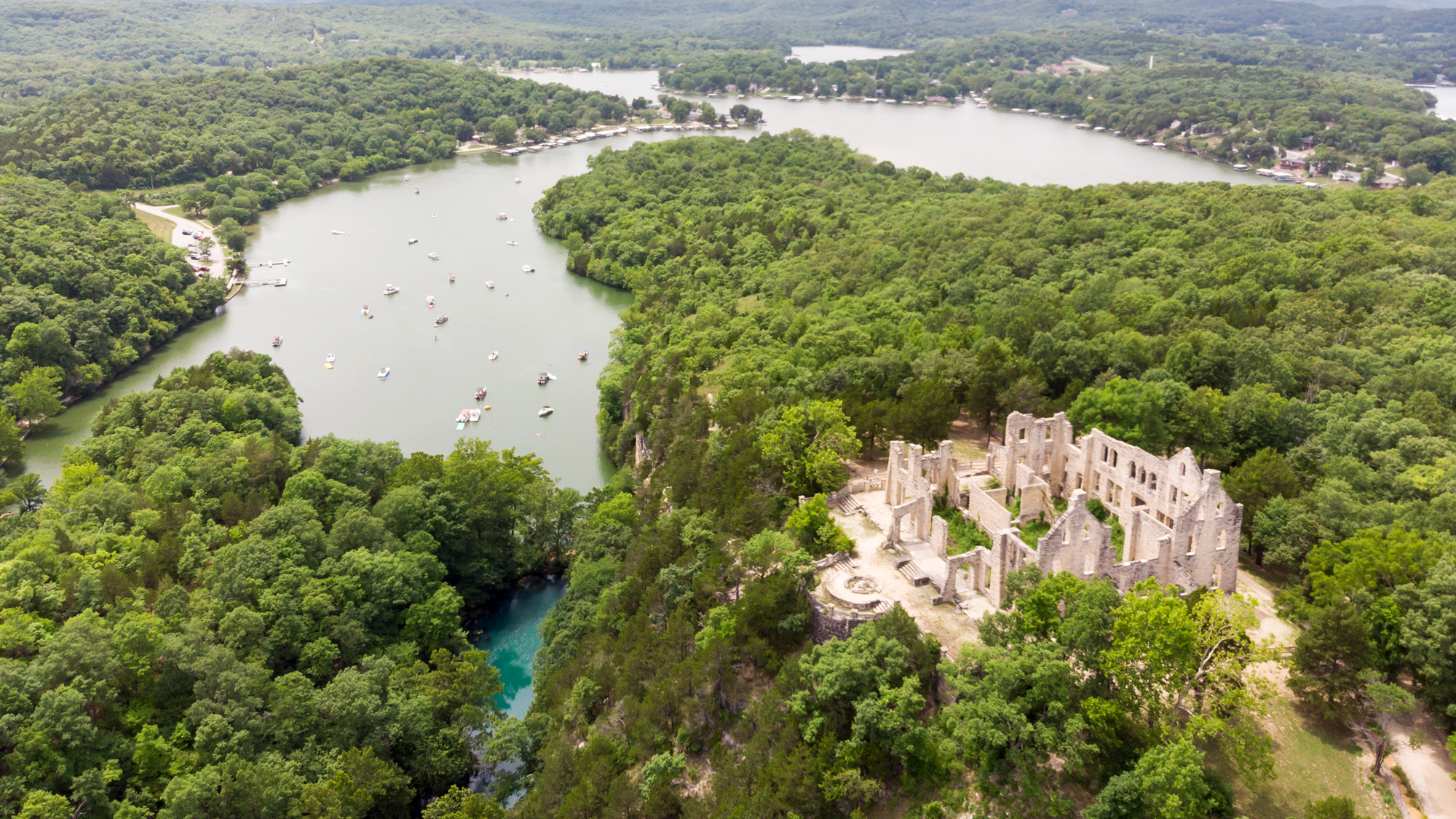 On a bluff within Ha Ha Tonka State Park stands the picturesque ruins of an American castle with a tragic story. In 1905, wealthy businessman Robert Snyder began construction on his family's private retreat overlooking the Lake of the Ozarks. However, only one year later Snyder died in one of Missouri's first automobile accidents. His children completed the castle but soon lost their fortune in a land dispute. In 1942, tragedy struck again when the entire mansion burned to the ground. Now, you can visit the ruins of Ha Ha Tonka Castle while exploring the trails, caves, and lakes in the state park.
Which castles in the US do you most want to visit?