By Lily Rogers, on August 16, 2018
26 most stylish cities in the US right now, ranked
The cities on this list run the gamut from famously chic to accessibly hip, where mere mortals shine as bright as fashion's elite glitterati. These places have the potential to boost your look to trend-setting levels with high-ranking edgy salons, front-running fashion schools, innovative runway events, and superior shopping districts.
You'll see a little of what you'd expect, and hopefully some inspiring surprises. Often in fashionista trends, what's old is made new again, and we've provided new sides to explore in some old favorites. New York, for instance, of course made the cut, but we're reaching beyond Bergdorf and Fendi to highlight places that are fresh and unique.
The cities themselves know how to give face, arrive fierce, and mug for the camera. Sporting unique architecture and photo-worthy backdrops, these places provide the perfect fashion shoot backdrop for social posts that shine. Also, we wouldn't leave the savvy travelers high and dry, so of course we've added the hottest trendy hotels, districts, and restaurants for a stay steeped in style. We set up a points system, and you can find the method at the end of the post.
17 points
Though situated in close proximity to Boston, Somerville has a flair all its own. College students and residents converge at Davis Square, where local musicians entertain and dining options abound. Head to hot spot backbar for fine craft cocktails served up to the stylish set.
See and be seen:
The fashion event of the year in town is the Somerville Open Studios Fashion Show, and the organization hosts many opportunities to immerse yourself in local art.
For a personalized experience, get a custom piece at Zoya Designs and shop Somerville native Whats-Nu boutique's online store, where you can choose the right pieces to highlight your individuality.
Eat in style:
For a vintage Americana experience, don some upcycled threads and head to the classic diner, Rosebud, where you'll feel transported back in time.
19 points
Fullerton, though small, is mighty when it comes to knowing how to dress. The fashion design program at Fullerton is teaching the younger generation new tricks, and the city itself dresses up at charming places such as Villa del Sol and Muckenthaler Art and Cultural Center.
See and be seen:
Part bohemian chic and part classic West Coast chill, the items at Stitch & Feather inspire California dreamin' in the best ways.
Share & Do Good is an ultra-cool boutique with all the accessories you need to round out your wardrobe.
Eat in style:
The Cellar, designed by the same people who designed the Pirates of the Caribbean ride, has a rich, old world European setting that provides a romantic space to see and be seen, sip craft cocktails, and eat award-winning food.
22 points
Oklahoma City boasts many stylish neighborhoods full of shopping potential, from the retro buildings and curated shops of the Plaza District to the colorful Spanish revival buildings and fashion boutiques of the Paseo Arts District. Okc Fashion Week showcases local talent, which can also be seen in stores across town.
See and be seen:
The Black Scintilla is one such place to find local goods as well as fashion for all sizes, from children to women.
Blue Seven carries mens and womens clothing and accessories made by Oklahoma-based artists and designers.
Stay in style:
The Colcord Hotel is at once contemporary and historical, as new design elements work in conjunction with the original marble and ornamental ceiling.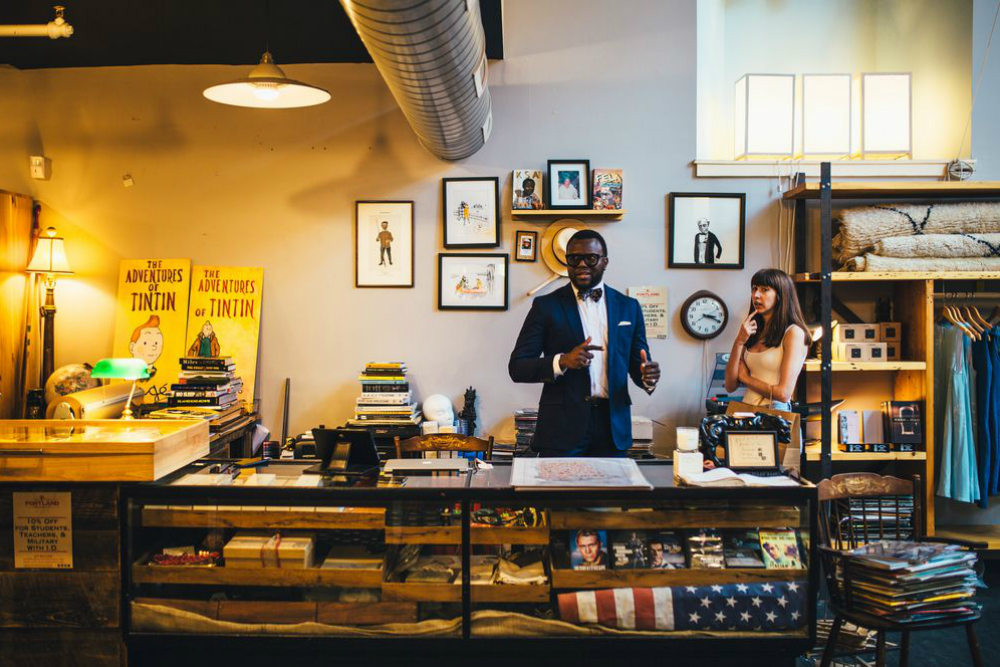 24 points
Portland knows how to dress for the seasons and to keep it stylish all year long. The Old Port neighborhood is a revitalized warehouse district that blends historical cobblestone streets with stylish, modern boutiques. The West End's Victorian charm is apparent in the famous design and architecture, and a stroll through that neighborhood will introduce some of the classic style Portland embraces.
See and be seen:
Portland Trading Co. is a clothing and lifestyle store selling local handmade products and more.
JUDITH carries a wide range of contemporary designers, and the store décor is as effortlessly cool as the clothes and objects for sale.
Stay in style:
The Press Hotel is hip, luxuriously modern, and houses a spa, art gallery, and acclaimed restaurant for a stay that will leave you feeling as good as the city looks.
24 points
It's been said the Savannah accent is smooth like molasses, and its citizens reflect the same level of smooth in their sense of style. Perhaps graduates of the No. 4 fashion school in the U.S., Savannah College of Art and Design are spreading their knowledge. The SCAD Fashion Weekend certainly puts the goods on display each year. For more sartorial inspiration, residents and visitors may frequent the Museum of Fashion and Film, or simply look around. Great street style is everywhere here.
See and be seen:
Let fashion shoot-worthy places like iconic Forsyth Park and Wormsloe Historic Site inspire a wardrobe boost.
Free-spirited fashionistas will love the quirky looks at Mamie Ruth M.Liz.
You can find your Savannah style at the boutiques on Broughton Street.
Eat in style:
Don your favorite outfit and show it off at sleek and stylish Atlantic for internationally inspired fare.
26 points
With one of the highest-rated fashion design programs in the country (The Fashion School at Kent State University), it's no wonder that the streets of this small city are no stranger to looks suitable for catwalks and sidewalks alike. The annual fashion show is the statement piece of the year, where tomorrow's designers mix with today's elite.
See and be seen:
Use the charming Lester A. Lefton Esplanade, which connects the college to the town, as your personal catwalk, where you can show off your goods from the Fashion School Store.
Peruse the boutiques on Main Street, or be truly inspired at the Gallery of Costume in the Kent State University Museum.
Stay in style:
Stay at the Kent State University Hotel and Conference Center, where only the name lacks panache.
27 points
This central city might not be the heart of fashion in New York, but it does have a few tricks up its ever-so-stylish sleeve. The innovative fashion program at Cornell is in the top 10 percent in the U.S., and it's rife with potential vanguard groups like the Cornell Fashion Collective.
See and be seen:
Downtown Ithaca Commons is the spot to see the coolest boutiques, talented street performers, and trendy restaurants.
Shop the Vintage Industry for one-of-a-kind fashion, jewelry, and home goods. The term ruggedly handsome takes on new meaning at Narrative Space, the place where masculine and androgynous aesthetics thrive.
Stay in style:
The Statler Hotel understands that clean lines and killer views are the pattern for a perfect fit.
27 points
Shopping this gem of a city is as fun as mingling with the stylish locals. The District neighborhood is the place to start, where you can shop it all–from vintage to contemporary boutiques. Stephens College has a highly esteemed fashion program, where progressive attitudes inform innovative talent.
See and be seen:
Absolute Vintage, perfectly curated, is a dream shop for lovers of all things retro. For the newer things in life, head to Cha Boutique or Kelly Fields.
Get your kicks sorted at American Shoe, which has been around since 1919. You'll be sure to find your perfect pair at this multi-generation gem.
Stay in style:
The rooftop bar at the Broadway hotel is just the tip of the iceberg when it comes to how cool this place is. The rooms are modern, the artwork is eclectic, and warm cookies for every guest signify an attention to detail we can get behind.
27 points
You don't need the Charleston Style & Design Magazine to tell you that this Southern town is full of fashion-conscious residents and places to purchase new and vintage items. Lexus Charleston Fashion Week is a 5-night fashion fest where the runway leads straight to chic after parties and world-class entertainment.
See and be seen:
Hampden boutique blends edgy new styles with Southern sensibilities, and is the premier apparel store in Charleston, and one of the top in the country. Designers range from Marni to Proenza Schouler.
For masculine wares, head downtown to M. Dumas & Sons, an iconic retailer selling sophisticated products since 1917.
Stay in style:
Dubbed an "art hotel," The Vendue is beautiful, stylish, and known to treat its guests right.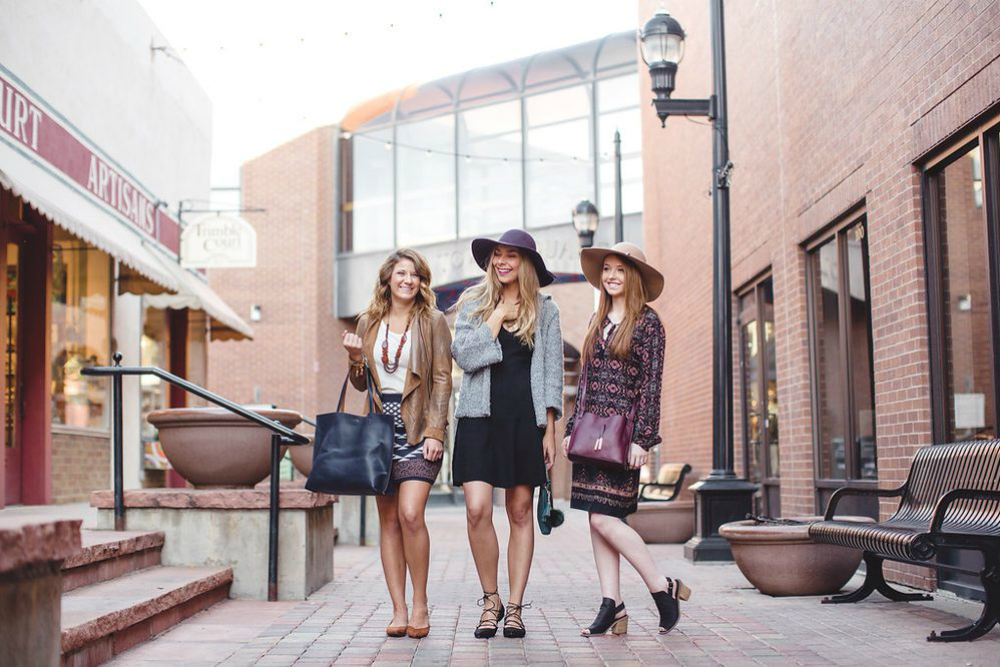 28 points
Colorado State University, home to the Avenir Museum of Design and Merchandising, is a top-rated fashion design school and the center of Fort Collins fashion. The beautiful Old Town, from which Disneyland took its inspiration for Main Street, provides aesthetic inspiration, from the attractively vintage Birney Car trolley to the various historical attractions throughout town.
See and be seen:
The Jessup Artisan Village offers places to spruce up, such as Lucky 27 Barbershop and HEYDAY boutique with its livable, cool clothing.
Magnolia Moon brings the bohemian romance, and even the tots in town stay hip at stores like Clothes Pony.
Stay in style:
The iconic Armstrong Hotel boasts the ultra-attractive architecture of the 1920s with updated interiors that are streamlined and modern.
30 points
Perhaps no American architect created works of more enduring style than Wisconsin native, Frank Lloyd Wright, and Milwaukee boasts some beautiful examples of his genius. Be sure to look the part before heading out to tour the photogenic sites of the city, like the Historic Third Ward and North Point South.
See and be seen:
URSA lifestyle boutique will outfit you with goods to suit your most stylish tastes.
Lela Boutique has a team of stylists on hand to help you put your most fashionable foot forward.
Establishment Salon has earned its stripes, and a whole new you could be waiting courtesy of the talented beauty pros.
Stay in style:
Brewhouse Inn & Suites houses you in the most hipster location possible—a spruced up former Pabst Brewery.
The brick and wood, loft-style rooms at Iron Horse Hotel put you up in the center of popular events, like their Friday fish fry, Bike Night featuring vintage motorcycles, and live music.
30 points
St. Louis hosted the 1904 World's Fair, and many beautiful reminders can be spotted throughout town, such as Forest Park and its gorgeous botanical center, the Jewel Box. St. Louis also has strong roots in the fashion industry, and throughout the 30s and 40s manufactured huge numbers of dresses for America's teens. Organizations such as Saint Louis Fashion Fund are working to bring the city back to the fashion stage, with great success.
See and be seen:
Avalon Exchange is a gem for one-of-a-kind, hand-picked and curated treasures.
Dapper Gents will leave you looking perfectly groomed, coiffed, and ready for a night on the town.
Find the Photo Bus and let them capture you looking your best. The portable photo studio even makes an appearance at Fashion Week.
Stay in style:
The Moonrise Hotel features bright pops of color and cheeky décor, and the rooftop bar is the perfect place to settle in to peruse St. Louis Magazine for the latest city trends with a delicious cocktail in hand.
30 points
The Detroit Garment Group is doing its part to keep the fashion community alive in the city, and from the looks of it, they're knocking it out of the park. Detroit Fashion Week is an exciting glimpse into the reemergence of the industry, and some of the most inspired and stylish buildings make up the fabric of this fascinating city.
See and be seen:
Detroit Denim Co. is doing the impossible and making the perfect pair of jeans. Go snag a pair before they become too popular to get your hands on.
Pure Detroit has five locations in landmark buildings across the city, and the locations alone are worth the trip, but you'll also find casual attire, home goods, and accessories.
dolce MODA is perfect for the well-dressed and sleekly put-together clothing connoisseur.
Stay in style:
The gorgeously restored Victorian buildings of the Inn on Ferry Street are unique, steeped in style, and quintessentially Detroit.
31 points
Salt Lake City hosts Utah Fashion Week, and is home to prominent fashion bloggers, world-class boutiques, and a unique, easy-going style in the city that's all its own. Head to the Sugar House district to see what the locals are producing and to snap photos of vintage signs and buildings.
See and be seen:
The Stockist is an awesome shop selling top brands in beauty, apparel, shoes, and accessories.
Fice Gallery is the stop for lovers of edgy sneaker design and streetwear.
Eat in style:
Refined taste converges in both the food and the atmosphere of the Copper Onion, where the regularly changing menu never disappoints.
31 points
Home to the flagship Neiman Marcus, Dallas has far-reaching fashion roots. Locals stay in the know with D Magazine, where they can read up on events such as Dallas Fashion Week, and every travel fashionista has an eye on the endless shopping opportunities from vintage to couture.
See and be seen:
O.D. boutique in Victory Park is filled with playful and unique pieces by hot designers, from Alexis Mabille to Tsumori Chisato.
The Songbird Society is more than a salon; it's a full-service experience that will refresh your look and up your individual style ante.
Stay in style:
NYLO Hotel's rich, clean style makes for gorgeous photos, and the rooftop pool gives you a chance to show off that hot new bathing suit.
31 points
Photogenic is Nashville's middle name. Music informs the fashion in the city, which gives this unique scene its true flair. Vintage buildings, neon signs, and classic country and rock vibes provide the backdrop of every photo-savvy traveler's dreams.
See and be seen:
Super curated items like the goods at Two Old Hippies will make you understand why it's said that shopping here is an experience.
Any Old Iron really drives music-inspired fashion home, where glam sequins meet rock star-level leather.
Make an appointment at Parlour & Juke, the best salon in the state, to complete your Music City makeover.
Stay in style:
The 404 Hotel in the trendy Gulch neighborhood has crisp, modern decor that won't overshadow your fashion moment. You'll be walking distance to downtown, but don't skip the chance to flaunt what you've got across town.
33 points
It's not all flip-flops and board shorts in sunny San Diego. This city knows how to dress for more than the beach. In neighborhoods like trendy North Park and upscale La Jolla, unique boutiques will outfit you in style. See what's trending in California fashion at all the shows during Fashion Week San Diego or the ones thrown by top fashion schools FIDM San Diego and Woodbury University.
See and be seen:
Jet Rhys in Solana Beach is the best salon in the city and one of the best in the country. Bring back a new 'do from your San Diego vacation, and let the compliments come rolling in.
Vintage shoppers can find one-of-a-kind goods at Hunt & Gather in North Park.
Stay in style:
It's all class and clean lines at the Pendry San Diego, a hotel where swanky guests sip cocktails against beautiful backdrops.
33 points
Austin is many things at once: weird yet trendy; music-drenched and food-obsessed; and casual yet well-dressed. Events like Fashion X Austin keep the scene fresh and innovative, while places like the Baylor Street Art Wall and East Austin shopping district provide colorful backdrops for photo shoots and inspirational strolls.
See and be seen:
ByGeorge is an upscale boutique where you're likely to find the perfect A.P.C. jeans or Lemaire sweater.
Birds Barbershop will sort out uncooperative locks, and upgrade your style with a cool new cut. Next, head to League of Rebels to further refine your dapper look.
Stay in style:
The Heywood Hotel is an East Austin staple for stylish travelers who want a comfortable, cool stay in a vibrant neighborhood.
33 points
Arguably the most stylish city in Florida, Miami is where even the buildings are lookin' ready for their close up. MIAFW Mag can get you up to speed with all things Miami style, including insider info on Miami Fashion Week, and the best city shopping from the Design District to Lincoln Road.
See and be seen:
Amazing vintage might not immediately come to mind when you think Miami, but shops like Palm Beach Vintage and C. Madeleine's will make you a believer.
Explore the possibilities of a brand new 'do at Todd Jameson Nue Studio, one of the best salons in the city.
Stay in style:
EAST, Miami is luxurious, effortlessly chic, and provides personalized travel insights through its own app.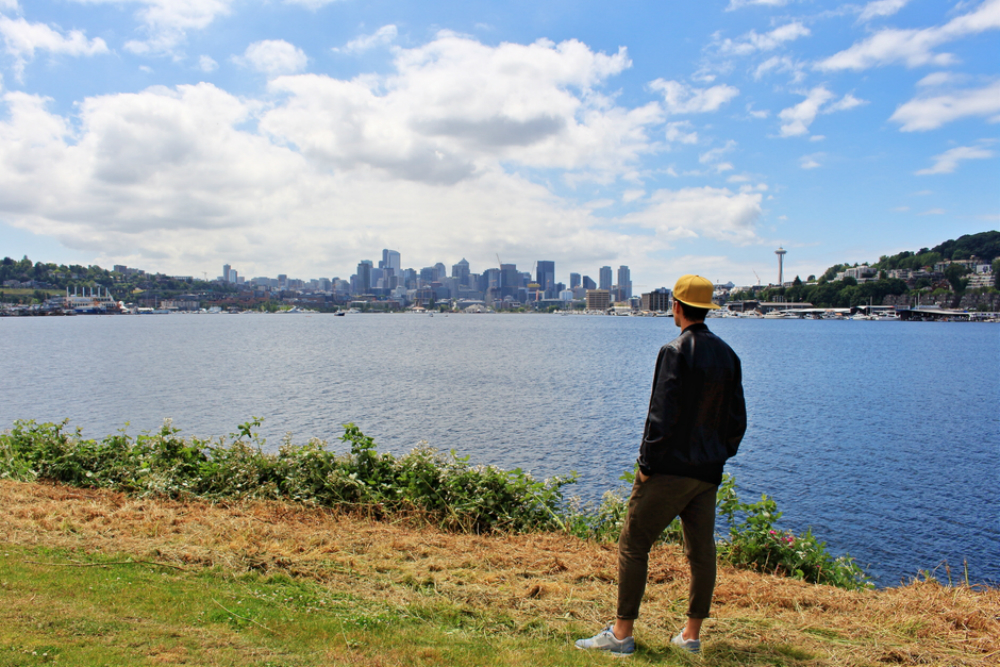 33 points
Pacific Northwest style stretches far beyond flannel and GOR-TEX, as Seattle proves with its trendsetting citizens and vibrant shopping districts. Head to the flagship Nordstrom in downtown, or shop the many boutiques of Ballard. Seattle Fashion Week showcases the true diversity of the city's style, and you can also head to sister city, Bellevue for its dynamic fashion week.
See and be seen:
Sharp dressers love Totokaelo boutique, which features ultra-modern designers like Issey Miyake and Acne Studios.
For vintage vibes, Pretty Parlor is a city favorite, where dapper fellas get their goods in the Manland section.
Stay in style:
Loud and bold, the Maxwell Hotel is not for the minimalists among us. This artsy, eclectic hotel is just the right spot for those who enjoy the brighter side of life.
37 points
Atlanta screams cool in every way but the summer weather, especially when it comes to the style on the streets. Head to the Little Five Points neighborhood to get a prime view of the newest trends, visit during Atlanta Fashion Week to glimpse the future of fashion, and check out RAGTRADE Atlanta's calendar for other stellar fashion events.
See and be seen:
Husband-wife duo Sid and Ann Mashburn will deck you out in classic southern finery and other threads by top designers.
Vintage lovers should head to Rag-O-Rama, where the constantly changing inventory will yield many hidden gems.
Eat in style:
The General Muir brings delicatessen dining to stylish new highs in an environment of clean white subway tile and tastefully classic green and brass accents.
39 points
San Francisco's relaxed past and more buttoned-up future make for a fashion spectrum as eclectic as the city itself. SF/FAMA invites the stylish set to San Francisco Fashion Week each September, where major houses and up-and-coming designers share their vision. The best place to look for the heart of SF style is on the streets, so find yourself a good people watching spot like Dolores Park.
See and be seen:
The city is full of great shopping neighborhoods. Some of the best include the Mission, SoMa, the Haight, and Noe Valley.
Get your locks in step with your look at the highly recommended Cinta Salon.
Stay in style:
Hotel Kabuki is the high style setting that's perfect for any fashion-forward traveler.
39 points
The Second City is first-rate in style, and may lead the pack when it comes to cold-weather fashion fixes. Home to Midwest Fashion Week and the SAIC Fashion Show, Chicago knows how to throw a stylish party. Beauty abounds in buildings around town, such as the Avalon Regal Theater, the Rookery, and the Yale Building.
See and be seen:
Lovers of 80s and 90s vintage will die for the goods at Kokorokoko, while Current/Elliott delivers "I woke up like this" swagger with simple, comfortable pieces that happen to be super cool.
Smith & Davis Salon is a must if you want to out-cool Chicago's most fashion-forward in the hair department.
Stay in style:
Nothing says minimalist, industrial chic better than the Ace line of hotels, and Chicago's offering is particularly stylish.
40 points
Philadelphia is for shoppers, with many districts for scoring new threads. For luxury and designer looks, head to Rittenhouse Square. South Street is the place to get out-there looks, while Northern Liberties offers all things hip and unique. Come in September for the excellent Philadelphia Fashion Week, or for Drexel University's annual fashion show.
See and be seen:
The Robert and Penny Fox Historic Costume Museum is a prize for fashion lovers and holds events like Women's Fashions of the Jazz Age.
Voted one of the best in America, Hush Salon will leave you looking the height of style.
Eat in style:
Much more than the food is Instagrammable at the colorful and stylish French bistro, Louie Louie.
41 points
Not only is New York City one of the most fashionable cities in the country, it is also a top contender in the world. Home to the best fashion design schools, FIT, Parsons, and Pratt Institute, New York is producing the brightest new talent. Every neighborhood and borough represents its own vibe, both in attire and architecture. There are endless places, such as the High Line to take an epic selfie, and to contend with the citizens of this city, you've got to bring you're A-game. Luckily, there is no shortage of world-class stores where the sky's the limit.
See and be seen:
For an edgy new 'do, the best salon in the city is Hair Rules. The stylists will get your look in a New York state of mind.
Find killer deals of luxury goods at What Goes Around Comes Around boutique.
See what talented new designers are bringing to the table at In Support Of, a super cool boutique on Elizabeth Street.
Stay in style:
NOMO SoHo is a chic place to hang your hat, where there are beautiful details around every corner, from the leafy-ceilinged tunnel entrance to the chandelier-clad NOMO Kitchen.
43 points
There is perhaps no American city more on-trend than LA. From the fashion program at Otis College of Art and Design to the museum at the Los Angeles campus of FIDM, there is infinite inspiration and innovation happening on the style front. The streets are veritable runways showcasing the sophisticated California cool only to be found in the Golden State.
See and be seen:
LA is rife with independent boutiques where you can hone your Southern California casual chic, and perhaps no store embodies this more than the abundantly charming Individual Medley.
Melrose Avenue is legendary for its wealth of stores, and it also hosts Melrose Trading Post, the open-air market where you can score everything from jewelry to vintage duds, to quirky homewares.
Stay in style:
Lay your head at the trendy Standard hotel in between photo shoots at Frank Lloyd Wright and Joseph Eichler properties and events such as LA Fashion Market and Fashion Week Los Angeles.
[toggle title="Click here to see the ranking method." state="closed"]
Ranking criteria*:
Shopping district with unique fashion boutiques: 5 points
Fashion design school/program: 7 points (+2 bonus for rated in top 50#)
Fashion shows: 5 points OR Fashion Week: 8 points
Stylish architecture and hip hotels: 5 points (bonus +2 for >5 hip hotels)
Fashion shoot-worthy spots: 2 points
Best hair salons in the country‡: 2 points per
Fashion museum: 2 points (1 point for permanent fashion exhibit)
*Tie breakers determined by factors such as size of events, number of boutiques, etc.
#Fashion-Schools.org
‡ELLE magazine list
[/toggle]
Where have you seen the best style in the U.S.?