By Expedia Guest Author, on November 26, 2019
13 of the Best Experiences in the Mexican Caribbean
The Mexican Caribbean is situated along the striking warm waters of the Caribbean Sea. Being Mexico's easternmost region, it's home to Cancún, the town of Playa Del Carmen, and the widely different islands of Isla Mujeres and Cozumel (along with many other cute and charming towns, of course). The Mexican Caribbean offers activities for all kinds of travelers – from a relaxed few days away, to an adventurous exploration with friends. Some of the most important Mayan archaeological sites are dotted all over the region too, making it a very important historical location, offering you a glimpse into the incredible Mayan culture. Famed for its incredible diversity of wildlife and huge thriving coral reefs (the largest in the Western Hemisphere), it's easy to see why so many are enchanted by the region.
But with so much to see, eat, and do, it can be overwhelming, so we've broken down the 13 best experiences below, to make planning your trip a little bit easier:
When In Cancún…
Kayaking the Nichupte Lagoon
Spanning more than 7,000 acres in the heart of Cancún, the Nichupte Lagoon is a kayaker's haven. Conexión Nativa Cancún offer guided and customizable tours through the lagoon, allowing you to work up a bit of a sweat, but at the same time learn about the delicate ecosystem of the lagoon. Kayaking allows you to get closer than usual to wildlife (in a non-intrusive way), and the the guides have a wealth of knowledge about the fauna and flora that reside there. Treat yourself to a natural clay mask near the end of the tour too.
When In Riviera Maya…
Swimming in Cenotes
There could be no more unique activity as entering the Mayan underworld to swim in the turquoise waters of the more than 8,000-known cenotes in the region. We chose Kin-Ha and Coba to have a dip, but the options are endless. Formed by rain water seeping through limestone, and over time collecting into vast underground river systems, these cenotes allow you to swim in mineral-rich waters surrounded by jungle. A real bucket list experience.
Dining in a Cave
Dining in a cave more than 10,000 years old is definitely something you won't forget soon. The cozy atmosphere set among stalactites, and the sound of purified water falling into a cave pool, really make the Alux restaurant a must-dine experience. Serving contemporary Mexican cuisine, with a wide array of international and local wines, makes for a magical night out. If you come early enough, you'll get a chance to snap a pic with a Mayan in traditional dress.
Azulik Uh May
A sensory-rich experience hidden in the jungle near Tulum, the Azulik Uh May museum and creative space is a location in which you can wonder for hours. This architectural masterpiece doubles up as an exhibition space for local and international artists, where every six months, new pieces interact with the surroundings, giving the structure a whole new experiential feel. Don't forget to look up too, as the roof is an incredible piece of art woven out of indigenous materials towering above you.
The Traveler's Table Experience
Rated as one of the best food experiences in Riviera Maya, The Traveler's Table brings people from all over the world together for a fun night, filled with experimental Mexican cuisine and lots of laughs. The experience lasts a few hours, and of course caters to all diets. This interactive encounter is unlike anything you would have done before, and allows you to mingle with like-minded people over great food and drink. Don't miss this one.
Going west…
Visiting Coba
You step back in time when visiting the impressive archaeological site of Coba, a few hours drive from Playa del Carmen. This extensive ancient site is home to Nohoch Mul, the tallest temple in the Yucatan Peninsula. The city was said to have over 50,000 inhabitants at its peak, and there are many well-preserved remnants scattered throughout the ancient city. The best vantage point is of course at the top of Nohoch Mul, which gives you a 360-degree view of an endless jungle landscape.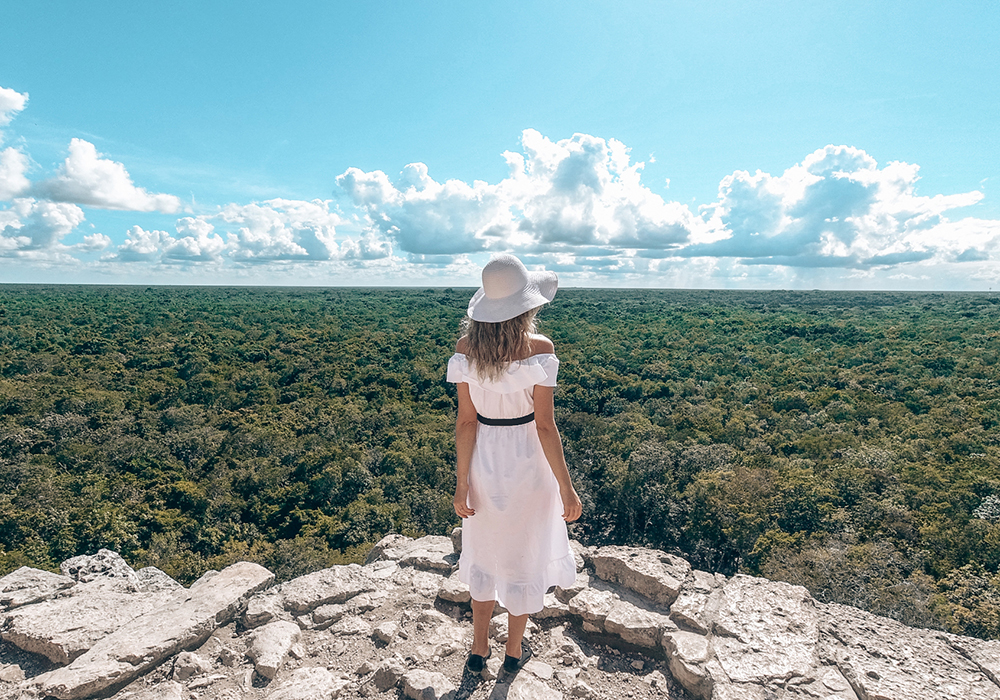 Taking Part in a Mayan Ceremony
One of the most authentic experiences you could possibly have, is visiting a highly-regarded Ah-Man or Shaman. He will take the time to personally bless you in an intimate ceremony. This blessing is a deep look into the rich Mayan culture that has been around for centuries, and can be experienced as part of the day-trip to Coba with Alltournative.
Going south…
Sian Kaan Ancient Canal Floating
The Sian Kaan Biosphere Reserve is home to many important and protected animals. The tour starts off by taking a boat trip around two large lagoons where Black Vultures and Egrets can be spotted (just to name a couple). These lagoons are connected by crystal clear canals, one made by the Mayans as a water highway of the past, and another, naturally made allowing water to exit the lagoon. Floating down the limestone canal with Community Tours Sian Kaan is a peaceful yet exciting experience that takes approximately 40 minutes. Allow yourself to float with the current and take it all in.
On Isla Mujeres…
Garrafon Park Zip-lining and Snorkeling
A short 15-minute fast ferry from mainland to Isla Mujeres is well worth the excursion. The island has a lot to offer, and the reef park at Garrafon is the place to go for some outdoor adventures. One of the main attractions is the 42-foot high zip-line, which gives you the opportunity to soar over the blue waters below. If heights are not your thing, then snorkeling the vibrant reef below is a must-do.
Kin-Ha Kayaking and Paddle-boarding
A short golf-cart ride from the ferry terminal is Kin Ha Isla Mujeres. You can kayak in a see-through boat, or try balance the sea water on a paddle board. Whether you're looking for some island adventures for the whole family, or feel like adding some water-sports to your honeymoon, Kin-Ha is the perfect spot.
Mayan Beach Club for Sunset Cocktails
Who wouldn't want to watch the sun go down on one of the most famous beaches in the world, with a drink in hand? Mayan Beach Club Restaurant and Tequileria, on the well-known Playa Norte beach, offers tasty cuisine and local cocktails (and is also a stunning venue for weddings if you are maybe thinking of getting hitched sometime soon). The romantic setting with hanging lights and live music will make for an eventful evening, and the talented barmen will be sure to mix something to your taste.
On Cozumel…
Jeep Tour
The largest island in the Mexican Caribbean, Cozumel, is best seen by Jeep. If you're staying at the Explorean Resort then you're in luck! All activities are inclusive of their nightly rate and this can include a jeep tour. Start your day off with an incredible breakfast and quick dip in the pool, then make your way around the island by jeep and experience the amazing views. If you're lucky and have the chance, stop at a tiny beach hut, The Coconut Shack, known to serve the world's best mojito.
Snorkel the Caribbean Sea
Hop off land and onto a private boat fully stocked with refreshments, and head out onto the blue waters surrounding Cozumel. You'll quickly understand why these waters are some of the best to snorkel in. Expect to see an abundance of sea-life, and even a turtle if you are lucky. After working up an appetite, you'll head to a pristine beach to relax with some local snacks, and, oh yes, don't forget to pinch yourself.
This was a guest post written by Chanel Cartell and Stevo Dirnberger of How Far From Home. You can follow along on their adventures on Instagram, YouTube, Facebook, or check out their blog.