By Expedia Team, on April 22, 2022
5 Sustainable Day Trips Perfect for Every Kind of Traveler
Whether you're an avid environmentalist or just trying to do right by Mother Earth, sustainable travel experiences can help limit your impact on the environment — and contribute to ensuring it can be enjoyed for generations to come. Don't have time to dedicate to changing the world? That's OK. You can do that just by choosing the right partner to book your travels with for your next trip.
Amadeo Travel Solutions, a company specializing in mini-trips including day and short multi-day excursions, and its subsidiary Empire Vacations joined forces with One Tree Planted to plant a tree for every passenger who joins one of its tours, with the goal of planting 1 million trees. Check out these sustainable quick trips you can take and one new tree is planted in your honor.
New York City to Washington, D.C. Day Trip
Skip the car rentals counter for your next trip to the Big Apple and take public transportation instead. Spend as long as you'd like exploring the city on your own before heading to Washington, D.C. for a comprehensive D.C. day trip with Amadeo. During the trip you'll have the chance to check out iconic buildings like the White House and Capitol, somber memorials like the Arlington Cemetery and Kennedy grave site, and places that point toward the future like the National Air and Space Museum.
New York City to Boston Day Trip
History buffs and Red Sox fans can explore the city of their dreams on this full-day tour of Boston. Walk along the Freedom Trail to see Boston Common and Quincy Market—the perfect spot to grab a quick bite and souvenir. Next, visit Boston Harbor and see where the most raucous tea party in history took place. As a bonus for environmentalists, this day trip features a larger group size, which means you'll be helping keep cars off the road.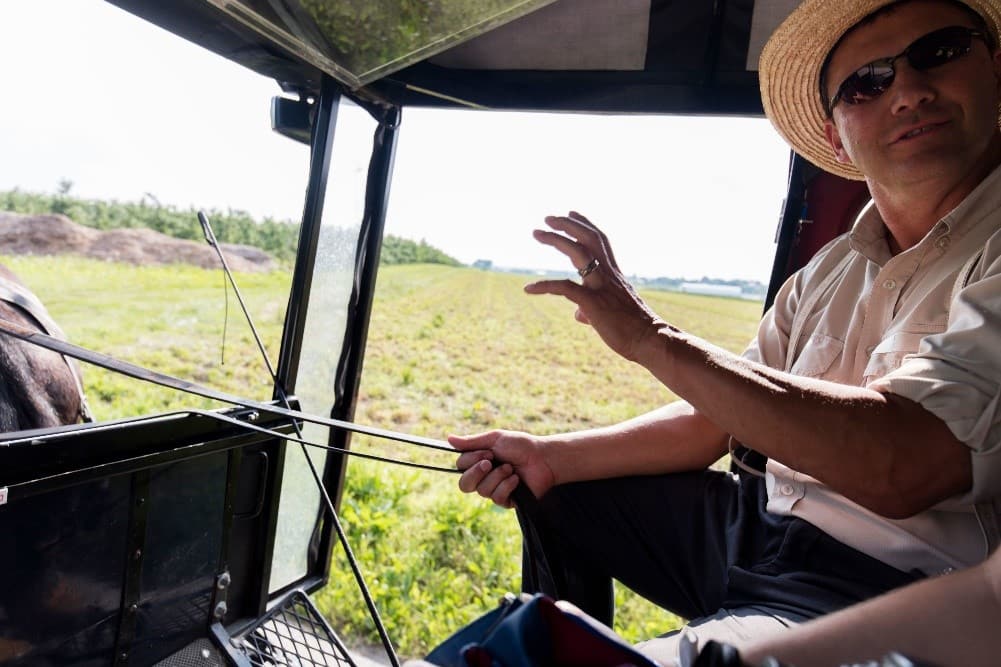 New York City Day Trip to Philadelphia and Amish Country
If you're looking to escape to the countryside, this Philadelphia and Amish Country day trip is just right. Your tour of Philly features almost too many important historical sites to count, but here are a few: Independence Hall, the Liberty Bell, and—of course—the stairs from the movie Rocky. You'll then venture to Amish Country for a traditional Amish lunch followed by a horse-and-buggy ride.
Overnight Shopping Trip from NYC to Niagara Falls
Now that you've explored US history, it's time to shop and to see one of the world's most impressive natural wonders on this overnight exploration of Niagara Falls. Join your environmentally conscious group and take a bus past the Delaware Gap's scenic waterways on your way to the falls. After arriving in the Niagara Falls area, settle in for the night and get ready to board the Maid of the Mist to see the edge of the waterfall. After your boat trip, head over to the designer outlet mall to score some bargains before returning to New York City.
Day Trip from Las Vegas to Antelope Canyon and Horseshoe Bend
Now for something completely different. For most, Las Vegas is a place for bright lights, buffets, and blackjack — but no visit to Las Vegas is complete without a day trip to see some of the nearby natural wonders. Hop on the bus with your fellow travelers and pass through Navajo territory on your way to Horseshoe Bend, a scenic wonder that likes its picture taken. Then, go to Antelope Canyon where a Navajo guide leads you through the kaleidoscopic canyon to learn all about the significance of this place. After a final stop at Glen Canyon, return to Vegas for another night of excitement.
More about One Tree Planted
Amadeo Travel Solutions chose to partner with One Tree Planted because they are a non-profit focused on planting trees — and making a big impact — around the world. Boasting more than 40 million trees planted(!) in 43 countries, One Tree Planted understands the importance of reforestation and sustainability. Thanks to partners like them, travelers can find ways to explore in a more sustainable way and feel good about it. Earth Day is a great reminder that the choices we make affect the world now and for generations to come.