By Expedia, on November 12, 2019
8 Things to Do in the Canadian Prairies this Winter
The Canadian Prairies are exploding in popularity as travel destinations and it's not hard to see why. What was derided as fly-over country in the past is now being recognized for its small-town charm, unique cultural offerings and beautiful outdoor scenery. While winter in the prairies can be fierce, with cold temperatures and frequent snow; these 8 activities show that winter doesn't have to ruin your trip. Take advantage of lower rates, smaller crowds and fantastic winter activities to have a great adventure to cap off your holidays or start your new year.
Visit Lake Abraham
Abraham Lake in Alberta is a popular destination year-round, but it really takes on a different life in winter. Each year dying plants at the lake's floor decompose and release methane gas into the lake. During Alberta's freezing winters, these bubbles are frozen and suspended in the lake's ice. The frozen stacks of bubbles along with the clear blue water make for a unique sight popular with photographers and tourists.
See the Northern Lights
The aurora borealis are one of the most awe-inspiring sights anywhere on the planet. While fickle and notoriously difficult to plan for, the Northern Lights are most easily seen in the upper reaches of the Northern Hemisphere. Some of the best places to catch them in Canada are in the prairies. La Ronge in Saskatchewan, Fort McMurray in Alberta, and Churchill, Manitoba have everything you need for an aurora showing. Low light pollution, high latitudes and clear winter skies. If you're willing to brave the cold temperatures, winter is great for aurora viewing because of the long nighttime hours.
Dog Sledding
Want to take part in an ancient Inuit tradition with some of man's best friends? Dog sledding is one of the most fun and unique activities of a Canadian winter on the prairies. There's nothing quite like speeding down the frozen tundra at the head of a packing of pulling huskies. If that sounds like a tad bit too much adrenaline, there are smaller tours available too. Anything from full sleds to leisurely rides around the kennels are easy to find in Churchill, Manitoba, a city where dog city is embedded in the local culture.
Cross-Country Skiing
While it has a reputation as an exhausting endurance sport, cross-country skiing can also be a graceful and leisurely winter activity. Alberta, Saskatchewan and Manitoba have plenty of meadows and fields where you can effortlessly glide on skis. The Prince Albert National Park in northern Saskatchewan has some of the best skiing in the country. And is a great place to strap on skiis for the first time, or to test your skills as an expert.
Ice Fishing
For the uninitiated ice fishing can seem a cold, lonely way to spend a winter day. But for ice fishing enthusiasts, few experiences can compare to a day out on the lake. Ice fishing is a time to sip hot drinks, relax with friends, and spend the day pulling lunch through a hole in the ice. When done safely, ice fishing is a great activity that often ends with a freshly grilled meal on the lake shore. For some of the best ice fishing in the prairies, stop by Lake Winnipeg in Manitoba or Cold Lake, Alberta. Both spots have produced record breaking fish that you'll have a chance to catch.
Sleigh Rides
For a quaint entry into Christmas' past, take a ride on a sleigh ride. Immortalized in the sing "Jingle Bells" and the story of Santa Claus, sleigh rides are still a winter transportation option in some parts of the Canadian prairies. Brewster Adventures in Alberta offer three different kinds of sleigh rides, from the classic one-horse open sleigh to an open community sleigh more akin to a public hay ride. To top off the night, they offer a country Christmas dinner after their chartered sleigh rides.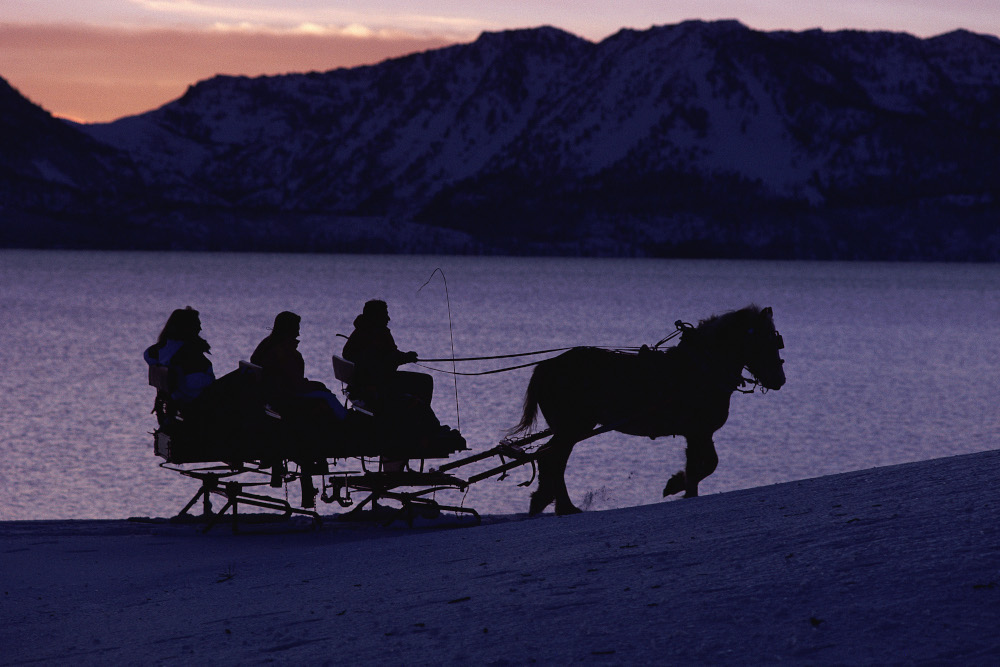 Curling
There might not be a more quintessentially Canadian winter activity than curling. This quirky sport, which jumps in popularity each Winter Olympics, is incredibly popular in Canada and is a fun way to spend a winter evening. Curling, which is played with sliding polished stones across ice, is found in rinks across Canada. The Granite Curling Club in Saskatoon is a popular place to stop by for a game, as is the Garrison Curling Club in Calgary.
Wildlife Viewing
Canada has some of the largest tracts of untouched wilderness in the world. The pristine woods and forests of northern Alberta, Saskatchewan and Manitoba contain flora and fauna found nowhere else in the world. While many wildlife reserves are rightfully isolated and far away from major cities, the wildlife viewing is incredible. One particularly popular spot is Churchill, Manitoba. This polar bear capital of the world is great for viewing these majestic creatures. Every winter the ice refreezes on the Hudson Bay and polar bears return to the ice in pursuit of seals and walruses. Belugas, black bears, moose and migratory caribou are also plentiful at Churchill.
Whether it's glimpsing endangered polar bears, riding across a snowy meadow on horse-driven sleigh or sipping hot chocolate with your friends, the Canadian prairies have more than enough winter activities to keep you satisfied. Book your next trip through Expedia to take advantage of the lowest rates available.