By Joe Rogers, on June 27, 2022
9 Alien Landscapes You Can Visit Without a Spaceship
For thousands of years, humans have looked to the stars. Today, NASA's James Webb Space Telescope is photographing the universe's first galaxies, military UFO sightings are making headlines, and companies are zooming billionaires into orbit. The space craze is at an all-time high, but not all of us have the money to leave the planet. Not to worry! There are plenty of destinations right here on Earth that are otherworldly. Ready for a galactic adventure? Here are 9 alien landscapes you can visit now — no spaceship required.
Wadi Rum, Jordan
Wadi Rum is everything you'd expect of a desolate alien landscape: a red Martian-like setting, gargantuan sandstone formations, wide valleys, and rippled sand dunes. This desert locale in southeast Jordan served as Arrakis in Dune, doubled as Mars in The Martian, and was a backdrop in The Rise of Skywalker.
Stay: Glamp under the stars at Wadi Rum Bubble Luxotel or enjoy waterfront relaxation at Al Manara in Aqaba.
Waitomo Glowworm Caves, New Zealand
An excursion into Waitomo Glowworm Caves is straight out of a sci-fi movie. Thousands of glowworms illuminate the ceiling of Glowworm Grotto, creating an unearthly subterranean environment one might expect in a world beyond the Milky Way.
Stay: A doable day trip from New Zealand's capital, the caves are a mere 2.5-hour drive from The Grand by SkyCity in Auckland.
Craters of the Moon National Monument and Preserve, Idaho
NASA plans to put astronauts back on the moon by 2026. For us average explorers, Craters of the Moon National Monument and Preserve, a vast ocean of volcanic formations and ancient lava flows 2.5 hours east of Boise, is the closest we'll get to our celestial companion any time soon.
Stay: Best Western Sawtooth Inn & Suites to the west and Tru by Hilton Idaho Falls to the east bookend this isolated alien-like world.
Salar de Uyuni, Bolivia
Exploring distant planets offers extraordinary experiences that require significant logistical feats. Reaching Bolivia's Salar de Uyuni, Earth's largest salt flat, isn't that much different. This barren salt bed accessible via remote outposts like the small city of Uyuni, extends to the horizon, which during certain times of the year, transforms into a stunning otherworldly reflection of the sky, thanks to a thin layer of water from nearby overflowing lakes.
Stay: Uyuni, Bolivia, is the best jump-off point for tours. Hotel de Sal Luna Salada places visitors right on the edge of the salar.
Humboldt Redwoods State Park, California
A long time ago in a galaxy far, far away there was a forest moon called Endor. You won't need the Millennium Falcon's hyper-drive to reach this alien landscape featured in Return of the Jedi. Simply take a drive along Highway 101 in Northern California to visit Humboldt Redwoods State Park. Just be sure to keep an eye out for any resident Ewoks or speeder bike chases in this majestic forest.
Stay:  The Scotia Lodge is an updated, 100-year-old hotel five minutes north of the park.
Zhangjiajie National Forest Park, China
A mythical landscape often shrouded in mist and located in China's Hunan Province, the towering pinnacles within Zhangjiajie National Forest Park rise above a verdant forest like no other. These unique pillars inspired Avatar's floating Hallelujah Mountains. Overlooks reached via the Bailong Elevator provide out-of-this-world views.
Stay: Lee's Boutique Resort is a peaceful retreat nearby.
Son Doong Cave, Vietnam
Hidden deep within Vietnam's Phong Nha-Ke Bang National Park is Son Doong Cave, a landscape one could easily confuse for a terraformed exoplanet. If fact, this cave — the largest on Earth — is a world unto itself. It has its own microclimate, river and jungle, and is so large that a Boeing 747 can fly through it. Oxalis Adventure Tours offers a four-day expedition, rewarding trekkers with one of the most impressive campsites anywhere. 
Stay: Melia Vinpearl Quang Binh offers a perfect beginning or end to your adventure.
Vatnajokull Glacier, Iceland
Vatnajokull glacier is a frozen land not unlike what an ancient civilization might call home somewhere among the stars. And underneath the glacier is a crystal blue alien world of ice caves to tour during the Icelandic winter months. (Side note: Nearby Svínafellsjökull glacier doubled as a frozen planet in Interstellar.)
Stay: Hali Country Hotel is a quick drive from Vatnajökull National Park.
Great Sand Dunes National Park and Preserve, Colorado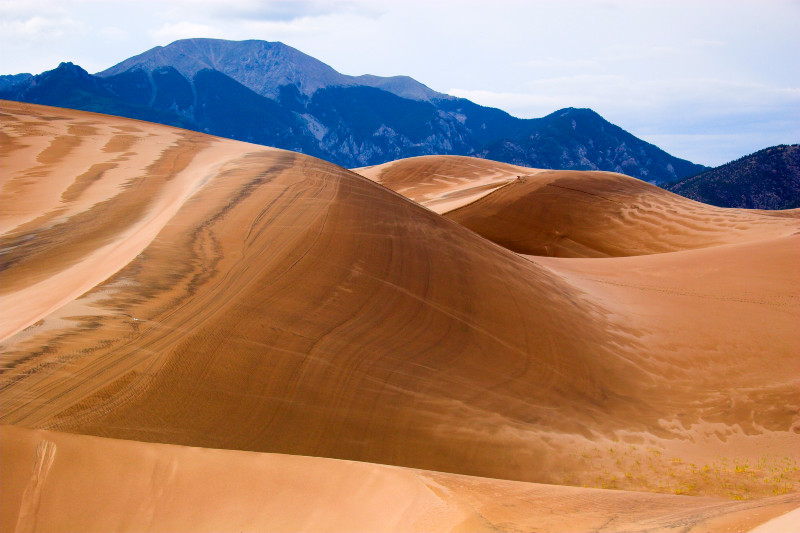 The dunes at Great Sand Dunes National Park resemble Mars' extreme landscape so much that NASA used them to test the two Viking spacecraft that first landed on the red planet. It's also a hotbed for UFO sightings. Just west of the park is the UFO Watchtower where over 200 "tourists" from outer space have reportedly been seen since May 2000.
Stay: Rent sandboards for a day on the dunes near your stay at Fairfield Inn & Suites Alamosa.