By Expedia, on August 5, 2019
Best Day Trips from Salt Lake City
There's no doubt that part of Salt Lake City's appeal is its wonderful feeling of remoteness: this is a city surrounded by big skies, epic spaces, and endless dreams. If you're itching to get out of the metropolis and explore the landscape, then check out this list of day trips from Salt Lake City.
Journey into the great outdoors with a trip to Antelope Island State Park, a rugged stretch of backcountry situated within the Great Salt Lake. The park is an oasis for Salt Lake City's hikers and bikers, who come to hit the network of trails, as well as wildlife lovers, who flock to see the free-roaming American Bison and bighorn sheep. Sun-worshippers can soak up some rays on the white-sand beaches before taking an invigorating dip in the salty waters, while couple will adore the romantic sunsets.
Visitors wanting to capture some epic photos should make the 220-mile-drive to Goblin State Park, an otherworldly place where thousands of towering hoodoo rocks rise above a rust-red landscape. If you ever wondered what a Salvador Dali painting of Mars might look like, Goblin Valley will give you a pretty good idea, and you can hike the Carmel Canyon Loop, hit the cycling trails, camp in Entrada Canyon, and take in spectacular views of the Milky Way at night.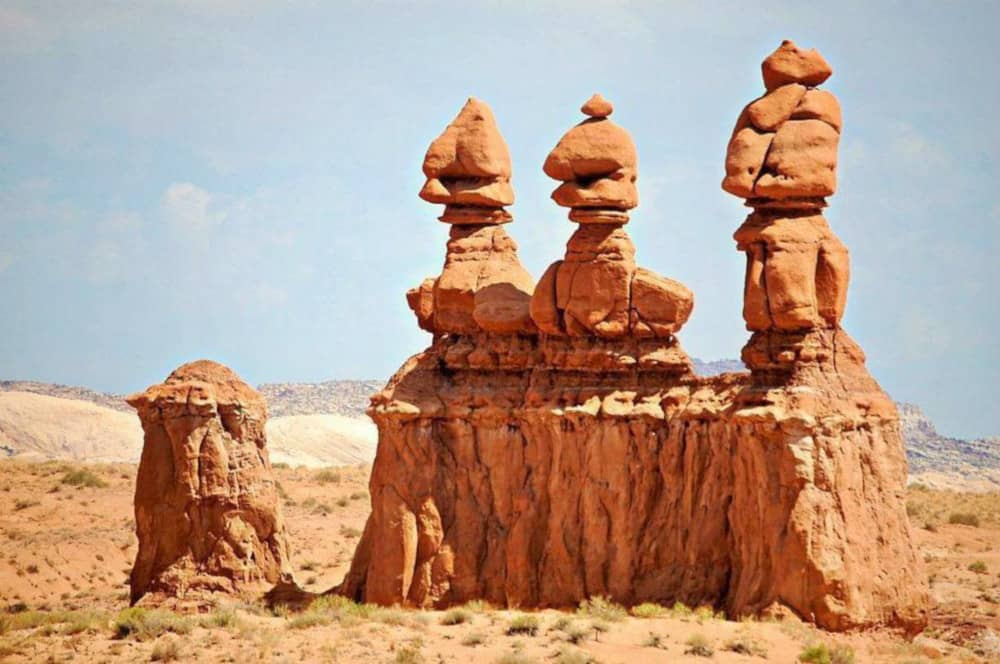 A relic from the Pleistocene era, the iconic Bonneville Salt Flats is perhaps the flattest and fastest place on earth, a stupendous stretch of white, salt-encrusted earth where cars have rocketed at over 500 mph, the sunset paints the sky a cotton-candy pink, and the ethereal stars spill across the stratosphere during magic hour. It's the ideal place to sky-watch, snap some one-of-a-kind photos, or witness land-speed records fall at Bonneville Speedway, a must-visit spot for racing fans.
Art lovers looking to get away from the crowds will find the perfect break in Nine Mile Canyon, a desolate spot in the Utah desert that's been billed as "the world's longest art gallery". Not only does the canyon contain over 10,000 pictographs and petroglyphs dating from the Fremont era, it's an amazing area for hiking and mountain biking. Of special note is Harper, a former stagecoach stop that's now a ghost town nestled in a grove of cottonwoods.
An hour's drive from Salt Lake City, Crystal Hot Springs has been easing local tensions for centuries, as it was originally a popular winter site for Native Americans, and later soothed the sore muscles of Chinese railroad workers. It's been a commercial enterprise since the turn of the century, and its no-frills, down-home attitude makes it a great getaway for travelers willing to leave their urbane expectations back in Capitol Hill. You won't find 5-star dining here, but you'll discover a serene spot to melt away your stress.
If you enjoy modern amenities and culture, but are looking for a quick break from Salt Lake City, then head to Provo, a laid-back locale on Utah Lake. Provo offers plenty of attractions for history buffs, including the Brigham Young Museum of Art, the BYU Museum of Paleontology, and the Museum of Peoples and Cultures. Provo is also rich with natural beauty, and it's a pleasure to while away an afternoon with a hike through Provo Canyon or Bridal Veil Falls State Park.
Situated just 30 miles southeast of downtown Salt Lake City, Solitude Mountain Resort is a low-key retreat offering skiing, Nordic sports, intimate dining, and a plush spa. The resort specializes in ski instruction and trails that are suitable for beginners and intermediate skiers, so it's the ideal spot to bring the whole family. Winter visitors can snowshoe to a cozy restaurant in a Mongolian yurt, while summer visitors can mountain bike, hike the trails, catch some live music, and play a round of disc golf.
For families and train buffs, the Heber Valley Railroad offers a quick and easy escape from the big city bustle. The heritage railway runs from Heber City to Vivian Park, and offers a range of themed trips, including murder mystery trains and Broadway trains, as well as scenic trains with striking views of Mount Timpanogos, Provo River, and Deer Creek Reservoir.  The railway might not be as important to local life as it was in the 19th century, but it still offers a window onto the area's fascinating past.
Whether you want to soak up some sun, hit the slopes, or watch the fastest cars on earth, you'll discover the perfect day trip from Salt Lake City. Choose your next Salt Lake City adventure, and book your accommodations on Expedia today!