By Expedia, on August 7, 2019
Best Day Trips from Washington D.C.
With its world-class restaurants, historic landmarks, vibrant nightlife, and unforgettable museums, Washington D.C. is one of the country's most extraordinary cities. But everyone needs a break from the capital's buzz sometime, so here are some ideas for unforgettable day trips from Washington D.C.
Just a 115-mile-drive from Washington, Charlottesville's quaint downtown, lively dining scene, and historic attractions make it a great destination for a D.C. break. Visitors can explore the booming craft beer scene, visit Thomas Jefferson's former home at Monticello, check out the shops at the sprawling Downtown Mall, and even do a bit of ballooning. The city is especially suited for kids, who will get a kick out of the Virginia Discovery Museum, while music-lovers flock to the annual Ash Lawn-Highland Opera Festival.
One of the country's most awe-inspiring stretches of parkland, Shenandoah National Park has drawn D.C. denizens for decades. The journey to the park is a notable activity in its own right, especially in autumn, when scenic Skyline Drive is awash in the gorgeous palettes of fall. Shenandoah National Park is the perfect spot to indulge your sporty side, so pack the bike, some fishing gear, and your hiking boots, and set out to explore the hundreds of miles of forested trails.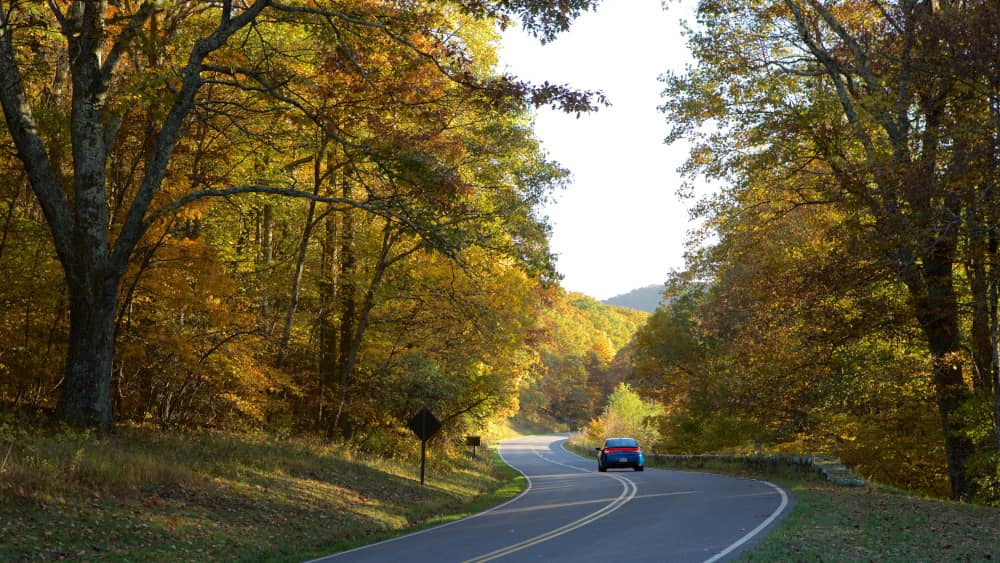 A quick getaway doesn't always have to revolve around B&Bs or beaches, sometimes you want bright lights, big dreams, and booming nightlife, which makes New York City a bewitching destination for a D.C. daytrip. The Big Apple is only a 3-hour-train-ride from Union Station, and with its world-class dining, cutting-edge art, and Broadway shows, it's the perfect spot for culture lovers. Check out the Monet's at The Met, grab a hot dog at Gray's Papaya, or take a dip at Coney Island; NYC promises an unforgettable escape.
Gas up the car, queue up the road trip playlist, roll down the windows, and hit the Blue Ridge Parkway, one of America's most scenic routes. The Parkway runs from Front Royal to Cherokee, North Carolina, and covers over 475 miles. There are plenty of noteworthy sites along the route, including historic Roanoke, the 20-story Natural Bridge in Virginia's Blue Ridge Mountains, and Asheville, a historic North Carolina city bursting with hip breweries, farm-to-table restaurants, and live bluegrass venues.
Visitors looking for a quick getaway with the kids should put Ocean City near the top of the list. Situated less than 140 miles from the capital, Ocean City is a popular seaside destination with an old-timey vibe: think saltwater taffy, crab shacks, and championship golf. No trip would be complete without a visit to its 3-mile-long boardwalk, where you can rent a bike, stop by the aquarium, or catch some live entertainment. If you're visiting in the summer, make sure to check out the Family Beach Olympics.
Set on a 37-mile island, Assateague State Park is accessible by boat from Ocean City. The island offers a fantastic escape from city life, and its miles of unspoilt beaches are perfect for sunbathing, 4-wheeling, or enjoying a refreshing dip. The island is also famous for its wild horses, believed to have first arrived from a Spanish shipwreck, as well as its peregrine falcons and bald eagles. To get a unique perspective of the coast, rent a kayak or a canoe and explore the coves around Sinepuxent Bay.
If you're looking for an interesting destination that can be reached in the amount of time it takes to watch an episode of Veep, then check out Mount Vernon, George Washington's former plantation that's located just 16 miles from Washington. Mount Vernon can be reached via car, tour bus, bike, or boat cruise, meaning that there's no excuse for not visiting one of the area's historic treasures.  The property offers a range of tours and events, including harpsichord concerts, wine festivals, and summer teas.
If Las Vegas' spirit animal's a flamingo, then perhaps Atlantic City's would be a phoenix, as the Eastern Seaboard's most fascinating metropolis has risen from the ashes time and time again, constantly reinventing itself against the changing landscape of the 20th century. Once a prosperous spa town, it's also been a prohibition-era hot spot, a mid-century haven for jazz lovers, a boxing paradise, and a gambler's oasis. Today it's also a draw for families and couples, and capital-dwellers looking for an invigorating escape should look towards electrifying A.C.
From wild and beautiful beaches to historic sites and mega-metropolises, Washington D.C. offers amazing day trips. Book accommodations for your Washington D.C. day trip with Expedia today!