By Expedia Local Expert, on July 6, 2016
Best Game of Thrones inspired U.S. destinations
Winter is here. The finale has aired. And while the forecast points to impending battles and lots of uncertainty for our favorite connivers, it also has you more jazzed than ever for what's to come. How will you make it until next April without a weekly dose of Jon's smolder stares or Cersei getting her hands on a big idea and a boatload of wildfire? You could spend the next year re-reading "A Song of Ice and Fire" and feverishly fleshing out your theory about how Tyrion is a Targaryen… but we have another idea. How about hitting the road on a Game of Thrones inspired vacation? Sure, the show is filmed overseas, but you can find plenty of spots right here in the U.S. that remind you of your favorite location. And because we love travel as much as we love a good Iron Throne shakeup, we have a few suggestions. Here are the best places in the U.S. to act out your own Game of Thrones saga:
The World of Thrones
Ouray Ice Park, Ouray, CO

At this man-made ice park in Colorado, it's easy to swear you're a Wildling scaling The Wall from the north side. The idyllic town is perfectly seated between towering peaks, so you'll feel protected from the threat of white walkers. Best of all, the park is free to the public, so you can explore the more than 200 climbing opportunities without shilling out too many gold dragons.
Valdez, Alaska

Winter is coming to Valdez, Alaska, where cold months bring a wonderland environment, and heli-skiing, snowboarding, and winter hiking are all the rage. You don't have to get your passport stamped to visit a scenic location that reminds you of the frosty home of Gilly and company. The unequalled beauty of this region will have you declaring for the King-Beyond-the-Wall in no time. If there is more than one stop on your Alaska adventure map, at the Matanuksa Glacier in Anchorage, ice climbing lessons prepare you to scale a frosty hillside in an emergency encounter with the Night's King.
Gunnison-Crested Butte, CO

The landscape along Kebler Pass in Gunnison-Crested Butte not only has the largest Aspen grove in Northern America (which highly resemble the weirwood trees come fall), but a volcanic formation called "The Castles" is a dead ringer for castle spires. You can yell out "I'm the King of the North!" with conviction as you take a walking tour of the stunningly diverse scenery.
Sedona, AZ

So you can't make it to Morocco or Croatia (aka the Dothraki Sea and the Essos desert). So what? A quick trip to Sedona reveals red rocks and wide open terrain reminiscent of where the Mother of Dragons first began her trek out of Dothraki territory. Towering multi-colored stone formations and rugged terrain will toughen your warrior reserves, while luxury resorts and fertile wineries will appeal to your royal blood. Embark on a scenic desert tour and practice your dragon call in Red Rock State Park. You are the Unburnt, First of Your Name.
Santa Barbara, CA

When you take a trip to Santa Barbara, red-tiled rooftops and the Pacific Ocean make it easy to imagine yourself in the middle of King's Landing. Tour the architecture, sip on fine regional wine at Santa Barbara Winery like you're Tyrion, and linger with the common folk on quaint downtown streets. Just like the city of the Red Keep, history runs deep here. Visit the Santa Barbara Maritime Museum and imagine your own Battle of the Blackwater.
New York City, New York

Braavos and New York have a lot in common. And, if you think about it, the populous Big Apple is as good a place as any to become a girl with no name. Both destinations are guarded by a huge statue raising one arm in the air, have excellent street markets, and sit on an island. Not to mention the theater (that Lady Crane would certainly have a few Tonys by now). Pass up skyscraper hotels in favor of a stay at the Castle Hotel & Spa, where the exterior puts you in that medieval state of mind. Belvedere Castle in Central Park also offers a place to pretend you're battling for the throne.
St. John, U.S. Virgin Islands

Tarth hasn't been depicted on the show, but it's described as a Sapphire Isle and we know it has produced at least one tall blond drink of water with a heart of gold. If you want to experience such a jewel on your next vacation, head to St. John in the U.S. Virgin Islands. Most of the island is taken up by lush national park, but the turquoise water just off shore will have you daydreaming that you're along the Narrow Sea. You may even be able to score a real sapphire at upscale shopping area Mongoose Junction.
Channel Islands, CA

The rocky terrain of the Iron Islands is actually Ballintoy Harbour in Northern Ireland. But Channel Islands in Ventura County can easily pass for the home of the Greyjoys (with a bonus of way more sun and much friendlier locals), thanks to their jagged cliffs and moss-green hillsides. No need to fight your brother to become King here, just embark on a hike or do some backcountry camping.
Claim Your Castle
What would an epic adventure be without taking a castle? You won't need a giant to bust through the door at any of these spots, just a credit card. Still, you can roll out your family banner in your imagination even if not in real life.
Loveland Castle, Loveland, OH
Pretend you're taking back Winterfell from Ramsay "Puppy Chow" Bolton at Loveland Castle in Ohio. Tour the grounds, play a game of chess, and inspect the collection of period weaponry before you leave. The third Saturday of the month from April to August, the venue hosts a Medieval-themed event with "mirth, music, and mayhem."
Hearst Castle, San Simeon, CA

Over at Hearst Castle, the grounds are sure to remind you of Dorne (palm trees and all). Look out over the sparkling shores of San Simeon, plot your take-over, and then tour the grand rooms inside. In between tours, explore the "Enchanted Hill" and perfectly manicured gardens.
Balboa Park, San Diego, CA

Take a road trip south to San Diego, and a walking tour of Balboa Park is like meandering through the Water Gardens of Dorne. Marvel at the regal architecture of the Museum of Man, take a stroll through the pristine botanical gardens, and step back in time at the Old Globe Theatre.
Boldt Castle, Alexandria Bay, NY
House Frey has got to go, right? The spires of Boldt Castle in New York make it easy to imagine yourself at Riverrun, where you can enact your revenge, Arya-style. Arrival at Boldt Castle is a bit dramatic; you have to storm the shores via water taxi or private watercraft. Once inside, the 120-room castle offers plenty of space to tour and play. Explore more of the lush bay: sip your way through wineries and distilleries, trek Wellesley Island State Park, or tour the Antique Boat Museum.
OHEKA Castle, Huntington, NY
Also in New York is OHEKA Castle, which is not unlike the grand style and lush gardens of Highgarden. It also serves as a luxury hotel, so book a room, order room service, and live it up in true Tyrell fashion. Maybe Granny Tyrell will be around and maybe she won't, but you will find plenty of private nooks and crannies from which to rue the day Cersei was born either way.
Stay in Character
If you'd rather fall through a moon door than end your fantasy travels, you can continue your adventures at one of these medieval-themed places.
Ohio Renaissance Festival, Harveysburg, OH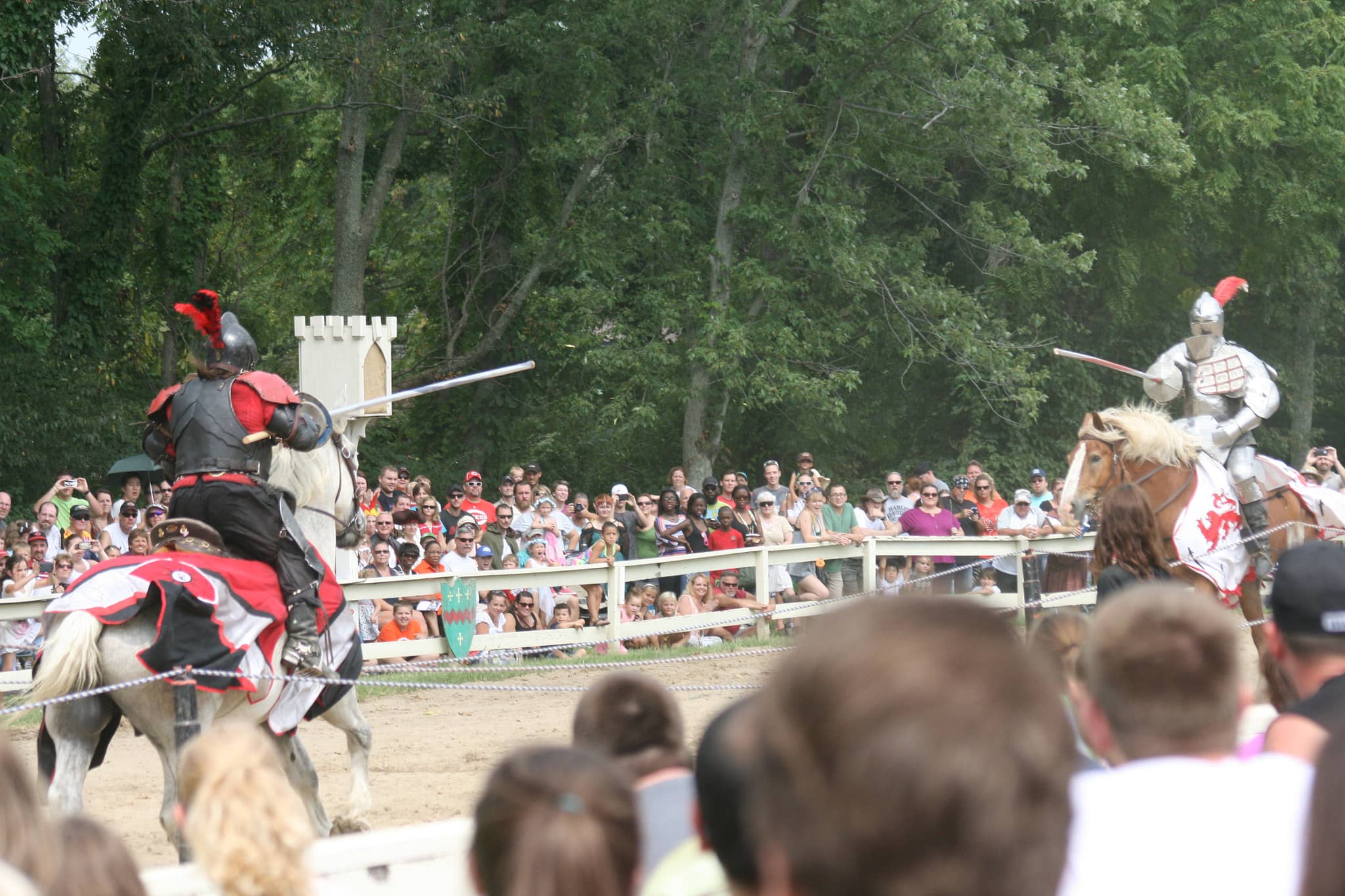 At the Ohio Renaissance Festival, the dueling swordsmen are reminiscent of Oberyn's epic battle (Rest in Peace, sweet prince) and the giant turkey legs are like a fine meal at King's Landing. When you stay in nearby Harveysburg, there is plenty of time to linger at the festival—that means more opportunities to pick out renaissance clothing and blacksmith-crafted items.
Carolina Renaissance Festival, Huntersville, NC
Head southeast to North Carolina, and the Annual Carolina Renaissance Festival outside Huntersville also lets you step into the GoT world for a day. Book a room in Lake Norman or Charlotte, then take your horse (or car) to the colorful Ren Fest in October and November. Armor-clad knights engage in jousting matches in these parts, and falconry displays will take your breath away. The birds' wingspans are so wide you may find yourself saying "Dragon? Is that you?" Watch a live comedy show reenacting scenes from another era, and it's like you're Arya sitting before the Braavosi Theatre Troupe.
Knights Hall, Nashua, NH

Want to take your immersion to the next level? Train for your own trial by combat (yes, Tommen outlawed it, but anything is possible under the new queen). At the Knights Hall, you'll unlock the secret to medieval fighting style, perfecting blocks and clocks and a winning strike strategy. Book a room at the Fairmont Copley Plaza in nearby Boston to rest your muscles at the end of the day; the lobby is so ornate any Tyrell would approve.
La Brea Tar Pits, Los Angeles, CA
Head west to La Brea, CA, and you can inspect real-life dire wolf skulls at the La Brea Tar Pits museum. Be you a Stark or a Lannister, it's good to examine this wild beast's strengths and weaknesses up close. Los Angeles has plenty of royal history of its own: Hollywood Royalty, that is. Take a tour of their palatial homes, reserve a seat at Medieval Times, or just head to the Last Bookstore on Spring Street. You know what Tyrion says: "A mind needs books as a sword needs a whetstone if it is to keep its edge."
Where will you head on your Game of Thrones inspired vacation?