By Lily Rogers, on August 13, 2018
World's most colorful places
Life is rarely black and white, and sometimes that's a beautiful thing. When Dorothy stepped out post-tornado into the pigment-saturated merry old land of Oz, it was glaringly apparent what a little color can do to perk up a place. Take a cue from Toto, follow your own yellow brick road, and resurface in a spot that makes you feel like the wizard granted all your travel wishes.
We've curated a list of places so colorful Pantone should be taking notes. Between sprawling fields of flora and buildings awash in vivid paints, rich visual opportunities abound in these must-see spots. Of all the places in all the lands, we've chosen the most interesting optical feasts we could find. Stunning vistas will have you pinching yourself to see if they're real in the most colorful places in the world.

Surf culture, sunshine, and plenty of pale sand make up the canvas that keeps the bright village and coastal foliage of Capitola so vibrant and vital. Settle in at Margaritaville for a perfect view of the crayon-box buildings set against a dazzling sunset.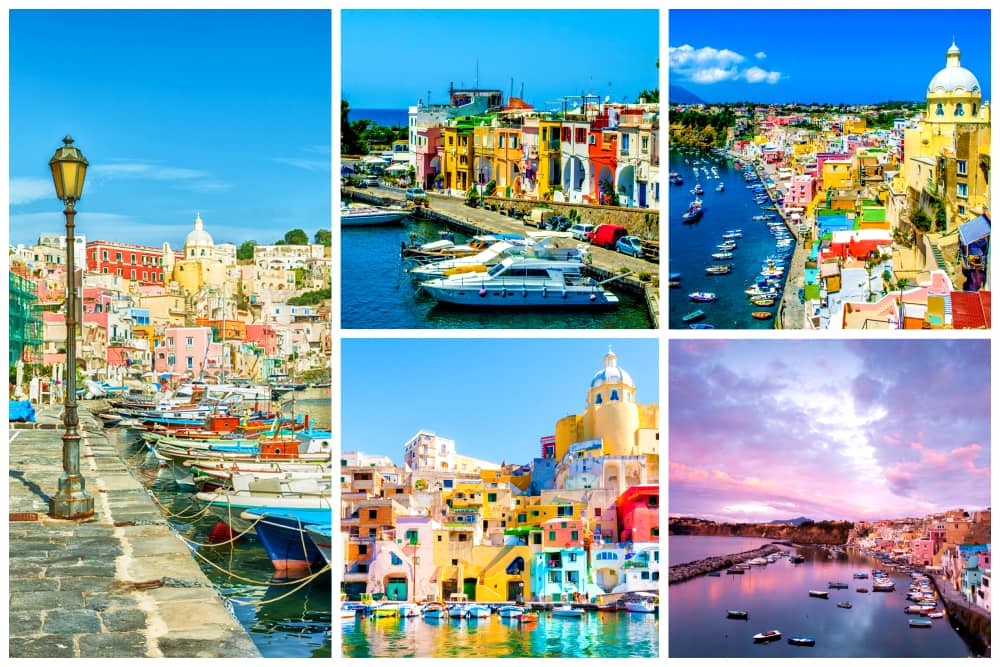 Candy-colored buildings nestled closely against the coastline cast their reflections over a gemstone-blue sea. This quintessential Italian island will leave an indelible mark in your memory for both the warmth of its scenes and of its people.
3. Bering Land Bridge, Alaska
If a rainbow falls across a remote land and no one is there to see it, does that make it less colorful? The question must be asked at this unpopulated stretch of protected earth. Don't let nature's artwork go unnoticed; Bering Land Bridge will wow you with its impressive spectrum of natural wonders.

The streets of Bo-Kaap are so awash in electric hues you may need dark sunnies to traverse them. Don't miss the Nurul Islam Mosque, which is coated a cheerful shade of turquoise.
5. Skagit Valley, Washington

Fields of flowers as far as the eye can see give Skagit Valley its unique flair. The neat rows of tulips, daffodils, and irises lend a cheerful air to this stretch of land, which is in full spirit come April, when the Skagit Valley Tulip Festival invites you to witness why some call it the Magic Skagit.
6. Garvan Woodland Gardens, Arkansas
Paint and polish can spruce up a place, but nature's palette is the fountain from which all inspiration springs. Nature meets craftsmanship at this perfectly sculpted garden, where the floral bounty brings prismatic beauty to the peaceful space.

History is illuminated in this twisty, sun-kissed enclave, where the Spanish colonial buildings have fresh faces of perky paint that are especially colorful against cobblestone streets. It's no wonder it is considered one of the most beautiful places in the world.

San Francisco is a city with color in its veins. From the patchwork salt ponds in the South Bay to patterned flower beds of Golden Gate Park to the vibrant murals of the Mission District, a tour from one end to the other is a pinwheel whirl of visual bliss. There are so many color-drenched things to do in San Francisco, you'll be dizzy with delight by the end of your stay.
9. Provence, France

Lavender is la couleur du jour come June, when fertile fields tint the land in purple hues. Pit against cerulean skies, these floral pastures paint a picture worthy of Picasso's Blue Period. When the sunflowers come out to play, well, van Gogh is smiling somewhere.

New Orleans is full of vibrant life and varied tones year-round, but it really flourishes when Mardi Gras festivities bedazzle the city in glittering costumes, festooned floats, and shiny strands of beads. Vibrancy runs far beyond the French Quarter, but it is there where the parti-colored lights shine brightest.

Deco pigments of mint green, lemon meringue, and peaches and cream line the streets, while neon lights illuminate swaying palms, and the stark white sand is framed by cyan waves. The richness of Miami's canvas is a sight for color-starved eyes—no wonder it's called Magic City.
12. Keukenhof, Netherlands

A garden straight from the pages of a fairytale, Keukenhof beckons butterflies and hummingbirds with the brightest of blooms and the softest of tree-dappled light. Travel leisurely through the park on a whisper boat, or hire a bike and take the Bollenstreek path for the best views of all the bulbs.
13. Texas Hill Country, Texas

Comprising 25 counties in the center and south of the state, this area covers a lot of ground, and that ground just happens to be fertile soils that produce bright blooms to saturate the pastoral scenery. These environs are also no stranger to killer sunsets of the deepest, glowing tones.
14. Little India, Singapore

The architects of this neighborhood pulled out every crayon color Crayola ever named when forming Little India, and the inhabitants enthusiastically picked up where they left off. Not only are the buildings a mosaic of pastels and primaries, the markets are filled with multihued fabrics, foods, and other goods, and the streets are adorned with lights and banners that would put Rainbow Bright to shame.

The Seussian landscape is a cornucopia of multi-tinted texture. Mop-headed shrubs and open-faced flowers drink in the sun's rays, projecting reds, pinks, and greens over rolling hills. You may feel like you're in the pages of a picture book where colorful places come to life, and that sounds like heaven to us.
16. Zhangye Danxia, China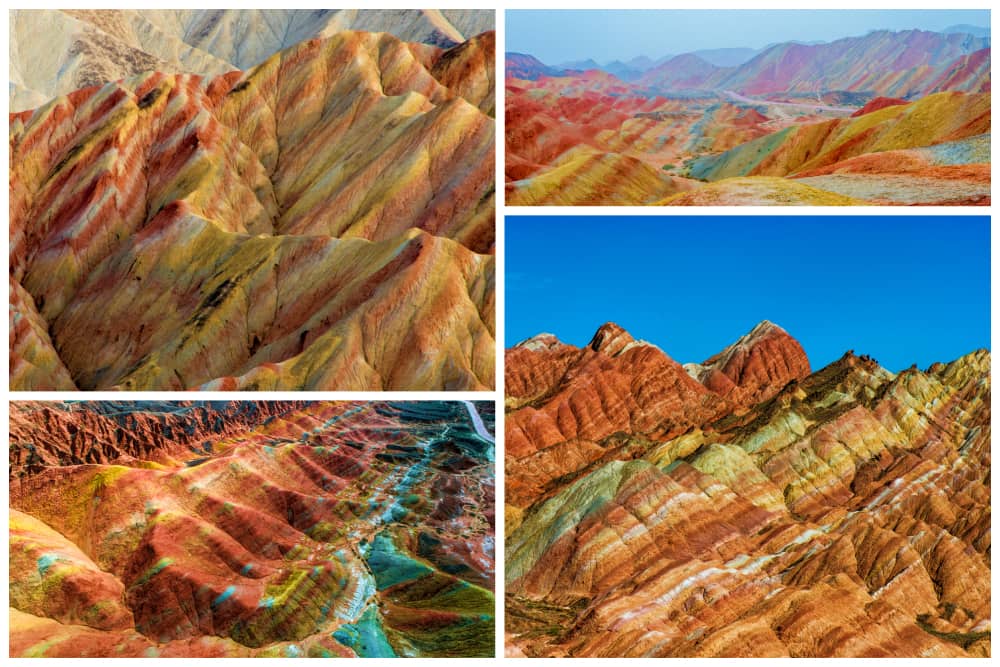 The range of hues splashed across these rocky crags seem otherworldly, but rest assured, they are very much a product of our planet. The varied minerals that make up these layers are the result of some seriously awesome natural formations, so don't go thinking there's little here to impress.

The cacophony of color in Curacao is best embodied in Willemstad, where rows of multicolored houses stand guard over the glimmering Caribbean Sea. The Dutch colonial architecture lends an urban European feel, but you're never far from the sun-soaked beach and flawless blue waters.

It's no optical illusion, the earth near this village really comes in seven colors, splayed together in layers reminiscent of a rainbow. Did Joseph drape his Technicolor dreamcoat across these hills? Maybe not, but it sure looks like it.

Monikered the Pink City, Jaipur's famously blushing buildings make way for powdery clouds in every shade during Holi, the Festival of Color. Painted elephants take to the streets as motley crews of revelers sport a tapestry of pigments lovingly thrown and smeared on fellow celebrants. This event, which honors the triumph of good over evil, will leave you buzzing with positive vibes in the most colorful place.

A colorful city like no other, Chefchaouen knows a thing or two about feeling blue. Don't let that deter you, however—it's only blue in hue. The peaceful mountain surroundings, lively markets, and relaxed vibes of numerous cafes make this the perfect place to take in life's array of tones and tempos.
Which colorful cities do you most want to see?
---
Image credits:
[one_half]
Capitola, California:
Left: Shutterstock.com/pikappa51
Upper Right: Shutterstock.com/Karin Hildebrand Lau
Middle Right: Shutterstock.com/Jon Bilous
Lower Right: Shutterstock.com/Steve Holderfield
Procida, Italy:
Far Left: Shutterstock.com/courtyardpix
Lower Middle: Shutterstock.com/francescoriccardoiacomino
Upper Middle: Shutterstock.com/trabantos
Upper Right: Shutterstock.com/trabantos
Lower Right: Shutterstock.com/Jenny Sturm
Bering Land Bridge, Alaska:
All Photos: Flickr/Bering Land Bridge Natural Preserve
Bo-Kaap, Cape Town:
Upper Left: Shutterstock.com/Luc Kohnen
Upper Right: Shutterstock.com/MG Africa
Lower Left: Shutterstock.com/Sarin Kunthong
Lower Right: Shutterstock.com/Werner Lehmann
Skagit Valley:
Upper Left: Shutterstock.com/RuthChoi
Lower Left: Shutterstock.com/Yefim Bam
Upper Right: Shutterstock.com/Irra
Lower Right: Shutterstock.com/Cindy Wilson Photos
Middle: Shutterstock.com/Leslie A Thomson
Garven Woodland Gardens:
All Photos: Flickr/Kimberly Vardeman
Old San Juan, Puerto Rico:
Upper Left: Shutterstock.com/Sean Pavone
Upper Right: Shutterstock.com/emperorcosar
Lower Left: Shutterstock.com/Alberto Loyo
Lower Right: Shutterstock.com/Dennis van de Water
San Francisco:
Upper Left: Shutterstock.com/Sergey Novikov
Upper Right: Shutterstock.com/StompingGirl
Lower Left: Shutterstock.com/Andrew Zarivny
Lower Right: Shutterstock.com/Tono Balaguer
Provence, France:
Upper Right: Shutterstock.com/Romrodphoto
Lower Right: Shutterstock.com/ventdusud
Lower Left: Shutterstock.com/Konstanttin
Upper Left: Shutterstock.com/Stefano Termanini
New Orleans:
Left: Shutterstock.com/f11photo
Upper Left: Shutterstock.com/Kathleen K. Parker
Middle Left: Shutterstock.com/Dawn L. Adams
Lower Left: Shutterstock.com/amadeustx
Miami:
Upper Left: Shutterstock.com/Tono Balaguer
Upper Right: Shutterstock.com/Alexander Demyanenko
Lower Right: Shutterstock.com/fotomak
Lower Left: Shutterstock.com/Sean Pavone
[/one_half]
[one_half_last]
Keukenhof, Netherlands:
Upper Left: Shutterstock.com/Andrij Vatsyk
Lower Left: Shutterstock.com/symbiot
Upper Right: Shutterstock.com/DimaSid
Lower Right: Shutterstock.com/Anton Ivanov
Texas Hill Country:
Upper Right: Shutterstock.com/ Fotoluminate LLC
Lower Right: Shutterstock.com/Dean Fikar
Lower Left: Shutterstock.com/Randall Stevens
Upper Left: Shutterstock.com/Dean Fikar
Little India, Singapore:
Upper Left: Shutterstock.com/Kinsei
Middle Left: Shutterstock.com/Lucian Mortula-LGM
Lower Left: Shutterstock.com/Tristan Ellenburg
Upper Right: Shutterstock.com/Luciano Mortula-LGM
Lower Right: Shutterstock.com/Bule Sky Studio
Ibaraki:
Upper Left: Shutterstock.com/Sakarin Sawasdinaka
Upper Right: Shutterstock.com/Victor FlowerFly
Lower: Shutterstock.com/Gunnerchu
Zhangye Danxia:
Upper Left: Shutterstock.com/sharptoyou
Upper Right: Shutterstock.com/Dinozzzaver
Lower Left: Shutterstock.com/M. Scheja
Lower Right: Shutterstock.com/JinAiping
Willemstad:
Lower Right: Shutterstock.com/Gail Johnson
Lower Left: Shutterstock.com/Gary C. Tognoni
Lower Middle: Shutterstock.com/Oliver Hoffmann
Upper: Shutterstock.com/emperorcosar
Chamarel:
Left: Shutterstock.com/KKulikov
Upper Right: Shutterstock.com/KKulikov
Lower Right: Shutterstock.com/KKulikov
Jaipur:
Lower Left: Shutterstock.com/Waj
Upper Middle: Shutterstock.com/RuthChoi
Upper Left: Shutterstock.com/Nila Newsom
Upper Right: Shutterstock.com/OSORIOartist
Lower Right: Shutterstock.com/Banana Republic images
Chefchaouen:
Upper Left: Shutterstock.com/Mikadun
Upper Right: Shutterstock.com/Marianna Ianovska
Lower Left: Shutterstock.com/Vladislav T. Jirousek
Lower Right: Shutterstock.com/Vixit
[/one_half_last]