By Heather McManus, on April 9, 2019
5 things to consider when planning an Alaskan cruise
Is a trip to Alaska on your bucket list? Majestic glaciers, teeming wildlife, untouched wilderness–there's a reason why over two million people choose to experience the state's rugged beauty on an Alaskan cruise each year: It's simply the best way to see it. Here are the answers to some of the most commonly asked questions about cruising to Alaska.
1. When is the best time to take an Alaskan cruise?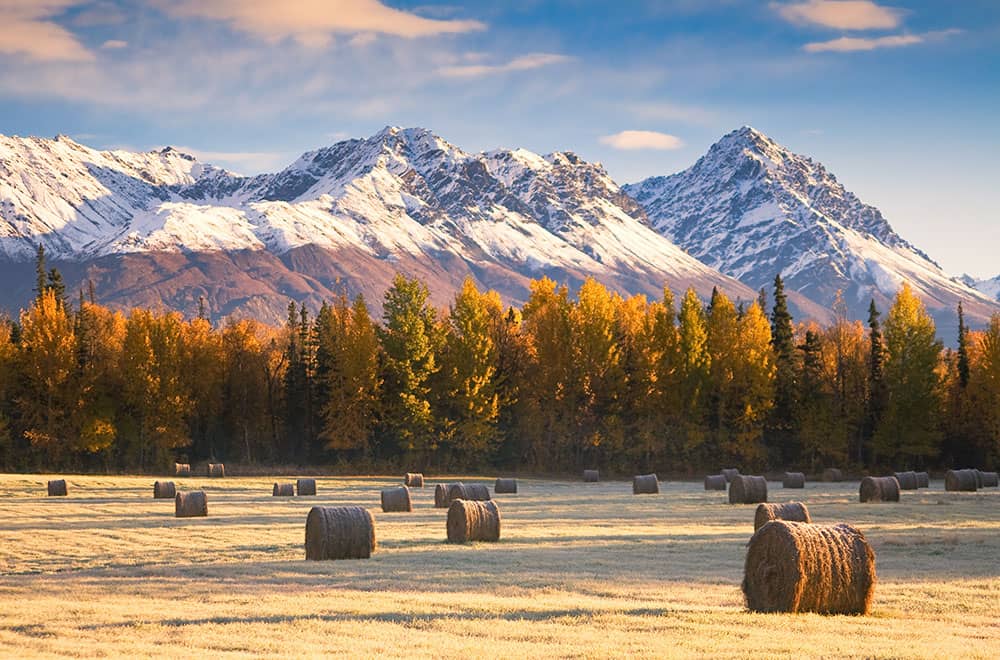 While July is the region's warmest month on average, weather in Alaska becomes more and more drizzly as the cruise season goes on. August and September are Alaska's heaviest rainfall months, but they also provide opportunities to view spectacular fall scenery as the leaves begin their transition to red and yellow at the end of August.
Another consideration is that some areas are inaccessible early and late in the cruise season due to ice blocking the ship's path. If Hubbard Glacier (Alaska's largest) is a must-see on your Alaska cruise checklist, you'll want to embark mid-season during the warmest months to avoid disappointment.
2. Should I take a round-trip or one-way Alaskan cruise?
The first thing you'll notice when you begin researching Alaska cruise itineraries is that some cruises go one-way (South to North, or vice versa), while others will take you round-trip (usually from Seattle or Vancouver). Both options offer pros and cons.
While a round-trip itinerary gives you the convenience of embarking and disembarking from the same location (therefore saving you the cost of an additional flight to or from Alaska), one-way itineraries generally take you further North, allowing you to spend more time exploring and enjoying Alaska itself.
A round-trip itinerary will usually take you as far North as Skagway, while a Northbound Alaska cruise will end in either Seward or Whittier. While the one-way option requires taking a flight home, it does provide the enticing opportunity to take the 107 mile rail journey from Seward to Anchorage–one of North America's most scenic train rides.
3.  Which scenic highlights should I look for when choosing an itinerary?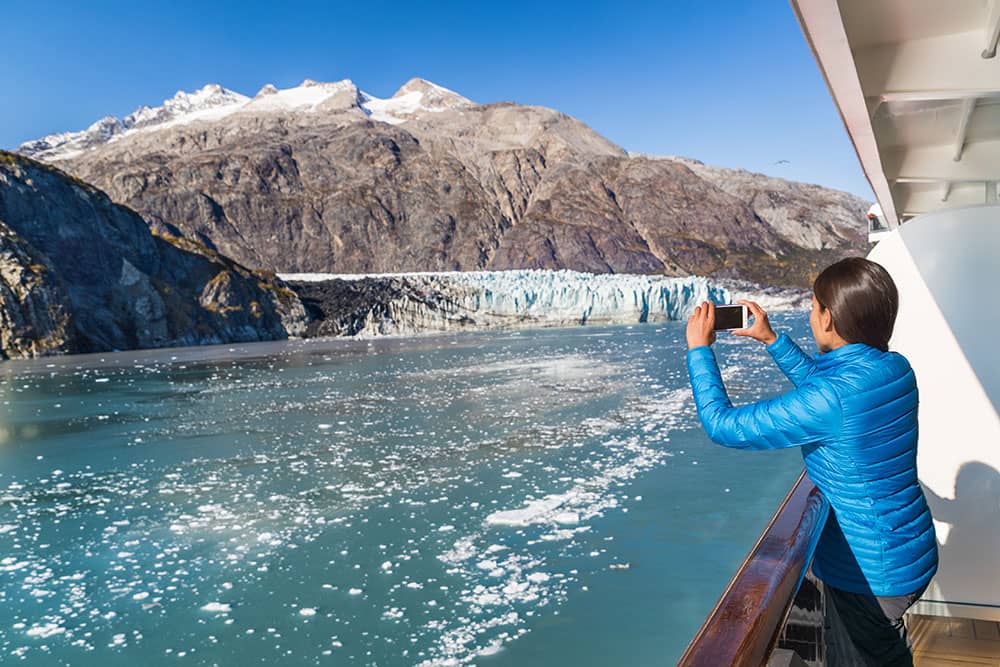 While any Alaskan cruise presents no shortage of breathtaking scenery, each cruise line tends to offer slight differences in itineraries depending on the size of the ship and the interests of their typical guests. These are a some of the highlights:
Inside Passage
Nearly every cruise to Alaska passes through this stunning stretch of coastline spanning from Olympia, WA to the Alaska Panhandle. As your ship weaves in and out of the picturesque islands dotting the calm waters between Vancouver Island and British Columbia's mainland, you'll realize this is part of your itinerary is no means to an end. Throw in a whale or dolphin sighting and it may just be the highlight of your cruise!
Glacier Bay
Accessible only by water on vessels with a special permit, this UNESCO World Heritage Site is a common stop on many Alaska cruise itineraries. As part of a roadless national park, any ships that enter the confines of the park must have a ranger onboard, an added bonus for guests who wish to learn more about the park and its 11 glaciers.
Hubbard Glacier
At 40 stories high and 76 miles long, Hubbard is considered by many to be Alaska's largest and most spectacular glacier. It's also the most active, calving almost continuously in peak summer, the best time to see it.
Tracy Arm
Smaller cruise ships will often bring you up this massive fjord south of Juneau which leads to the lesser known, Sawyer Glacier. While it is somewhat of a detour off the typical Alaskan cruise itinerary, sailing through this deep channel culminating in a spectacular glacier is an unforgettable experience for the traveller looking for something a bit different.
4. Which are the best Alaska shore excursions?
While 'scenic cruising' is a big reason to take a cruise to Alaska, the ports of call en route also offer an impressive range of sights and activities for every age and interest. Here are a few of the best:
Whale Watching from Icy Strait
A boat trip from Icy Strait Point is an excellent option for whale and bear sightings. If orcas (killer whales) are a must-see, cruise during the month of May for your best chance of spotting them in Alaska.
Fishing from Sitka
If your itinerary happens to include Sitka, don't pass up the opportunity to experience this picturesque port's world-class fishing. Shore excursions out of Sitka offer a variety of species to catch including king salmon and halibut which can be frozen and shipped to you for a welcome home feast upon returning from your Alaska cruise.
Dog Sledding from Juneau
Since dog sledding (or mushing as it's called in Alaska) is more of a winter activity, sledding excursions typically include a breathtaking helicopter ride into the mountains to access the snow. The popularity of this excursion tells you it's worth every penny.
Ziplining from Ketchikan
Adrenaline junkies will love flying high above the rainforest canopy at up to 60 miles per hour with one of the several zipline operators in the Ketchikan area. You're sure to see Tongass National Forest (America's largest forest reserve) from a whole new angle.
5. Should I consider a cruisetour and if so, what the heck is a cruisetour?
To really get the most out of your Alaskan cruise, consider doing a cruisetour by adding a few days on land to the beginning or end of your cruise. Many cruise lines offer these land add-ons to enhance your Alaska experience which will connect directly to or from your embarkation or disembarkation port. Since both the cruise and the tour are operated by the same cruise line, your transition from land to sea (or vice versa) should be seamless. Some cruise lines even own their own wilderness lodges and rail lines to guarantee the same standard of service throughout your vacation.
Denali National Park is by far the most popular destination for cruisetours. Home to over six million acres of wilderness and North America's highest peak, there's no shortage of exploring to do throughout this stunning park. Rail journeys are also a quintessential part of the Alaska cruisetour experience. The route through the historic White Pass will take you through time (and incredible scenery) as you learn about the Klondike gold rush on your way to Canada's Yukon.
Hopefully this round-up of commonly asked questions helps you navigate your Alaska cruise planning.  Remember to bring your woolies as Alaska can get pretty chilly, even mid-summer. No matter which itinerary, ship, or excursions you choose, this incredible cruise experience is guaranteed to be one you'll remember for a lifetime.