By Camille Meyers, on February 7, 2020
Best National Parks to Visit in Spring
Milder temperatures, blooming wildflowers, and fewer crowds makes spring one of the best times to visit national parks across the US. Many animals become more active from March through May, making it easier to see migrating birds, deer with newborn fawns, and bears awakening from hibernation. Plus, entry fees are waived and rangers lead special programs during National Park Week in April. If you're looking for an outdoor escape or Spring Break getaway, here are the best national parks to visit in spring.
Joshua Tree National Park, California – Spring Wildflowers
Under the right conditions, Joshua Tree National Park blooms with a wildflower frenzy of color. Beaver tail cacti produce vivid magenta flowers, globemallow show off their orange blossoms, and desert Indian paintbrush gives the landscape a coat of red petals. However, this phenomenon only occurs when the park receives adequate rainfall in the winter. When the desert does bloom, the ephemeral flowers only last a few weeks. Keep track of the springtime spectacle by following the National Park Service's wildflower reports to help plan your trip.
Even without the wildflowers, Joshua Tree is one of the best national parks to visit in the spring. Warm days and crisp nights make for enjoyable hiking, rock climbing, and camping. You can even explore the San Andreas Fault on a 4×4 hummer adventure. Also, the Joshua Tree Music Festival celebrates creativity and inclusion just outside the park every spring. March is one of the most popular times to visit Joshua Tree National Park, so reserve a campsite or nearby hotel early.
Kenai Fjords National Park, Alaska – Spring Migration
Kenai Fjords National Park comes alive in the spring. Huge gray whales migrate to Alaskan waters to feed. Puffins, arctic turns, and kittiwakes fly up and begin building nests. Bears start to emerge from their winter hibernation.
Visit Kenai Fjords National Park in late spring to witness this abundance of wildlife for yourself. Snow may still cover trails and roads, so a boat tour with a naturalist guide makes for the best way to experience the area. Pass seals and sea otters as you cruise right up to the stunning blue ice of a glacier. The town of Seward is the best place to stay when visiting Kenai Fjords National Park in the spring, and you can easily get there on a narrated transfer tour from Anchorage.
Arches National Park, Utah – Cool Temperatures & Cool Rocks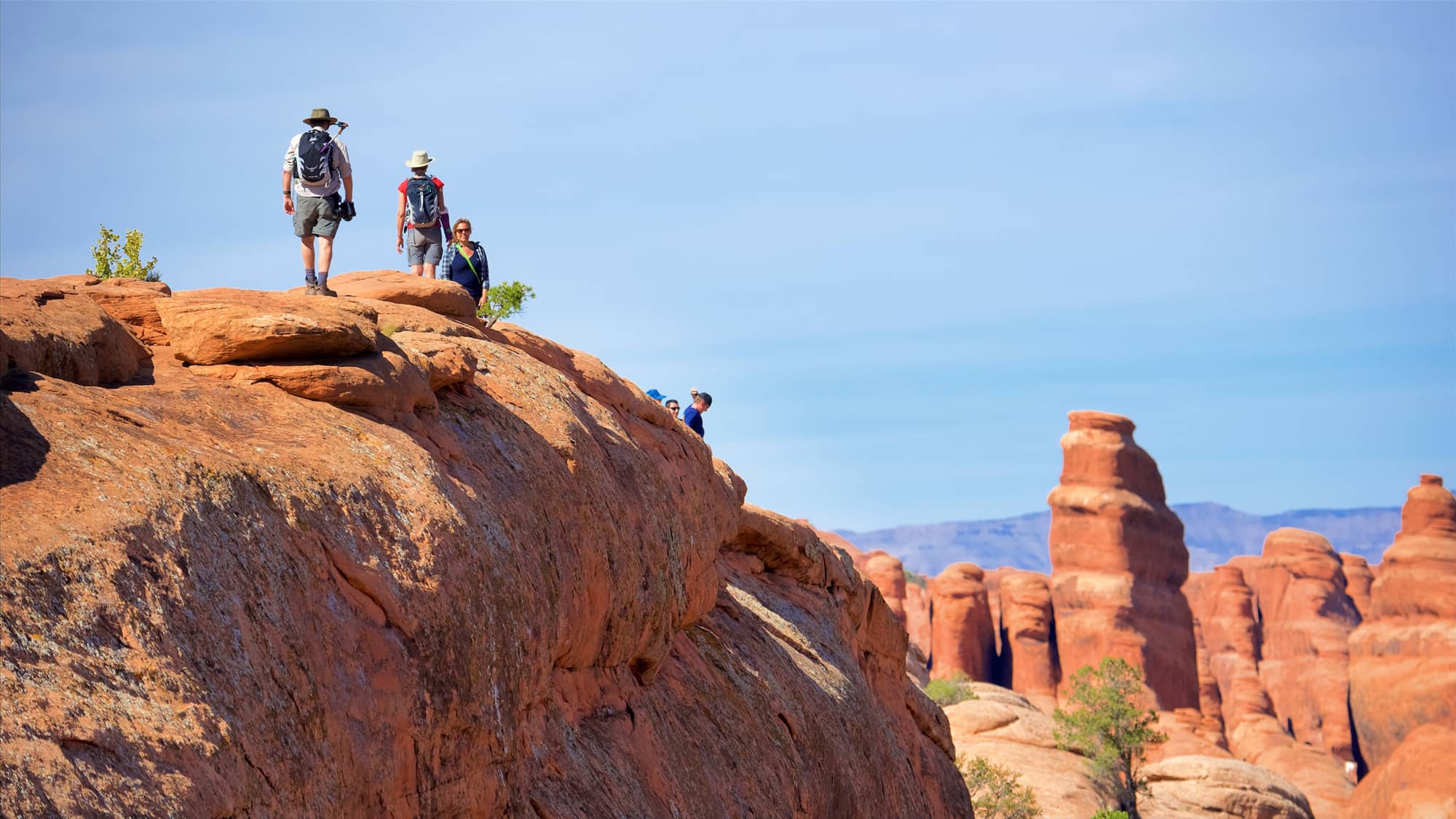 Hikers, photographers, and families flock to Arches National Park in the spring. And for good reason: milder temperatures in March and April make ideal conditions for exploring the natural sandstone arches the park is known for. In the spring, the fiery red sandstone contrasts beautifully with the snow-dusted La Sal Mountains in the distance.
Family-friendly trails lead to the Balanced Rock, Double Arch, and Landscape Arch rock formations. A more strenuous hike takes you right up to the iconic Delicate Arch. You can also venture out on a guided 4×4 excursion from nearby Moab. While you're in the area, check out the nearby Canyonlands National Park, which is also one of Utah's best national parks to visit in the spring.
Rocky Mountain National Park, Colorado – Avoid the Crowds
Rocky Mountain National Park sees most of its roughly 4.5 million visitors during the summer. So, if you don't mind a little snow and want to avoid the crowds, this is one of the best national parks to visit in the spring. In late April and May, you can enjoy scenic hikes around many of the park's lakes. Higher elevation trails typically require snowshoes and access roads may be closed.
Be sure to pack layers of clothing, as spring snowstorms are a thing in Colorado. Hiking Rocky Mountain National Park with a local guide is also a great idea as they monitor trail conditions and often know where wildlife likes to hang out. During the spring, elk and elusive bighorn sheep venture down to wildflower-filled meadows making them easier to spot.
Saguaro National Park, Arizona – Blooming Cacti
Giant saguaro cacti reach their spikey arms to the desert sun in a postcard-perfect image of the American West. But, did you know these iconic plants appear exclusively in the Sonoran Desert and can take decades to grow even 1 branch? See these magnificent cacti for yourself in Saguaro National Park just outside of Tucson, Arizona.
Pleasant temperatures, beautiful cacti, and plentiful wildlife all make Saguaro one of the best national parks to visit in the spring. While hiking, spy Gila woodpeckers nesting in cactus cavities, greater roadrunners zipping along the ground, and Northern goshawks soaring above. Learn about the critters who call Saguaro National Park home at the Arizona-Sonora Desert Museum and be sure to visit Signal Hill to see Native American petroglyphs along the trail.
Death Valley National Park, California – Desert Exploration
As the hottest place on Earth, Death Valley may seem foreboding. However, cooler temperatures make spring one of the best times to visit. As the largest national park in the US outside of Alaska, Death Valley offers an amazing array of otherworldly landscapes from ghost towns to salt flats to sand dunes. Plan your trip to Death Valley carefully as the desert can be unforgiving any time of year. Make things easy by taking an expert guided tour to Death Valley from Las Vegas.
When conditions are just right, spring wildflowers enliven Death Valley with a carpet of gold, purple, pink, and white. This super bloom occurs very rarely—sometimes just once a decade. Even so, you can usually find some wildflowers in the park at higher elevations during the springtime.
Great Smoky Mountains National Park, North Carolina and Tennessee – Waterfalls & Wildflowers
Between gorgeous views of majestic mountains and a variety of well-maintained hiking trails, it's no wonder Great Smoky Mountains National Park is the most visited national park in the US. Many people come for the fall colors, but in the spring, wildflowers brighten the area with an array of color and waterfalls gush with snowmelt. Trek the School House Gap and Porters Creek trails for some of the best wildflower viewing in the park.
Explore the Great Smoky Mountains with easy family-friendly trails, intense backpacker hikes along the Appalachian Trail, or on a 4×4 jeep tour. Even outside the park, you'll find plenty of outdoor adventure in Gatlinburg and Pigeon Forge, Tennessee.
Big Bend National Park, Texas – Springtime Solitude
If you're looking to get away from it all, Big Bend National Park is one of the most remote national parks in the lower 48 states. The West Texas desert trails get scorching hot in the summer, making the cooler temperatures of spring an ideal time to visit.
This protected part of the Chihuahuan Desert houses abundant plant and animal life, including more recorded bird species than any other US national park. Campsites and nearby hotels fill up fast during spring break, so be sure to reserve your accommodation early if you plan to visit in March. Even so, Big Bend receives a lot fewer visitors than other parks on this list and is well worth a trip if you're looking for solitude.
Find even more national parks to visit this spring by taking virtual hikes and tours from home.
What are your favorite national parks to visit in the spring?