By Expedia Local Expert, on October 1, 2018
Best snorkeling in Hawaii: Big Island, Maui, and Oahu
Imagine snorkeling the warm waters of Hawaii as a sunny school of yellow tang flashes past. You kick your flippers, and a moray eel tucks into its crevasse between the coral while a large sea turtle slowly cruises past. Pack your swimsuit and reef-safe sunscreen and get going!
The Big Island has vast stretches of corals making it a snorkeler's heaven, Maui is known for its popularity with sea turtles, and Oahu has one of the best snorkeling beaches in the United States. Every island has fantastic snorkeling for beginners to experts, and conservation areas like Molokini Crater and Hanauma Bay ensure plentiful wildlife sightings.
From white-sand beaches to lava-rock coasts, many of Hawaii's top snorkeling spots are accessible from the shore, but to reach some of Hawaii's prime snorkeling locations, you'll need to go by boat. Plenty of snorkel tour operators are happy to take you out for a full-day or half-day adventure and often bundle together other fun activities, such as dolphin watching, kayaking, or surfing lessons.
Snorkeling the Big Island
Kahalu'u Beach Park
Shallow water makes Kahalu'u Beach Park perfect for beginner snorkelers, and the abundance and tameness of the sea life keeps veteran snorkelers coming back for more. Just a short walk from the historic town of Kailua-Kona, this volcanically formed beach has a few sandy places that let you easily enter the water with your fins on. While snorkeling at Kahalu'u Beach Park you're likely to spot sea turtles feeding on seaweed or sunning on the lava rocks. When the tide goes out, carefully peer into the tide pools to see who stayed behind, such as hermit crabs, sea stars, and sea urchins.
Amenities include restrooms, showers, picnic tables, and a life guard on duty. Keep in mind that the parking lot tends to fill up fast, so it's best to get there early.
Wildlife Sightings
Sea turtles
Boxfish
Hermit crabs
Sea stars
Surgeonfish
Kealakekua Bay

Glide over a vast expanse of coral reef teeming with tropical fish in the calm waters of Kealakekua Bay State Historical Park. From the parking area, a steep hour-long hike takes you down to the Captain James Cook Monument where you can slip into the water. Travel by catamaran for a more relaxing journey as leaping spinner dolphins accompany you to this amazing snorkeling location in Hawaii.
Wildlife Sightings
Spinner dolphins
Sea turtles
Yellow tang
Slate pencil urchins
Teardrop butterflyfish
Night Snorkel with Manta Rays
Join a thrilling night snorkel to swim with manta rays as they gracefully backflip to feed on plankton just below your fins. Giant manta rays can grow to 3,000 pounds (1,360 kg), but these gentle relatives of sharks are harmless to humans. Learn about these magnificent creatures from your knowledgeable guide as you sail into the Pacific sunset. Then, don your snorkel gear and hold onto a lighted flotation device that illuminates the wide wingspans of the manta rays below. Snorkeling with manta rays in Hawaii is a magical, moonlit experience for the whole family.
Wildlife Sightings
---
Snorkeling in Maui
Molokini Crater
In the crystal-clear waters of Hawaii's longest fringing reef, you're sure to see dozens of colorful fish darting around coral while snorkeling Molokini Crater. You'll have to get to Molokini by boat since it's located 3 miles (4.8 km) off the coast of Maui, but along the way, keep your eyes open for playful dolphins, stately whales (December to April), and nesting seabirds around this protected sanctuary. Trade winds tend to kick up in the afternoon, so head to this crescent-shaped volcanic crater in the morning for calm water suitable for beginner snorkelers.
If you're scuba certified, don't miss a chance to scuba dive Molokini. Explore the crater's back wall and keep an eye out for endemic species like Hawaiian garden eels, masked angelfish, and longnose hawkfish.
Wildlife Sightings
Sea turtles
Whales (December–April)
White-spotted puffer
Picasso triggerfish
Reef sharks (don't worry, they're harmless to humans)
Turtle Town
Snorkel over lava rocks formed by submarine volcanoes on Maui's southern coastline between Nahuna Point and Oneuli Beach. Honu (Hawaiian green sea turtles) love this area earning it the nickname Turtle Town. The sea turtles come to get their shells cleaned by surgeon fish and munch on marine greens making it one of the best places in Hawaii to swim with sea turtles. Launch from the uncrowded Maluaka Beach—which can be hard to find—or skip the navigational stress and snorkel with a local guide.
Wildlife Sightings
Sea turtles
Angelfish
Moray eels
Octopus
Humuhumunukunukuapua'a (Hawaii's state fish)
Honolua Bay
Intermediate snorkelers will find unique coral formations around the Marine Life Conservation Area on Maui's northwest shore. Known as Honolua Bay, this rocky beach is a great place for spotting lots of sea creatures below the water and surfers above. Waves get gnarly during the winter months, so swap your snorkel for a surfboard and have at it.
Wildlife Sightings
Butterflyfish
Snapper
Pufferfish
Unicornfish
Sea urchins
---
Snorkeling in Oahu
Hanauma Bay Nature Preserve
One of the best beaches in the United States for snorkeling, Hanauma Bay welcomes an average of 3,000 visitors each day. Even so, you can still find a spot on the white sand to lay out your towel before wading into the shallow turquoise waters. This volcanic crater on Oahu's east side protects swimmers from ocean swells, making it one of the best snorkeling locations in Hawaii for beginners. Magnificent coral provides lots of crevices for fish to peek out from and you can get a good look as the wildlife is accustomed to visitors.
Hanauma Bay is an easy drive by car, but get there early since the parking lot fills up fast. No car? No problem! Take a shuttle from your  Waikiki hotel and bundle it with snorkel gear rental to save even more time. When you arrive at the bay, be sure to check in at the marine education center to learn how to help preserve marine life.
Expedia Local Expert tip: The beach closes every Tuesday to give the sea life a rest.
Wildlife Sightings
Damselfish
Porcupinefish
Squirrelfish
Trumpetfish
Moorish idol
Swim with Sharks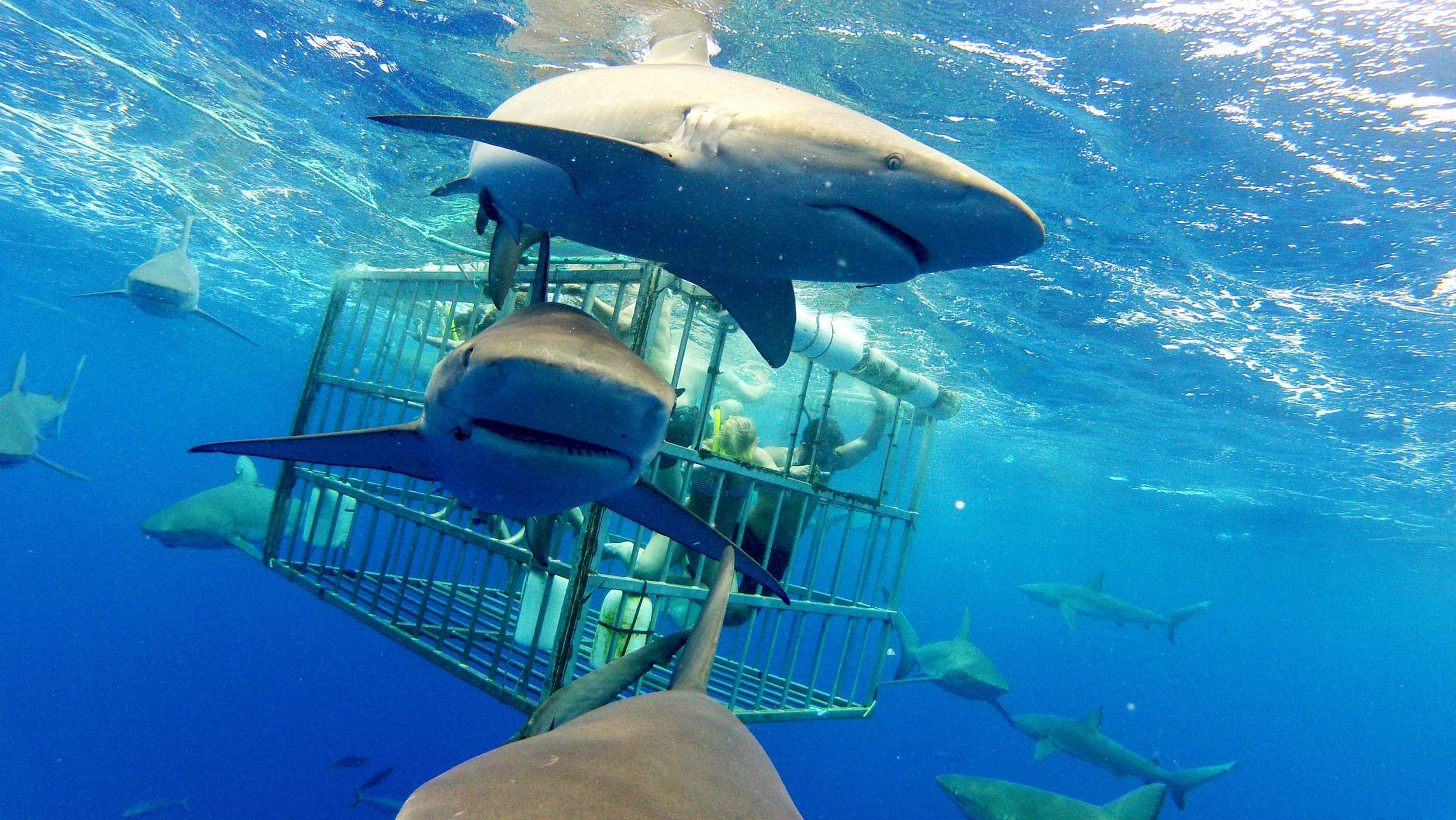 While another popular snorkel spot on Oahu is called Sharks Cove, you're highly unlikely to actually encounter a toothy beastie in the water there. However, if aquatic predators are your thing, then sign up to swim with sharks in Hawaii. During your shark excursion, you'll float at the surface in a metal cage as sharks circle mere inches from the bars. With your snorkel and mask, get a good look at some of the 40 species of sharks that inhabit the waters of Hawaii on a heart-pounding adventure.
Wildlife Sightings
Galapagos sharks
Sandbar sharks
Grey reef sharks
Hammerhead sharks
Snorkeling by Sail or Kayak
Oahu has fewer snorkeling beaches compared to the other islands, but traveling by boat can take you to some excellent snorkeling locations. On your way, you're likely to see marine mammals leaping from the waves. Set sail on a luxury catamaran and head to off-shore coral reef snorkeling locations for a relaxing time on the water. You can also kayak to Kanae'ohe Bay to snorkel in Oahu's only barrier reef and explore Coconut Island—a filming location for Gilligan's Island.
Wildlife Sightings
Sea turtles
Parrotfish
Butterflyfish
Yellow tang
Seabirds & shorebirds
Hawaii Snorkeling Tips
Now that you know where to go, get the most out of your time snorkeling in Hawaii:
Wear reef-safe sunscreen – Protect your skin and the environment at the same time.
Look for wildlife near rocky outcroppings – Sea creatures congregate near hiding places.
Snorkel in the morning – Afternoon trade winds around Hawaii can make the water choppy.
Bring an underwater camera – Hawaii's undersea world is home to photogenic sea turtles and tropical fish.
First time snorkeling? Go on a tour to learn proper techniques and reef safety.
Last-Minute Snorkel Deals
If you're already lounging around the pool in Hawaii, book some last-minute snorkel deals in person at an Expedia Local Expert concierge desk. Once you've completed your Hawaiian snorkeling adventure, work with your concierge to arrange a helicopter ride over the Kohala Coast. You could also hike to cascading waterfalls or take a whale-watching tour to see these majestic animals leap out the water.
Expedia Local Expert concierge desks are located in many top Hawaiian hotels, such as the Hyatt Regency Maui Resort & Spa and the Doubletree by Hilton Alana Waikiki Hotel in Oahu. As your trip comes to a close, let your concierge arrange a convenient ground transfer back to the airport.