By Expedia Local Expert, on June 11, 2017
Cancun theme and adventure parks
Once a destination known purely for its sun and sand, Cancun and the Riviera Maya are adding new activities to their arsenal of attractions and family-friendly resorts. Beyond the beach, theme and amusement parks are springing up across the Caribbean coast, beckoning visitors to add a little adventure to their next vacation. From high-flying ziplines to off-the-beaten path ATV rides, and from cultural experiences to carnivals and carousels, amusement parks are proving there are far more things to do in Cancun than hang out at the beach.
Xel-Ha
This sprawling amusement park outside of Riviera Maya blurs the lines between the real world and the one created by the park's designers. A natural inlet provides stunning snorkeling opportunities and includes a handy shark fence, so you can be sure your underwater activities aren't interrupted by uninvited and toothy guests. Explore hidden caves and grottoes, learn about the park's ecological restoration efforts in wildlife sanctuaries, go for walks on jungle trails, or test your courage with a bit of cliff jumping or a speedy ride on cenote-bound rope swings.
With plenty of restaurants and bars, a host of family-friendly activities, and optional animal encounters that could put you face to face with manatees and stingrays, Xel-Ha is a great one stop shop for things to do in Cancun.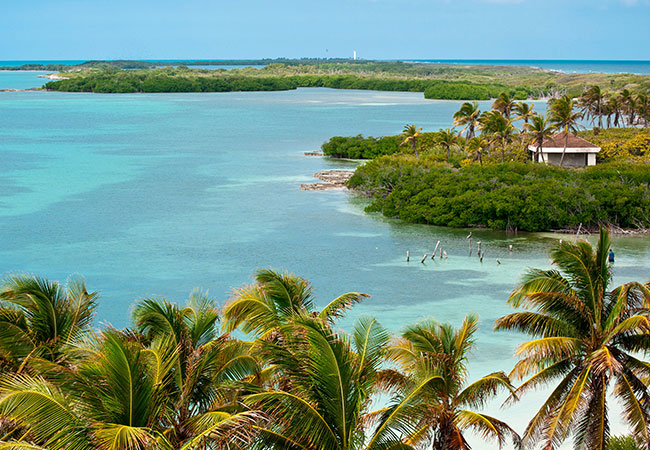 Xcaret
Blend a bit of culture into your thrills and spills at Xcaret. You'll find the typical—and always irresistible—array of high-flying ziplines and crystal-clear lagoons for snorkeling, but that's not what makes Xcaret a must-visit attraction.
Explore the history of Cancun as you travel through Xcaret's Mayan past. Dive into guided raft rides down canyon-bordered rivers, caves that lead to recreations of ancient Mayan villages, artisan craftsmen demonstrating age-old techniques in period garb, and the real remnants of Mayan villages that were hotbeds of trade. Learn about missionary work inside recreations of 18th-century chapels, and uncover Mexican folk art in Hacienda Henequenera, made to exemplify the sorts of sprawling estates you might have seen hundreds of years ago throughout the Yucatan.
Xplor
Thrill seekers unite! Xplor is the place to be if you love the sorts of activities that encourage helmet usage. Tackle caves driving around underground in your own off-road ready vehicle, hook onto the highest ziplines in Cancun and Riviera Maya for a dizzying ride above jungle canopies, and drift through stalactite studded caves on an inflatable raft.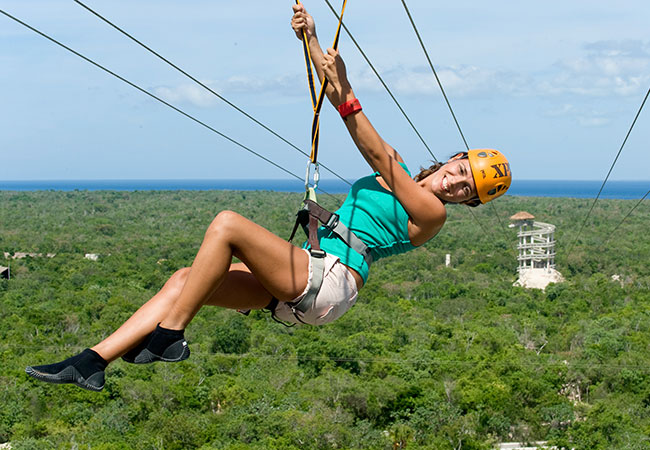 Ventura
From bumper cars and arcade games to animal exhibits with everything from toucans to tarantulas, Ventura Park is a surprise-filled grab bag when it comes to Cancun's amusement parks. Take a swim with playful dolphins, slip down massive waterslides, and take a spin on kid-friendly carnival rides and roller coasters. And, depending on your interests, Ventura Park may be your top choice specifically because it doesn't serve alcohol, so families looking to avoid the party scenes that often play out in Cancun can enjoy a day of reserved fun.
Xenses
Half science museum, half amusement park, Xenses is the place to go if you want to challenge your imagination, but not stray too far from heart-pounding water slides. Tune your ears to the sounds of animals from different ecosystems in the Xensatorium, flip gravity on its head in a fantastical town where everything seems upside down, and explore tunnels made to mimic the arteries leading to your heart.
Between brain-bending exhibits, you can let loose with thrilling water slides, relax with leisurely floats through saltwater river caves filled with colorful lights, and hang out by waterfall grottoes frequented by flamingoes.
Chak Balam
Join a shaman for a sweat lodge ritual, pit your skills against warriors in Mesoamerican ball games, and dive into the mysticism and practices of early Mayan civilizations at Chak Balam Prehispanic Park. Along the way, take an ATV tour down muddy jungle paths, cool off in refreshing cenotes surrounded by caves and cliffs, and hook onto ziplines for spirited rides through thick canopies.
Royal Garrafon Park
Escape the mainland and bounce around the attractions of Royal Garrafon Park on Isla Mujeres. Grab a bike to cruise around the island's seaside sights and jungle-filled center, practice your ziplining skills on an oceanfront course, or hop in a kayak to paddle through crystal clear waters looking for graceful sting rays and coral-munching sea turtles. Relax in white silk hammocks, cool off in an infinity swimming pool, and take in the views from the cliffs of Punta Sur.