By Expedia Guest Author, on November 6, 2019
Finest Playa Mujeres: An Upscale All-Inclusive The Whole Family Will Love
All-inclusive resorts are an excellent option for family vacations and multi-generational trips because, if you choose the right one, almost everything is included. This means much less time spent arguing over decisions and much more time relaxing poolside or lounging on a gorgeous beach.
Speaking of beaches did you know Mexico has over 5,800 miles of coastline? It's also home to some amazing all-inclusive resorts. While most of them service adults-only, Finest Playa Mujeres caters to luxury travelers of all ages. To put this resort to the test we teamed up with luxury family travel blogger, and mother of five, Amber Mamian of Global Munchkins to explore everything this incredible high-end all-inclusive paradise has to offer.
Finest Playa Mujeres is part of the newest brand from The Excellence Collection, a resort group well renowned for its high-end luxurious all-inclusive adults-only properties, Excellence Resorts, and their couples-only all-inclusive boutique properties known as Beloved Hotels. Their newest brand, Finest Resorts, provides a multi-age environment with plenty of activities for families as well as adults-only secluded areas and activities.
Finest Playa Mujeres
Just a quick 25-minute drive from Cancun airport and you arrive at Playa Mujeres with its gorgeous white powder sands and crystal-clear turquoise waters. Here, away from the crowds, you will find the luxurious Finest Playa Mujeres resort.
This high-end all-inclusive family-friendly property features 450 finely appointed guest suites, exclusive club options for adults-only and families, 12 swimming pools and hot water jacuzzis, thirteen amazing all-inclusive international dining options, full concierge services, and a state-of-the-art fitness center. You will also have access to ONE Spa with its amazing hydrotherapy circuit and a full list of spa treatments for kids and families so that you can relax and recharge. All together these things make Finest Playa Mujeres an ideal place for everyone.
The Finest Club & Excellence Club
If you are looking for the ultimate luxury experience, you will enjoy booking in one of the resort's private clubs—Finest Club for families or Excellence Club for adults-only. The clubs allow you to gain access to special areas and amenities designed exclusively for club-category guests.
Upgraded services include access to specialty restaurants and bar areas, exclusive pool and beach access, plus a private check-in lounge.
The Rooms
Sleek modern design elements can be found throughout the resort including the well-appointed suites. Finest Playa Mujeres offers its guests plenty of unique accommodations including swim-up suites, family suites, luxury hotel suites with private pools (some even on the roof with amazing views), multi-level suites and more.
You will feel like you've arrived in paradise as you relax in your own private hammock just steps outside of your room. Waitstaff will swing by to check on you offering refreshing cocktails (mocktails for the kids) and snacks as you settle into the luxury lifestyle at Finest Playa Mujeres.
Dining
Vacations are meant for splurging and Finest Playa Mujeres definitely allows you to do just that with a wide variety of dining options the whole family will enjoy, plus a few adults-only restaurant experiences as well. The best part: No reservations are needed.
You will love the oceanview dining at Duke's Lobster & Seafood, the exciting Hibachi chefs at Shoji, and the variety of choices at The Market Kitchen. You can also drop the kids off at the Imagine Lounge and enjoy a relaxing dinner at the adults-only Domo, a restaurant that is exclusively for guests staying in the Excellence Club. So much is included in your all-inclusive experience.
Whether you are in the mood for a quick bite or you desire a fine dining experience you will find exactly what you are looking for in one of the 13 restaurants and 16 bars and lounges on the property. You won't want to miss the fresh juice bar and ice cream shop. Make sure to check out their amazing coffee creations too!
Working on your physique? Looking for vegetarian options? Have a food allergy? Have no worries! The helpful staff is eager to assist you in having a wonderful dining experience and can accommodate your needs.
Plus, when you stay at Finest Playa Mujeres you are spoiled with 24/7 room service and a refillable in-suite minibar as well. Can't decide what to order for breakfast? Why choose when you can try a few bites of each?
Imagine Kids Club
One of the things that sets the Finest Playa Mujeres apart from their competition is their incredible Imagine Kids Club. This is not your average resort kids area, but rather a well-imagined kid utopia with incredible kids activities. There is a waterpark, and tons of toys and games to surprise and delight children ages 3-15 years old.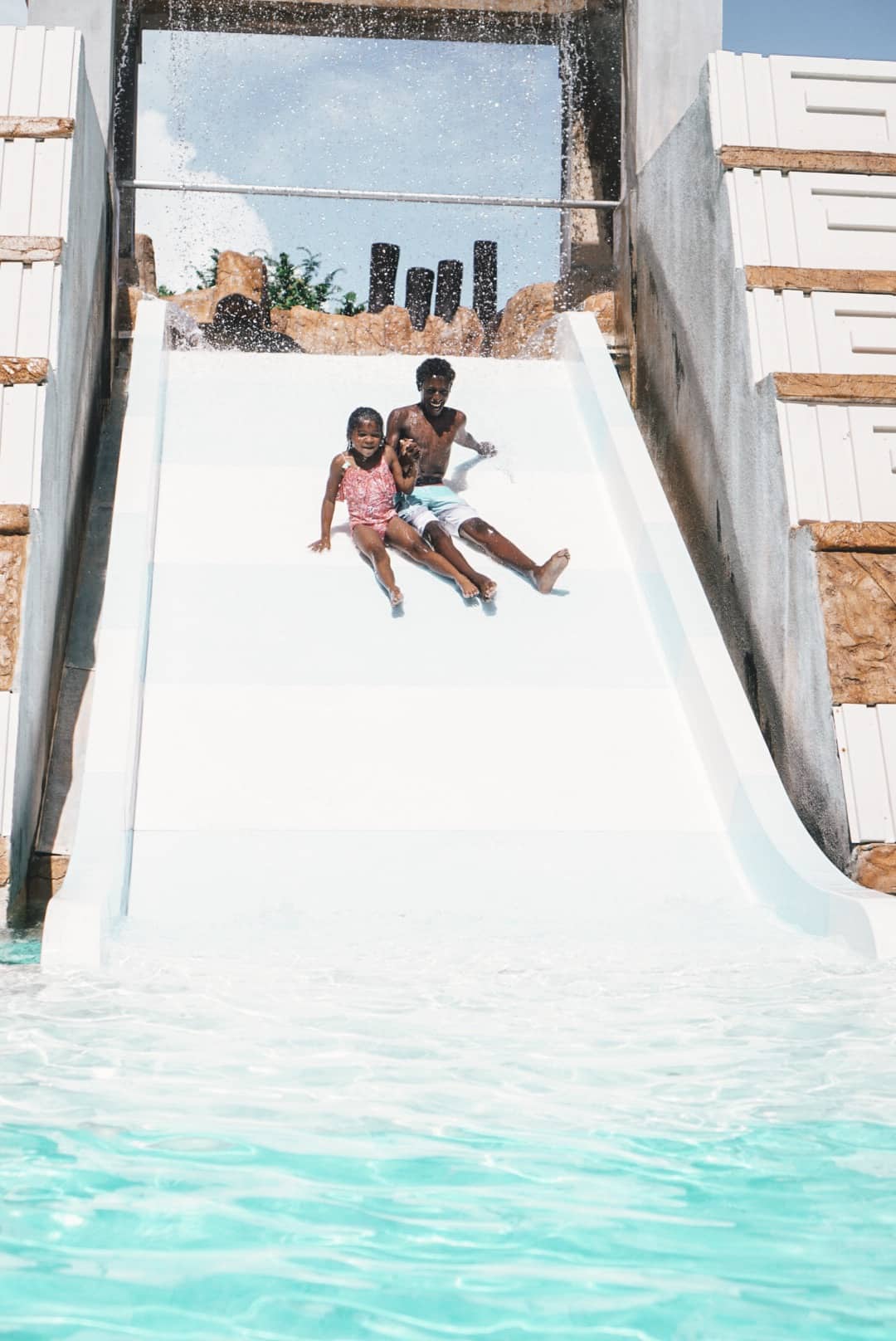 The Imagine Kids Club is divided into three separate groups—Mini Club for ages 0-2 years old (with parent supervision) or 3-6 years old for drop off care; Maxi Club for ages 7-11 years old; and there is even a club for Teens ages 12-15 years old.
Each club offers unique planned activities throughout the day and fun themed-evening events that will have kids begging to be dropped off. Of course, parents are welcome to stay with their children and enjoy the facilities as well.
Another unique feature offered at Finest Playa Mujeres is the Imagine Lounge an area near the restaurants reserved for children at breakfast and dinner. This is perfect for parents who are looking to enjoy a meal with their child but want the option to drop them off to play if the meal extends or the child gets restless.
If you have a baby, you will enjoy being able to order homemade purees and using the resorts baby amenities. They have baby bottle warmers, cribs, baby bathtubs, sterilizers and more!
The Spa
Ahhh! The spa, the ultimate in pampering and relaxation. At Finest Playa Mujeres, you'll find ONE Spa with its indulgent hydrotherapy circuit (50 minutes of water therapy that is included as an all-inclusive perk!), holistic spa rituals, and a full list of spa treatments including kid-oriented spa experiences.
Relax and unwind with a massage, facial, scrub, body wrap, and enjoy the rituals. Bring the kids along for the mini-spa with its jungle-inspired ingredients, mini massages, sweet berry-coconut mani-pedis, fruit scrubs and more.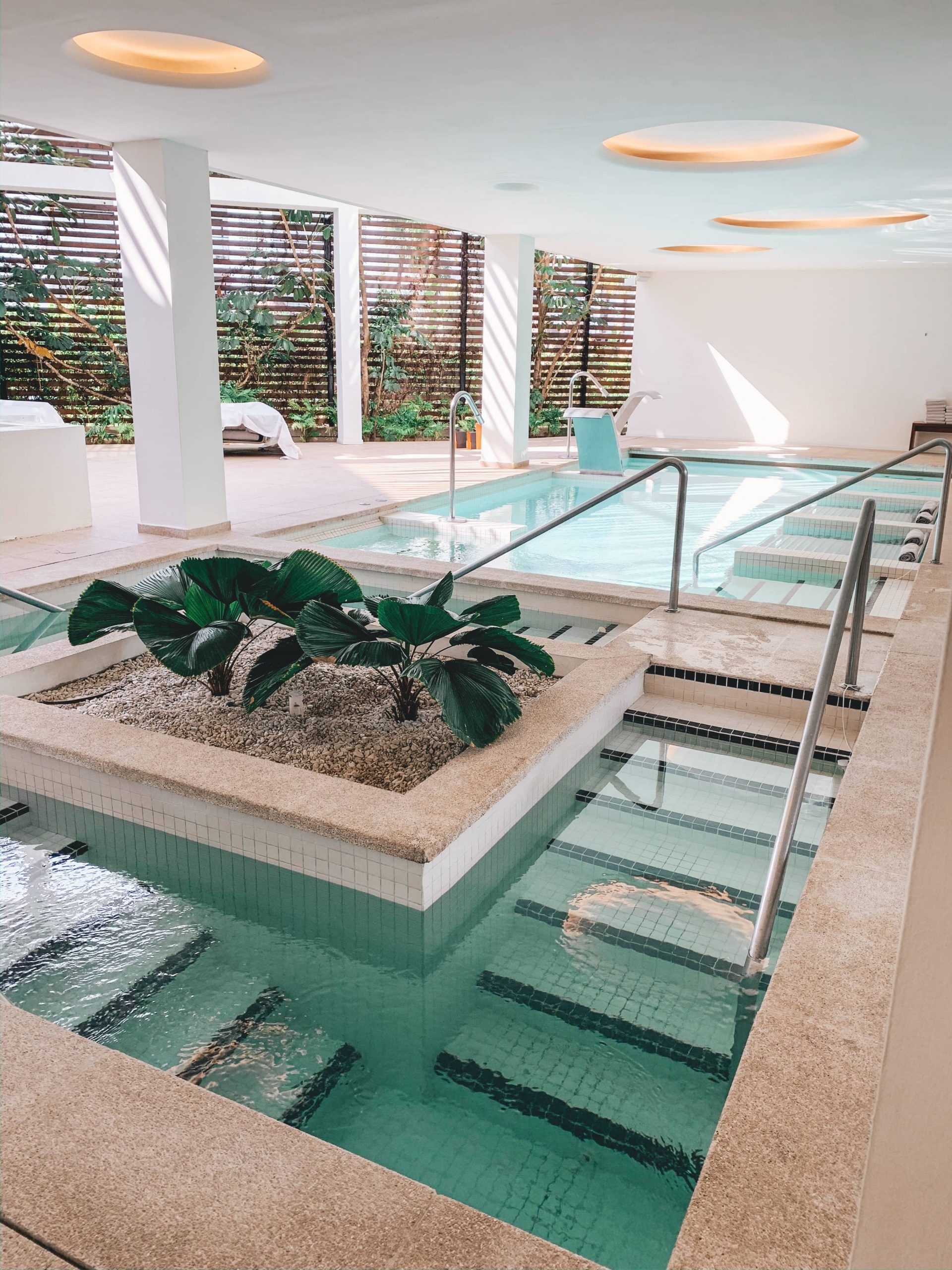 Or drop the kids off at Imagine Kids Club and melt all of your worries away with a rejuvenating couples massage in one of their beautiful treatment rooms complete with a sprinkling of rose petals. After your relaxing massage, you will be treated to glasses of champagne and chocolate-covered strawberries, a nice entryway back to reality.
The Fitness Center
Looking to stay in shape during your vacation? Finest Playa Mujeres has you covered with over 3,500 square feet dedicated to fitness. Here you will find cardio equipment, free weights, personal trainers, fitness classes, yoga, and more. You'll enjoy freshening up with aromatic towels and facial toner spritzes when you are finished.
If you prefer to get your fitness outdoors check out the variety of activities included in your stay or check out the scenic jogging and walking trail.
Activities
Not having to ever leave the resort isn't just convenient but it also makes your vacation feel so much longer. This is a reality at Finest Playa Mujeres where activities such as sailing, windsurfing, and stand-up paddleboarding are all available. You can also try your hand at scuba with an introductory lesson, check out snorkel gear, take a bike ride, hit the basketball or tennis courts, and even try your hand at archery!
Beyond sports, you will find inviting activities such as cooking lessons, thematic dinners, and casino games. Just check your daily activity sheet, or see the activity board for what is in store each day. There are so many options for kids and adults alike you are sure to find something for everyone.
Make sure you don't miss out on the thematic dinners with themes like Fiesta night and Bollywood!
Why Finest Playa Mujeres
If you are looking for the perfect balance of family fun and relaxation look no further than the Finest Playa Mujeres. Not only will you enjoy the plethora of included activities, incredible dining options, and gorgeous well-appointed suites but the extraordinary service is what will have you begging to return year after year.
Blog and photos were provided by Amber Mamian, @global_munchkins, an entrepreneur, travel blogger & Expedia correspondent. Amber is the travel blogger and Instagrammer behind the blog Global Munchkins which followers her adventures with her husband and five munchkins. She started her blog as a way to document her travel with her family and inspire other to out there and create memories with their kids as well.