By Expedia Team, on May 26, 2022
How to Plan the Perfect Honeymoon in Iceland
Wedding season is upon us, and with travel back on the table, so too are unforgettable honeymoons.
In celebration of the return of wedded bliss, we surveyed 1,500 people in relationships to find the top 10 honeymoon destinations currently fueling the daydreams of engaged couples. Our stats show that 15% of smitten pairs crave nature or a national park setting for their honeymoon, and 18% prefer to travel somewhere that makes it easy to hit up multiple destinations. Once on the ground, this year's study found that while 52% of people are ready for relaxation and pampering, 45% are looking for adrenaline-inducing activities and adventures. Destinations that offer both score bonus points, of course.
Given the survey results, it's no surprise that Iceland graces the list as one of the top 10 honeymoon destinations. The "Land of Fire and Ice" delivers on all fronts. With city action, endless outdoor activities, authentic culture, romance, and spa experiences galore, it creates the perfect honeymoon smorgasbord.
Ready to go? We've put together a solid sample itinerary for honeymooning in Iceland (so you don't have to).
RELATED: How to Plan the Perfect Honeymoon in Dubai
About Iceland
Iceland is nothing short of spectacular, with otherworldly, dramatic landscapes full of glaciers, volcanoes, waterfalls, and fjords. The Nordic island destination is a year-round favorite, with the Northern Lights dazzling travelers from September to April and the midnight sun maximizing those spring and summer daylight hours. Shoulder season is a great time to visit – travel in May, June, September, or October and relish in better prices and fewer crowds in the popular spots.
The fickle weather will keep you on your toes, but that's all part of the Iceland experience; plus, as the saying goes, "If you don't like the weather, wait five minutes." Expect rain, snow, sun, wind, and moody skies, sometimes all in one day.
Honeymooners can fly directly into Keflavik airport (KEF) from more than a handful of US cities. New York, Boston, Washington D.C., Seattle, Denver, Orlando, and Chicago will all transport you to Iceland sans layover. Book a rental car and embark on a self-guided venture in one of the most beautiful places in the world.
What to see and do
Celebrate your nuptials Icelandic-style with the full 7-step ritual for two at Sky Lagoon, located just south of the capital city of Reykjavik. Dip into one of Iceland's most celebrated features, its warm and soothing geothermal waters. Connect with nature and each other in this bonding experience made for relaxation where a combination of sauna, hot and cold pools, and cleansing scrub will leave you feeling rejuvenated in an authentic Icelandic way. If you're lucky and choose to visit in the fall or winter, the Northern Lights may even appear, dancing above as you soak in bliss.
Maximize your time with a drive around the iconic Golden Circle, a 186-mile route that neatly packs in three of southwest Iceland's top natural wonders. Easily accessible as a day trip from downtown Reykjavik, the highlights include Thingvellir National Park, Geysir Geothermal Area, and the thundering Gullfoss waterfall.
Uncover the rich history and folklore in Thingvellir National Park, a UNESCO World Heritage Site that served as the meeting place for the first Icelandic Parliament in 930 AD. Hike the trails, get spritzed by a waterfall, or even snorkel or dive between two tectonic plates in the Silfra Fissure.
Stand in awe at the Strokkur geysir, which shoots steaming geothermal water up to 130 feet in the air approximately every ten minutes. Take photos of the powerful Gullfoss waterfall, the last piece of the Golden Circle trio, and where magical rainbows happen to be a regular thing.
Create memories with a hike along one of west Iceland's top trails to the country's second-largest waterfall. An hour's drive northeast from Reykjavik will land you at the starting point for the four-and-a-half-mile trek to the gorgeous Glymur Waterfall and its breathtaking 650-foot drop. This picturesque hike is the perfect place to stretch your legs together as newlyweds in a quintessential Icelandic outdoor adventure with a canyon, cave, river-crossing, and a waterfall.
Check off your bucket lists together while viewing one of Mother Nature's most awe-inspiring shows. Iceland is one of the best places to see the Aurora Borealis in all its glory. Pinch yourself as ribbons of green, purple, red, and white lights appear in the night sky. Yes, this is real life, and you're getting to share the experience with the one you love, to boot.
Where to eat
Get a taste of Iceland with some of the country's staples; seafood, warm soups, lamb, homemade rye bread, and of course, the famous hotdogs. Here are a few spots to put on your "must eat" list.
Fill up at the family-run Coocoo's Nest, a favorite eatery in the Old Harbor district of Reykjavik. They dish up everything from Nordic delights (try the fish of the day), breakfast staples, tacos, and sourdough pizzas for brunch, lunch, and dinners.
If you like fish, you're in for a real treat while visiting Iceland. Cheers to your wedded bliss with a quick bite at Reykjavik's Fish and Chips Wagon, a food-truck style spot by the water, serving up their signature fried fresh catch daily.
Indulge in a romantic dinner at hip Kol restaurant in the heart of Reykjavik. A blend of fine dining with casual flair, the menu offers craft cocktails and Icelandic fare cooked in their charcoal oven.
Where to stay
Reykjavik is a fantastic base for exploring some of Iceland's top gems on your honeymoon. Explore Icelandic nature without having to venture too far by day, and return to the capital city and indulge in the vast array of restaurants and bars by night.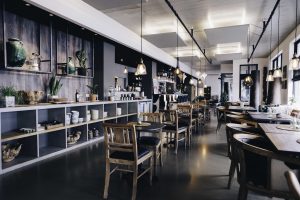 Slumber in the city center at Reykjavik's Hotel Borg, a 99-room hotel with a full-service spa centrally located to many of the top attractions, such as Sundhöllin, Hallgrímskirkja, and Hofdi House.
Stay front and center to downtown and Reykjavik's waterfront at Tower Suites, a luxury hotel with sprawling views. Walk to Laugavegur, the city's famous shopping street, the Sun Voyager sculpture, and much more.
Walkable to the city center, Reykjavik's Eyja Guldsmeden Hotel is a fantastic eco-friendly choice, with a full bar and restaurant, free onsite parking, and chic decor. Hofdi House and the picture-perfect "Rainbow Street" are nearby.