By Expedia, on July 11, 2019
How to Spend a Weekend in Boston
With its leafy squares, intimate restaurants, and convivial attitude, Boston's a big city that feels like a small town. And whether you've come to enjoy the camaraderie at Fenway Park, walk the Freedom Trail, or dig into a bowl of chowder, this guide will show you how to have a magical weekend in Boston.
Friday Evening
Kick off your 72 hours in Boston by checking into a hotel in the heart of the city. The Eliot Hotel is a circa-1925 property offering European flare, a lively bar, and access to a fitness center. Best of all, the Eliot is within a stone's throw of some of Boston's most happening areas, including Newbury Street and Fenway Park.
After checking in, grab dinner at the Eliot's on-site restaurant, Uni, an award-winning eatery offering Japanese fare and hip street-food-inspired dishes. Pull up to a bowl of their raved-about ramen, sample the sashimi, or dive into something more daring with a plate of Ossetra caviar with quail egg yolk.
If you're visiting in the summer, wind down your Friday night by catching a free open-air movie at the Hatch Shell, a laid-back gathering spot on the banks of the Charles River. Winter visitors, meanwhile, can catch an up-and-coming comedian at ImprovBoston or go ice-skating on the Boston Common Frog Pond.
Saturday Morning
Start your Saturday morning with breakfast at Mul's Diner, a long-standing favorite with a retro vibe; think South Boston meets Twin Peaks. Grab a big cup of bottomless black coffee, chat with the Lower End locals, and tackle a heaping helping of crème brulee French toast.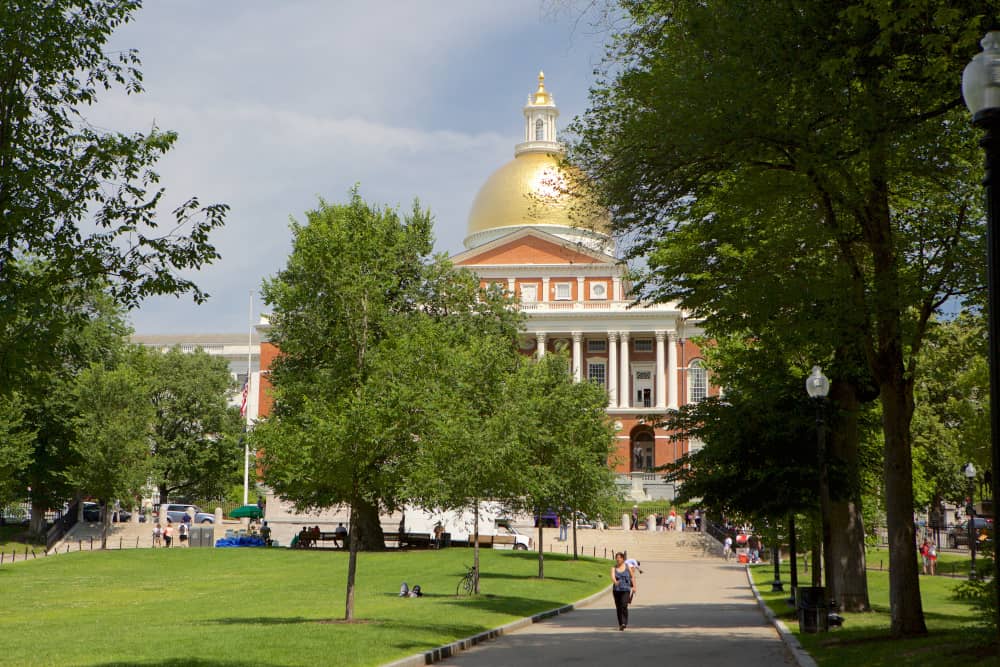 Then head to the Arnold Arboretum, a serene sanctuary managed by Harvard University. Dating from 1872, the arboretum is the oldest public arboretum in the country, and is home to an impressive collection of lilacs and bonsais. After checking out the historic arboretum, pay a visit to Boston Public Garden, the oldest public botanical garden in America. The Victorian-inspired Public Garden is an especially idyllic spot for couples, who can wander amongst the vibrant flowers and while away a morning on the famous swan boats.
For lunch, purchase advance tickets for the edgy Tasting Counter, a high-concept, ultra-modern restaurant offering 3-course tasting menus.
Saturday Evening
Walk off your meal with a stroll along the Freedom Trail, a 2.5-mile-long path connecting 16 of America's most important monuments. The Freedom Trail provides a fascinating look at Boston's role in America's battle for independence, and notable landmarks include Boston Common, the Old State House, the Boston Massacre Site, and Faneuil Hall.
It's easy to spend all of Saturday night soaking up American history on the Freedom Trail, but for a taste of another side of Beantown, take a pay-what-you-wish crime tour of Beacon Hill, visit the bar that inspired the hit TV show Cheers, or grab a negroni and hunt for the ghost of Charles Dickens at the Omni Parker House.
While Boston is renowned for its seafood – it's the chowder capital of the world, after all – it also has a spicier side, which you can explore on a nighttime sojourn to lively Chinatown. Grab a good-luck souvenir, and then stop by China Pearl for some delectable dim sum.
Sunday Morning
Fuel up for your final 24 hours in Boston with Sunday morning breakfast at Trident Booksellers and Café, a funky Back Bay spot on Newbury Street. Trident offers classic chicken and waffles, huevos rancheros, and healthy breakfast bowls, along with a great selection of regular events and book talks.
After breakfast, sporty visitors can visit the Boston-centric exhibits at The Sports Museum, or tee off at the William J. Devine Course, an 18-hole golf course smack dab in the middle of Franklin Park. The course is one of the oldest in the nation, and has been rated as one of the world's best urban courses. If you're traveling with kids, they'll love getting face-to-face with giraffes in Franklin Park's zoo.
For lunch, treat yourself to something special at the Island Creek Oyster Bar in lively Kenmore Square. Chow down on the braised short rib, and then explore the Commonwealth Avenue Mall.
Sunday Evening
Follow lunch with a ball game at legendary Fenway Park, home of the Boston Red Sox. Sunday games often start at 1 pm, and a limited number of tickets are sold at Gate E on Lansdowne Street. If the Sox are playing on the road, you can still get a look at the Red Sox Hall of Fame, the iconic Green Monster, and the Charles River Esplanade on a Fenway bike tour.
Then trade your ball cap for beers on a Sunday night brewery tour, catch a classical concert at the Berklee Performance Center, or take a trip through the stars at the Charles Hayden Planetarium in the Museum of Science.
Toast to your weekend in Boston over a cocktail at Saltie Girl, a modern restaurant serving fried lobster and waffles, torched salmon belly, and sea urchin crudo. If you're visiting with a significant other, then cozy up to a "royale" seafood tower, a sky-scraping plate of oysters, crab claws, tuna poke, and caviar.
Boston may have a special place in the hearts of history buffs and sports fans, but buzzy Beantown has something for everyone. Book your weekend in Boston today!