By Katie Doten, on July 26, 2021
Only in Boston: Where to stay, explore, and eat in Beantown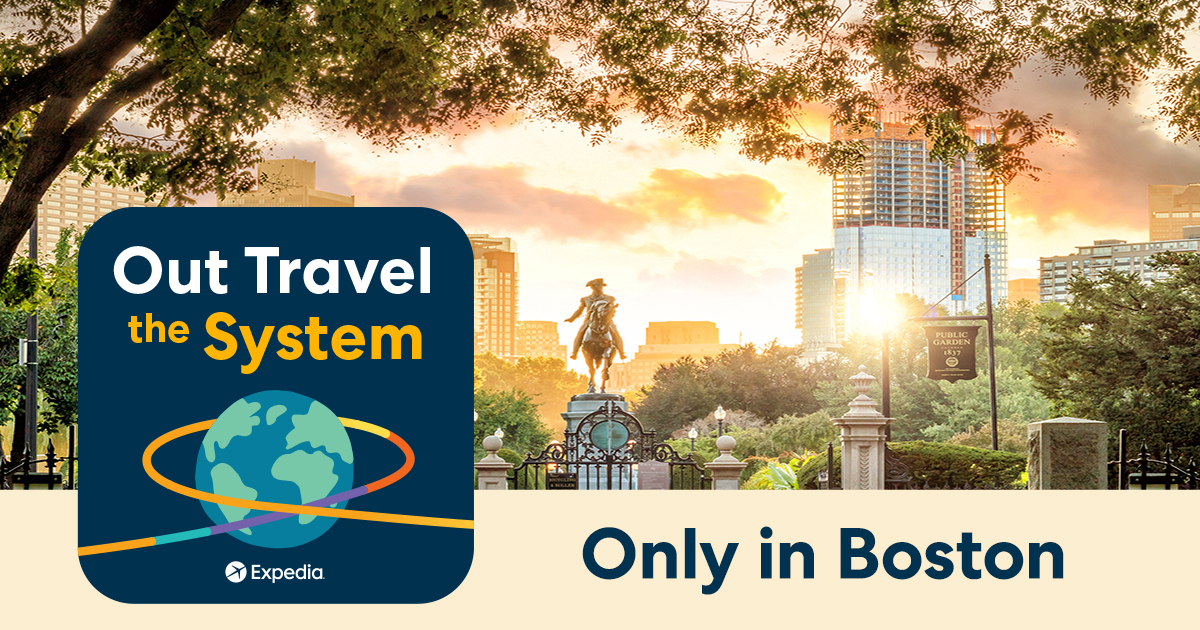 [full-width-paragraph]
We've been profiling some of America's most vibrant cities here on Out Travel the System, and now it's time to hear all about what you can experience Only in Boston.
Host Nisreene Atassi is joined by chef Paul Wahlberg of yes, that Wahlberg family, and Alma Nove and Wahlburgers, as well as Instagram eagle eye Kate Weiser of Bucket List Boston.
Follow along as these two Boston insiders take you inside the city's past, present, and future. They include suggestions to follow the Freedom Trail and visit Faneuil Hall, taking in a sporting event, or just heading out for a meandering long walk or bike ride.
Start planning out itinerary options for yourself for when you're ready to head to Beantown next, thanks to the great suggestions from our guests.
---
---
<
---
Only in Boston
Nisreene Atassi: I absolutely remember the first time that I went to Boston, I was blown away by the people, the food, the scenery, and I'm so excited to get a chance to talk all about it today. I'm Nisreene Atassi and this is Out Travel the System.
Maybe you think you know about Boston from your history books, or maybe you think you know about Boston from novels, movies, or TV shows. Today we're looking at the heart of the city through the eyes of two Boston insiders, its past, present and future. My guest today is Paul Wahlberg. Paul is the executive chef of the restaurant Alma Nove, as well as the Wahlburgers chain of restaurants. Welcome to the show, Paul.
Paul Wahlberg: Thank you very much for having me.
Nisreene Atassi: My other guest today is Kate Weiser, the mind behind the amazing Instagram account Bucket List Boston. Hi, Kate. Thanks for coming on Out Travel the System.
Kate Weiser: Thanks so much for having me, Nissy. I'm honored to be here.
Nisreene Atassi: Awesome. All right, well, let's dig right in. Paul, let's start with you. Your family is really deeply and publicly connected to its Boston roots. Your brothers, Donnie and Mark, talked about it a lot in their music and their acting careers as they developed. It was also explored a lot in your Wahlburgers reality TV show that ran for 10 seasons on A& E. What's it like being so specifically identified with Boston?
Paul Wahlberg: We are homers through and through, be it sports, be it our surroundings, our neighborhoods, and things like that. People say, " Where are you from?" " Well, I'm from Dorchester." The way people would refer to, like a new Yorker, and they would say, " Where are you from?" " I'm from Brooklyn." It's that type of thing. So for us, it was just that deep rooted community that we felt as kids and carry with us to this day.
Nisreene Atassi: How has it changed from when you were a kid growing up?
Paul Wahlberg: The accessibility of everything. The development down in the harbor, in south Boston and that area there, where before it was just parking lots and things like that and now it's beautiful hotels. And also when I was a kid, a lot of the places, they were very much business driven. And so at six o'clock, when everybody's gone, they would roll up the streets. In even downtown Boston, Downtown Crossing and places like that, there are people out there all the time, the theater district and everything, and people are very much living in the city.
Nisreene Atassi: It's funny, Paul, that you actually bring up New York because Kate, you're actually a native New Yorker. Take me briefly through your journey of becoming a Bostonian.
Kate Weiser: Thank you for asking. Yes, I am absolutely a native New Yorker. And upon deciding to attend Boston University for my college degree, coming from New York, you just figure that New York is the ultimate city and nothing can be as good. And after I arrived in Boston, quickly fell in love with the history and the food and the people, so I do consider myself a Bostonian now. And I say on my bio of my Instagram that I'm a New Yorker turned Bostonian.
Nisreene Atassi: Boston and New York are these dueling east coast cities. So I feel like you probably get a lot of heat for that. Do you?
Kate Weiser: Totally, especially because I wasn't really a sports fan necessarily when I left New York. And coming to Boston, you have to be a Red Sox fan. So to become a Red Sox fan, my New York friends were not pleased.
Nisreene Atassi: Oh my gosh, I bet. I bet. Well, so how does being from outside of Boston let you see the city in sort of a fresh and different way?
Kate Weiser: I wanted to explore the city on foot. I felt that that was the best way to understand the way that the neighborhoods connect and how everything kind of fits together like a puzzle. I would teach myself where I was based on understanding how Back Bay flows into the South End, which can become Beacon Hill in certain parts. And through my explorations on foot, I really got to learn the intricate pieces of the city and I would find little hidden parks and museums and cafes that looked cute. And I would just keep mental notes from different walks I was on and start to tally up a list of places I wanted to return to, or almost add to my bucket list, my personal bucket list. And that's how I started to come up with these spots and places that I felt were necessities on anyone's trip to Boston.
Nisreene Atassi: So for people who have never been, can you give us sort of a bird's eye description of Boston and its neighborhoods? How does it all sort of flow together?
Kate Weiser: I'm lucky enough to live right by the Public Garden, which is a beautiful spot right in the heart of downtown. And I love that there's parks and greenery all combined with these beautiful brownstones. The Freedom Trail, so you have your history and big buildings. There's still a financial district and the seaport, which is on the water and is totally up and coming. It's being built as we speak. So it's exciting to have new infrastructure coming in.
Nisreene Atassi: What about Cambridge?
Paul Wahlberg: The Charles River will separate Boston from Cambridge. So Harvard University, MIT, if you go from Porter Square to Central Square, to Harvard Square, all of these different parts of Cambridge, and there's always so much to do. It's a great music scene. There's lots of dive bar kind of atmosphere. You've got great venues throughout the city, great art scene. There's a great community of people.
Kate Weiser: The red line is also the T or the subway that takes you from Boston over to Cambridge. And if you ride the red line over the Longfellow Bridge, you'll get this incredible view over the Charles River. And it's really easy to hop across the river and get from either side to Boston and Cambridge and back.
Nisreene Atassi: Oh, I love that. That's a great tip. All right. Paul, Boston is a place that holds such a prominent place in not only the Wahlberg family history, but in the history of this country as well. Is that sense of American history part of what you think makes Boston so unique?
Paul Wahlberg: Oh, absolutely. Because when you think about the revolution and how Boston and Philadelphia and places like that were in the forefront of really trying to establish who we were as colonies and later as states and also the United States.
Nisreene Atassi: One of my favorite Fourth of July's was actually spent in Boston. We did the Freedom Trail and then we went to go and watch the fireworks. So it was so perfect and it felt just so right to be in Boston during the Fourth of July. So I loved it.
Paul Wahlberg: To watch the Boston Pops and to watch those fireworks and really kind of that whole thing, it's one of those things every American should do, the list of 10 things. Boston for the Fourth of July on the Esplanade with the Boston Pops is one of those times.
Nisreene Atassi: Kate, you're all about bucket list options in Boston. So tell us about a few more options besides Fourth of July fireworks on the Esplanade that people need to really think about doing.
Kate Weiser: Definitely the Isabella Stewart Gardner Museum. It's my favorite museum of all time. Isabella Stewart Gardner and her husband had actually bought the property that is now the museum. And they were big world travelers and they would collect little gadgets and pieces of art all along their travels. And when they got old enough and they were ready to stop traveling and settle down, they curated this incredible mansion of all of their discoveries from their travels. And so Isabella's dying wish was that the mansion be left completely as is and preserved as a museum that people could go in and enjoy. And so the only thing that changes is the flowers and the plants in the courtyard by season. Everything else is as she left it, and I just think that it's such an incredible story.
Nisreene Atassi: Wow. See, this is why I love this show is because I learn things every single time. I had no idea, and that sounds so amazing. I love that. What are some of the other quintessential historical things that you can do in Boston?
Kate Weiser: Beacon Hill is a really historic, beautiful neighborhood. It's big hills lined with incredible brownstones. On every doorstep, you'll see this kind of iron hook, and that's actually what the people coming home in the 1800s would use to pull the dirt off of their boots. So that's kind of just a little reminder to how old of a city Boston is. And then once Beacon Hill got totally populated, they started migrating over to Back Bay, which is actually where I live. So that's just beyond the Common and beyond the Garden. And all of these brownstones have something in common, where they have these big, beautiful bay windows that face the streets. And the reason for those was that you would put your most impressive piece of artwork or whatever it may be in the window so that people on strolls would see your worth.
Nisreene Atassi: Paul, anything you want to add to the list?
Paul Wahlberg: What's great about Boston is it's a great walking city. Definitely the museums, the Children's Museum, the science museum, the New England Aquarium, Museum of Fine Arts. There's other small museums scattered throughout the city and over in Cambridge as well. You can do all of that on foot. Going to Fenway Park for a tour day, just to kind of see that whole area. And then just going through the Boston Commons, over to the Public Gardens, the swan boats and things like that. It's a great way to kind of travel around, especially I'm a big spring and fall guy. You come out in the spring, a beautiful day, you're walking through everything. Everything's in bloom. You're coming through in the fall when the foliage is out. The summer's great as well, but usually the summer is a busy time for me. So I'm always trapped in a restaurant at that point.
Nisreene Atassi: I love this. I mean, we're only halfway through this episode and I'm already just itching at the chance to go and book my next trip. Also, I love how you both have such a love for the museums and the historical aspect of this city. I think people oftentimes really overlook a lot of those places or they think that they're too touristy, but I appreciate how you both have found your love for them. I am writing all of these things down as fast as I possibly can, but don't worry, for all of you listeners out there, we are going to put all this fantastic information into our show notes. When we come back, we're going to dig a lot more into what makes the city such a delicious place to visit, as well as what you can do only in Boston. So stay with us.
Nisreene Atassi: I'm Nisreene Atassi and this is Out Travel the System. We're your podcast home for tips and tricks that let you get the most out of your travel budget, as well as some major travel inspiration. This season alone, we're diving into international destinations like Spain and France, as well as major American cities like Chicago, New York and Austin. We're here to help you wherever you are in your travel journey, whether you're planning for a major trip a few years out or you're ready to hop on a plane tomorrow. Make sure you like and subscribe on your favorite podcast player so that you never miss an episode of Out Travel the System.
We're back with Kate Weiser of the Instagram account Bucket List Boston, as well as chef Paul Wahlberg. Paul, how would you describe the food scene in Boston these days?
Paul Wahlberg: Amazing. Truly talented chefs scattered throughout the city with great locations, but there's also great neighborhoods. So if you go into the North End, which was traditionally our Italian section, there's great Italian restaurants in there. If you go downtown, you find these great contemporary restaurants. You can get tapas and Spanish and French. And the Chinatown section of Boston, I would go into any one of those great local restaurants that are there.
Nisreene Atassi: So in addition to obviously making a trip to visit Alma Nove and Wahlburgers, what are sort of two or three other must eat at restaurants or quick grab and go places that you think people have to try when they're in town?
Paul Wahlberg: Any hotdog stand on a corner to me is always a home run, because there's just no better feel. There's that kind of walking around, having a hot dog kind of enjoying yourself. I would definitely go to Toro, which is a tapas restaurant over on Washington Street.
Kate Weiser: I love Toro.
Paul Wahlberg: And then if you go to Bricco and places like that over in the North End. Limoncello's a great spot. And if you go into the neighborhoods and especially if you get onto the waterfront, there are so many restaurants, going to a Legal Seafoods, going to the Union Oyster House. I believe it's the oldest restaurant in Boston. You go there, you have chowder, you have oysters, you have cold beer. It's a great experience.
Kate Weiser: My current favorite restaurant in Boston is called Krasi. And it's Greek food and it's absolutely delicious. The plating is exquisite. The ambiance is perfect, great music and just all around awesome energy.
Nisreene Atassi: We did an episode all about Chicago and we talked about how Chicago is famous for deep dish pizza. Do you think Boston has a signature sort of thing to eat?
Paul Wahlberg: It's very much that chowder. Go down to Sully's or someplace like that and get fried clams. Any kind of seafood would be great. You sit down, you have this great, beautiful, fresh fish, chowder, great bread, things like that. That's probably what we're most associated with.
Nisreene Atassi: Kate, I know you often have coffee photos on your Instagram account. What are some of your favorite places for a cup of coffee?
Kate Weiser: Tatte is a classic. They're on almost every street corner around Boston. And it's an Israeli coffee shop that recently just made a foray to DC.
Nisreene Atassi: What about Dunkin'? I know this is so random, but most people don't realize places like Dunkin' Donuts are not all over the place. We don't have any of them here in Seattle. But one thing I noticed was that there was literally a Dunkin' Donuts on every single corner, the way Starbucks is here in Seattle. And then I quickly realized that it's also headquartered there.
Kate Weiser: Dunkin' is life, and America truly does run on Dunkin' or rather Boston does. But I'm a New Yorker as I've mentioned, and I did not grow up on Dunkin' and I'm a big local coffee shop fan.
Nisreene Atassi: So Paul mentioned that Boston is a great walking city. Do you tend to just walk around or do you use trains? Do you drive? What is your preferred mode of transportation throughout the city?
Kate Weiser: Recently I discovered Bluebikes, which have been a savior because now I can hit multiple neighborhoods, but my preferred method is certainly walking. That's when I start to see a cute little flower shop that I've never discovered before or a really cute house or a beautiful brownstone. And I think those things pass you by very quickly, if you're not on your feet. And I also love the bus. I think a lot of people are worried about taking the bus, but it's so fast and it's easy. And of course there's the T, which is our Boston subway. And I'm also a big advocate for the T.
Nisreene Atassi: Paul, if you had a bunch of family or friends coming into town, where would you tell them to stay?
Paul Wahlberg: I would try to tell them to stay as far away from me as possible because they're always looking… No, I would have them stay downtown, down on the harbor. So going down near South Boston and that area. There's a lot of hotels down the waterfront area. When my brother's in town, he stays at the InterContinental. You can't beat the convenience. And the Four Seasons, obviously. The Marriott Long Wharf is a great place, great place for families.
Nisreene Atassi: Do you know if any of those famous brownstones in Beacon Hill are ever available as a vacation rental? Because I feel like that could be super fun to stay in one.
Kate Weiser: I totally agree. I actually had a friend who stayed in a vacation rental in Beacon Hill last week, so I know that those do exist. And there are also apartments around the area as well.
Nisreene Atassi: All right. So we're calling this series Only In, because we want to talk about things that are specific to the destination, that you can really only get in that place. So in your mind, Kate, what are things that you can only do in Boston?
Kate Weiser: Tough question, there's so many. My first one is probably having a sports stadium right in the center of the city. So Fenway Park is in the Fenway area, but that's right by Kenmore Square, which is one of the most central T stations in the city and you can get practically anywhere from there. So as a student at Boston University, I lived just a couple of blocks from Fenway Park. And so at night there would be concerts and I would open up my window and be able to listen to Lady Gaga through the window, which was incredible. So that's definitely an only in Boston thing.
Nisreene Atassi: Oh, that's amazing. Yeah. Paul, what about you?
Paul Wahlberg: I think definitely you do the Faneuil Hall experience, where it's very much that walking and kind of seeing, and doing the Freedom Trail. Because you can go to Paul Revere's house, the Old Church and places like that, and really see the history of our country.
Nisreene Atassi: Yeah, I love that.
Paul Wahlberg: Taking in a sporting event when you're in town, be it the Celtics, the Bruins, the Red Sox, or even going down to Foxborough, which you can do on the commuter train, if you want, or even rent a car for the day. Go down and see the Patriots or the Revolution. Go to the State House, which is just a magnificent building to see. And then you see all the great architecture in the older parts and then the contemporary stuff over in the waterfront and just the views. And going up on top of the John Hancock to the observatory and the Pru and places like that, and really kind of seeing what it means to be in Boston and New England. And also the fall, if you get here, you go in the fall, go see the foliage and just be absolutely blown away by the produce and all of the different things. And then the colors, the natural colors and natural beauty of the area.
Nisreene Atassi: If someone were to be only in Boston for 24 hours, what would you say they absolutely had to do?
Paul Wahlberg: There's so many great hotels that have this great breakfast. You could get dim sum in Chinatown. Go to the museums: the Museum of Fine Arts, the science museum, the aquarium, the Children's Museum, if you bring kids. The science museum with kids is absolutely amazing. If you say, " Oh, I love pasta," go to the North End. " I love Asian food," go to Chinatown and kind of experience that. Go to Regina's, get a slice of pizza. And then finish up at Faneuil Hall and just kind of walk through and there's ice cream and everything and it's super casual. Being out on the Greenway with the food trucks and things like that is always fun. If the Sox are playing go to the Sox game. Go to a Bruins game. Go to a Celtics game. Take in that nightlife, or even the theater. We have a great theater district. Whatever you want to do, you can do here. That's what I find most amazing about this city, because the options are really endless.
Nisreene Atassi: I was actually only in Boston for 24 hours and we did the Freedom Trail, so got to see historic American sites. I was actually staying in the North End, so I had some delicious Italian food, which was really, really nice. I'm a big fan of the Freedom Trail because I think it just gives you a really nice snapshot of American history, and the fact that you can sort of walk all over the city in two and a half miles is totally doable. And you can make pit stops. You can sit, you can grab a bite to eat. It's definitely a favorite of mine. All right. Your turn, Kate, in the hot seat. What would you tell someone who was only in Boston for 24 hours?
Kate Weiser: It's not easy. I wish they had 48 hours, but I would start them with my favorite avocado toast at Black Sheep Bagel in Harvard Square, and walk around Harvard Square and Harvard Yard and get the whole Harvard experience. And from there I would grab a Bluebike and hit the Esplanade and ride around the river. And on Sundays, the Esplanade and Memorial Drive, the highway, close down to cars so it's totally open for bikers and walkers. And you've got this amazing experience of just having the whole road spanning out in front of you and the river on your side. So I would bike over to downtown Boston and I would go over the Longfellow Bridge then, and have that amazing view of the skyline. And then walk through the different brownstones and the hills and seeing all of those beautiful homes.
I would stop at Tatte for a latte and walk with that down Charles Street, through the Common, through the Public Garden. Hop on one of those swan boats, enjoy the pond, maybe rest your legs for a little bit after all the activity. Continue on to Newbury Street, maybe just window shop. And I would stop for lunch at Trident Booksellers and Cafe, which is one of my all- time favorites. It's an incredible bookstore, but it's also an eatery and it has really delicious comfort food and healthy lunches and dinners. The best part of Trident is that because it's so popular, there's always a wait, which means you have ample time to get lost in the shelves of books while you're waiting to be seated.
Nisreene Atassi: Great tip. That's a great tip.
Kate Weiser: So I love that whole experience. And then from there I would probably head down Commonwealth Avenue, which is the main drag, and see more of these amazing brownstones. And oh boy, 24 hours, finish the night with Krasi dinner and some patio dining al fresco with wine in hand and enjoying the incredible ambiance that is Boston.
Nisreene Atassi: Amazing. What a day. Love it. We've got two of some of the best people on the show, I got to say. What a great combination between the two of you. Well, thank you so much for coming on the show today, Kate. It has been an absolute pleasure to hear your take on Boston.
Kate Weiser: Thank you so much for having me, Nissy. It's a pleasure to be here.
Nisreene Atassi: Kate Weiser inspires people across the world to visit Boston with her Instagram photos on Bucket List Boston. So be sure to head over and give her a follow, and tell her that Out Travel the System sent you. I am very, very hungry now. This episode has made me very excited to come to Boston and to come to Alma Nove and Wahlburgers. And thank you to Paul for also hanging out with us on Out Travel the System.
Paul Wahlberg: Oh, absolutely my pleasure. Having the pride that we all do, people love being from Boston.
Nisreene Atassi: Paul Wahlberg is the chef at Wahlburgers as well as Alma Nove. I'm Nisreene Atassi and this is Out Travel the System, brought to you by Expedia. From a city full of history and chowder, we go next to a land where a dream is a wish that your heart makes.
Courtney Quinn: I'm Courtney Quinn, the creator behind Color Me Courtney and Color Me Magic. Come join us on the next episode of Out Travel the System as I give you all of my tips and tricks for how to plan the perfect Disney trip. See you there.
Nisreene Atassi: Until then, happy travels.
Out Travel the System is brought to you by Expedia. Our show runner and executive producer is Claudia Kwan. Our associate producer is Katie Doten, with sound engineering from Jill Constantine. Additional production support is provided by JAR Audio.
Show links: Expedia // Paul's links: Alma Nove and Wahlburgers // Kate's ink: Bucket List Boston // Places to visit: the Isabella Stewart Gardner museum/ –Boston Common (and the swan boats) / Fenway Park / the New England Aquarium/ Boston Museum of Fine Arts / Boston Children's Museum / Museum of Science, Boston// Places to eat:  Toro / Bricco / Limoncello / Legal Seafoods / Union Oyster House / Sully's / Regina's / Chinatown / Krasi / How to get around: Blue Bikes / Boston transit // Expedia Social Media: Instagram, Twitter, and Facebook
[archivist template="Category" category="podcast" pagination="3″ controls="false"]
Listen to more travel podcast episodes
[/full-width-paragraph]