By Kohleun Adamson, on January 24, 2020
Top Date Ideas in St. Louis
Top Date Ideas in St. Louis
Planning the perfect romantic trip in St. Louis
City lights shining on the Mississippi, gorgeous architecture, lush parks, and let's not forget those expressive Midwestern skyscapes: St. Louis is a dream setting for romances old and new alike.
The wealth of things to do in St. Louis means you and your special someone won't run out of opportunities to spend quality time together, but what if you're feeling overwhelmed with options? Don't fret! This guide to cool date ideas in St. Louis will bring you and your sweetheart closer, whether you're on date 1 or date 1,000. Book that St. Louis vacation package and read on to pick out some fun dates in St. Louis.
Where to go on a first date in St. Louis?
Figuring out where to go on a first date is tricky, right? Not anymore! Date night in St. Louis can be fun and flirty—not awkward and stressful—when you set the right mood in a fun environment. Up your chances of getting a second date with one of these great choices:
A first date over drinks is classic, but it can also be a little…expected. Enter Parlor, a super-cool arcade bar in St. Louis, where you can level up your gaming skills and your love life. A little friendly competition is a great way to get to know a new person, so take advantage of Parlor's 14 arcade games, five pinball machines, and five Skee-Ball lanes. Share a plate of fries, sip some beer, and see if all the points you score help you score a second date.
What is your idea of a perfect date? Is it one of the obvious options, or is it something a little…edgier? If you're seeking some weird places in St. Louis to connect with a partner who's as fun and quirky as you, look no further than an axe-throwing St. Louis activity. Top Notch Axe Throwing costs $35 per person for a 90-minute session, which includes a quick safety and training orientation. You and your date can enjoy conversation while engaging in battle—er, a battle of skill, that is. If you're feeling extra brave, bring your own bottle—it's allowed!—and celebrate your efforts with a toast. After all, even if you lose the axe-throwing competition, you'll have won an unforgettable date night.
Fresh, funny, surprising, and satisfying: Yes, those are words that describe an ideal date night in St. Louis, but they also apply to The Improv Shop, a comedy venue with a full kitchen and bar. A comedy club in St. Louis that lets you and your date share a good meal, a well-crafted cocktail, and a night of unrepeatable improv comedy? This might become a date night regular for you two.
What are good date ideas in St. Louis that don't require a reservation?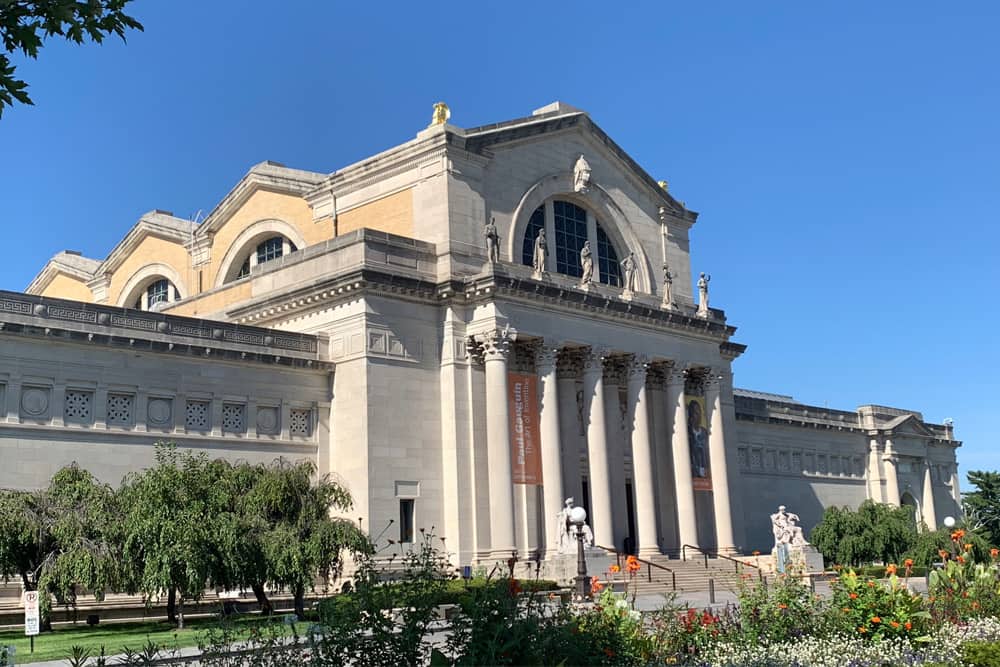 Planning ahead is good, but a spontaneous romantic adventure is a great way to keep the flame burning. So where to go on a date if you haven't scheduled anything? You don't need to worry about the details when there are fun date ideas ready for walk-ins:
It just might be one of the best casual date ideas in St. Louis, and no appointments are needed to enjoy the 5,000 years of history within Saint Louis Art Museum's walls. The permanent collection is expansive, and a series of changing exhibitions means you can keep coming back without getting bored. Plus, the price is unbeatable: There's no admission fee, making Saint Louis Art Museum one of the most enjoyable free things to do in St. Louis. (Just remember, the museum is closed Mondays, so be sure to factor that into your plans.)
See the spectacular Mississippi River from a completely original vantage point: The Chain of Rocks Bridge, which features a 30-degree turn in the middle. If you and your honey are up for a walk, stroll across this bridge, which was originally built for motorists on Route 66 but is now used solely for foot and bicycle traffic. Chain of Rocks Bridge is about a mile long, and it connects Missouri and Illinois. It's free, it's scenic, and it's one of the most fun things to do in St. Louis—with no reservation needed.
If you think you know share plates, craft cocktails, or vibey lounges, think again. Sanctuaria is a tapas bar with a dark, quirky interior perfect for deep conversation. Tapas are meant to be shared, so they're romantic by nature. Sanctuaria's 150 cocktails are fresh and inventive. And if you don't want to huddle close together in the dim interior, you can check out the gazebo and patio. Best of all, in addition to the Tuesday – Thursday happy hour from 5 to 7 p.m., there's a late-night happy hour on Friday and Saturday from 11 p.m. to 2 a.m., so your midnight cravings needn't go unsatisfied.
What are good date night ideas for a special occasion in St. Louis?
Sometimes a normal date night just won't do. Where can couples go on a date when it's time to celebrate? Try some of these places and create some extraordinary moments:
Couples cooking classes in St. Louis are a delicious way to impress your partner and yourself in equal measure. A cooking class is an out-of-the-ordinary activity that lets you spice things up in more ways than one, and you'll go home with not just a full belly but a new skill. Some of the best cooking classes in St. Louis are found at Cozymeal, where classes in everything from pie-making to gourmet soul food are on offer. Check their schedule for the time and taste that's best for your date night.
St. Louis is home to many impressive parks full of lovely foliage, and any of them would be a good setting for a romantic stroll. But Citygarden might be the most original and visually pleasing of all the city's parks. Part recreation space, part sculpture garden, and filled with eye-catching landscaping, Citygarden is a stunning backdrop for a walk, a lounge, or even a drop to one knee. Plus, its striking scenery looks great in photos…so was there a special question you needed to ask your sweetheart? (Word to the wise: There are lots of gorgeous hotel rooms in St. Louis near the park, in case you want to round out your romantic experience with an overnight stay.)
Brick walls, ornate mirrors, and first-class fine food: Isn't it romantic? Sidney Street Cafe serves beautifully plated and flavorful meals in a rustically lovely dining room. And despite the sumptuous feast for the senses offered at this classic fancy restaurant, all entrees clock in at under $40 apiece. Go ahead and split that gourmet brownie with your sweetheart after dinner.
Whether you love art, wine, or comedy, St. Louis is full of date ideas for couples. Make this romantic trip one you two will never forget.
Header image: Via f11photo/Shutterstock.com