By Expedia Team, on December 19, 2017
11 Reasons why Denver does winter best
There are a lot of cities out there that are known for offering great winter experiences, but then there's Denver. In a league of its own, the Colorado city rule in winter, as it offers the textbook definition of what the perfect cold-weather escape should offer. Okay, maybe there's no textbook definition to speak of, but if there were, a whimsical photo of Denver, surrounded by the snowy Rockies, would appear next to the entry.
Whether your concept of the ultimate winter retreat includes feeling giddy when you see snow in the forecast and always having your ski gear on hand, or snuggling up next to a fireplace and rooting for an Avalanche victory, Denver is the place to ride out those frosty months. This city really knows how to do winter best, as it features all kinds of chilly weather attractions that will have you actually wanting to lace up your snow boots and step outside into the magical winter wonderland. From its snow-packed forecasts and nearby ski slopes to cozy restaurants and holiday cheer, these are just 11 of the many reasons why Denver rocks at wintertime.
1. Snow, snow, and more snow
On average, 64 inches of snow flutters down on Denver every winter.* Just imagine how many snowmen you could build with that kind of powder! And because the snowfall can start as early as October and continue as late as April and May, you have countless opportunities to appreciate the snowflakes.
From 27 stories in the sky, with a blackberry-lemon gin and tonic in hand, score a window seat at Peaks Lounge and admire the flurries over the cityscape and Rocky Mountains in the distance. Or get into the thick of the frozen action with an impromptu snowball fight at Inspiration Point Park. One winter spent in Denver, and you'll soon know all the snow-willing tactics, from wearing inside out and backward PJs to flushing ice cubes down the toilet!
2. Plenty of places to hunker down inside
The weather outside might be frightful or frightfully good, depending on your penchant for snowstorms, but there's always a cozy spot indoors waiting for you in Denver.
This wintery city knows that sometimes all it takes is a crackling fireplace and strong cocktail to warm you right up, and there is no shortage of Denver places that offer just that. At Bull & Bush Brewery, the never-ending whiskey list and red leather seats at the fireside are more than enough to keep you toasty as you weather the storm. Meanwhile, you may just break a sweat on the bocce ball court at Rhein Haus, where you can play ball—or just order a Nutcracker Ale and huddle up by the roaring fireplace.
3. Six ski slopes within a 1.5-hour drive
Pick your poison! Free cat skiing at Loveland Ski Area or super-high elevation at Arapahoe Basin? Cheaper ski passes at Echo Mountain or the village vibes at Keystone Ski Resort? Add Eldora Mountain and Winter Park Resort into the mix, and you'll soon realize it's all about options and preferences in this part of town.
Not only does Denver have six nearby ski slopes, but it also has its very own urban terrain park, Ruby Hill Rail Yard. Denverites looking to shred and grind in their own backyard head to the local park where there are a number of rails and boxes.
4. Train rides instead of traffic
As soon as there's even a slight chance of snow in the forecast, Denverites start gearing up for a trek to the nearest black diamond trails. Of course, everyone has the same thought, so I-70 becomes notorious for its bumper-to-bumper traffic.
Because there's nothing more nerve-wracking than sitting at a standstill when you could be carving fresh powder, Denver opened the Winter Park Express, a double-decker Amtrak Superline that runs from Denver Union Station to Winter Park Resort. The trip to the lifts becomes an adventure, as the train winds its ways through 31 tunnels, around the Rockies and past snow-covered plains—now that is what we call arriving to the slopes in style.
5. Free figure eights
What's winter without ice skating? A very sad season indeed. But don't worry, every winter, Skyline Park hosts ice skating sessions at Downtown Denver Rink. It's free for those with their own skates, but if you don't have a pair of your own, the rink only charges a small fee for rentals. The icy rink even offers free skating lessons, so by the end of the season, you'll be well on your way to mastering that triple axel—or at least successfully gliding without taking a tumble.
6. Colorado Avalanche rules the ice
In Denver, winter is synonymous with hockey season. And as the only active NHL team to win all of its Stanley Cup appearances, the Colorado Avalanche is the kind of team you don't want to bet against.
Having its own ice hockey team only further adds to the fact that Denver is the best at wintertime. Every home game, the locals storm Ball Arena in support of the pro team. In fact, Avalanche pride is so strong, the team holds the title for having the longest streak of consecutive sold-out home games of any NHL team. Go Avs!
7. Endless opportunities to sample Denver's finest fare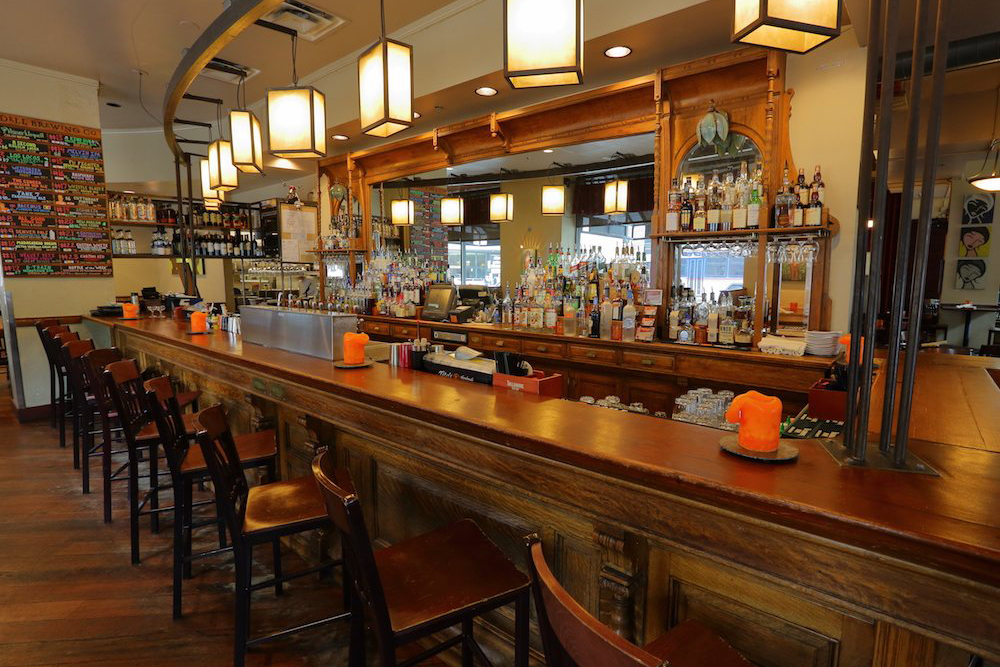 Of course, you can chow down anytime you want in this city, but each winter, Denver Restaurant Week serves up the best of the best. Local eateries show off their skills in the kitchen, as their special multi-course menus invite you to graze their most valued recipes, from starters to desserts.
Held annually in February, hundreds of Denver restaurants all around, from Uptown and Highlands to Cherry Creek and Golden Triangle, will go above and beyond to dazzle your taste buds. For 10 glorious days, the  event will have you drooling over local ingredients and maybe even loosening your belt buckle, proving Denver's place at the table in the foodie scene.
8. Cold brews on a winter's day
If you think drinking ice-cold beer is only good for summertime, you probably haven't tasted Colorado's local brews—they're so delicious, you don't care what the temperatures are like outside!
Denver knows what's good, and that's why it doesn't make you wait until summer to knock back some of Colorado's finest. In January, the city hosts the Denver Winter Brew Fest. Whether your heart goes for hoppy or your palate is all about the pales, you'll be teetering toward a tipsy state of bliss at this fermented festival. The event includes local vendors and live music.
9. The hills were made for sledding
In Denver in winter, it doesn't matter how old you are: if there's a hill in sight, you better have your snow saucer handy. Playing outside and sledding on snow days isn't just for kids—everyone gets a kick out of shooting down some snow-packed mole hills.
At the first sign of snowflakes, kids and adults alike grab their snow tubes and toboggans and head for the hills, that is, Ruby Hill Park, Robinson Park, and Wallace Park. Denver even has its own Sledding Hill Park, so you know it's official.
10. The holidays are absolutely magical
When it comes to the holidays, Denver really knows how to deck the halls. Whether getting into the holiday spirit means sipping mulled wine while browsing a Christmas market or listening to carolers serenade on the town square, Denver brings it all—even the mistletoe and garland.
There are so many Denver winter activities that revolve around the holidays. The Denver Christkindlmarket at Skyline Park celebrates German Christmas traditions, complete with hand-carved gifts for sale and Gluehwein (hot spiced wine), while Santa's Flight Academy at Cherry Creek Shopping Center invites your kids aboard a magical sleigh ride. Jolly Ol' Saint Nick makes a star appearance on Larimer Square, sugar plum fairies dazzle on the stage at the Colorado Ballet's "The Nutcracker" performance, and 300 tuba players play your favorite holiday tunes at the annual TubaChristmas. All that, plus a ride on Denver Pavilions' Holiday Carousel, and you'll be wishing winter didn't come but once a year in Denver.
11. Strong commitment to social justice
Not all of the best Denver winter events revolve around the weather or the holidays. In fact, one of the most powerful and memorable occasions in Denver is when the city hosts its annual Martin Luther King Jr. celebration each January. Called the Marade, the gathering is even bigger than the one in Washington D.C., as it welcomes thousands to march from the MLK memorial site in City Park to downtown in commemoration of Dr. King. Celebrating strides in social justice, it's also a reminder of the progress that still needs to happen in our society.
*According to Sperling's Best Places Denver Climate Overview
What are other reasons that make Denver one of the best winter vacation destinations?