By Expedia, on January 7, 2020
Best College Towns to Spend Winter Break In
Winter break may not get as much attention as spring break, but there are plenty of great ways to enjoy a fun trip during the winter season. If you're looking for something to do during your winter break, take a look at the best college towns to spend winter break in for inspiration for your next trip.
Incline Village, Nevada
Incline Village, Nevada, is one of the top places for skiing and snowboarding. Home to Sierra Nevada College, Incline Village is near Lake Tahoe and its numerous ski resorts for everything from downhill skiing to snow tubing. Being close to the Lake Tahoe region also provides opportunities for winter hiking and mountain biking, rock climbing, ice climbing, ice fishing, and more, perfect for a winter enthusiast. Incline Village is also home to many charming restaurants, bars, and shops for sightseeing and fun off the slopes.
Bozeman, Montana
Home to Montana State University, Bozeman is an excellent destination for winter sports. The resorts and mountain ranges in the area offer downhill skiing, Nordic skiing, backcountry skiing, snowboarding, ice climbing, ice fishing, tubing, and more. In addition to the world-class ski resorts, Bozeman has one of the best ice climbing regions in the whole country. Bozeman is also within a short drive of Yosemite National Park, which has numerous winter hiking trails and biking trails, as well as unique wildlife that's more active during the winter months.
Hanover, New Hampshire
Hanover, New Hampshire, is a great destination for winter sports like skiing and snowboarding, but it's also home to many winter festivals and events. Home to the prestigious Dartmouth College, Hanover hosts one of the oldest collegiate winter festivals, the Winter Carnival at Dartmouth. The celebration is all about winter sports and outdoor activities and hosts plenty of winter events, such as ski competitions, snow sculpture contests, and a human dogsled race for fun and memorable experiences during winter break.
Beaufort, North Carolina
Located near the Outer Banks, Beaufort, North Carolina, is one of the best cities for a winter break. The city is home to the North Carolina State University Center for Marine Sciences and Technology. During the holiday season, the city offers several Christmas events, such as the Crystal Coast Christmas Flotilla, an event that features boats decorated with lights and ornaments in a water parade. You'll also find holiday artworks, tours of historic candlelit homes, and model train shows, perfect for a holiday-themed break.
Salt Lake City, Utah
Known for its snowfall and world-class skiing, Salt Lake City, Utah, is one of the best cities for a winter break. The entire state has many impressive mountain resorts, but Salt Lake City arguably boasts the best with its 14,000 acres of ski terrain. The resorts are close to the University of Utah and offer skiing, snowboarding, snow tubing, and other fun winter sports. You can find plenty of other fun things to do in Salt Lake City, such as visiting places like the Clark Planetarium or the Natural History Museum of Utah.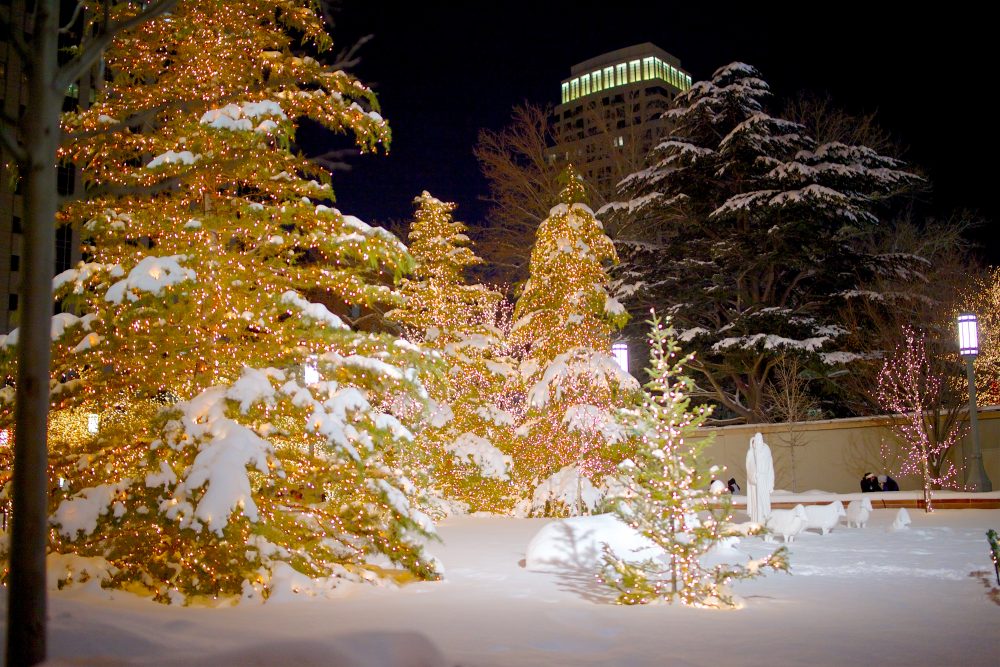 Andalusia, Alabama
The small, college town of Andalusia, Alabama, is one of the best places for a Christmas-themed break. It offers an array of holiday events, such as Christmas in Candyland. During this event, you can enjoy train rides, games, snow tubing in the downtown area, and more. The whole town is decorated in festive lights, ornaments, and garland that give it an enchanted feel, all thanks to the volunteer work from athletes at the town's Lurleen B. Wallace Community College.
Annapolis, Maryland
Annapolis, Maryland, is one of the best cities for winter break. The historic city comes alive during the holiday season and celebrates Christmas at the City Dock, which is transformed by lights, evergreen trees, and colorful decorations. During the event, you can enjoy walking tours of the historic, cobblestone streets by candlelight. You might also enjoy the Eastport Yacht Club Lights Parade, a fantastic seasonal event that features stunning yachts traveling through the waterways near Eastport and the United States Naval Academy seawall.
Boulder, Colorado
If skiing and snowboarding are on your agenda, Boulder is one of the best cities for a winter break. It features a range of top-notch ski resorts, such as Vail and Winter Park. Eldora Mountain Resort is also close to the University of Colorado – Boulder campus, which features 53 trails to downhill skiing and snowboarding. When you're not on the slopes, Boulder also has plenty of restaurants, cafes, boutiques, and art galleries to explore near the campus, as well as excellent opportunities for winter hiking.
Plan your trip with Expedia
With so many ideas for your winter break, it's time to start planning your trip. Visit Expedia to check out options for Salt Lake City vacations or Bozeman vacations and get ready for a memorable winter season!