By Erica Bray, on August 11, 2022
8 of the Best Ghost Tours in America's Spookiest Cities
If a spine-tingling adrenaline rush is enough to inspire your next trip, consider building an entire itinerary around a ghost tour in one of America's most haunted cities. Each destination below is renowned for its ghost legends and eerie settings where unexplained activity has spooked even the most skeptical visitors. Joining a nighttime walking tour with a skilled storyteller/ghost hunter who can recount these stories is not only good for a scare, but it will peel back layers in a destination's history that most other tours might omit. (Hey, not every traveler is as brave as you!) So pack your EMF detector, a favorite piece of amateur ghost-hunting equipment, and get ready for the goosebumps: We've pulled the top-ranked guided ghost tours bookable on Expedia for each city.*
Savannah, GA
Savannah is considered by many to be America's most haunted city, perhaps due in part to the many tragedies that mar its long history, from bloody battles and savage slavery to deadly fires and epidemics. So it's no surprise that it's home to some wildly popular, high-quality ghost tours. Savannah Supernatural Haunted Walking Tour is a traveler favorite and tour guide Jodie is an absolute pro. An energetic and masterful storyteller, he combines spooky ghost stories with fascinating local history. No wonder this tour was voted Connect Savannah's Best Local Tour and Best Walking Tour in 2021 and 2022!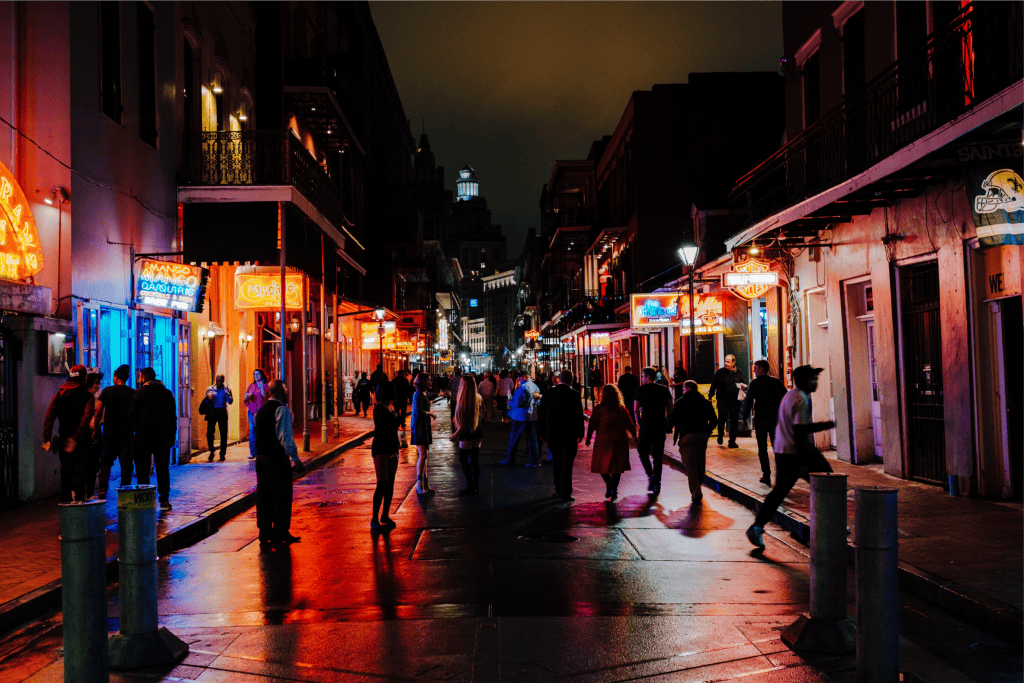 New Orleans, LA
Spooky specters aren't the only spirits New Orleans is famous for, so why not enjoy both with a Haunted Pub Crawl of New Orleans French Quarter? Sip a cocktail (or two) while your expert local guide excites your imagination with creepy tales of history, hauntings and horror. With a focus on fun, you'll visit some of the Big Easy's very best haunted bars. Just make sure you leave the kids at home, because this tour is strictly 21 and over.
Salem, MA
Anyone who's watched The Crucible will know about witch-trial town Salem's dark and sinister past. The Salem Voodoo, Vampires and Ghosts Guided Walking Tour takes you through some of the town's most storied and haunted sites, including those affiliated with the 1692 trials. An officially licensed public guide and paranormal investigator leads this nighttime tour.
St. Augustine, FL
War, sickness, and death: our nation's oldest city has experienced its fair share of these since its founding in 1585, so it's no wonder that is considered one of the most haunted places in the United States. The Walking Ghost Tour of St. Augustine will take you to settings where paranormal activity is reportedly seen and felt to this very day: the St. Augustine Lighthouse, the Old Jail, the Huguenot Cemetery, and Castillo de San Marcos, a 350-year-old fort with reports of paranormal activity, including sightings of Spanish soldiers patrolling the grounds.
San Antonio, TX
On this tour, you'll glide past some of San Antonio's most haunted locations aboard a Segway. The San Antonio Ghost Segway Tour is a two-hour guided adventure that winds past the Spanish Governor's Palace Hanging Trees, an old burial ground near the Alamo, and locations from the Old West, including the sites of famous gun fights and battles. Expect to hear stories about The Donkey Lady, La Llorona and, of course, the spirits of Alamo defenders.
Chicago, IL
The Gangsters and Ghosts Tour in Chicago brings to life the city's dark and deadly past. This two-hour guided walking tour explores the history and hauntings of "The Loop," Chicago's downtown business core which, in the 1920s and '30s, was better known as the vice district. Visit haunted locations and old crime scenes where gangsters like Al Capone once loomed large—and, according to witnesses, some gangster-era specters still linger.
Charleston, SC
Haunted places, creepy history, and forgotten folklore: you'll get all these if you join the bi-weekly Charleston's Pleasing Terrors Night-Time Walking Ghost Tour. Your guide: an acclaimed ghost storyteller who was born and raised in Charleston, and has spent more than 20 years researching the ghostly sightings and associated history. Learn about the "Blood Book" at one of the city's creepiest libraries; the haunted "Bloody Alley" (a site associated with many duels and tragic deaths); and much more.
New York, NY
Greenwich Village is purportedly one of the most haunted neighborhoods in New York City. Case in point: It's home to a building called "The House of Death." The New York City Ghost Tour of Greenwich Village will take you there, plus other creepy locations, including a Lenape burial ground and a bevy of other haunted buildings (such as a library, a theater, and a restaurant) where ghosts are said to still spook guests.
*The tour selected for each city needed at least 10 reviews and be the highest-scored option among the ghost tours offered. If two or more tours had the same high score, we featured the tour with the most reviews.