By Expedia Team, on September 25, 2020
10 national parks to visit in the fall
National parks are some of the best places to see fall colors in the US. Cooler temperatures mean fewer crowds, and you might even glimpse bears bulking up for winter or songbirds migrating south. Between scenic drives and hiking trails, these are the best national parks to visit this fall.
1. Shenandoah National Park, Virginia
Rolling hills of crimson, orange, and yellow along with fresh mountain air and the chance to spot black bear, deer, and wild turkey make Shenandoah one of the best national parks to visit in the fall. Cruise Skyline Drive and stretch your legs along the famous Appalachian Trail for some amazing autumn hues.
Fall colors tend to peak in Shenandoah National Park in October, which also makes it a popular time of year to visit. Be sure to reserve your campsite in advance if you want to stay in the park or in a nearby hotel or vacation rental. Weekdays are best to evade traffic and crowds.
From Shenandoah National Park, continue your leaf-peeping journey with a stunning scenic drive draped in fiery colors along the Blue Ridge Parkway to Great Smoky Mountains National Park.
2. Great Smoky Mountains National Park, Tennessee and North Carolina
The brilliant hues of scarlet oaks, red maples, hickories, sweetgum, and dozens of other deciduous trees welcome you to fall in Great Smoky Mountains National Park. The leaves start changing color at the end of September and really pop throughout October and into November. Check out the Smoky Mountains fall foliage prediction map to plan your trip for peak leaf-peeping.
Drive along Clingmans Dome Road, Foothills Parkway, and Blue Ridge Parkway for spectacular views and be sure to explore some trails along the way. Get an insider's experience by taking a guided jeep tour to some of the best lookout points in the park and learn about the wilderness from a local expert. Great Smoky Mountains is the most visited national park in the United States, so be sure to book any reservations well in advance.
3. Grand Teton National Park, Wyoming
The golden leaves of aspens blaze among the pines before the majestic backdrop of towering mountain peaks. A crisp breeze sends leaves tumbling through the air as an elk bugles in the distance.
Fall is one of the best times to visit Grand Teton National Park, especially for wildlife viewing. Pronghorn and bison form large herds as they migrate to their wintering grounds. If you're lucky, you might even see two moose clash antlers during the rut—from a safe distance, of course. On a private Grand Teton National Park photography tour, a naturalist guide can take you to some of the best places to photograph wildlife in the park.
4. Cuyahoga Valley National Park, Ohio
While Cuyahoga Valley might lack the grand vistas of other US national parks, its painted display of fall colors and quiet trails make it one of the best national parks to visit this fall. Plus, it's located just a short drive from both Cleveland and Akron. Walk along tranquil trails to see the cascading waters of Blue Hen Falls and Brandywine Falls. Make sure to take a photo at the park's iconic covered bridge. You can even explore the park by train with a ride on the Cuyahoga Valley Scenic Railroad.
5. Acadia National Park, Maine
September is one of the best times to visit Acadia National Park, especially if you want to avoid the tourist crowds and biting bugs of summer. After Labor Day, cooler temperatures make for perfect hiking weather as you trek along the rugged Atlantic coastline. Additionally, Acadia National Park hosts an annual Night Sky Festival in September to take advantage of the park's pristine stargazing.
Visitor numbers pick up again in October as Acadia National Park bursts into fall colors. After some leaf-peeping, head to the quaint costal city of Bar Harbor to partake in local cuisine, like a warm bowl of chowder. However, in November, most of Bar Harbor's inns, restaurants, and art galleries close up as residents prepare for winter.
6. Guadalupe Mountains National Park, Texas
Within the arid Chihuahuan Desert, you can find a slice of autumn brilliance hidden in Guadalupe Mountains National Park. A perennial stream gurgles through McKittrick Canyon giving life to a forest of deciduous trees, including big-toothed maples, oaks, and choke cherries. Burgundy leaves drift down upon prickly pear cactus and agave plants from the end of October to the beginning of November.
According to the National Park Service, the best places to see fall colors in the Guadalupe Mountains are McKittrick Canyon, the Pine Springs area, and Dog Canyon. Geology geeks who are up for a strenuous hike should check out the Permian Reef Trail to see fossils of the ancient coral reef that created these mountains.
7. Glacier National Park, Montana
The bright yellow leaves of aspens signal the start of autumn in Glacier National Park. The summer crowds thin when the colors start to change in mid-September. By the time the larch, a deciduous conifer, turns golden in mid-October, you might feel as if you have whole parts of the park to yourself.
Bike or drive along the Going-to-the-Sun Road for breathtaking views of glacier-cut mountains, glassy lakes, and roadside waterfalls. Take binoculars to enjoy wildlife from a safe distance, such as big horn sheep, mountain goats, and grizzly bears. In September, it's still warm enough for white water rafting or a rock climbing excursion.
8. Mammoth Cave National Park, Kentucky
While Mammoth Cave National Park offers underground wonders year-round, the forested land above makes for an especially beautiful visit in autumn. Schedule a morning cave tour for smaller crowds and spend your afternoon crunching orange leaves while hiking along the park's trails. Rangers offer a variety of cave tours ranging from moderate to strenuous, including the Frozen Niagara Tour, Historic Tour, and the Introduction to Caving Tour. Temperatures in the world's longest known cave system hover around 54 degrees all year, so be sure to pack a jacket.
9. Zion National Park, Utah
Forget about the overflowing parking lots and sweltering desert temps of summer. For a peaceful escape into nature, visit Zion National Park in October and November. Brilliant blue sky enhances the crimson and ivory sandstone cliffs, which get a zing of yellow from cottonwoods in the fall. Experience the views from the family-friendly Canyon Overlook Trail or from the narrow ledge of the strenuous Angel's Landing Trail.
The convenient Zion Canyon Shuttle picks up from the nearby town of Springdale and loops from the visitor's center to various trail heads in the park. You can also reach Zion National Park on an all-day tour from Las Vegas.
10. Congaree National Park, South Carolina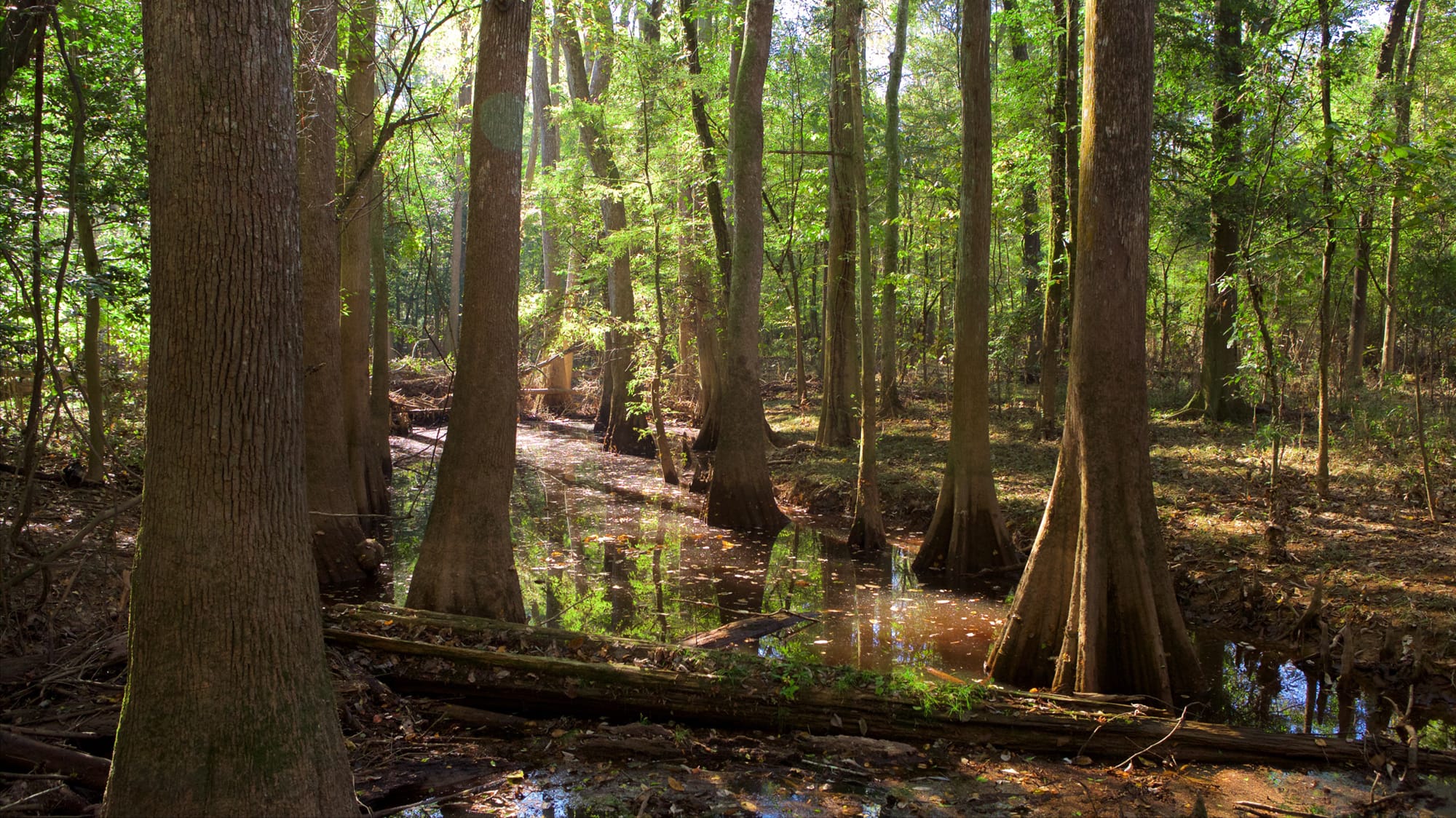 The black waters of Cedar Creek mirror the rusty orange and saffron hues of trees still holding their autumn leaves. The reflected scene ripples as you paddle a canoe through the old-growth hardwood forest. Arguably, this is one of the best ways to experience Congaree National Park in the fall.
You can also explore the tallest deciduous forest in the US on foot thanks to a variety of hiking trails and boardwalks. During your visit, you might spot river otters swimming, deer grazing, or turtles basking on logs. Experience peak fall colors from the end of October to early November in Congaree National Park.
With COVID-19, it's important to stay safe and practice social distancing. We hope you find this content entertaining, inspiring, or useful for a future trip. Always research official websites for up-to-date information on closures and new health and safety policies as businesses and destinations reopen.
What is your favorite national park to visit in the fall?