By Expedia, on February 11, 2019
How to spend a weekend in Las Vegas Off the Strip
There are so many things to do in Las Vegas if you want to spend a weekend off the main streets. Many activities are located away from the hustle and bustle. Here's a guide to fitting in all the fun when spending a weekend in Las Vegas off the strip.
Friday Evening
What's the best way to start your Friday in Vegas? With dinner, of course. One of the best places to eat off the strip is Flock and Fowl. Sample the amazing chicken sandwich or choose one of the many other savory dishes on the menu.
The perfect home base for your weekend off the strip is the Artisan boutique hotel, where unique is the theme. Think customized rooms, funky artwork, and a contemporary, cool vibe.
If you are traveling with kids, you might prefer the family-friendly digs at El Cortez in downtown Las Vegas, where there are spacious rooms, dining options, and on-site gambling for the adults.
Once you have unloaded your baggage, changed your clothes and gotten ready for the night, go for a stroll down iconic Fremont Street in downtown Las Vegas. You've got your choice of casinos and clubs to visit all night long.
Saturday Morning
Hope you slept well last night because you're about to tackle your first full day of touring and entertainment. The clock is ticking on your 48 hours in Las Vegas, so get going!
Jumpstart your day with coffee and a light breakfast at PublicUs, a canteen-style cafe, where unpretentious decor lets the patrons focus on the incredible flavor of the drinks and the laidback atmosphere of this highly acclaimed coffeehouse.
Head over to the Las Vegas Arts District to browse clothing boutiques like Retro Vegas, where you can enjoy all things vintage, from furniture to records and everything in between. Don't forget to check in at the Art Factory, a repurposed warehouse where you can linger and view some pieces from up-and-coming artists.
Pop into Makers and Finders after a busy morning for some authentic Latin cuisine. Or, if Italian fare is more your flavor, check out Esther's Kitchen.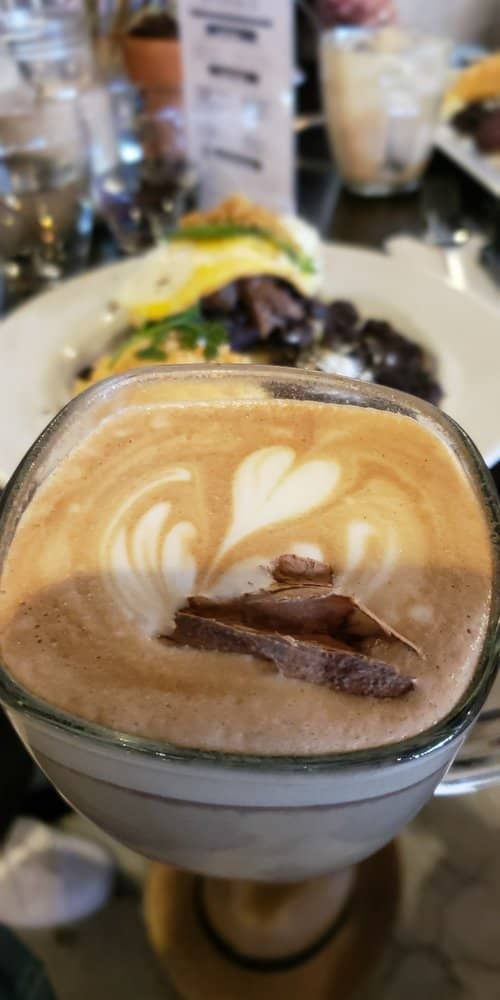 Saturday Evening
While the streets never sleep in this town, the energy spikes on Saturday night. Tonight is going to stand out when you remember your 48 hours in Las Vegas.
Start your next leg of adventure off the strip with a hike to the famous Red Rock Canyon. There are a number of trails to trek, depending on your skill and comfort level, all of which promise fantastic scenery.
No doubt you've worked up an appetite after wandering among the sandstone cliffs and caverns, so sit down and unwind at Fat Choy. Not only can you expect a tantalizing Asian fusion experience, but this place has atmosphere too, housed in a renovated historical casino. Sit down with your crew and order the fried rice, pork belly sliders, or a delicious pub burger, all of which are highly recommended and great for sharing.
As the sun sets on your Saturday evening, you should head to the Bunkhouse Saloon downtown and party until the wee hours with live music, specialty cocktails, and signature drinks.
Sunday Morning
Hello, sunshine! You've only got 24 hours in Las Vegas left, so it's time to seize the day.
Begin your Sunday morning with artisan coffee at The Beat, where you can sip your breakfast beverages and check out records. This cool coffee shop promotes a beatnik vibe, with music, poetry, comedy, and indie movie screenings.
Next stop is the Mob Museum. You can learn incredible stories about how organized crime played a role in the foundation of Las Vegas. Hear the tales of infamous mobsters and the law enforcement teams who chased them.
For your final lunch in Las Vegas, consider the casual urban eatery Carson Kitchen. You won't be disappointed if you order the Gyro Tacos or Bacon Jam with baked brie. Yum!
Sunday Evening
As your weekend comes to a close on Sunday night, don't take your foot off the pedal. There is still much to experience!
For example, have you ever driven a sports car? Visit Exotic Racing and drive a Lamborghini, Ferrari, or Aston Martin on a full race track. Now that's something you'll never forget.
Las Vegas is known for its donuts, and the best ones can be found at Pinkbox. Pick up some pastries for a late night snack, and see what the buzz is all about.
While you are digging into your donuts, visit Container Park. It's a remarkable public park, completely constructed from old shipping containers.
End your weekend the right way—with an award-winning feast. Visit Black Sheep, and try acclaimed dishes like Salmon Skin Tacos and other sumptuous samples.
If you can imagine it, you can do it in a weekend in Vegas. Check out current deals to see what's possible.