By Expedia, on October 16, 2018
6 of the most amazing hotels never built


[full-width-paragraph]
6 of the Most Amazing Hotels Never Built
It only takes a pen, paper, and an innovative mind to create remarkable architecture. Bringing these to life as buildings you can visit, however, takes a lot more money and work.
While some architects have constructed some of the most ambitious hotels the world has ever seen, others were only left with a drawing. It will never be possible to check in to these unbuilt hotels, but the fact that they remain on paper means their incredible ideas have never been forgotten.
We decided to bring the most amazing imaginary hotels to life with a series of new renderings that show just what could have looked like.
[/full-width-paragraph]
---
[full-width-paragraph]
1. Full Moon Hotel
Baku, Azerbaijan
Work on the Full Moon Hotel has quietly come to a stop, so that Azerbaijan's own 'Death Star' (as it has been nicknamed) will not be blasting rogue planets out of existence any time soon. The Full Moon would have resembled Darth Vader's planet-sized military complex from one angle, and London's Gherkin from another, but space cadets and luxury hotel seekers will have to put their fantasies on hold for the time being.
[/full-width-paragraph]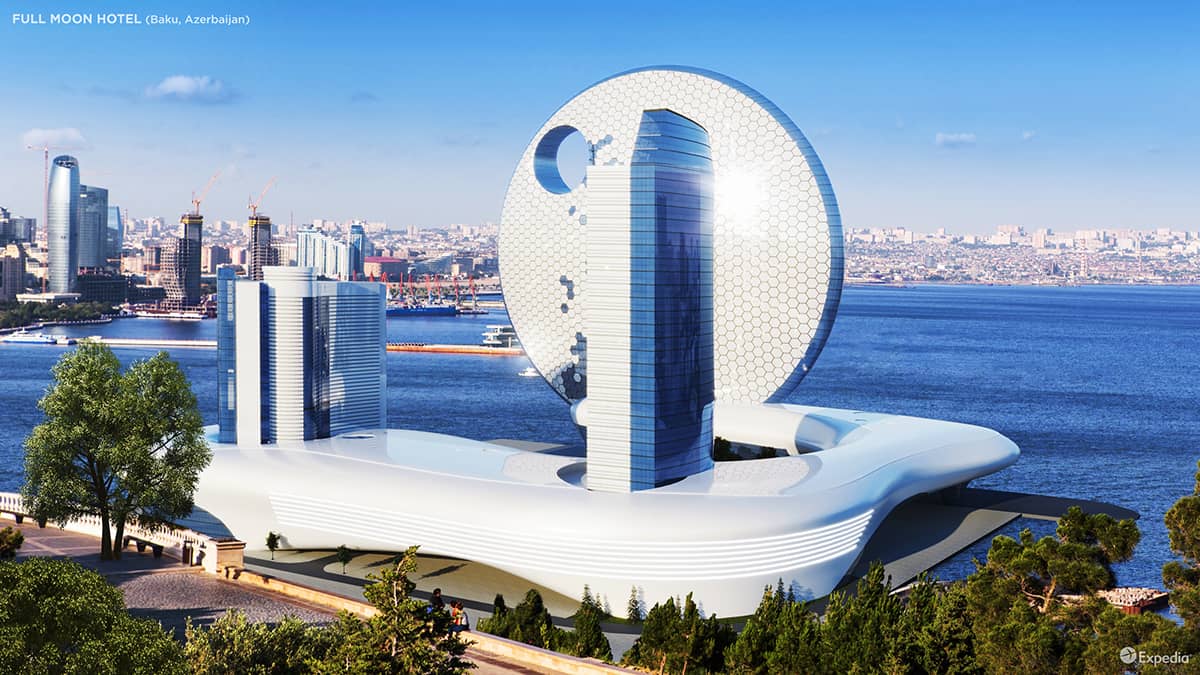 ---
[full-width-paragraph]
2. The Fourth Grace
Will Alsop's extraordinary design beat drawings from Norman Foster and Edward Cullinan for a prestigious spot next to Liverpool's famous three waterfront 'Graces.' While doubters claimed it was the ugliest hotel design of the bunch, others saw an ethereal cloud or diamond in Alsop's stilt-bound structure. The project fell apart in 2004 due to financial difficulties, and Alsop sadly passed away earlier this year.
[/full-width-paragraph]

---
[full-width-paragraph]
3. The Hotel Commonwealth
The Commonwealth was to have been the largest hotel in the world, welcoming guests to 2,500 rooms on a plot that took up an entire block on Broadway. "Through its 28 stories," the publicity read, this proposed hotel would "rise 400 feet in the air in graceful terraces… the flowering plants and shrubs upon each terrace giving the monster hostelry an unusual beauty of architecture, rivaled only by the ancient Hanging Gardens of Babylon." Despite Utopian intentions, the project ended up mired in legal and financial woes and was finally called off in 1925.
[/full-width-paragraph]

---
[full-width-paragraph]
4. Rogers Lacy Hotel
Oil millionaire Rogers Lacy commissioned legendary architect Frank Lloyd Wright to build a real gem, and Wright was customarily bombastic with his ideas: he claimed his Shard-like skyscraper hotel would "glisten in the night" and argued that it should be named the Lone Star. But Wright dreamt too big, and the project stalled even before Lacy's premature death. Wright later recycled some of his unused ideas for the Price Tower in Bartlesville.
[/full-width-paragraph]

---
[full-width-paragraph]
5. Xanadu Hotel
Planned to be a 2,000-room Aztec-style pyramid hotel with a 20-story atrium and flaming water feature, the Xanadu would have been an eye-catcher even among the outrageous facades of Tropicana and Las Vegas Boulevard. Unfortunately, a dispute arose over sewer line installations and the project was flushed. The good news is that there are still plenty of Las Vegas hotels with architectural features that surpass expectations.
[/full-width-paragraph]

---
[full-width-paragraph]
6. Lunar Hilton Hotel
Why build a Death Star when you can have the moon? Barron Hilton was inspired by the buzz of the space race to create a fleet of 'Orbiter Hilton' satellite hotels, with a flagship Hilton Hotel under the surface of the moon. Staying in luxury rooms built from lunar soil, the guest's cuisine, at least, would be a little more mundane: freeze-dried steaks shipped from Earth and warmed up in a "nuclear-reactor kitchen." Although Hilton's big ideas sparked a short-lived space-hotel race, the cost per head would have put room prices out of the reach of mortal Earthlings, and the designs were put back in the drawer… for now.
[/full-width-paragraph]

---
[full-width-paragraph]
And there you have it. Six of the coolest hotels in the world that didn't make it past the drawing board.
Here's a question to end on: What in your opinion makes for the most amazing hotel?
[/full-width-paragraph]
---
[full-width-paragraph]
[divider style="single" border="small" icon="list-ul"]
[toggle title="Sources"]
1000Museums. (2018). Rogers Lacy Hotel, Dallas, TX (project). 1000museums.com
Garcia, J. (2015). Almost Vegas: Las Vegas hotels that never were. blog.vegas.com
Hotelier Middle East (2010). Top 10 hotels that were never built. hoteliermiddleeast.com
Oberhaus, D. (2017). The never-ending quest to build a hotel in space. theoutline.com
Patterson, R. (2015). Rogers Lacy and Frank Lloyd Wright. shalemag.com
Ravenscroft, T. (2018). Eight of Will Alsop's visionary but unbuilt architectural proposals. dezeen.com
Stuff Nobody Cares About (2018). In 1918 New York's Hotel Commonwealth Was Going To Be The Largest In The World. stuffnobodycaresabout.com
Trotter, K. (2008). Death Star Lunar Hotel in Baku, Azerbaijan. inhabitat.com
University of Nevada. (2018). Paradise Misplaced: Outside the Xanadu. unlv.edu
[/toggle]
[/full-width-paragraph]