By Expedia Team, on May 20, 2022
5 of America's most surreal hotel pools
In a perfect world, we would all live on the coast next to an incredible beach. But if you live further inland—or prefer chlorine to saltwater—a poolside vacation can be just as awesome as a beach one. We're talking swimming holes in the middle of Wyoming, rooftop pools with jaw-dropping views, and even hotel pools that let you swim right next to sharks. You can have a relaxing soak pretty much anywhere in the country, but if you're looking for an experience that is far from average, this list is for you. 
1. Swim next to a shark aquarium at the Golden Nugget Casino in Las Vegas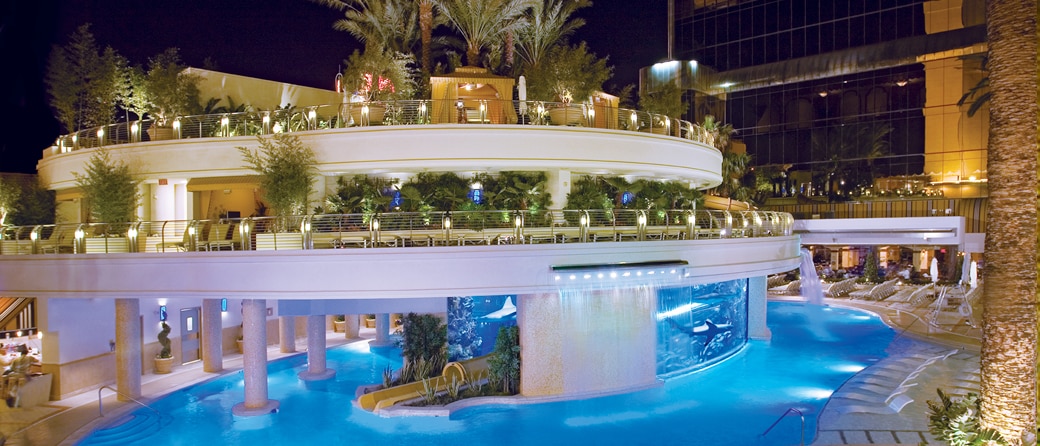 If you like your swim to include a hefty dose of adrenaline, the pool at Las Vegas' Golden Nugget Casino is ideal. The luxurious pool surrounds a 200,000-gallon shark tank aquarium, with only a pane of glass separating swimmers from the aquatic predators. (Don't worry: It's a very thick pane of glass.) It's probably the closest you'll ever get to a shark outside of an ocean diving excursion, so start mapping your route to Vegas now.
2. Float alongside Andy Warhol at Sixty LES Hotel in New York City
It may not be possible to attend a pool party with Andy Warhol, but swimming at Sixty LES Hotel in New York is the next best thing. The luxurious rooftop hangout is famous for having a film strip of the late artist printed on the bottom of the pool, making this one of the coolest, artsiest swimming spots you'll ever find.
3. Soak in views of the Tetons at Amangani in Jackson Hole, WY
Located on the edges of Grand Teton National Park, the Jackson Hole outpost of Amangani is pure luxury, from the spacious suites to the farm-to-table restaurants. That sense of chic extends to the hotel's 35-meter outdoor infinity pool, which features heated water and expansive views of the surrounding Teton mountains.
4. Relax inside an indoor cave at Omni Grove Park Inn in Asheville, NC

The spa at Asheville's Omni Grove Park Inn leaves no hot stone unturned, with a menu that includes therapeutic waterfalls and a eucalyptus-infused steam room. But the best spa feature might be its subterranean mineral pool, surrounded by granite walls under a glass atrium. The whole experience will make you feel like you've discovered a hidden cenote in the jungle, despite the modern hotel amenities located just steps away.
5. Swim laps floating in the sky at Joule Hotel in Dallas, TX
If living on the edge is good, then swimming on the edge is even better. At least, that's the idea at the rooftop pool at the Joule Hotel in Dallas. The heated pool seems average at first, but that's before it extends out past the edge of the hotel. The glass-sided extension allows guests to swim out over Main Street and take in views of downtown Dallas.
Note: All travel is subject to frequently changing governmental restrictions—please check government advisories before scheduling trips.
Expedia compensates authors for their writings appearing on this site; such compensation may include travel and other costs.