By Captain And Clark, on July 22, 2016
Road trips with babies
In a move to prove that adventures don't have to stop with the addition of a newborn, my husband and I decided to undertake two separate road trips all before our little guy turned two months old. Our first venture took us a few hours north of our hometown of Tacoma, Washington, to the San Juan Islands, while our second trip involved a trek clear across the state to Coeur d'Alene, Idaho.
To say that I was anxious for these adventures would be an understatement. Being a first time mom, I barely left the house for the first month of our Holden Brave's life. Strapping him in a car seat for hours on end was not exactly how I wanted to ring in his sixth week of life. But that's precisely what we did. We loaded up our Subaru with more than enough baby equipment and headed out for our first night away from home with baby.
To save both parents and infants a little frustration and a lot of unneeded stress, I've listed a few things I learned from both of these trips.
Give yourself plenty of time
Between the hourly feedings and diaper changes, road trips with a baby take slightly longer than before. Be sure to allot a fair amount of time to reach your destination. We made sure to inform those waiting for us on the San Juans and our family in Coeur d'Alene that we would attempt to arrive within a certain time frame. That gave us the flexibility to stop when we needed and not feel obligated to rush on the road.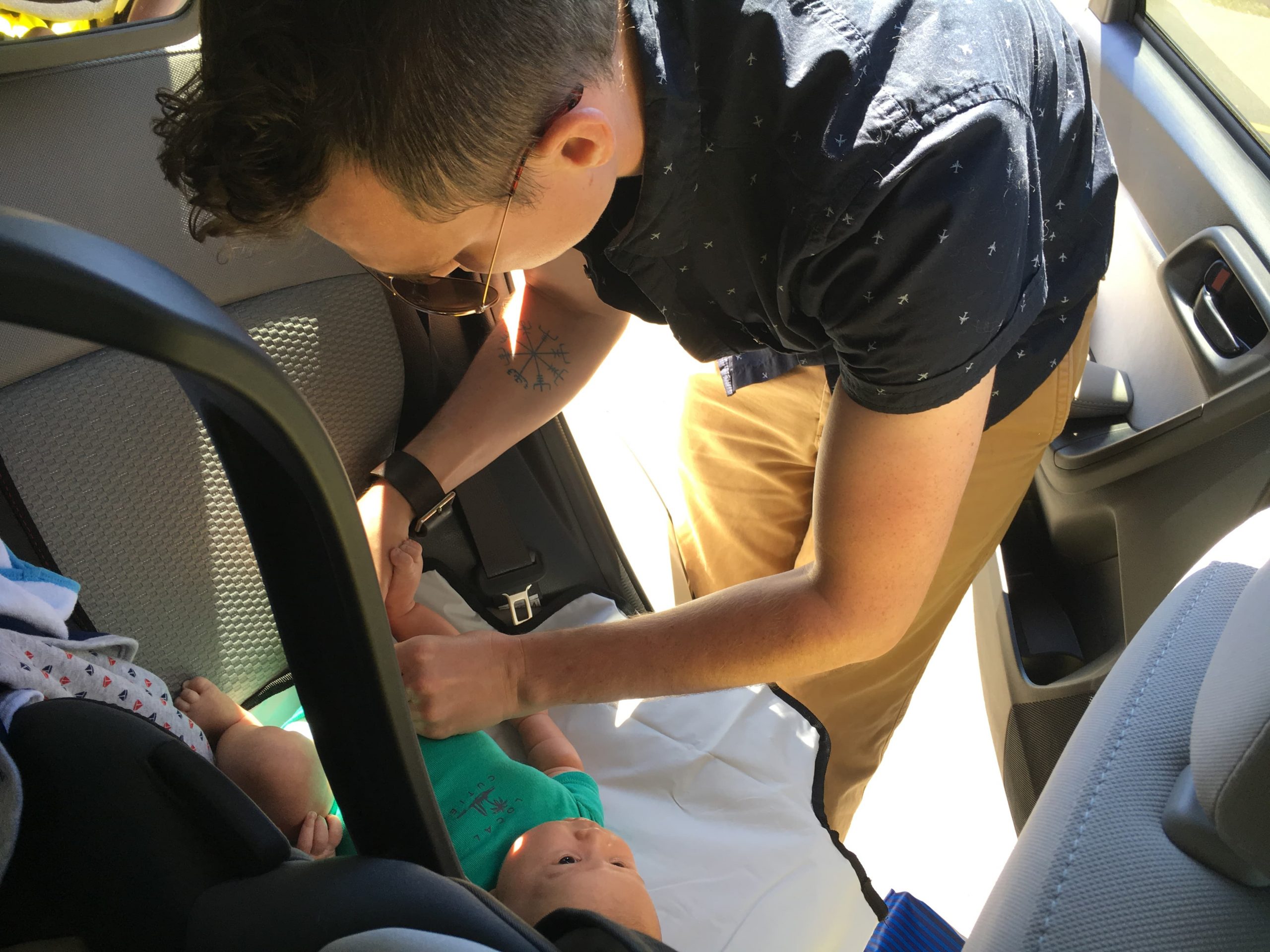 Be prepared
Make a list and check it twice. Babies may be small but they come with a ton of accessories—at least ours did. Clothes, diapers, wipes, baby monitor, swaddles, and more. Let's not forget about all the fun items that new moms need as well—breast pumps, bottles, and nursing bras to name a few. My husband and I are seasoned travelers, but I never had to pack the extra baby and mommy items before. Having a list helped make packing easier and ensured that nothing was left behind.
Be flexible
You might have a list. You might have checked it twice. That doesn't mean that everything will always go as planned.  In our case, I left my purse sitting in our hallway. The same purse that just so happens to double as a diaper bag. Forget about my glasses and wallet, the pressing items we found ourselves lacking was our changing pad, diapers, and wipes.
Viewfinder Tip: You can never have enough diapers. Stash a few extra in the backseat pockets to have on hand for any messy situations.
The diapers and wipes were easily found at the closest gas station, but the changing pad was a little harder to replace. We happened to have a spare garbage bag in the backseat and that turned into a makeshift changing pad for those roadside diaper changes.
My best advice for these road trips would be to be flexible and improvise when possible. Innovation can go a long way.
Remember to laugh
I might have snapped at my husband during a parking lot diaper change. Our little guy had a blowout and we were both covered in his mess. I was frantically trying to wrestle his strong, chubby legs to keep them from dipping his tiny feet into his messy diaper. Once I wrangled the diaper on, I thrust the baby in my husband's arms only to have him regurgitate his last meal all over my husband's chest. The hubby and I looked at each other, both of us covered in our child's fluids, and broke out into hysterical laughter.
If there's one thing I've learned from my short two months of being a parent, it's that you have to maintain your sense of humor. There are going to be times when all you can do is laugh. Literally. You'll be so sleep-deprived that the only function you can manage is to laugh.
So saddle up your little one, take to the road, and enjoy the ride. There's no better time to get your babe addicted to the open road.
What was your first adventure with baby?