By Expedia, on March 21, 2019
How to spend a weekend in San Diego
Executing a dream weekend in San Diego takes thoughtful planning. Don't worry. We're here to help. Check out these in-the-know San Diego destinations that will have you longing to extend your stay.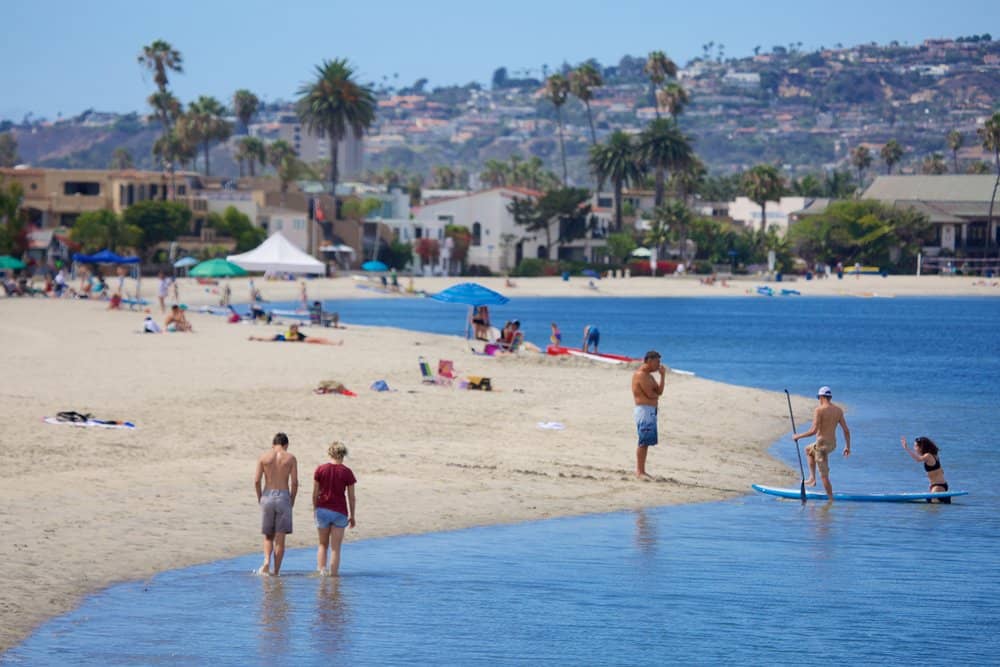 Friday Evening
You've got a mere 72 hours in San Diego, so choosing a centrally-located hotel is key. Tower23 Hotel is a hip, sleek hotel with pristine views of the ocean and located minutes from downtown. Its location means you can focus on the beach and the culture all in one stay.  Another excellent option is the Kimpton Hotel Palomar, located in the historic Gaslamp Quarter. It has a funky, upscale vibe, and a rooftop bar with shimmering views of the city lights.
After check-in, head out for a drink at Prohibition, which will let you live like Gatsby. Be warned: To enter this speakeasy, you must spot its secret entrance. Enjoy cleverly named cocktails in this 20s-style lounge, where cell phones are forbidden, and a dress code is enforced.
After drinks, catch a Shakespearean play at the historic The Old Globe. The theater is known for its centrally situated stage that accommodates simple productions from the days of yore.
Then, it's on to dinner at Bivouac Ciderworks. There, you can sample a range of local ciders and an impressive seasonally driven menu with delights including an utterly divine maple leaf duck breast.
Saturday Morning
Your next 48 hours in San Diego kick off with breakfast at Fig Tree Café, known for its fig jam and cheese-stuffed French toast.
Work off the calories with a stroll through lush Balboa Park, where you can take in the Spanish-influenced architecture, wander the gardens, and pop into a range of world-class museums.
Visit the west side of the bay at Point Loma. Offering unparalleled views, rugged terrain, and plenty of historical sites, it's an ideal spot for a day trip. You can also explore La Jolla, an upscale, European-influenced beach town perfect for watching sea lions, taking in the majestic coast, or browsing the elegant boutiques.
If you're looking for a high-end lunch, check out the mussel bisque and gourmet sandwiches at landmark Dobson's Bar & Restaurant, or tuck into an Italian feast at CUCINA enoteca Del Mar. If you prefer casual fare, fresh seafood at Supernatural Sea to Sandwich is a real crowd-pleaser.
Saturday Evening
It's Saturday night. In San Diego, that means you should start the evening with a handcrafted cocktail at The Rooftop by STK. Take your time, sip your drink slowly while you sit poolside and look out into the city below. 
You can carry on a tipsy tour of the town by hitting all the hot spots. Start with on-tap beer, wine, and cocktails at Polite Provisions in University Heights, then make your way to downtown's Noble Experiment, which has an elite clientele and another secret entry.
Keep the night going as you catch some live music at Belly Up. Famous headliners here included The Red Hot Chili Peppers and the Rolling Stones. If you prefer the twang and hoopla of toe-tapping country music, Moonshine Flats offers 10,000 square feet of dance floor.
Treat yourself to dinner at San Diego's very posh steakhouse, Born & Raised. They'll impress you with the mind-blowing decor, a roving bar cart, and house-aged prime cuts of beef. Plus, you won't want to miss their legendary carrot cake for dessert.
Sunday Morning
Wake up and head to breakfast at Kono's Cafe in Pacific Beach. Spice it the morning by ordering the egg burritos or a chorizo breakfast sandwich.
Your Sunday morning should include a trip on the Skyfari® tramway at the world-renowned San Diego Zoo. You'll explore the naturally designed habitats of the hundreds of species living there.
San Diego is brimming with history and beaches, and Coronado Beach offers both. Soft sand, calm surf, and the majestic Hotel del Coronado work together to create the optimal San Diego experience. You can also have lunch at the historic hotel's restaurants, which offer everything from tacos on the beach to pizza at an outdoor firepit.
Don't miss out on San Diego museums, like the Museum of Art, the San Diego Natural History Museum, or the lovely Timken Museum of Art.
Sunday Evening
Sunday night is your last chance to squeeze in anything you missed. A walking tour of the city's neighborhoods is an intimate way to explore the history of Old Town San Diego, the charming and intricate architecture of the Gaslamp Quarter, or the seaside shops of Seaport Village.
San Diego is also renowned for its craft breweries. Ballast Point Brewing Company gives you a peek at how they make this frothy favorite while you sip some samples in front of their brew room.
Celebrate your last dinner in San Diego at Kettner Exchange, aptly named after the city's founder. With elegant hints of nautical history and a menu of innovative cuisine, including suckling pig larb, grilled quail, and foie gras French toast, the rooftop patio is the perfect place for a fond farewell.
Whether you're a thirsty traveler, a beach bum, or a history buff, San Diego serves it all. Book your flight today.
Check out our other Weekend Guides for our top destinations: