By Expedia, on October 9, 2019
Everything You Need to Know About Virginia Beach Boardwalk
Since 1888, Virginia Beach Boardwalk has offered visitors a scenic stroll overlooking one of the country's most famous stretches of sand. The iconic boardwalk may have changed from wooden planks to concrete since then, but the three-mile long structure has retained its charm. Running from Rudee Inlet to 40th Street, the boardwalk is an entertainment hub with live music venues, top dining options – and plenty of space to run, rollerblade or cycle alongside the ocean.
Things to Do on Virginia Beach Boardwalk
From fresh seafood restaurants and giant nautical sculptures to fishing and four-wheeled surrey bikes, here are some of the best things to do on Virginia Beach Boardwalk.
Stroll or Cycle at Sunrise
Get up early and you'll be rewarded with a stunning sunrise over the Atlantic Ocean. You'll also beat the crowds – particularly in summer – and likely have much of the 28-foot wide boardwalk to yourself. Take advantage of the space and enjoy a leisurely walk or bike ride.
Check Out Talented Performers
Virginia Beach Boardwalk hosts regular performances from talented artists, from street performers to musicians. Admire a juggler's skills or a magician's tricks and, in the summer months, head for the live music at the four open-air oceanfront stages.
Reel in a Great Catch
Between 14th and 15th Streets, the Virginia Beach Fishing Pier is the perfect place to cast a line without getting your feet wet. For $10, you can fish off the pier and reel in fish including croaker, king fish, trout and Spanish mackerel. If fishing's not your thing, you can enjoy the views from the pier for $2.
Snap a Selfie with the Statues
You can hardly miss King Neptune. Standing 26-feet tall and weighing 12.5 tons, the God of the Sea majestically overlooks the boardwalk at 31st Street. The bronze statue is an impressive sight and a popular spot for selfies. The more somber Norwegian Lady statue looks out to sea, commemorating a shipwreck of the Norwegian Dictator vessel in 1891.
Get your Thrills at Atlantic Fun Park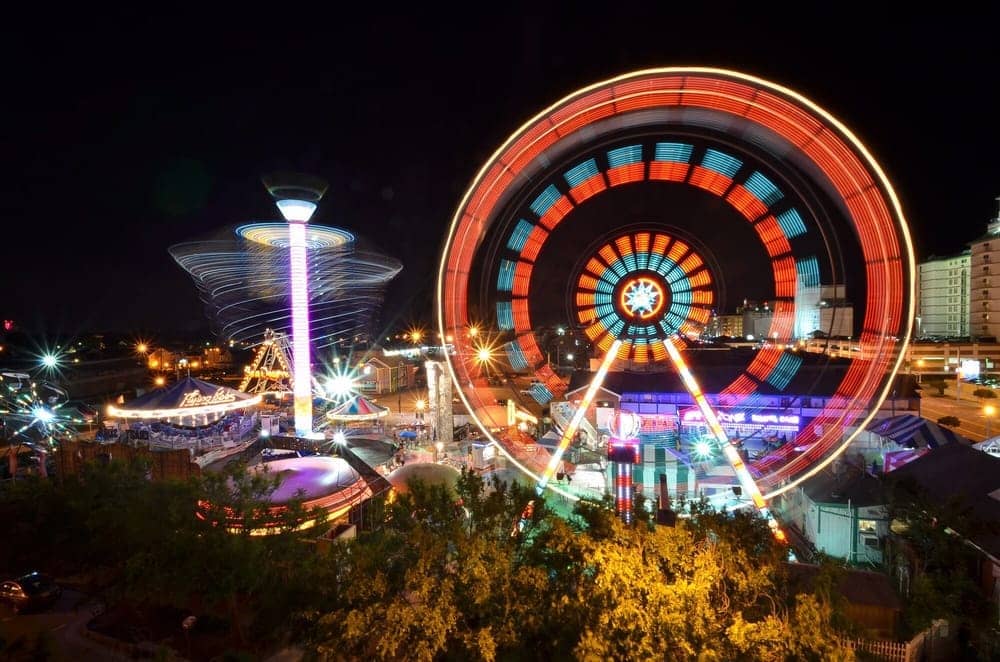 Atlantic Fun Park, on 15th Street, is a small amusement park promising family fun. Young adrenaline seekers can try the flying elephants, while older ones might find their knuckles turning white on the swinging sea dragon ship. There are also go-karts, a 100-foot Ferris wheel and fairground-style games. It's open seven days a week in the summer.
Sample the Finest Local Produce
Oceanfront dining with local seafood is the signature Virginia Beach Boardwalk experience. Restaurants like Waterman's Surfside Grille have been serving up dishes including jumbo crab legs and steamed shrimp since 1981. Catch 31, meanwhile, prides itself on "dock to table" dining, which includes its 'ultimate crab cake sandwich'. For a sundowner, try the quintessential Virginia Beach cocktail, Orange Crush.
Events on Virginia Beach Boardwalk
Virginia Beach Boardwalk buzzes with nightly events and entertainment. The Live! On Atlantic program features street entertainers, live music and costumed characters from mid-June through Labor Day Weekend, with most performances free.
The boardwalk hosts a steady stream of festivals throughout the year, from crab soup competitions and craft beer to the high-energy Latin Fest. The boardwalk also comes alive during the Neptune Festival, featuring a weekend of music, art and international sand sculpting; the North American Sand Soccer Championships; and the East Coast Surfing Championships.
The annual Boardwalk Art Show is hosted by the Virginia Museum of Contemporary Art in June. Hundreds of artists from across the country display arts and crafts from 24th to 34th Streets.
Frequently Asked Questions about Virginia Beach Boardwalk
Before you pack your bags and start dreaming of the beach, you'll no doubt have some questions about where you can stay, park and shop. Check out our FAQs about Virginia Beach Boardwalk below.
Is Virginia Beach Boardwalk Open All Year?
Yes. Virginia Beach Boardwalk is open 24 hours a day, 365 days a year. The Virginia Beach Fishing Pier is open April through October, and 24 hours from Memorial Day to Labor Day.
What's the Best Way to Reach Virginia Beach Boardwalk?
The nearest commercial airport is Norfolk International Airport, around 18 miles away. Virginia Beach is easy to get around by car in the off-season, though it does get crowded in summer. The city also has a bus and trolley system to the boardwalk.
Is There Parking at Virginia Beach Boardwalk?
There are several parking options just moments from the boardwalk. This includes municipal parking garages, parking lots and metered parking. See the full list of oceanfront parking options here.
Where Can I Stay at Virginia Beach Boardwalk?
Resort-style hotels with ocean views line Virginia Beach Boardwalk offering plenty of choice, from high-end to budget-friendly.
What Dining Options are at Virginia Beach Boardwalk?
There are numerous restaurants lining Virginia Beach Boardwalk, from upmarket bistros to relaxed open-air bars.
What Shops are at Virginia Beach Boardwalk?
As well as swimwear and souvenir shops, Virginia Beach Boardwalk's shopping scene includes big name brands and local fashion boutiques. One block away from the boardwalk, 31 Ocean includes local retailers focusing on clothing, gifts and accessories.