By Expedia, on October 11, 2019
Cheap Eats in Myrtle Beach
Sunshine, sand and fresh seafood dinners are what vacations in Myrtle Beach are all about. And while the gourmet beachfront restaurants are tempting, you don't have to spend big to enjoy great food here. There's plenty of quality cheap eats in the city, offering the finest southern comfort foods at great prices. If you want to eat well and save your dollars for a round of mini golf, check out our guide to quality budget bites in this South Carolina gem.
Charlie Grainger's
One of the best cheap foods to eat in Myrtle Beach – and, let's be honest, the world – is the humble hot dog. Charlie Grainger's is a small chain, serving a gourmet selection of dogs with prices starting at around $3.75. A Boardwalk hot dog is the staple option topped with mustard and ketchup. Or you could try one of their more elaborate creations, like Ray's Way with house-made pimento cheese and chili. As well as hot dogs, you can pick up a sandwich here served with coleslaw, pickled okra, and pickles on the side. And all for less than $10.
Website: http://www.charliegraingers.com
Address: 201 Fresh Dr Suite A, Myrtle Beach, South Carolina, 29579
Burky's Grill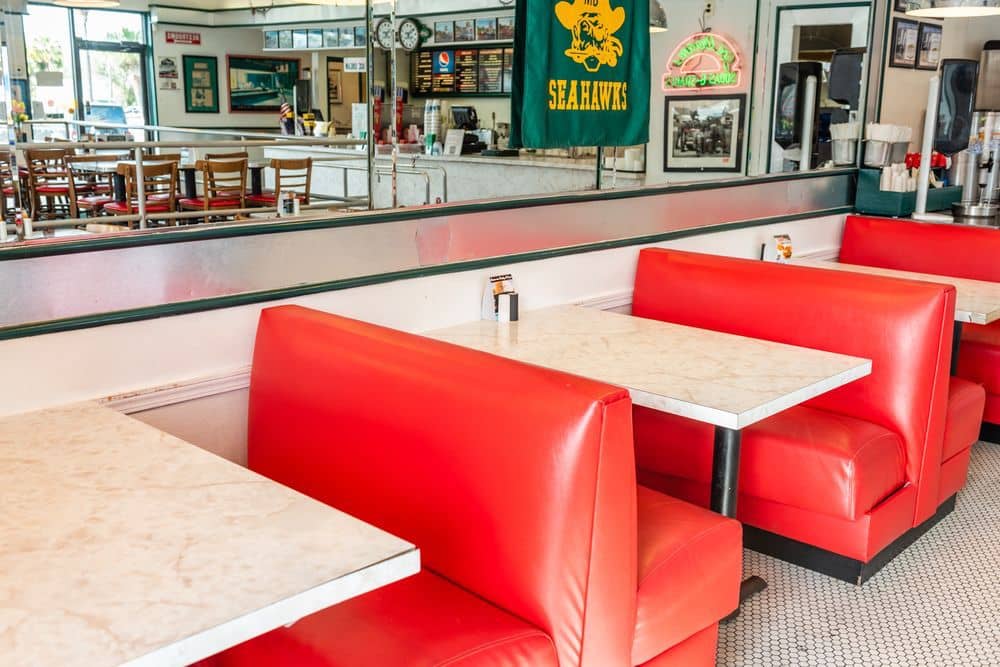 Burky's Grill is a 1950's style fast food restaurant with prices that won't break the bank. If you're spending the weekend in Myrtle Beach, go on a Friday night when Mustangs and Thunderbirds gather outside for their classic car Cruise In specials. There are plenty of cheap eats on the menu here – the combos are great value with a burger, fries and a drink from $5.79. Vegetarians also have several options, including stuffed baked potatoes with broccoli and cheese, garden salads and veggie burgers.
Website: www.burkysgrill.com
Address: 4001 North Kings Hwy, Myrtle Beach, South Carolina, 29577
Prosser's BBQ
Along with seafood, BBQs in Myrtle Beach are very popular. Buffet meals can be expensive, but Prosser's BBQ is excellent value for money with lunch from $10.75. The selection is full of good southern cooking, including fried chicken, sweet potato soufflé, mac and cheese, collard greens, and chicken bog. Daily specials add crab cakes, oysters and shrimps into the mix. If you manage to save space for dessert, try the peach cobbler.
Website: http://prossersbbq.com
Address: 3750 US-17 BUS, Murrells Inlet, South Carolina, 29576
Dagwood's Deli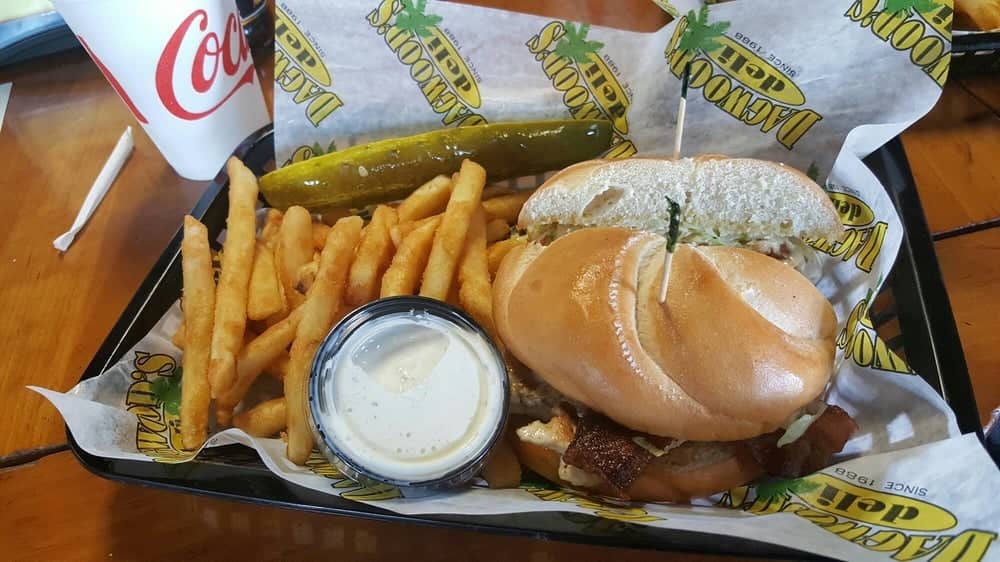 The best kind of cheap eats are those that will fill you up for the rest of the day, and the hoagies at Dagwood's Deli are sure to do that. Piled high with generous portions of ingredients like sliced turkey, melted Swiss cheese and bacon bits, and served on a choice of freshly baked rolls and bread – well, you can't go wrong for under $10. It's been a popular joint in Myrtle Beach since 1988, so expect a queue at lunchtime.
Website: www.dagwoodsdeli.com
Address: 400 Mr Joe White Ave, Myrtle Beach, South Carolina, 29577
River City Cafe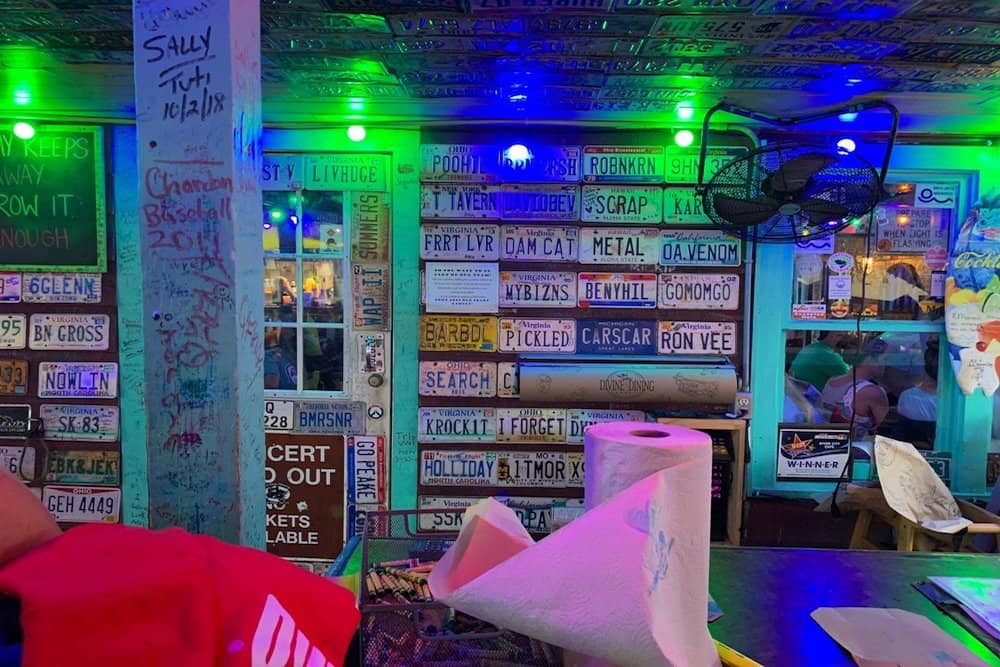 Another local favorite in Myrtle Beach, the family-friendly River City Cafe serves good, cheap food. With seven restaurants dotted along the beach, you don't have to walk far from the coast to enjoy its tasty burgers either. The menu is as diverse as it gets. Sink your teeth into a choice of fried popcorn shrimp Surf n Turf, a Fried Mac and Cheese burger, or a pulled-pork Loco Burger. And what's more, a traditional burger and fries here will set you back less than $10.
Website: www.rivercitycafe.com
Address: Various in Myrtle Beach
Myrtle Beach is a fantastic spot for a foodie vacation and, with so many restaurants in one place, you can try somewhere new every day. If you're looking for unique dining experiences, here are some more culinary activities to whet your appetite:
Feast on a four-course banquet, while knights joust and the royal falconer shows off his magnificent birds of prey at the Medieval Times Dinner & Tournament. This live action show is around three hours of family-friendly fun.
Beat the queues at the Hard Rock Cafe Myrtle Beach with a priority seating reservation. Your ticket includes a tasty two-course lunch or dinner, and a chance to see Johnny Cash's very own leather lace-up boots.
If you fancy tacos and live music, check out Señor Frog's Blue Menu Lunch or Dinner. Here, you'll get to fill up on your favorite Tex-Mex cuisine then dance it all off on a lively party conga line.