By Expedia Guest Author, on November 13, 2018
Excellence El Carmen and Excellence Punta Cana: Which resort is right for your Dominican Republic vacation?
Punta Cana, the tropical Caribbean island paradise on the easternmost tip of the Dominican Republic, is famous for 40 miles of breathtaking beaches, lush palm trees, and clear blue waters.
Punta Cana makes for a dreamy honeymoon destination, romantic tropical getaway, or warm-weather recluse from the states. While it's only a couple hours' flight most of the South and Southeast, you will feel like you're a million miles away. The sunny Dominican Republic is so popular, in fact, that it's the most visited country in all of the Caribbean, drawing even more visitors per year than tourist behemoths like Cuba, the Bahamas, and Aruba.
With more than 200 all-inclusive resorts to choose from in this tropical oasis, choosing the right hotel that combines romance, luxury, and service, is one of the hardest parts of planning a Caribbean vacation. That's why we teamed up with luxury travel blogger JetsetChristina to explore two resorts, Excellence Group's beautiful Excellence El Carmen and Excellence Punta Cana that have each managed to distinguish themselves from the rest of the pack of resorts in Punta Cana—creating high-end, luxurious, adults-only, all-inclusive oases.
Excellence El Carmen and Excellence Punta Cana are both highly regarded for their top-notch resort facilities, spacious suites, high-end dining, and focus on world-class service. They're easily accessible from the airport (only 25 minutes away), and each make for an ideal place for couples celebrating anniversaries, honeymoons, or groups looking for a great place to base from for a fun group trip or lavish destination beach wedding.
Excellence El Carmen: Honeymoon Heaven & Tropical Relaxation
El Carmen is Excellence Group's newest Punta Cana property, and opened just two years ago with 22 pools, super-spacious suites, and sophisticated, modern resort facilities. The entire resort exudes romance, charm and island elegance, making it popular with honeymooners, destination weddings, and couples celebrating anniversaries with a Caribbean getaway.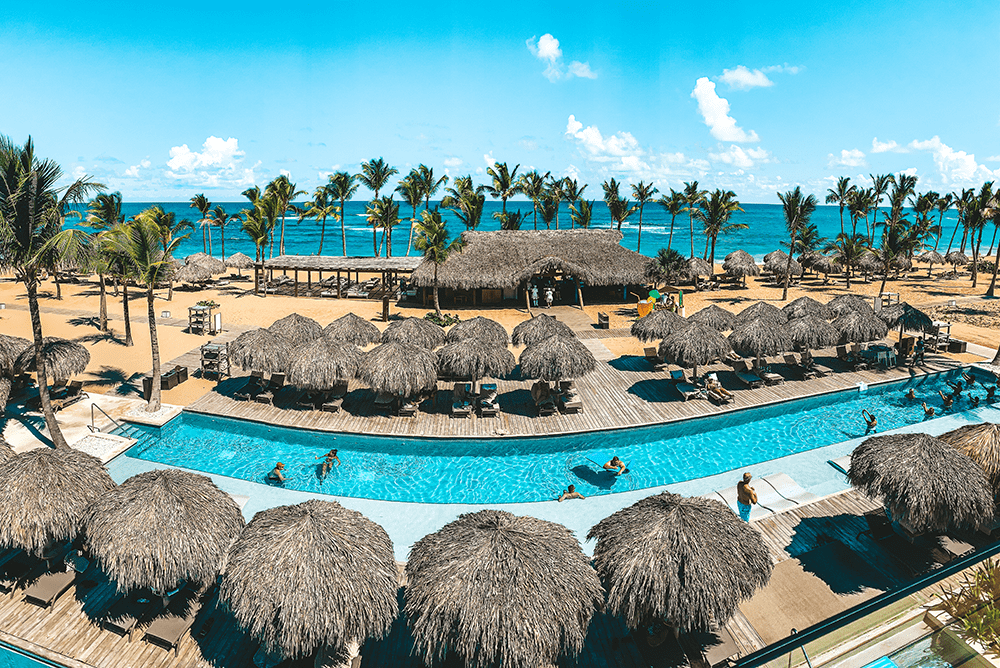 The Excellence Club at Excellence El Carmen
The Excellence Club is an upgraded VIP area of the hotel, complete with private clubs, pools, and beach areas. By joining the Excellence Club, you'll not only have access to these areas but will have more premium amenities and alcohol available to you both in the exclusive Excellence Club areas as well as in your room, along with fresh fruit, flowers, and other little touches that add up to an ultra-pampered resort experience.
The Rooms at Excellence El Carmen
All of the different categories of suites at Excellence El Carmen are vibrant, spacious, and filled with modern-chic Caribbean decor, and all come with either a pool or ocean view. From swim-up suites, to two-story rooftop terrace suites with private plunge pools, to 2000 sq. feet rooms with private pools and decks, to dreamy beachfront honeymoon suites, you may never want to leave your suite. Luckily, 24 hour room service is included in your rate, so you won't even have to.
Dining at Excellence El Carmen
With twelve international restaurants to choose from, choosing where to eat may be the hardest decision you have to make on vacation. The good news is that with Italian, French, Asian, Indian, Mexican, steak, lobster and beachside grills to choose from, you really can't go wrong. The Lobster House is a big highlight, as is the French bistro Chez Isabelle, but all of the restaurants are so delicious, you'll have fun exploring the menus of each one!
For a uniquely romantic experience, or to celebrate a special night, you can set up a romantic beach dinner with your concierge, a gorgeous candle-lit dinner of beautiful appetizers and champagne followed by fresh surf and turf, all enjoyed with your toes in the sand.
Destination Weddings at Excellence El Carmen
Excellence El Carmen's dreamy white sand beaches and tropical landscapes make for the perfect backdrop to the destination wedding of your dreams, as well as the perfect vacation of your guests' dreams!
Throughout every step of the planning process, the hotel's wedding professionals will ensure your special day exceeds all of your destination wedding fantasies. The beautiful spa also has a spacious bridal suite, with on-site hair and makeup specialists to help with your special day.
The Miilé Spa at Excellence El Carmen
Take a break from the beach to experience a spa day at Excellence El Carmen's stylish spa and hydrotherapy pools. The hydrotherapy ritual consists of Swedish saunas, steam rooms, hot-water whirlpools, sensation showers, ice baths, and hydrotherapy bath treatments. For a perfect romantic and relaxing afternoon, you can even follow up your hydrotherapy with a couples massage in one of their beautiful massage suites, and end with a glass of champagne and some chocolate covered strawberries.
The Fitness Center at Excellence El Carmen
If you want to break a sweat on vacation (or work off all those piña coladas), Excellence El Carmen features a huge resort fitness center, as well as daily activities like crossfit, yoga, pilates, and even hydro fitness.
Excellence Punta Cana: Tropical and Fun, Great for Couples and Groups
This vibrant tropical resort was one of the first in the area, but underwent an incredible full renovation just last year. Excellence Punta Cana exudes classic, laid-back luxury. It feels like your Caribbean home-away-from-home, and it's not hard to see why this resort has one of the highest return guest rates of anywhere in Punta Cana.
With a breathtaking beach filled with palapas and palm trees, and an always-smiling, energetic staff ready with piña colada on deck, it's impossible not to have a great time at the Excellence Punta Cana.
The Rooms at Excellence Punta Cana
There are many different room types on the property, from "swim up suites," which have direct pool access right from your deck, to terraced suites with plunge pools, dreamy honeymoon suites, and everything in-between. You can read more all about the different suite types here to decide what would be best for your vacation.
The Excellence Club is the same optional VIP upgraded area of the hotel that El Carmen offers, complete with private clubs, pools, and exclusive beach areas within the resort. Not only do Excellence Club members have access to Excellence Club's private restaurants, bars, and areas, but they'll have more premium amenities and alcohol available in the room, as well as fresh fruit, flowers, and other little touches that make a big difference in the vacation experience.
Dining at Excellence Punta Cana
You won't find any shortage of food at Excellence Punta Cana! There are 9 restaurants, a beach grill, and room service available 24 hours a day—oh yeah, and it's all free! Well, included in your room rate. But that's the beauty of an all-inclusive, isn't it?! You don't have to worry about your wallet once while you're at the resort.  All meals, snacks, and alcoholic beverages are included. I loved the Mexican restaurant, the Excellence Club's exclusive alfresco restaurant Magna, and of course Aroma, the adorable coffee and ice cream shop!
The Spa at Excellence Punta Cana
When you need a break from the beach, head straight to the Millé spa. This beautiful, quiet oasis within the resort, is an absolute sanctuary. Their spa menu is full of nature-inspired luxurious treatments, and their relaxing hydrotherapy pools are an easy way to wind down an afternoon.
What time of year is best to visit Punta Cana?
The Dominican Republic is known for being tropical and sunny year-round with a short wet season occurring around September. The hottest month in the Dominican Republic is June when temperatures average 82 degrees Fahrenheit, and the coolest month is January when temperatures average 77 degrees Fahrenheit.
How do you get to Punta Cana?
Delta, Southwest, American Airlines, JetBlue, Frontier, United, Spirit, and LATAM all feature non-stop flights from the USA to Punta Cana, and flying time is only a few hours. Some of the most popular routes are Charlotte to Punta Cana, Miami to Punta Cana, Washington, D.C. to Punta Cana, and Atlanta to Punta Cana.
Any trip to Punta Cana is going to be amazing, but if you choose one of these two resorts, you're going to have the time of your life. How can you not when your days start with sunrises on the beach, are filled with fun in the sun and relaxation in the spa, and end with world-class feasts at the hotel (and maybe even a bubble bath in your suite).
Enjoy your holiday!
Which Excellence Group resort matches your vacation style?
Christina Vidal is a top luxury travel instagrammer and blogger, ranked #1 Luxury Travel Instagram to Follow by Travel & Leisure. She's been to 58 countries and counting and is always on the hunt for the next best beach. Check her out on instagram @JetsetChristina and on her blog JetsetChristina.